The kid who didn't speak English
I still remember watching my toy aeroplane float away with the flood waters.
I was born in dad's village, Satuiatua. It's way out in the bush on the island of Savaii, which is about a two-hour ferry ride across the Apolima Strait from the main island of Samoa and the capital, Apia.
It was a hard life. We didn't have the things I'm able to give my kids now.
Senio (that's my dad) would often walk for miles at night to look for dinner. He would go out fishing some evenings – he always said it was the best time to catch fish – and return very late with whatever he'd managed to bring in from the sea.
There wasn't much to go around. Dad and Peninna, my mum, did the best they could to put food on the table.
People didn't really have trades on Satuiatua. You figured life out on your own. Dad, for example, was a handyman, who also tended to the taro and banana crops, who was also a fisherman, who also performed other duties around the place. He could build things from pretty much anything.
We only spoke Samoan. Gagana Sāmoa. There was no English at all.
Our house was a tin roof with four wooden posts. There weren't any walls. The toilet was an old shed 50 metres up the hill.
The kids all slept in the same area and mum and dad were always making sure we were OK in our little beds. Mum said she never slept at night because she was always making sure we were safe from mozzies and other things that might come in.
I remember the day the cyclone hit. Samoa and many of the other islands in the South Pacific are tiny and barely above sea level. When cyclones strike, the destruction can be terrible.
This particular storm knocked over trees and destroyed houses. And then came the flood.
I was sitting on mum's lap with my other siblings watching the water rise and rise. She was holding us all tight. My auntie in New Zealand had recently sent me over a toy aeroplane for my birthday.
The memory of it being washed away with the flood has always stuck with me. I don't know why.
I was very young and didn't really understand the significance of everything that was going on.
But it really shook up my parents. They had been talking for a while about the possibility of moving off the island to give the kids a better opportunity at life. The cyclone and the floods sealed it for them.
We were off to Christchurch to live with mum's father, Tofa.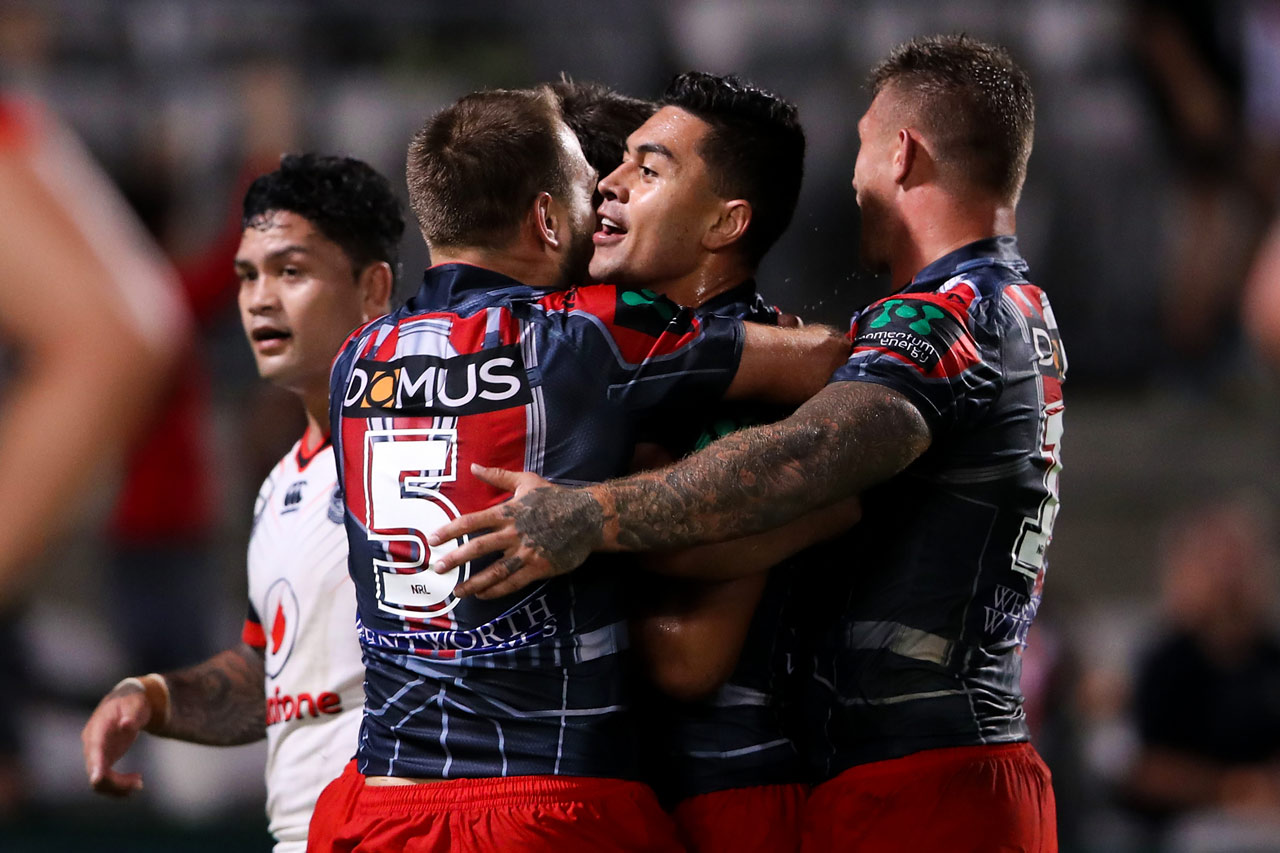 WATCHING JONAH
I was five when we moved to New Zealand. I didn't speak any English.
On my first day attending Northcote Public School, I stood there listening to the other kids talking, trying to pick up on words and figuring out what they meant. It was pretty daunting.
Making friends in the playground wasn't easy at first. The other kids didn't understand me and looked at me funny. They were all wondering, 'Where's this little bloke from?' Most island families when they move to New Zealand end up in Auckland or Wellington. Not many come to Christchurch. There was one, maybe two kids in my class with Samoan heritage.
But you didn't need to speak English to fall in love with rugby.
My brother, Caleb, and I used to pretend to play when we were back on Satuiatua using a rock as a ball. In Christchurch, we upgraded to a big coke bottle and we would take turns tyring to kick it over the power lines.
I'll never forget the day when mum and dad were able to buy us our first proper footy. It was pretty old but it's still the best present I have ever received in my life. Caleb and I would kick it around for hours every day. It was never out of our possession.
Like the rest of Christchurch, I was obsessed with the Crusaders. They're still my favourite Super Rugby team. I didn't know what league was. It didn't get much attention over there.
I remember going to Jade Stadium for the first time with my brother, dad and uncle. Canterbury were playing against Counties Manukau and Jonah Lomu was on the wing.
There was a little Samoan winger, Afato So'oalo, playing for the Crusaders. They called him 'Twinkle Toes'. He was playing on Jonah. He did his best and showed a lot of heart, but every time he went into a tackle he was just a speed bump. Jonah ran over pretty much everyone that day. He was a massive unit.
Jonah had that funny haircut at the time. Remember the one with the fringe and the bowl? I wanted a haircut just like that, even though he was destroying my favourite team! Going to that game is one of my favourite childhood memories.
You didn't need to speak English to fall in love with rugby.
Mum and dad registered Caleb and I to play for the Merlins in the local rugby comp. I played alongside him in the age group about three years above what I actually was. I played mostly in the centres and a bit of fly-half because I loved Andrew Mehrtens and Carlos Spencer.
I was a little kid playing against much bigger ones, but I didn't care. I was just excited to be running around. My coach really looked after me. He would say, 'You're our best player, Timmy, you're our best player!' Hearing something like that meant the world to a little bloke like me. It gave me a lot of confidence.
By this time there were five of us kids – Caleb, Perosi, me, Sisi and Darsi – and mum and dad were finding it difficult to nail down consistent work in New Zealand.
Dad's brother, Lagolago, had moved to Minto in the western suburbs of Sydney a few years earlier. He told my parents what a great place it was to raise a family and that there were lots of work opportunities.
It was 1999 and we were on the move, once again leaving our friends and family behind to start a new life.
OUR HOME, THE OPERA HOUSE
You're going to laugh at me when I tell you this next story.
Mum and dad had a little pamphlet about Sydney that they showed us. It had a picture of the Opera House and the Harbour Bridge on the cover. There obviously weren't any iPhones back then and you couldn't just Google information like you can now. The pamphlet was all my siblings and I had to go on.
Mum and dad said, 'This is Sydney and we're going to move there.' I kept looking at the weird white building thinking, 'We're going to live there?' It looked like a spaceship, something from another planet. There was obviously nothing like that in Satuiatua or Christchurch.
I fell asleep on the flight over and woke up as the plane was on its descent. Then we started the drive from Mascot to Minto. I said to mum something along the lines of, 'Where's the white pointy house and the bridge you said we'd be living in?' Mum and dad cracked up. We arrived at my uncle's place and I was pretty disappointed to see that it was a normal home with no big sails.
It was a full house – my uncle, his wife and three of their kids plus the seven of us. It was huge of them to take us in. It gave us a chance to get on our feet in a new country. We lived there for a couple of years while we waited for a housing commission placement in Minto.
Afternoons were for touch footy on a patch of grass outside the Folaus' house. The Paea brothers – Mickey, Lopini and Lelea – were there and so were guys like Israel, Jarryd Hayne and Krisnan Inu. Most of them were closer to Caleb's age than mine. I was the little brother tagging along, happy just to be playing footy. They were pretty competitive games! It was a community full of talent.
I was still in love with rugby union at the time until one of the other fathers said to my dad, 'You should introduce your boy to league. Bring him to one of the training sessions and see if he likes it.'
I remember getting tackled in my first game with the Campbelltown Warriors. I went to ground and placed the ball behind me to try and recycle it like you would in rugby. The dads and the other kids were all laughing. 'You play the ball with your foot in league!' someone shouted. I didn't make that mistake again.
The family had to move to Macquarie Fields for a while when the government knocked down the housing commission places in Minto. During those years, we all saved up to put a deposit on a home for mum and dad back in Minto.
I said to mum something along the lines of, 'Where's the white pointy house and the bridge you said we'd be living in?' Mum and dad cracked up.
It started with my brother, who was unloading containers for work, and my older sister, who was working in taxation. When I started earning an income through rugby league, I contributed too.
It was an easy decision for us, the least we could've done. We were all grateful for the hard decisions mum and dad made through the years to give us a better life. They were getting older and it was getting harder and harder for them to work, particularly dad, who had being doing manual jobs for mechanics and labouring on building sites.
It was time for the kids to look after them as they had looked after us for all those years. We owe everything to them.
THE OFFLOADS
After a journey like this, you can imagine what a joy it is for me – the kid who used to play footy with a rock on Savaii – to earn a living playing rugby league. And it's particularly good to be playing for a club like the Dragons.
I had a bit of a personal breakthrough in 2017. I don't know where the offloads came from. It wasn't something I worked on and if, you looked at my game in previous seasons, I didn't throw all that many. It took me by surprise!
It really came together in the Anzac game against the Roosters. I got three or four offloads away in that game and it went from there. Once I realised I had that in my game, I kept applying it whenever the opportunity presented itself. The arm was getting free, and once the first couple stuck, it was in my head. It became second nature.
The disappointment of not making the top eight last year really drove the boys throughout the pre-season. We know we should've made it. We started well and couldn't finish.
You could feel the fire in everyone when we came back for this pre-season. We were determined to prove people outside the club wrong. We weren't going to be the same in 2018 as we were the previous season. We had bigger plans.
Having Benny Hunt in the halves alongside Gareth Widdop helps a lot. There's not so much pressure on Gaz. It's added another dimension to our attack.
We're happy to have won the first two games of the season, but no one is getting ahead themselves. The memories of 2017 are still pretty raw. We know the hard work we need to put in over the months ahead to get where we want. There will be no letting up.
More about: Israel Folau | Jarryd Hayne | New Zealand | St George Illawarra Dragons | Tim Lafai