Thomas Kristensen - Contributor
He absolutely destroyed everyone
It was clear to everyone, from his very first training session with the Denmark national team, that Christian Eriksen was something else.
He had this pure, raw talent on the ball. It was a real surprise to all the experienced players in the team. Players like that don't come along very often.
I was lucky enough to be a part of the national team at the time and Christian was a shy 18-year-old boy from Middelfart, a small city in the middle of the country.
Christian had been at Ajax in the Netherlands for two years. He was coming into a Denmark squad with some big attacking names. Niklas Bendter, Jon Dahl Tomasson and Christian Poulsen were there and they'd played at Arsenal, AC Milan and Juventus respectively.
That pressure could have been intimidating. Christian wasn't overawed by it.
At the end of one of his first training sessions with us, all the attacking players went up one end to practice their finishing. He absolutely destroyed everyone. Every day he would grab a bag of balls and go practise his shooting for an extra half hour or 45 minutes after training. It was amazing to see the way he struck the ball. Both of his feet were on another level to the other players in camp.
But it wasn't all easy for him either.
There was so much hype around him but, when it came to getting results, it took him some time to find his feet in the team. He found it very difficult to transfer his form with Ajax and then later Tottenham to the national team. He probably scored eight goals in his first 60 or so internationals but with the new coach, Åge Hareide, his role has changed.
Christian used to drop deeper to build the play but now he has the freedom to stay higher up the pitch. We play more direct and try to get the ball up to him as quickly as possible, where he is dangerous. That's helped his game a lot. I think he's scored 14 goals in his last 16 games for Denmark.
I'm sure that is a scary statistic for Australia ahead of our high-stakes meeting at the World Cup. The Socceroos need to find a way to stop him.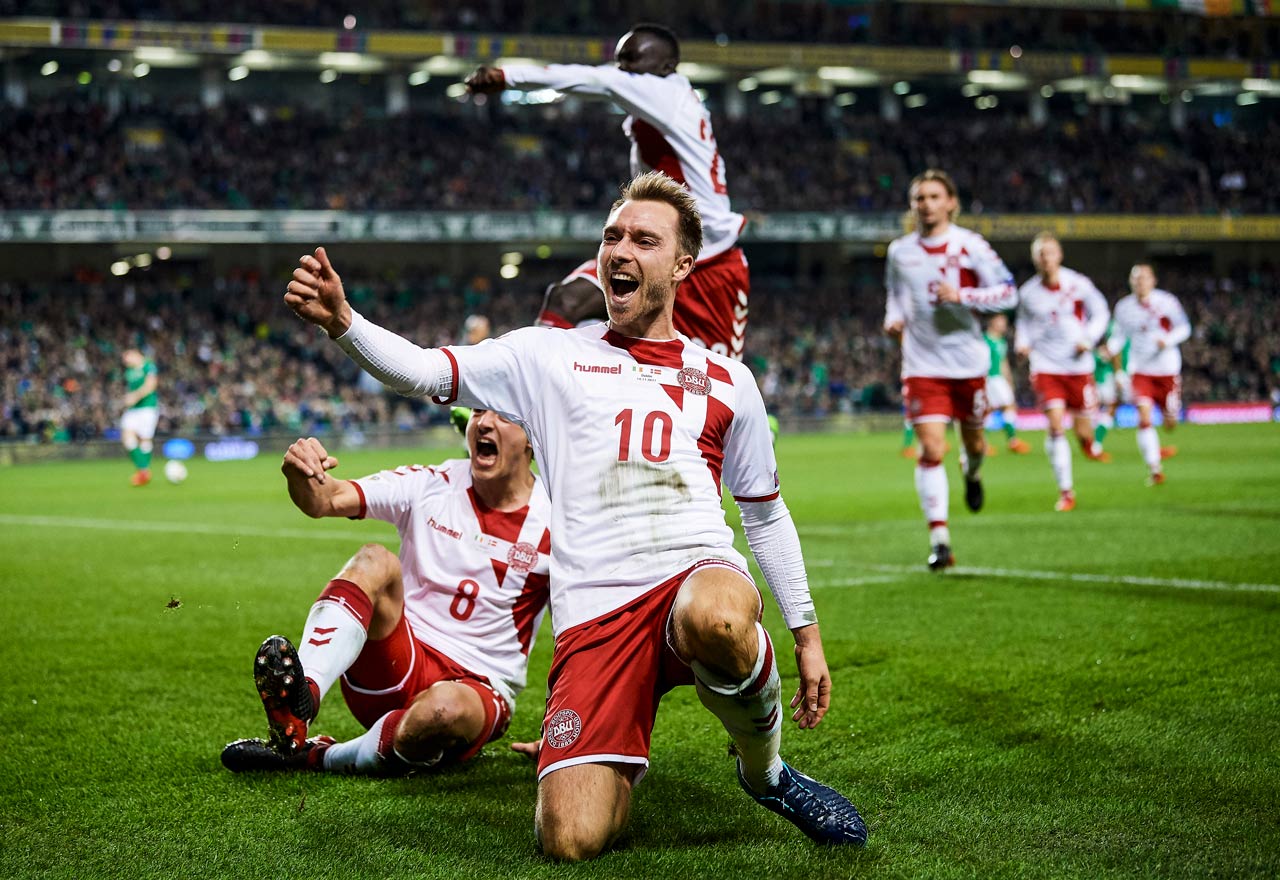 MY KIDS HAVE BEEN BRAINWASHED
I'm a proud Danish man but my two kids don't even know the words to our national anthem, yet they can sing every word to Advance Australia Fair. I don't know how I feel about that!
I think my son and daughter must have been brainwashed by their school here in Brisbane. I don't have much time to teach them how to sing the Danish anthem now either before the big match.
It's simple for Denmark. If we win, we are through to the round of 16. For Australia, they need a win. A draw would keep the dream alive for the Socceroos, but only just.
Back home, everyone is World Cup obsessed. It's a big deal this time around because we missed out on the 2014 tournament. Everyone has been hungry for this for many years.
When we finally qualified by beating Ireland in a playoff, the country went mad.
There was a lot of hype in the lead-up to the World Cup but not a great deal of talk about this match against Australia. The media saw the Socceroos as the weakest team in the group and I think they're right about that. But I also think this is one of the strongest groups in Russia. Peru is a very good team as well.
My two kids don't even know the words to our national anthem, yet they can sing every word to Advance Australia Fair.
The Danish people don't believe it will be a walkover against Australia but they know it's the game they are expected to win if they are to progress from the group stage.
There are quite a few bragging rights on the line as well. Obviously, our Princess Mary is an Australian. I think the nation will be poking a lot of fun at her if Denmark come out on top!
And it's an exciting time to be a Danish person in Australia as well. There's always a lot of banter in the Brisbane Roar dressing rooms but that's really gone up a level in the last few days.
My Aussie teammates are feeling much more upbeat about Australia's chances after the France game. We all watched that match together at a restaurant in the city, which was good fun.
Our winger, Éric Bauthéac, is French and brought a lot of his French friends along. That made for a great atmosphere, especially when we were singing the national anthems. Eric and his friends were very confident before the game but, as it went on, they became quieter.
They were very nervous before Paul Pogba's goal went in.
THE KEY FOR THE SOCCEROOS
Before the France game, I would have backed Denmark to win seven out of ten matches against the Socceroos. Now, I'm not so sure.
I've followed Bert van Marwijk's coaching career and had an idea of how he would want the Socceroos to play. They almost executed his plan to perfection against France. I think a draw would have been a great result but, in the end, they should be proud that they challenged a team with some of the best players in the world.
They also had some bad luck with both goals. The VAR penalty decision was harsh, and goal-line technology didn't go in their favour either.
Ahead of the match against Denmark, I think Aaron Mooy is the Socceroos best player but for me it is about how the team works together that will be key.
For Denmark, Christian Eriksen can win the game all on his own. Australia have a number of other strong players like Maty Ryan, Trent Sainsbury and Matthew Leckie but can't really rely on any one player. Team values will be most important if they are to be successful.
All the attacking players went up one end to practice their finishing. Christian Eriksen absolutely destroyed everyone.
Attack has been a problem for the Socceroos for quite a while now. They've struggled to create chances from open play. It's mostly been from set pieces where they have threatened.
So, it's going to be interesting to see how Bert approaches this game. Against France, they sat off a bit. Against Denmark, they need to come out flying and chase a win.
Regardless of whether it's Andrew Nabbout or Tomi Juric up front, the team need to generate more pressure in front of goal. Of course, that will make them more vulnerable at the back. It will be a real balancing act.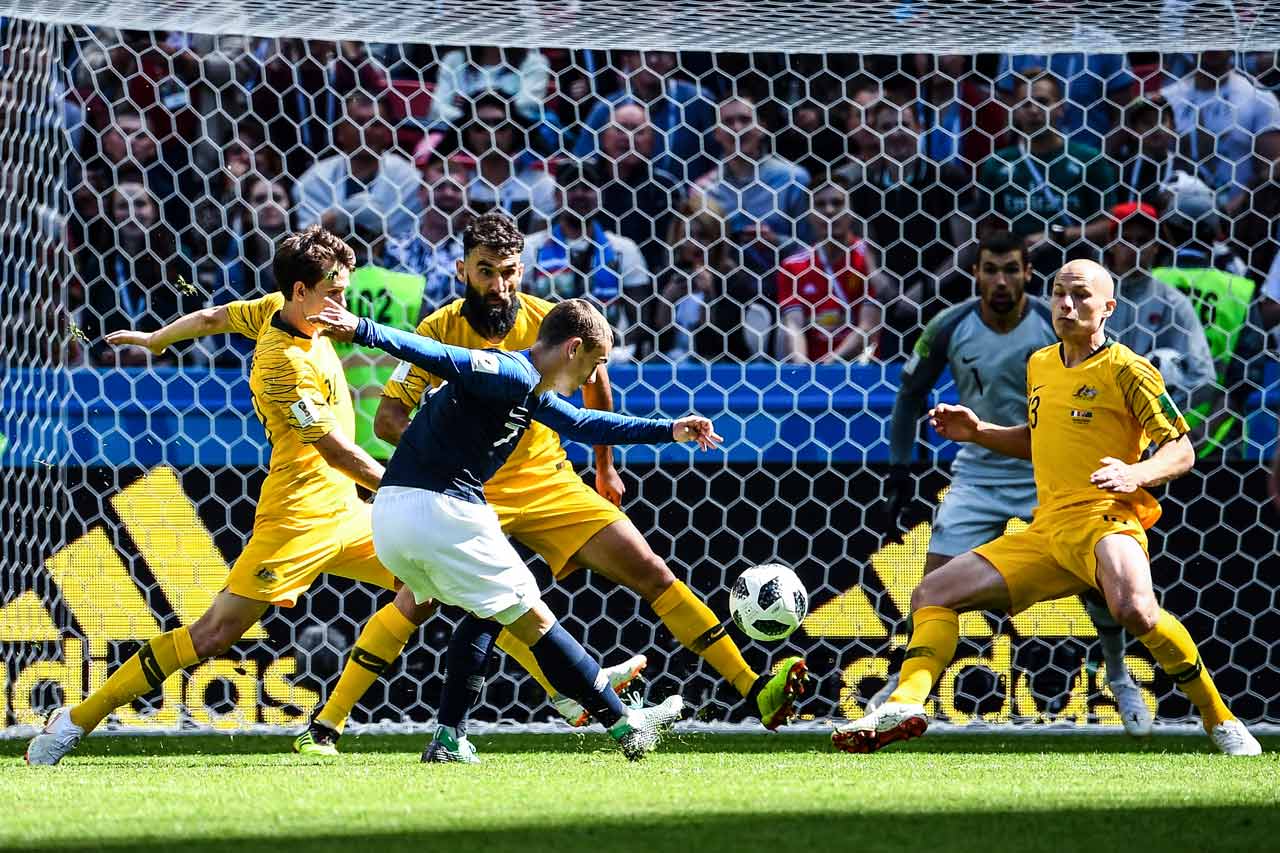 DENMARK'S GRAND PLAN
I think Denmark are a chance of reaching the quarters. That would be incredible for the whole country.
If we qualify, we'll most likely be paired with Argentina. I don't think that would be the worst team to come up against. They've got Lionel Messi, but they really struggled in qualifying and also against Iceland in the first game.
So far at the World Cup, not many countries have performed to their full potential, but the best teams find a way to grind out a result no matter how they are playing.
It wasn't pretty but the big positive I took away from Denmark's 1-0 win over Peru was the determination in the team. They were under the pump for large periods of the game, but the boys really fought hard for each other.
Denmark is in a good vibe right now. The team hasn't conceded a goal in their last five games and they are undefeated in the last 17. They are a tough team to beat but they need to be better than they were against Peru if they are to do anything big in this tournament.
I don't think Denmark will change much for the game against the Socceroos, except their starting number six. William Kvist has had to leave the team after he suffered two broken ribs and a punctured lung in the first half against Peru.
Lasse Schöne came on as a substitute then, and I think he will start against Australia. He's really good on the ball and can maybe offer more in attack but be might be a bit weaker in defence.
What we lack is a prolific striker who can support Christian Eriksen in scoring goals. I played with Nicolai Jørgensen at Copenhagen and he's a good footballer, but he has been struggling to score for us lately. Still, I think he holds his place in the team because he is good in the build-up and supports Eriksen.
What won't work this time is for our players to use physicality to bully the Australian players. We did that against Peru a little bit but Aussies don't like to lose those kind of battles on the field.
MY DANISH ROOTS
I'm very proud of my Danish identity. I live on the other side of the world and I only really get to go home once a year, so it's important for me to stay true to my roots. It means a lot to follow the national team, even if I have to get up in the middle of the night to watch the games.
I'm proud that I had the chance to represent my country. I was a bit of a late bloomer and didn't play for any of the junior national teams, so it was a really big deal for me when I first got selected when I was about 22 or 23-years-old.
I'd idolised players like Christian Poulsen for many years and, in my first game, I got to start alongside him in midfield against the Czech Republic. I assisted Bendtner for the first goal in front of our home fans in Midtjylland. That's a moment I'll remember forever.
I started another game against the Czech Republic in a World Cup qualifier and I've still got the shirt. I'll be wearing it proudly for the game against Australia.
More about: A-League | Andrew Nabbout | Brisbane Roar | FIFA World Cup | Lionel Messi | Maty Ryan | Premier League | Russia 2018 | Socceroos | Tomi Juric | Tottenham Hotspur