This is my story. It's also the story of Sam and George and Luke and mum and every family that has dealt with the consequences of Motor Neurone Disease.
It was ten years last year since we lost dad to MND. His name was Mark and he was a giant of a man.
He was six-foot squared. Muscles on muscles. Superhuman strength.
He played in the front-row for Nottingham City, Rochdale Hornets, Dewsbury and Hunslet. I was too little to remember him as a player, but I've heard all the stories about what a tough old bugger he was.
MND is a terrible disease. It stops the brain from sending signals to the muscles. Over time, people with MND lose their speech and their movement, all while their brain remains completely sharp intellectually.
We have to find a cure. No one should have to live through MND. It robbed us of a father, mum of a husband and, now that my brothers are having children of their own, a grandfather. It's hard not to feel anger at what MND took from us. It changed us in ways we never imagined.
There are people who have devoted their whole lives to this cause. We try and do our bit, too.
This year, Sam, George, mum and I will be running in the City to Surf. We play the Roosters on the Friday night, so hopefully we won't be too bashed up for the run up Heartbreak Hill on the Sunday. To be honest, I don't think I've ever run more than 10 kilometres in my life, although we do cover six or seven in every game we play.
But whatever we feel on the run is nothing compared to the pain of MND, both for the people afflicted with it and the families providing support.
This is for them.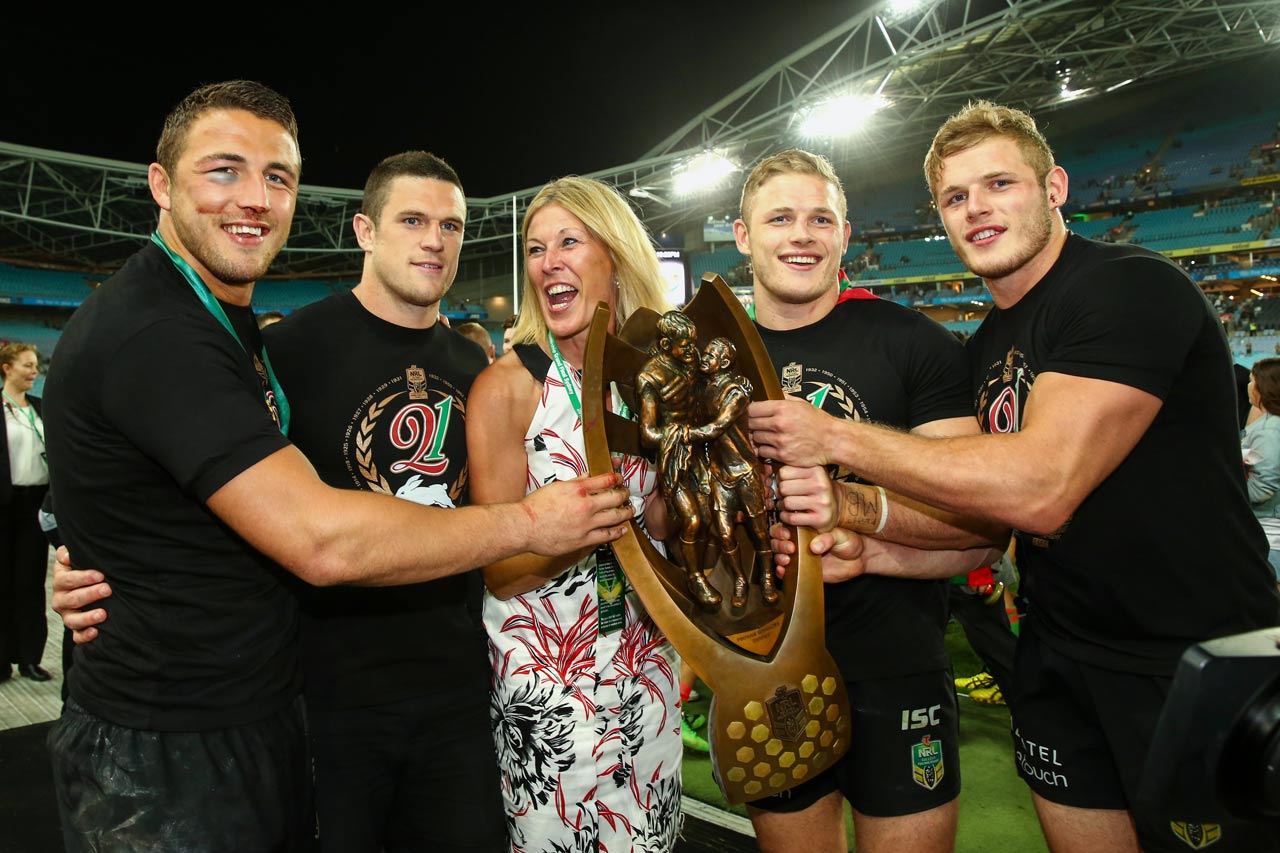 THE DEFINITION OF COURAGE
'If you can't laugh at yourself, you're stuffed.'
That was one of dad's expressions. After the shock and sadness of the original diagnosis, he maintained his sense of humour. He could laugh at it. I don't know if I could have if I were in the same position.
Up until he got sick, we were the most rugby league family you could imagine. Dad played. Mum played. Luke, Sam, George and I played. When dad finished up as a front-rower, he coached our junior teams. It was a handful.
Mum tells the story about the time dad was coaching Sam's team while trying to keep an eye on George and I. We were quite young at the time and apparently we made a run for it while dad was caught up coaching Sam and his teammates. We ended up in someone's backyard around Dewsbury. Mum got to the call to come fetch us while she was out at Luke's game.
And that was us. A little family in Yorkshire with a shared love of footy. We thought that's how it would always be. We couldn't have foreseen what would happen next, and how it would change all our lives.
I'll never forget the way dad carried himself throughout the disease. At first it took over his fingers and toes, and then his hands and feet and eventually his whole body. George and I were only about 12 or 13 when it started to take away his ability to speak. That's when we realised how serious it was.
Until then, I thought of MND like dad's other footy injuries. He'd had problems with his knees as a player and he got over those. I thought this would be the same. I hadn't heard of MND before. I didn't know what it was.
It was hardest on Sam. He was about 15 at the time and he understood the consequences better than I did. Dad sat Sam and Luke down at home to tell them about the diagnosis – George and I found out a bit later – and Sam stayed with dad until the end, carrying him up the stairs to bed when he became too frail to walk up himself.
That is a lot for a teenager to go through. Sam shouldered much of the load and protected us from the worst stuff, all the while building towards his senior debut with Bradford.
Dad died in 2007, just before Sam scored a try on debut for Great Britain as an 18-year-old.
We have to find a cure. No one should have to live through MND.
The experience went a long way towards shaping us into the men we are today. We take nothing in life for granted because we know how cruelly it can be taken away. We want to be the best possible versions of ourselves while we're on this earth, whether that's as footballers, husbands, fathers, brothers, sons and friends.
If you spoke to any of the brothers, we'd all tell you that dad continues to inspire and shape us to this day.
Before every game I play, I think about some of the technical advice he gave me when he was coaching our teams. But, more than that, I think of the courage he showed as his body started to fail him.
It made me realise that there is no point sweating the small stuff in life. Here was the strongest, proudest man you'll ever encounter and he lost everything – his movement, his speech and ultimately his life – in the space of two years from diagnosis.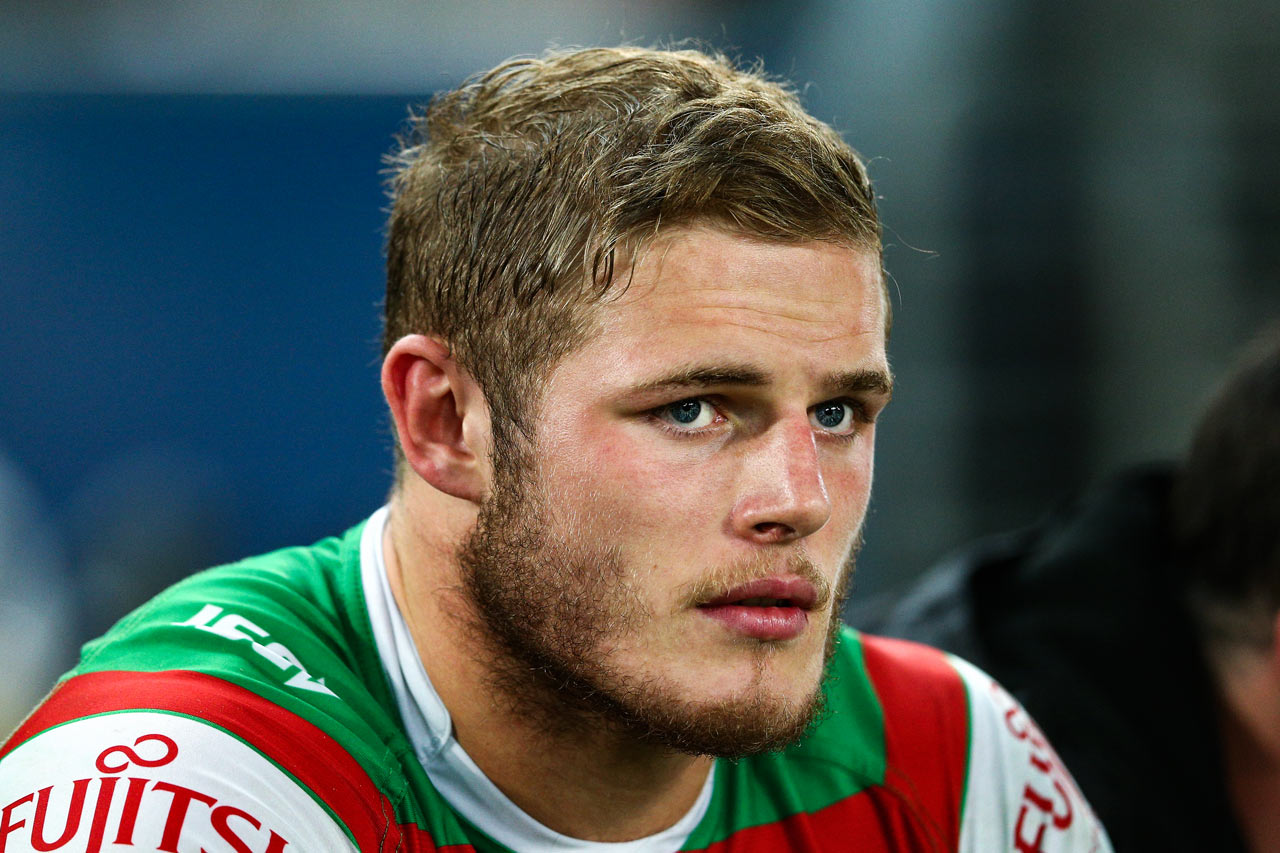 THE LEMONADE STAND
We're always inspired by the people out there doing their bit to find a cure for MND.
Not so long ago, a little girl called Juliette Jones messaged me online. She had lost her grandfather to MND and had set up a lemonade stall called 'CSJ Lemonaid' to raise money and awareness with the help of her mother, Claudia. South Sydney invited her to set up her stall at our home games to sell to the fans walking into the stadium.
The Rabbitohs have been brilliant. Russell sends through dad's life membership every year, complete with his name and number. And he reserves the seat next to him at our home games for the old man. This is a very special club.
We've also been fortunate enough to meet Dr Ian Davis since we came to Australia, as well as the Daniher family. Ian and Neale are both fighting MND and doing incredible work raising funds for a cure with the charity they founded, Fight MND. They are remarkable people.
Neale's daughter Bec has become a good friend of our family. The timing has worked out beautifully this year so that we can all fly down to join the Danihers for Big Freeze 4 at the Melbourne Cricket Ground on June 11.
We also became close with Lee Newton and Scott Sullivan. Lee started the L6ve Life Foundation in the UK and Scott the MND and Me Foundation in Australia. They were lovely young men with beautiful families. They were 42 when they passed away. Way, way too young.
There are others, too, we have met while working towards a cure for MND. Every one of them has touched our lives in a different way. This isn't a journey any of us could have imagined before dad's diagnosis. If there is one thing we take from the loss of dad, it is the opportunity to have gotten to know these extraordinary people and their families whom we otherwise would not have met.
Dad was the strongest, proudest man you'll ever encounter and he lost everything – his movement, his speech and ultimately his life – in the space of two years.
This year Sam, Luke, George and me will be featuring in a documentary on MND. We'll be delving into what the disease is and subject ourselves to a few genetic tests, which should be interesting given it will involve a set of identical twins.
That's where the idea for the City to Surf came from. We thought it would be a good addition to the doco, seeing us big lads and mum's creaky knees struggle up all those hills in the name of research!
We're making some good ground now in the fight against MND.
It's our ambition to help the scientists help the patients. To do that, we have to raise funds and convince the big pharmaceutical companies that this is an area worthy of research and development money. That's just the way it is these days, unfortunately. It has to work for them.
To find a cure in our lifetime would be amazing. As it stands, doctors are limited in what they can do for someone once they're diagnosed. It is slowly getting better over time but we're all searching for that big breakthrough – the advancement that would confine this disease to the dustbin of history.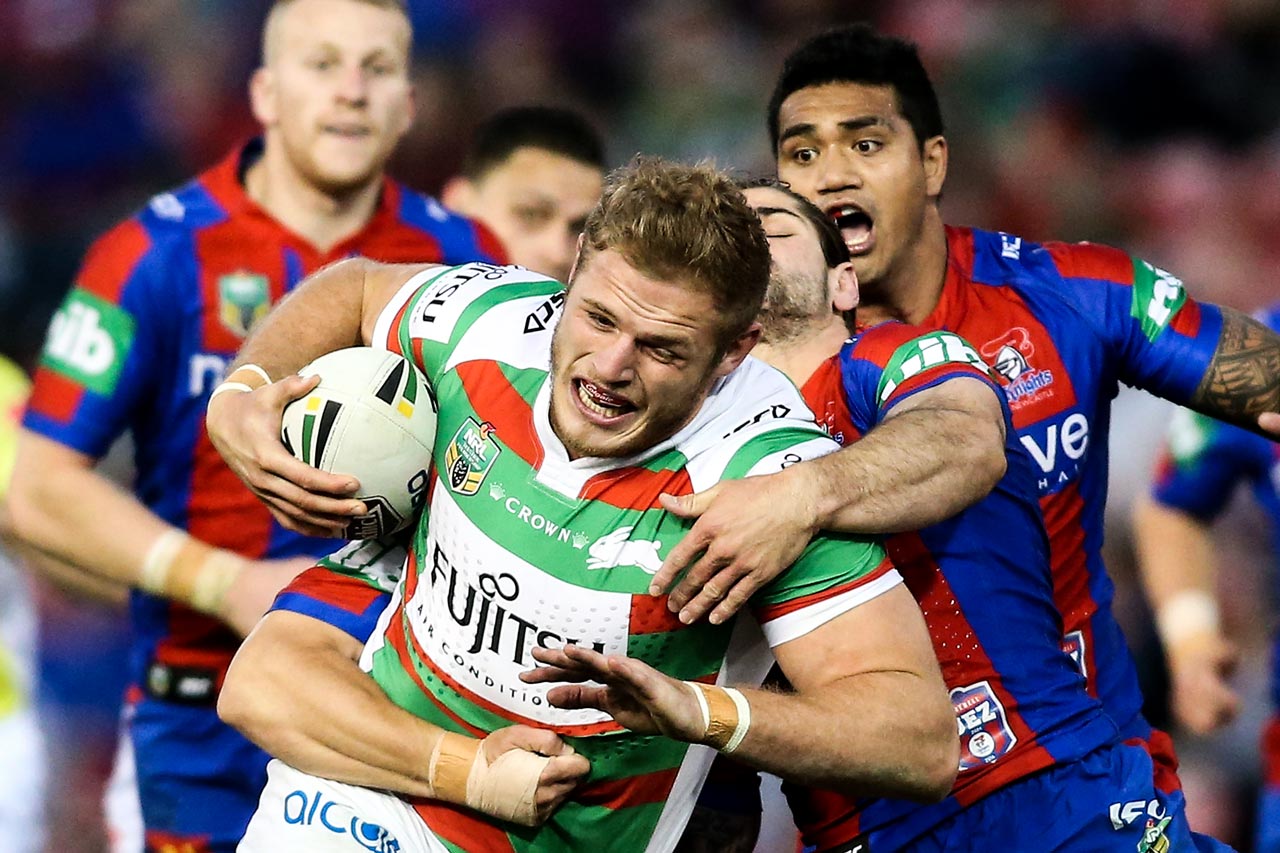 HEARTBREAK HILL
Now that I've signed up for the race, I'm starting to pay a bit more attention to the course when I drive through. I reckon I might've run up that hill back in the days when I was a young bloke trying to keep the beers off. I just didn't run the other 14 kilometres!
I've watched people doing it for the last few years and thought, 'I'd like to do that one day.'
I'm sure I'll get through it. It will be nice to do it with mum and my brothers for dad.
More about: Alexa Test | Audio Recording | George Burgess | Russell Crowe | Sam Burgess | South Sydney Rabbitohs | Thomas Burgess