Tayla Harris - Contributor
Why Dad wanted me to fight
A few weeks ago, I posted on Instagram about these cool colourful 'Be True' shoes I was sent from Nike and wanted to give away.
I wrote in the caption that, to me, 'be true' means standing strong against adversity when you're challenged. I added that it's about standing up for yourself and others when you know it's the right thing to do. 
I asked people to think about what 'be true' meant to them. The responses I got were amazing.
There were hundreds of comments. There were plenty of young girls and boys talking about their determination to play particular sports or achieve in other areas, others saying that they're now standing up for people being bullied at school, and even husbands and fathers saying that I'd influenced their wives or daughters to stand strong and give things a go.
It was very difficult to pick a winner because just about every response was worthy, so I picked one at random, messaged the girl and said, 'Hey, thanks for sharing your story. I'm going to send you some shoes'.
She replied, 'Thank you so much. You don't know what this means to me'. Hopefully she'll enjoy them.
The thing is, they're just shoes. But they're shoes this girl won because, like all the other people who responded, she stepped out of her comfort zone, publicly online, to share something she wouldn't have otherwise. To be able to give her a platform to do that felt really good. 
There's been a lot of good come out of the last few months. I'm in pretty hardcore training for my boxing match against Renee Gartner at the Sydney Convention Centre on August 14. But I've also been doing quite a lot of public speaking and it's been great to have young people and parents come up and say thanks for being a positive role model.
It's never lost on me that I'm in a position that influences young people. Everything I do, I consider how it's going to affect someone else. 
I remember when I was younger, I'd send a message on Instagram or go to footy training to see a player I thought was cool. If I ever got a reply or a high-five or whatever, it would make my week and I'd tell everyone at school about it.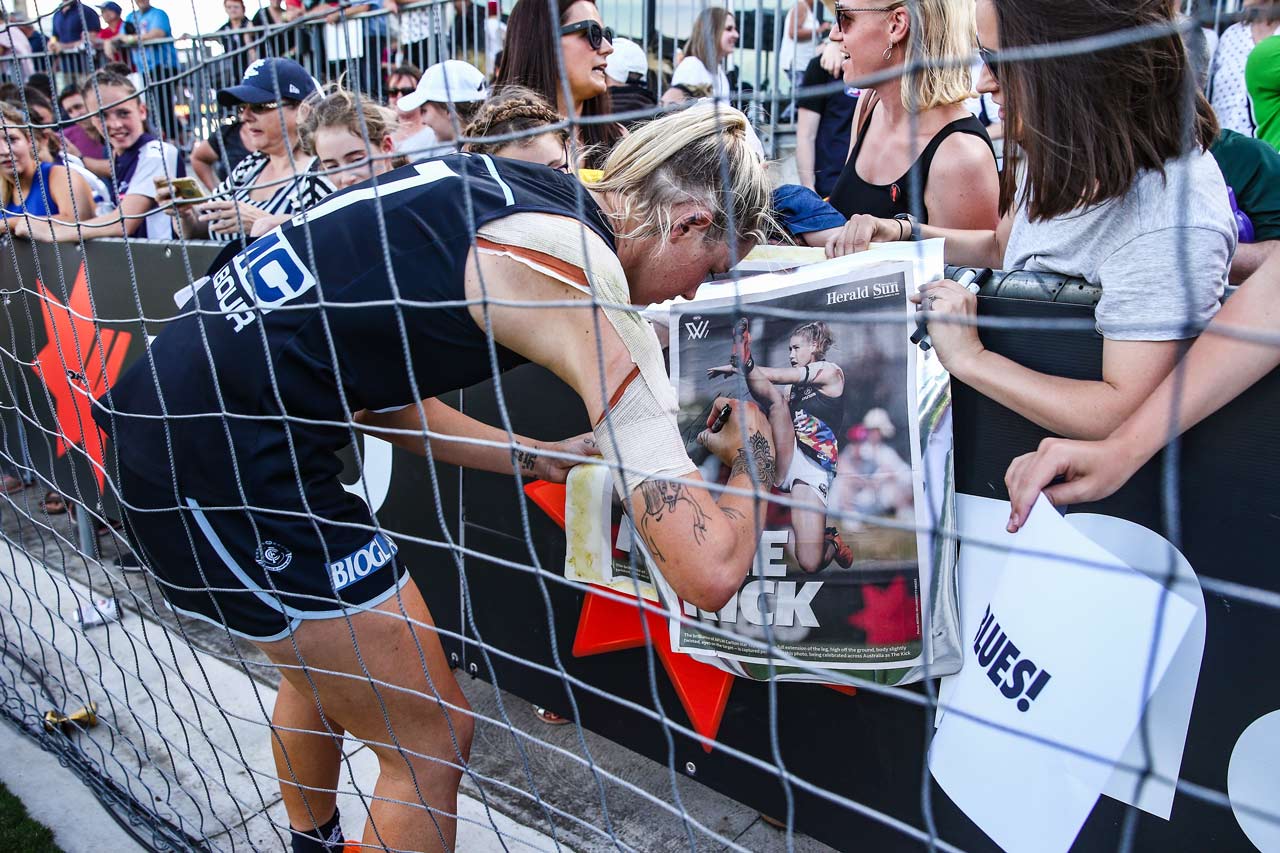 Because of that, whenever a kid messages me on Instagram or whatever, if they've taken the time to write a message, I make sure I reply. I do it because I know how much it meant to me when I sent similar things. 
I put a lot of effort into getting back to people on social media or in person. I send a lot of videos to young people for their birthday or greetings to people. I think it's really important for athletes to do that because it can make a big difference.
So much that's happened recently has made me feel that everything I went through was worth it. Obviously, I wouldn't wish it on anyone else and would rather that incident not be my 'thing'. But I realised that it was also my opportunity to take and do what I could with it.
It's my moment and I own it as mine. Hopefully, I've done some positive stuff with it, used it in the right way and used it to help people. It's not ideal, but it is what it is. I'm happy with the end result.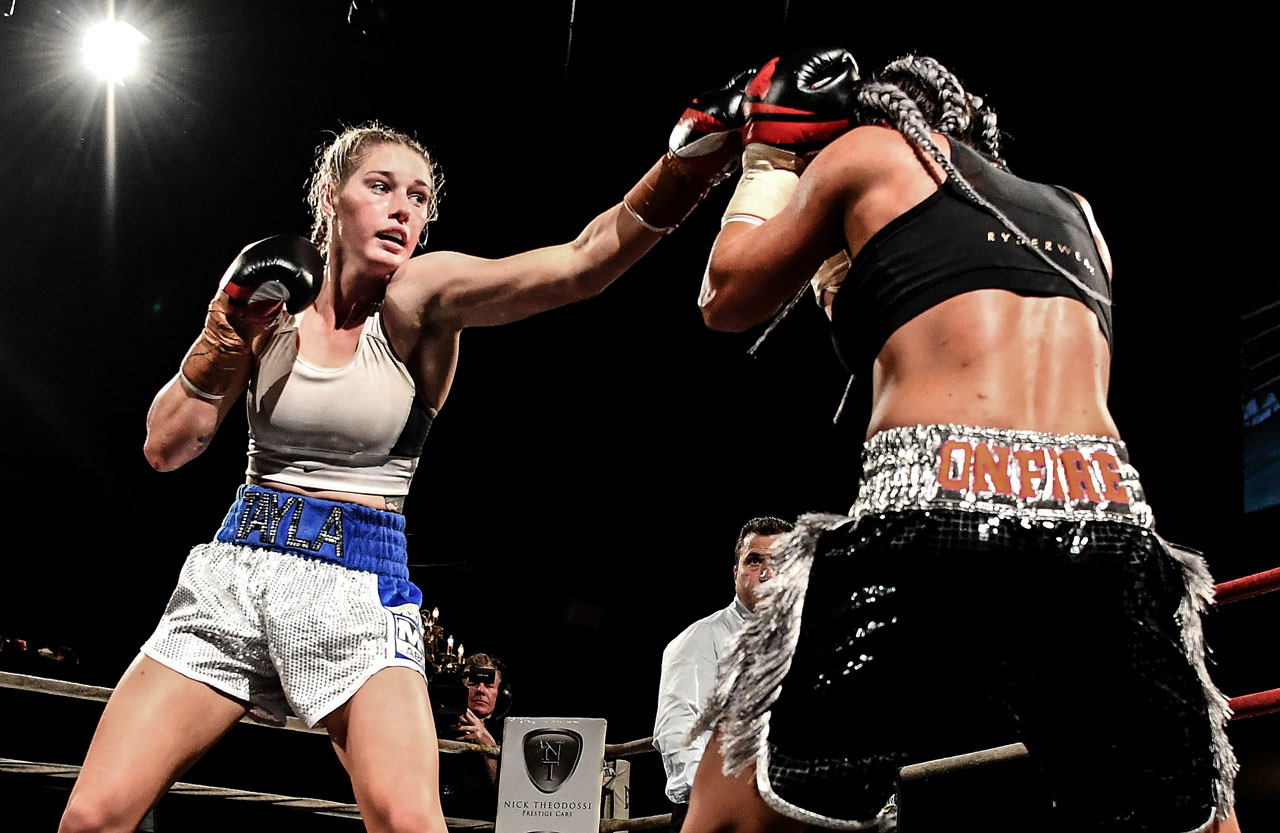 blues support my boxing
The past footy season was hectic, but boxing plays as big a part in my sporting life as footy does. It's quite demanding playing two sports professionally, but I love it. 
Half the year I've got footy, half the year it's boxing. Sometimes I say what I do in the off season is boxing, but it's not really the case because it works the other way too. 
The good thing is that I think they complement each other, in terms of fitness, coordination and also mentally. Anyone who's been in a ring and fought would know that it's really hard work. Doing it gives me another outlook on how to keep going when you're exhausted. 
Boxing came into my life later than footy did. I was five when I first played Australian rules and 12 when I began boxing.
It started when my dad took me to the local PCYC and came about because he wanted me to learn a bit about self defence. It was a fatherly instinct type of thing. He wanted to make sure that I had everything I needed to be able to protect myself if I needed to.
I really enjoyed boxing, but footy started to take over. I was playing rep football and I didn't have enough time to dedicate to boxing. But, once I got my driver's licence in my last year of school, I was able to get myself to the boxing gym while Mum and Dad were at work and I ended up spending a lot of time there.
Over the past four years or so, I've dedicated as much time to boxing as I have football. 
I was 18 when I had my first fight. I went a bit of an unconventional way. Normally you'd have an amateur career first, but a professional opportunity came up, so I jumped in the deep end.
I went OK in that fight, the next one came up and I took it up pretty quickly, won that one, then it continued and I've been able to get more fights.
One of the reasons professional boxing suits me at the moment is because I'm able to pick and choose when I fight, so I can make sure it doesn't overlap with my commitments to Carlton. 

One of the reasons I went to Carlton was because they were so supportive of my boxing career. I was really clear before I made the move that I had ambitions to pursue boxing in the off season and they were fine with that. They said, 'If that makes you happy, then we're happy for you to do it'. 
I was really appreciative of the fact that they were so open and obviously cared about my life away from the game, not just that I wanted to play for their club. They wanted to help me with boxing. 
It all came to fruition when the CEO, Cain Liddle, came to my first fight since moving to the club, at the Melbourne Pavilion last August, to support me as a friend rather than a colleague.
Most of the team was there, too, which was really nice. It meant a lot to me.
They understand it's a big part of my life and, also, that it's going to help my footy. Cain's supported me at every fight since, which I'm very thankful for. 
More about: Carlton | Resilience | Women's Sport