When love and finals collide
I played against my partner, Kirsty Yallop, when I played my second game for the Matildas as a 17-year-old in 2008 and she was in the New Zealand team. But we didn't really meet until we were both playing at the 2015 World Cup in Canada. We've been together ever since.
We're getting married in February. Four months later I'm hoping to be a part of the Matildas' World Cup squad in France. So plenty going on to keep me busy!
But, at 27, I'm fairly relaxed and comfortable with who I am and where I'm at. I better understand how to approach challenges. I think the key for athletes is to achieve a proper work-life balance for them as an individual. I've definitely worked at that for a long time.
It's hard to plan for personal things around football because you've got to wait for dates of competitions and training camps to be released and, on top of that, your career can sometimes take a twist or turn you weren't anticipating.
Kirsty and I were hoping when we settled on February 9 as the date for our ceremony the W-League season would already be over by then. 
There was lobbying before this season began from people connected with the Matildas to get it to finish at the end of January and provide more space for World Cup preparations, but it didn't happen.
Now our date clashes with the weekend of the W-League semi-finals, which is unfortunate but there's nothing we can do about it.
We're getting married at a place just north of Auckland and everything is booked. If my Melbourne City team make the semi-finals, I think I can take one day out of my life for an occasion like my own wedding. My hope is that we win on the same weekend I get married and then I'd be available again for the grand final. You've always got to remain positive.
Principles and Values
If I had been the type to give in easily my football career probably would've been over as quickly as it started. My family moved from Orange to the Gold Coast when I was five and I started playing football at six. I was the only girl in the competition in my age division, playing with and against the boys.
The boys didn't hold back. No one wanted to lose to the team with the girl on it.
It didn't bother me. I didn't try to disguise the fact I was a girl or anything like that. I had the longest blond plait hanging down my back you could imagine. You couldn't miss me. I thought it was all good fun. When the opposition did lose my teammates would just tell them I was better than them.
We'd moved to the Gold Coast for family reasons. My Aunt Jackie on my mum's side had a boy, Jackson, and a girl, Tegan, who each had serious heart conditions and they needed support. We were able to move in to a house right next door.
Jackson was lucky enough to grow out of his condition, but it stuck with Tegan. I think she's the second oldest survivor of the particular condition she has. She's had a lot of open-heart surgeries and is still waiting for a new heart, but she's been doing really well.
My dad, John, had four kids when he met my mum, Debbie, in Orange. They had three kids together and I was the youngest. That meant I got a lot of hand-me-down clothes, but I didn't mind. We had a happy family and that's all I cared about.
Coming from a big family gave me some of the principles and values I've been able to apply to my football career. I'm pretty easygoing. I've got no problem sharing. I enjoy the social side of things, so whatever sport I did was always likely to be a team one.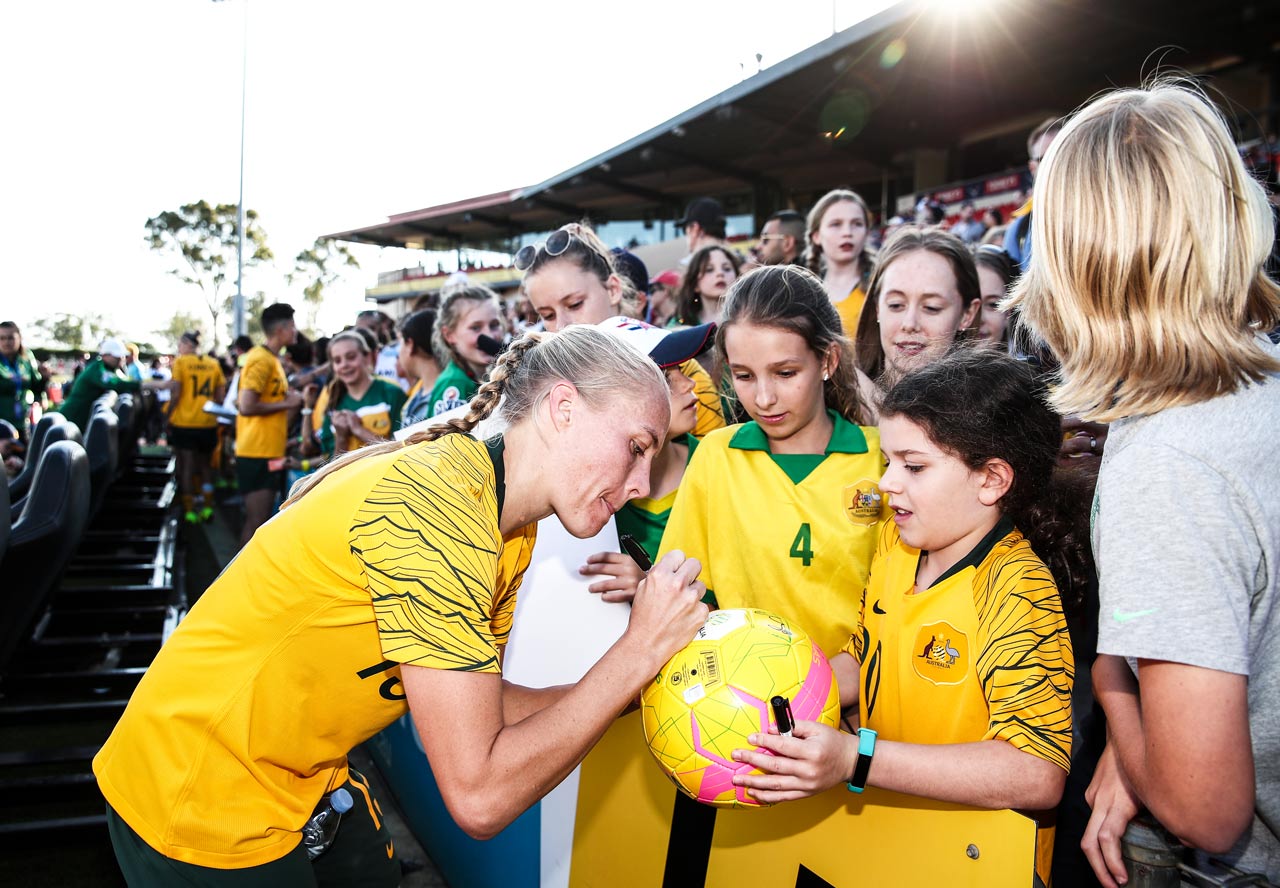 Football suited me. I loved the team environment. I played in the boys competition from when I was six until the under 13s. For the last bit I was also playing in an open-age women's team where most of the other players were in their early 20s.
I got my aggression from playing against the boys. I had to be able to handle the physical nature of it or I wasn't going to get the ball.
I made the Queensland Academy of Sport women's squad when I was about to turn 14 and that included all ages as well. The best players in Queensland were there and I learned how to compete tactically because there was a much bigger physical difference.
The QAS gave me that taste of professionalism I needed. I found out that if you really wanted to make it you had to train really hard – and every day. After making my Matildas debut, I started playing for Brisbane Roar in the W-League when I was 16 and never looked back.
Managing projects
My big move to Melbourne City after 10 years at the Roar was about off-field opportunities. Seven Consulting came on-board as a sponsor of the Matildas a bit over a year ago and offered players an internship. It was perfect timing for me.
I'd just finished a double masters degree in business and marketing through Griffith University. I did most of my bachelor degree attending Griffith straight after I left school at 18 and then, for my masters, I did pretty much 100 per cent of it online from various parts of the world. 
The thing was, to take up an internship you had to live in Sydney or Melbourne. They didn't have an office in Brisbane. It was a great opportunity for me. I had to take it.
I'd already spent a lot of time in Sydney. We have a lot of Matildas camps there and my sister lives there as well. I thought it was time to get to know Melbourne better, so I joined City. The football club is great and I love the city itself. The restaurants, the shopping, the coffee, the theatres …
Seven Consulting is all about project management. They've got some huge clients. I normally go in one day a week on my day off from football. If I go on-site or to a meeting with one of their clients I need to be present for the whole day.
I'm involved in discussions and encouraged to share my thoughts. It's a really good and open learning environment. It's a fantastic starting point for a career post-football.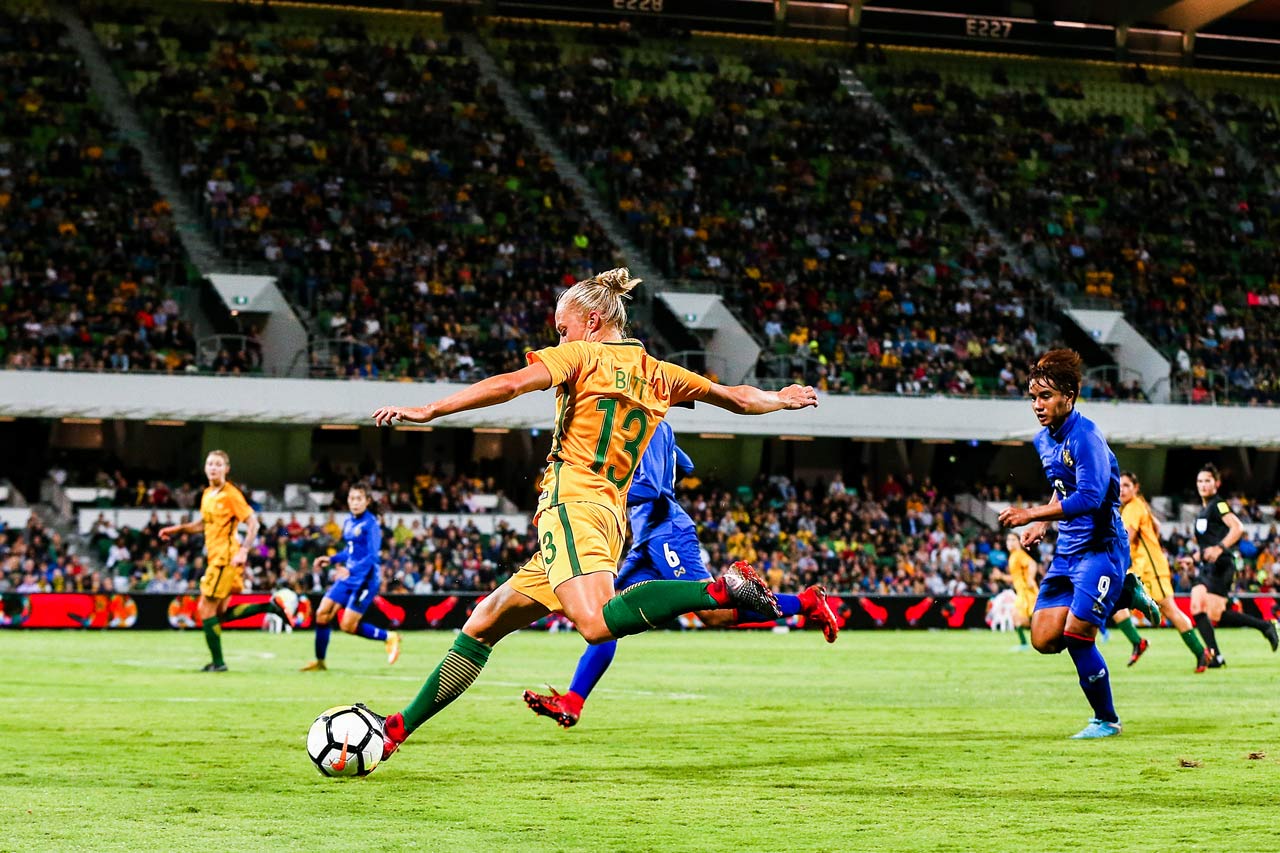 Kirsty is five years older than me and has retired from football now. She planned well for the future too. She's got her masters degree in sports science and is getting some work experience with the men's team at City.
I've constantly been on the road the last few years and I've had Kirsty there for support, playing alongside me in Sweden and Norway before she retired.
We're going to enjoy spending the rest of our lives together.
the best win
Entering the Matildas set-up at such a young age, as so many of us tend to do, does wonders for you as a footballer and a person.
You either sink or swim, but the environment supports you if you want success badly enough.
I've had some great highlights, winning multiple premierships and championships with the Roar, the Julie Dolan medal for best player in the W-League, the Asian Cup, playing in two World Cups – but one game I treasure as much as any came in the Tournament of Nations last year.
I scored the only goal when we finally beat the US for the first time after many years of trying. It felt great to do that, but it was the result that meant more to me than anything. It meant so much to all of the Matildas.
We already believed we could compete against and beat the very best teams in the world, but this was proof. Now we're just trying to be more consistent against them.
The World Cup is only six months away. That's where we want to take all we've learned these last few years and show what we're capable of doing.
There's a still a lot of work to do between now and then, but we aim to make it our time.
More about: Brisbane Roar | FIFA Women's World Cup | Matildas | Melbourne City | Sexuality | W-League | Women's Sport