The cage or a prison cell
Jail or fighting. Fighting legit, that is.
The time came, when my mates started going inside, to make my choice.
And now, this is the fight. This is the one. UFC 225, Chicago: the moment where I show the world what I'm all about.
The opponent didn't matter. I just wanted someone ranked above me but, by chance, it was Andrei Arlovski, a former UFC champion. To get such a big name was awesome. It's an honour for me to share the Octagon with him and it will be even better if I put him away and add another skull to the collection.
The plan's simple: Round 1 KO. Bam Bam style. He's coming towards the end of his career and is going to come hard but I want to send him off.
As for after – I've always got a special party planned for after my fights. And there will be a fair few shoeys done, especially now Reebok has hooked me up with my own shirt! That was awesome. Fuck, who would have ever thought Reebok would make a shirt of me. Who would have thought ANYONE would make a shirt of me, but we're here now. It's really cool, I'm honoured and grateful.
It's one of the things I'm enjoying most about my UFC journey: I'm just being me. Everyone relates to me, at the end of the day I'm just a normal bloke like everyone else.
The heavyweight division's been a bit boring lately but it's starting to spark up now with some good, big fights: Francis Ngannou, Derrick Lewis, Mark Hunt is nearly back.
It's boring when people in the UFC are trying to be something they're not, or trying to act like Conor McGregor. That's fucken boring.
Me and Conor are very different in some ways but also very similar. I'm not trying to take Conor's limelight or do what he does. I just want to do what I do.
Reebok is coming out with a @bambamtuivasa Shoey T-shirt ahead of his UFC 225 fight against Andrei Arlovski. It will be available via the Fanatics web site beginning next week (https://t.co/yTB7xerm19). This is a job well done. pic.twitter.com/mXFv5pZaNq

— Ariel Helwani (@arielhelwani) May 23, 2018
FIGHTING SINCE FOREVER
I'm real. I'm humbled. I've got my feet on the ground. I'm still out at Western Sydney, living at Penrith. I look around and see what real life is every day and I don't change. It's just another day.
And growing up in Mt Druitt, I've been fighting all my life.
Despite having a Samoan father (Tony Tuivasa) and Aboriginal mother (Kerry Johnson), my skin colour was white. I was a white kid.
My whole family was dark. Eleven brothers and sisters, cousins, all dark. And then me. My mum has light skin, so maybe that was it. We grew up in a big household – but it wasn't a big fucken house, that's for sure.
People didn't understand my background – but they found out. A lot of times I had to fight for it. That was when they found out!
I'd have Samoan kids talk bad about me, speaking in Samoan. I'd turn around and bash them. I had a fair few instances of that. Fighting was just normal for us, growing up.
It's just an islander thing. Whoever's out, around the same age, you fought each other. Even at family gatherings. I still do it to my little cousins! Teach 'em young. Teach 'em to fight each other, then when someone else wants to fight, on the street, you fight together. If you can't fight for your blood, who can you fight for?
The plan's simple: Round 1 KO. Bam Bam style.
What's heavy to other people isn't heavy to me. What's heavy to me probably isn't heavy to other people. Not everyone is a fighter.
I saw heaps of shit. People get their heads split open. Some put in comas. It's just what you see on the street.
I'm fortunate enough that I always had the upper hand. Maybe there were a few times I thought, 'Fuck, I've gone too far here'. But on the street, it's either you or them. That's how I think when I'm in the cage, too.
Fighting as a kid, I always enjoyed it, personally. I love fighting. Still do. I love the fact you get to fight another man and only one can win. I love that feeling.
Growing up, I was actually good at school, I was smart. But I was just a fucken clown. If I was good, the class was good. If I was mucking up, the class was bad.
Other than that, I was pretty cool with school. I never really jigged, I liked being there, liked being around my mates. It was better than being at home. But that might sound better than some of the teachers would tell you… I was a ratbag as well.
I went to Kingswood High for three years, then I went to St Doms. I got kicked out of both. I'd just turned 17, just started Year 12 when they said, 'Sorry mate, we don't think you can come back'. I was like, 'Ay?!' But shit happens.
MY VOLATILE BLOOD
Dad was a boxer. He was good. He's an old man now and he still throws 'em pretty good. He was a hard, firm man, my dad.
One thing that makes him really proud when I fight is that I carry our heritage into the cage every time, with my traditional Samoan tattoo, the Pe'a.
I had it done the traditional way. It's disrespectful not to have it done that way. That means a lot of tapping, a lot of ink and a lot of pain. I had it done over three months, because I had to go overseas and fight, so I got the top half done first then finished it off.
It's not just like a sleeve or any other tattoo. It's a massive thing. A lot of things come with it. A lot of superstitious things. It's one of the hardest things I've ever done, for sure.
On the street, it's either you or them. That's how I think when I'm in the cage, too.
It's different for everyone and everyone has their own reasons for getting it. I got mine for both my mothers. One, for their pain of having me. Two, I remember when I was a kid and my uncle had one and I asked my Samoan mum (my dad's wife, Tamara Tuivasa) what it was. She said, 'Only real men get those, son'. I said, 'One day, I will get that for you, mum'. And I did.
I also feel my Indigenous heritage deeply, though it's difficult. Coming from the Samoan side where the culture is so strong and alive still, then going to my mum's side and the culture is fading. One side also has a strong church culture, the other doesn't. But it gave me two sides of life. It opened my eyes to a lot of things. And I was proud to be the first Indigenous Australian to win in the UFC.
I'm still tight with my Aboriginal mum, my birth mother. We're very similar – meaning we always clashed a lot. I lived in many houses growing up; uncles, aunties, friends, plus mum and dad, in and out, out and about everywhere.
My dad's side is from a village in Samoa known for fighting. But I got my mouth from my mum for sure. The Koori side and the Samoan side. I just got the mix for fighting I think. I'm Foboriginal: Two sorts of fucked up!
Foboriginal, From The Area. Always representing my people.
JAIL, FIGHTING & FOOTY
After a life full of fighting, one day me and my mates saw the UFC on TV. The boys were like, 'I reckon you'd smack some of these blokes, Tai'. I said, 'Fuck, I reckon I would too'.
Fighting in the UFC meant making cash fighting, seeing the world. Meanwhile, everyone I knew was going to jail. I was next.
The cops didn't like us. Not many people did. My mates were getting done for stealing, drugs, whatever. A couple of my mates from real young got six, seven years straight off the bat. I was 15, younger than the boys I hung around. I did the math. I was like, 'We'll be like old men when we come out of jail'.
I didn't give everything up straightaway but I took that first step in the right direction. I thought, 'We're punching on everyday out here in the streets, might as well go and see if anyone else can really punch on'. After seeing the UFC on TV, what it could mean, I went to the gym the next day.
I gave it a crack. I reassured myself I could fight, not just in the street. I could fight against other men that train. To get in there and learn more stuff, for me that was fucken sick.
My first pro MMA fight was in 2012, age 19. Round 1 TKO victory. I'm still undefeated, 7-0, with every win by first round KO/TKO – my last two in the UFC.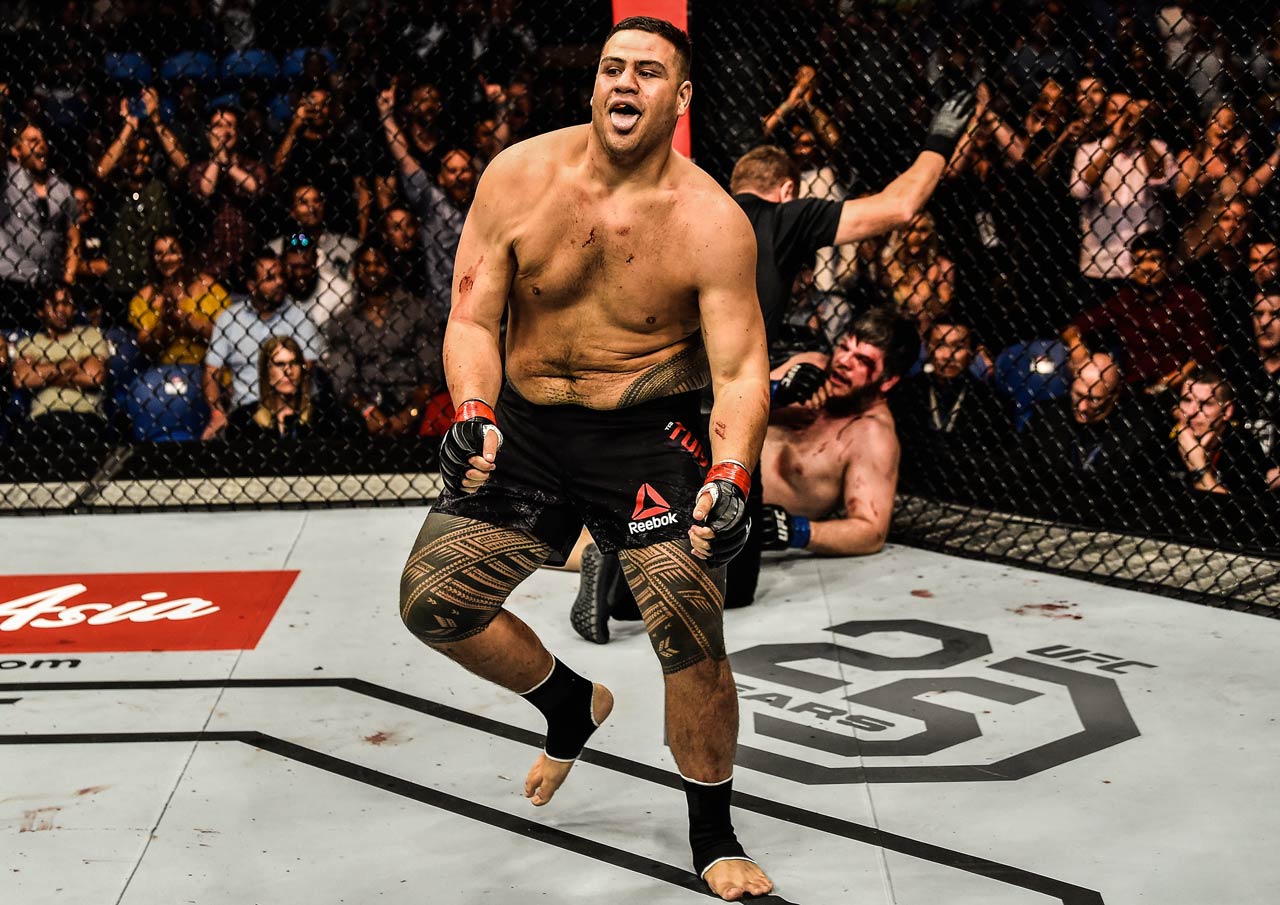 As a street fighter, striking is where I came from. In MMA, where you need to cover more skills, I enjoy wrestling more than jiu-jitsu. But you have to do a bit of everything to compete.
I still do heaps of stand-up. You don't leave behind what got you there in the first place. I just keep sharpening my tools.
I fucken hate training but it's something you have to do. Then again, I say I hate training but also after a while, sitting around, I'm an athlete. I've always done sports and I miss moving around if I haven't been doing it.
I was like that before my UFC debut last year late last year. I was coming off surgery, stuck on the couch with a busted arm and leg, on medication, blowing out to nearly 150kg. I had more than a year between fights. It was shit. But when I came back: flying knee KO on Rashad Coulter, on my home turf in Sydney.
In the lead-up to UFC 225, I've just done my 13th training camp in Thailand in the past eight years. This time, it's been nearly two months, with lots of road work. But towards the end of a fight camp, I'm always like, 'I cannot wait to sit around and just drink piss'.
My dad's side is from a village in Samoa known for fighting. But I got my mouth from my mum for sure.
Before fighting really got serious, I played footy. I was athletic. I love sports, love moving. But footy didn't work out for me.
I was really good at rugby league. I reckon I could still give it a crack. But it didn't suit my personality. You get told how to act, how to talk, shit like that. I started gambling, drinking, all that shit. I'd get into fights on the field. And playing for the Roosters, I was away from home, away from the west. I just reached a point where I was like, 'I've got to go home. I've got to be with my people'.
I gave it up. My heart wasn't in it. I'm a big believer that if your heart's not in it, don't do it. I've grown up my whole life watching people do shit they don't like. I wasn't going to be like that.
I see what those footy boys get in trouble for nowadays, what they end up in the media for… I made the right decision. Some of that bullshit… come on, they're normal men. And as another man, fuck off, I don't want to see that shit on the news. Let them go. Who cares?
Forget the money and the fame you can get from footy. It wasn't hard for me to give up. If I say something in my head, I usually do it. I don't really care what other people think, I did it – but I knew I had a back-up with fighting.
Even then, though, I had a few years between quitting footy and making the UFC where I was just fucking around, doing what I was doing. It wasn't until I heard that I was going to have a kid that I got my act together. Once that happened, it changed my life.
I don't want my son, Carter, to go through what I went through. I want us to have better. The little fella's doing fine: he's been to four countries already and he's not even two! I feel proud. I'm doing my job as a dad.
Who knows – maybe one day he'll be a fighter, too. He's got some good genes! I think everyone's going to be expecting a lot out of him but I don't really care. He can do what he wants. But he loves being active and whenever he comes into the gym already, he's hitting the bag.
I'M ABOUT MY PEOPLE
I don't watch fighting. Don't watch footy. Don't really watch anything. No TV. Don't follow singers, anything like that. I've never played games. I can't. I'm a weirdo, ay?
I like being around people, my friends. Talking shit. I've always been like that.
And after UFC 225, I've got a special visit to make.
With my fighting getting big, I haven't been doing as much as I used to with Sydney Regional Aboriginal Corporation. When I get back from Chicago, I'm going to go and check on the old fellas. I miss them.
I love doing that shit. Hanging with people, talking with people. Especially the elders – there's always something to learn. The old fellas always have stories to tell.
I run a men's group with SRAC out of Penrith. I just take the old fellas out; I sit down with all of them and see what we want to do, then organise it. We go to movies, lawn bowls, go out fishing on a boat, have a barbecue.
They're just lonely, they've got nothing to do. We get a bunch of men together and go and do what men do. Sit around, talk shit. Then some of the poor fellas have to go home to be alone again.
It keeps me grounded. And it can be hard, because you see a fair few of them die. It just makes me realise, you've got to have a crack at life while you can. Always.
I feel like supporting those men is my way of giving back. I've done a fair bit of wrong. It makes me feel good about myself. And it's looking after my roots in Penrith.
I hope some of those fellas can see the fight. And I hope that one day, they see me conquer the world in the UFC. Not just me, but also my partner Brierley's brother, Tyson Pedro, in the light-heavyweight division.
That's the goal and we gave each other a gee-up the other day. We always do that close to fights. It's something you wouldn't read about. Two boys from the west, brothers-in-law, fighting in the UFC, aiming for the belts.
Fuck, I've got a Reebok shirt now – anything is possible!
More about: Mark Hunt | MMA | Sydney Roosters | Tyson Pedro