Steve Price - Contributor
JT's incredible grand final gesture
The first time I met Johnathan Thurston was in the bowels of the old Marathon Stadium in 2001.
It was about 90 minutes before kick-off in Newcastle and it wasn't the most glamorous of meeting places. The dressing-room was cold and damp and there often seemed to be water running through it – in the visiting team's room anyway.
But the club bosses at the Bulldogs had told me they were keen to sign this young bloke from Toowoomba and were bringing him down from Queensland for the game. They wanted me as a senior player to talk to him. I'd come from Queensland to join the Bulldogs as a young fellow myself, so I knew how tough it was to leave your family and friends behind and battle homesickness.
It was midway through the season and the bosses told me they needed to strike a deal now. There were a few other clubs chasing him. If it dragged on, we might miss out.
JT was there with his aunty, who had accompanied him on the trip down. He was only 18 and didn't say much. He was a shy, skinny little kid. But I could tell he was listening and taking it in while I did pretty much all the talking.
I told him that if he did want to come to the Bulldogs, the best thing he could do was sign straightaway, because then he could immediately enjoy the fun part – playing footy.
The toughest thing he'd do in Sydney was a pre-season. If I could've done one thing differently when I moved to the Bulldogs, it would've been to get there mid-season and play a bit of footy first, rather than go straight into an off-season preparation.
Off-season training sessions at the Bulldogs were torture. Billy Johnstone was our trainer. He'd punish us and then do some more training on his own. But to get him you had to get through Garry Carden first. He trained the lower grades. They reckon he was just as hard – or harder.
I told JT that if he came down now he could get to know some of the boys, find his way around the city, get a bit fitter and stronger and enjoy playing the game. And when training for next season started, it wouldn't seem so bad.
I can't say for sure if it was what I said, but JT signed and was down here within a couple of weeks. He played under a first-year coach by the name of Ricky Stuart for our Jersey Flegg side.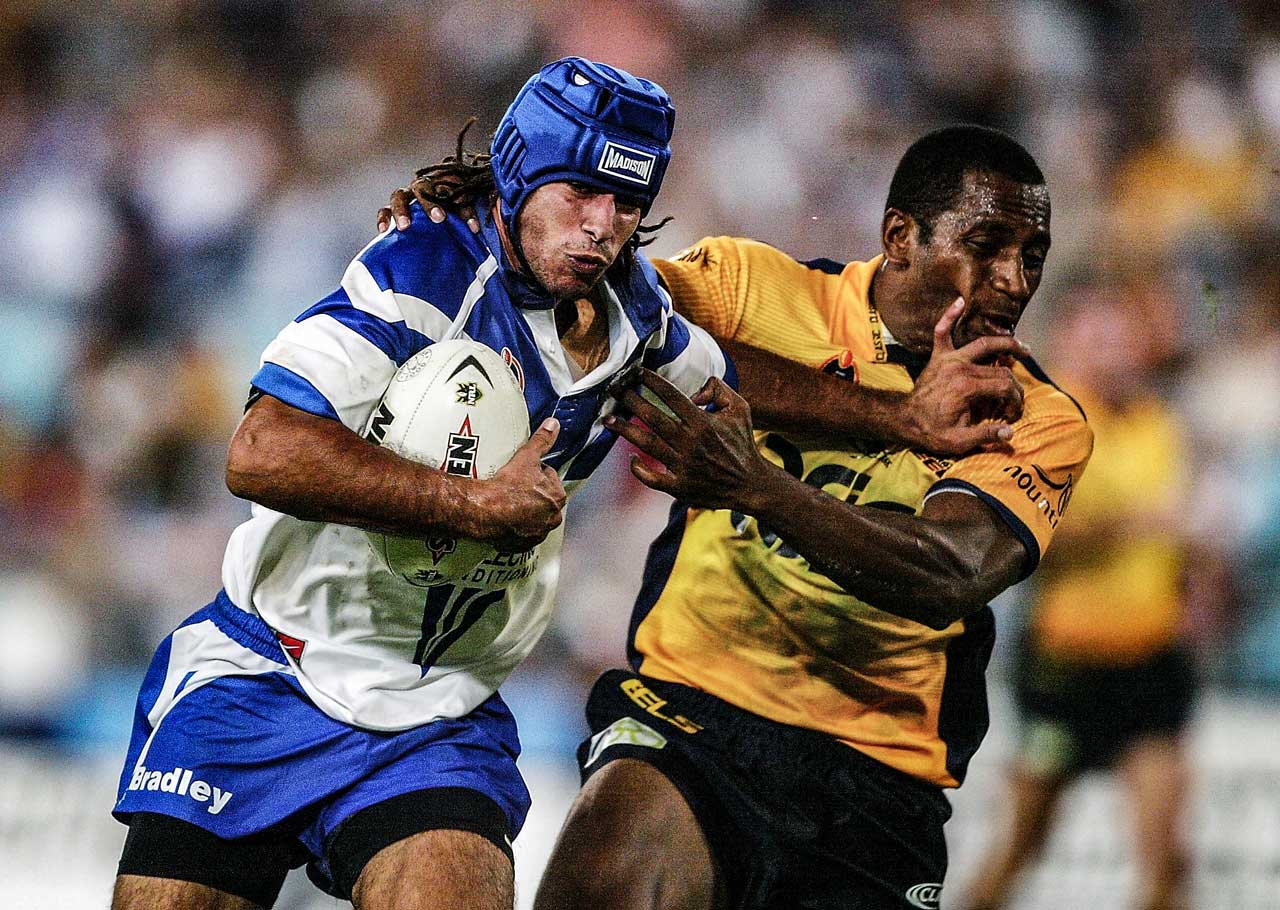 'IN TEARS ON THE FIELD'
I took an interest in all of our good, young players and I took a particular interest in Johnathan after our chat in Newcastle.
I watched him play Flegg and I've got to admit I was worried. The first couple of times I saw him, I wondered if he was going to make it. I didn't know whether he was going to be able to handle the physical side of it.
He looked like he'd never done any weights. He had a lot of catching up to do physically and it was going to be a case of whether he could survive the collisions while he did that.
The first couple of times I saw him, I wondered if he was going to make it. I didn't know whether he was going to be able to handle the physical side of it.
It wasn't that the opposition teams were trying to bash this little bloke. It was just a big step up for him from playing footy in Toowoomba.
I saw him in tears on the field at one stage after he'd taken a heavy knock. He was willing, but he wasn't quite yet able, and it was going to be a race for him to get to that stage.
As we all know now, he went on to win that race. Easily.
Sticky took the Flegg team to the grand final that year and they won it 12-10 over the Sharks. JT scored a try and kicked two goals.
He's still tiny today when you consider the size of the blokes he's playing with and against. But from the day he arrived at Canterbury, he dedicated himself to building up as best he could to take the punishment and keep coming back.
I think JT is the toughest player in the game.
Look at how many touches he gets and the type of game he plays. He runs the ball to the line. It's not halfbacks putting the shoulder into him as he gets rid of it. It's front-rowers. And it's not once or twice in a game, it's multiple times. He just gets back up and goes again.
He makes the tough runs and puts himself in positions that other guys maybe don't put themselves in because of the fear of what could be the result. He doesn't think about that because he's doing it for his team.
To earn respect, you've got to front up to the physical challenge – and he fronts up.
I doubt if any player can match his inner strength.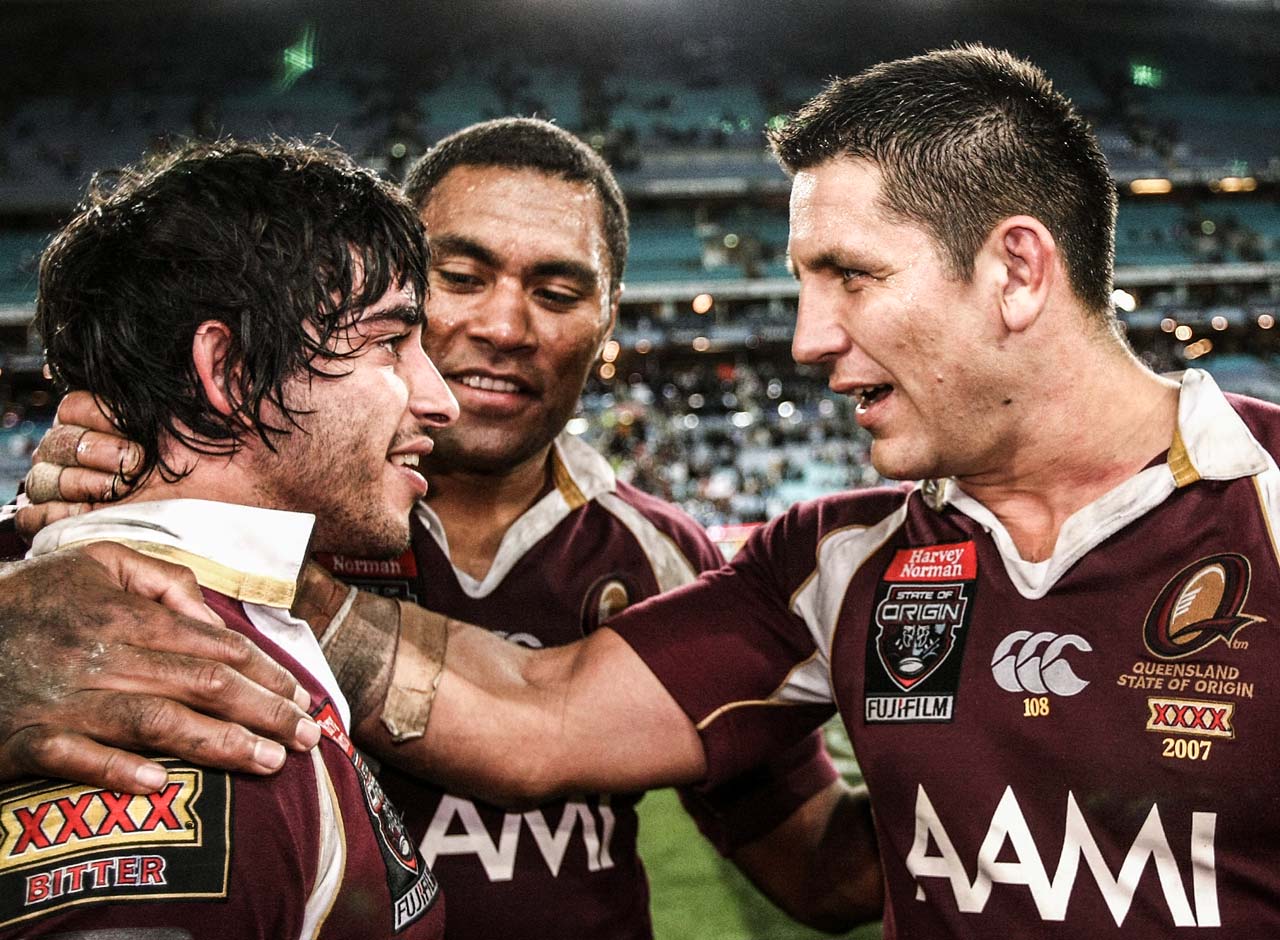 THE PREMIERSHIP RING
The Bulldogs had a bunch of young players living together in a house at Belmore: JT, Sonny Bill Williams, Nate Myles, Jamie Feeney and Roy Asotasi. It was a gun bunch of housemates!
Bobby Hagan was the club CEO at the time and he got each established first-grader to pair up with one of the young blokes and act as a mentor. I paired up with Nate.
One day I suggested to Bob that we take the young guys out for the night so they're not all sitting around the house feeling lonely and sorry for themselves.
We all jumped in a Tarago van and went out to dinner and then saw 'The Wog Boys' or 'Wogs At Work' – one of those shows – at the Enmore Theatre.
It was an awesome night. The guys loved it and I always felt from that time JT and the rest of the young blokes felt comfortable talking to us. They weren't intimidated by the thought of coming up to us for a chat or to ask for advice.
That was important for a young bloke like JT, who had come from Toowoomba to a big city where no-one seems to care about you or even say 'G'day'. You need a friend when you experience the shock of that for the first time.
JT made his first-grade debut midway through the 2002 season. We'd go to do recovery at Cronulla beach and he would almost get hypothermia when we went into the water in winter. He'd be in there for a few seconds and then run back out shivering.
The more he played in 2003 the more he started to come out of his shell – on and off the field.
We'd go to do recovery at Cronulla beach and he would almost get hypothermia when we went into the water in winter. He'd be in there for a few seconds and then run back out shivering.
By 2004, he was playing well. We made the grand final. I was ruled out of the decider against the Roosters with a knee injury. JT got a run off the bench, wearing number 18.
We beat the Roosters 16-13 and the players went up on-stage to collect their premiership rings. JT came straight up to me after his presentation and said, 'I want you to have this. It's your ring, you deserve it'.
I felt a bit embarrassed. I said, 'No mate, you've worked just as hard, it's yours'.
But he was adamant and made me take the ring. The club was able to arrange with the NRL for a few more rings to be made for players who had played a part during the season, but JT didn't know that would happen.
He was leaving to join the Cowboys, but he was prepared to give up a lasting memento of his time at the Bulldogs for my sake. 
That's the sort of bloke he is.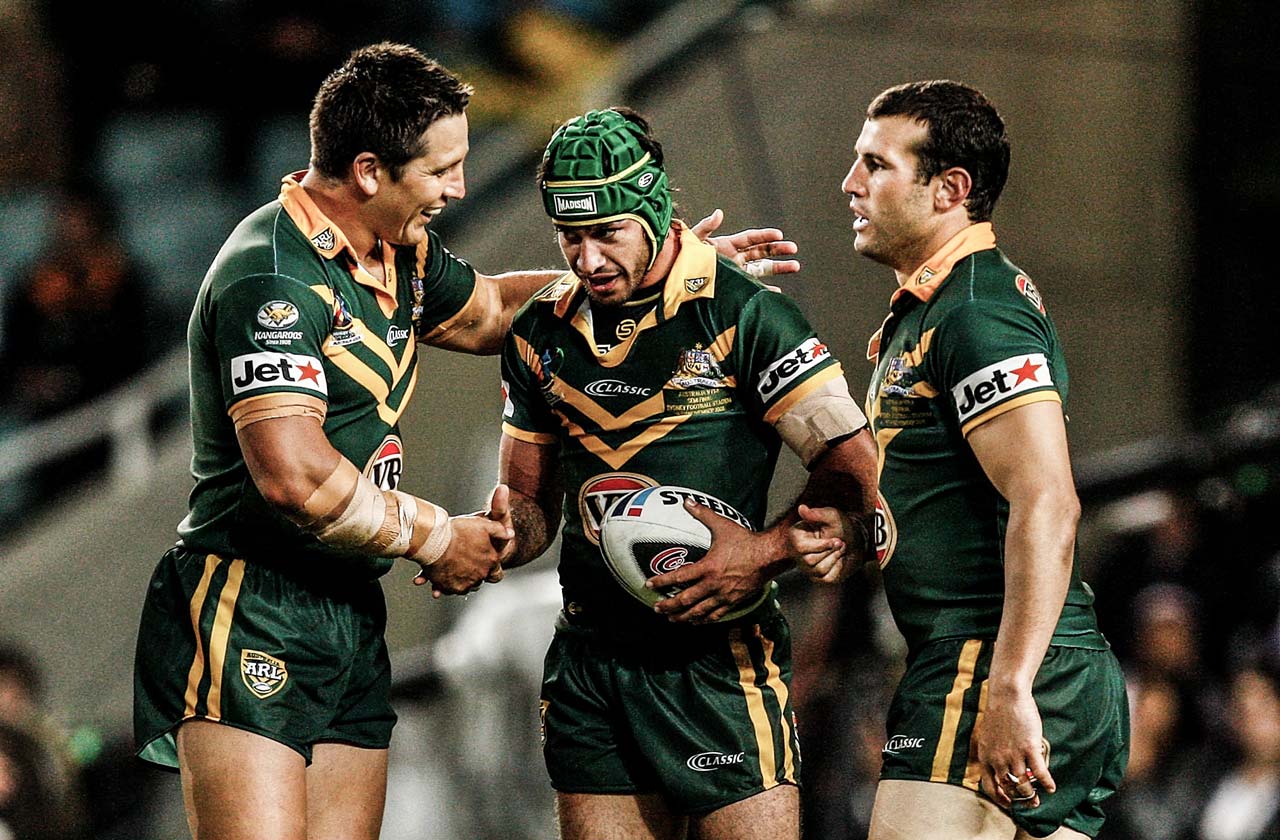 IMMORTAL IN WAITING
I would've loved for Johnathan to have stayed at the Bulldogs but, if I take my Canterbury hat off, I honestly believe going to the Cowboys at that time gave him the opportunity to become the player that he did.
They needed a player like him. He needed a club like that.
Our halves, Braith Anasta and Shifty Sherwin, had just signed long-term deals and JT was still only 21. He was behind those guys in the pecking order and was only going to get fits and spurts of opportunity in a very good footy team going forward – for a while at least.
He needed to be more in control of the game and – most importantly – he wanted that opportunity. The Cowboys were a team on the rise. He went there and switched from five-eighth to halfback to run the show.
Once he steered North Queensland to the grand final against the Tigers in his first year there, he was on his way to greatness.
I was lucky enough to still play alongside him for a few more years in Queensland and Australian sides. I never thought something like that could happen that first day I talked to him at Newcastle. It's quite amazing, really.
I looked on as he found his powerful voice on the field in those great rep teams. Like Wally Lewis, he could conjure up plays when they were most needed, with a couple of minutes to go when you're down by two points in an Origin game or whatever.
It didn't matter how big the stakes were and how much pressure there was, he could do it. There aren't too many players who can.
Out of all the great players I played with and against, I rate Andrew Johns as number one. Joey revolutionised a halfback's kicking game and Johnno really benefitted from that. But the margins between the players right at the top of the tree are slim.
I see JT as a future Immortal. It's not a matter of if, but when.
He's a champion off the field as well.
He's respectful. You see it in the most simple ways, like how he makes a point of collecting the tee after he takes a shot at goal and hands it to the ball-boy. He started a trend among goal-kickers with that.
I love the fact I was able to watch from close range as he developed from that skinny kid into the man, father, husband and superstar player that he is.
Someone who has learned and accepted his responsibilities as a role model, has done great work for Indigenous people and wants to make an impact for society in whatever field he enters after he finishes playing.
There are still a few games to go before that happens.
I'll enjoy watching those as much as I'm sure he's looking forward to playing them.
More about: Andrew Johns | Canterbury Bulldogs | Indigenous Australians | Johnathan Thurston | Kangaroos | North Queensland Cowboys | Queensland Maroons | Sydney Roosters