Steve Jackson - Contributor
'Have an effin' look at them!'
I've watched that try a lot. The last time was a couple of months ago when the 1989 grand final team was invited down to Canberra for a Hall of Fame dinner.
On the Saturday I went to the game. It was awesome – there were 11 of us standing on the sideline, me alongside the likes of Mal Meninga, Laurie Daley, Steve Walters, Gary Belcher – all these legends of rugby league.
They were called out one by one and went onto the field. Then I was called out last. As I came on the field they put the try up on the big screen and there was a standing ovation.
Did I have goosebumps? I've got goosebumps now. I get them every time I think about it.
I FELT I'D MISSED MY CHANCE
I'd played football almost since I could walk, and the most comfortable times in all my life were when I was on a football field or a training paddock, because it came so naturally to me.
But at the time of that try I didn't understand the enormity of what was happening.
It's not until all these years later, I still have people come up to me and say 'I hate you!'. I say 'Balmain supporter?'. I'm still being rewarded right up to today for something that was a dream.
I came on with 17 minutes of the 80 to go and played the 10 minutes each way. It was 37 minutes but it felt like 150, it was so fast. I tip my hat to the forwards who played the full 100 minutes of that game. There was no interchange, once you came off you stayed off.
The rollercoaster ride through that 1989 season was amazing. I injured my knee midway through the season, tearing my medial ligaments in my run-on debut against Balmain, and was out for nine weeks, so my first game back was a week before the finals in reserve grade.
Canberra was a very strong club back then. Our under-21s made the grand final and our reserve grade team, which I was playing for, got knocked out a week before the grand final in extra time by Parramatta.
If we had won that game I wouldn't have been playing the first grade grand final, I would have been in the reserve grade game.
I came off the field devastated by that loss to Parra because all I'd wanted to do in my life was play in a NSWRL competition grand final. I felt that was the only chance and I'd missed it.
Tim Sheens came into the dressing sheds at the end of the day. He told me, 'I've got a squad of 20 players for the grand final but I've decided to make it 21 and I'm adding you onto the bench'.
One minute I'm up in the air, the next I'm crushed and then I'm back up again. It was crazy. An emotional ride.
When Tim said that all I remember thinking was, 'I've got a brand new jersey'. There were eight fresh reserves and only four could get on, so I didn't have an expectation I would play. I didn't care – I was getting a brand new grand final jersey!
From the age of four I was a St George fan living in Mackay, Queensland. I absolutely loved them. To play in a Sydney grand final, something I'd watched with such excitement all my life, was the most amazing thing I could imagine.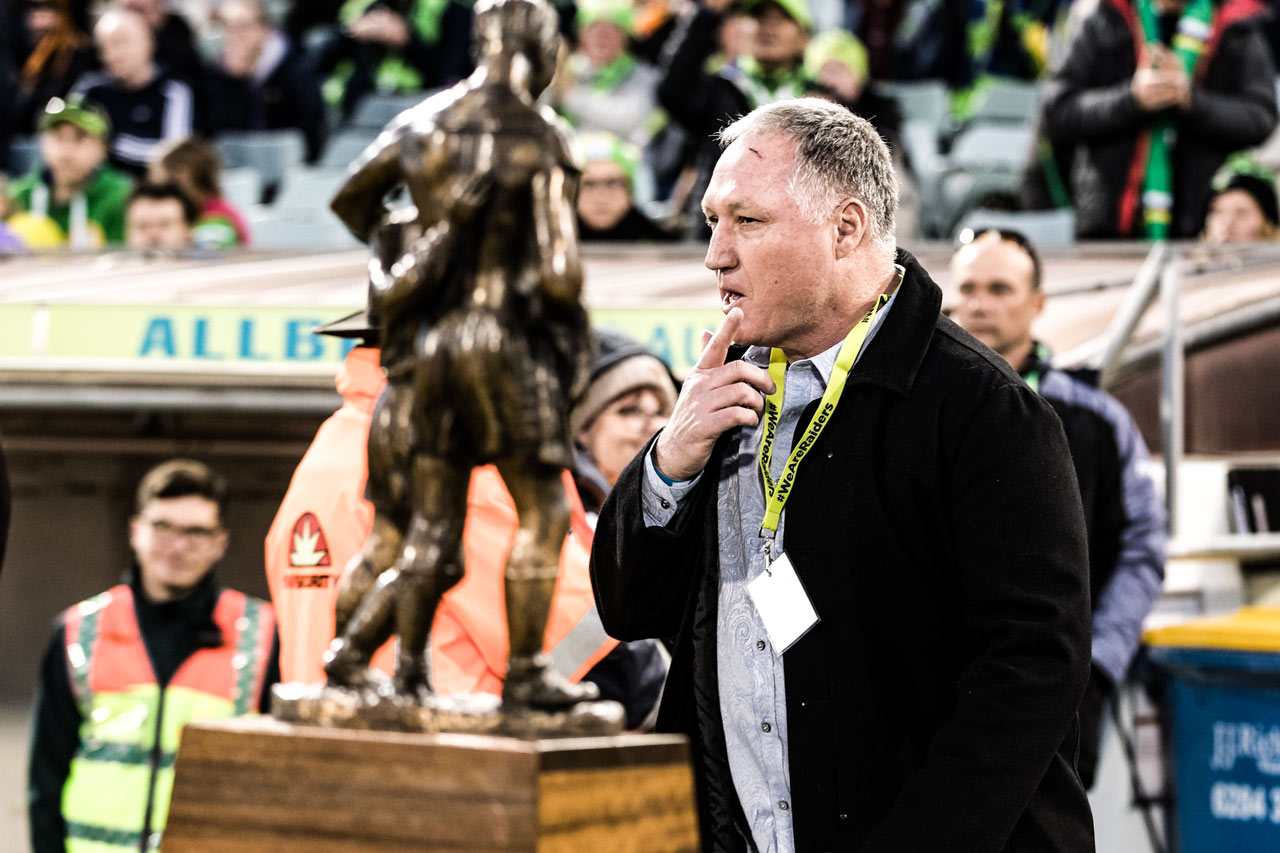 GRAND FINAL BREAKFAST SNUB
We went into camp in Sydney on the Wednesday and on the Friday they had the traditional grand final breakfast. I never got an invite. I had to wait back at the Travelodge Hotel with all the runners and strappers while the other players went to the breakfast.
I don't know the story why. I've always thought that maybe they'd heard how much I ate.
You reckon they could have put a knife and fork at the end of a table, pushed a chair in and got the others to move along a bit. How hard would that be?
Being the 21st man, and missing out on the feed, was starting to add up to me not getting a game.
And that helped me, because I wasn't nervous. Everywhere we went people were after autographs and wanted to talk to you. I was just a kid from the bush going, 'how cool is this?'
Tim never told me why he made the late call to include me, but he's an intelligent coach and must have seen good things in me.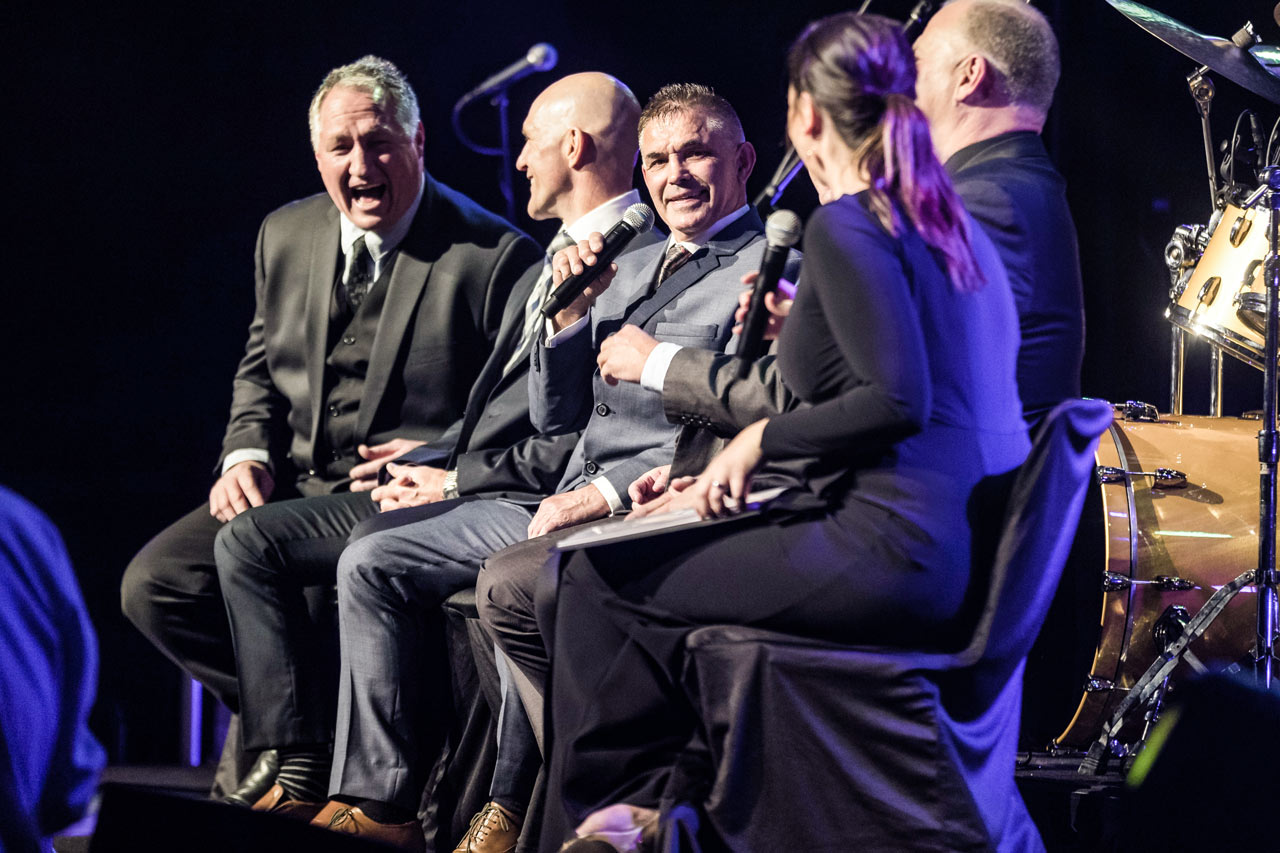 I used to pull off a lot of tries in reserve grade and some pretty big hits. But I wasn't consistent and I'd just came back from an injury, so I needed a bit more playing time.
I was sitting on the bench and the word came down. Tim radioed down to Phil Foster, who reached over tapped me on the shoulder and said 'warm up'.
That's when I started getting a little nervous. I went into the tunnel of the football stadium and started doing a few pretend stretches, those old-style calf stretches against a wall. There was no stationary bike on the sideline back then. Just a few stretches and a bit of a jog.
He came over and said 'you're on' and that's when my heart nearly jumped out of my mouth.

But because I hadn't burned any nervous energy, I felt calm. I hadn't played the game too many times in my head and I believe that helped me so much when I got on the field.
We scored a try to make it 14-8 and then, with a couple of minutes to go, we had to go the length of the field and score off the fifth and last.
Chris O'Sullivan put the bomb up. I was out in the backline, when the kick went up, jumped for it and got my left hand on it and it dropped back into Laurie Daley's lap.
He passed it to Chicka Ferguson, who came back towards where I was standing, and I called for it on his inside – 'CHICKA!!' But I knew he wasn't going to pass it to me, so I just hit him in the back to help drive him over.
Today that would have gone to the video ref and would have been disallowed because I interfered with Paul Sironen coming into the tackle.
I remember thinking at the time, 'I didn't score a try but I was involved in one'. I was calling it a try assist!
Fifteen minutes later, I got my own.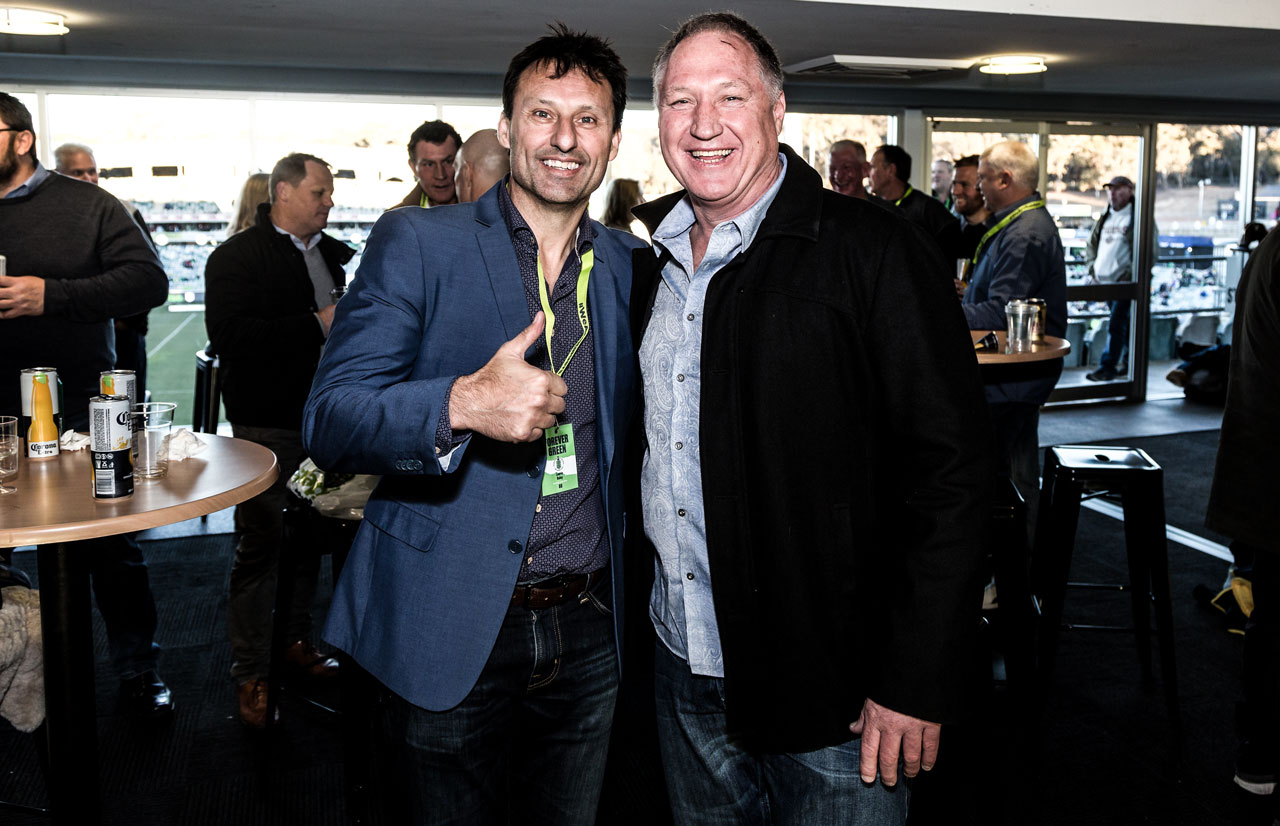 'HAVE AN EFFIN' LOOK AT THEM!'
The fulltime hooter went and it was 14-all. Our group was so tight, with Mal Meninga at the core. Mal's presence in a group of players is so demanding. He demands respect, and he had us all in close.
I could see the Balmain players and they were scattered everywhere, heads down. I shouted out, 'Have an effin' look at them, they're done. LOOK AT THEM!'
Early in extra time, Chris O'Sullivan kicked a field goal to make it 15-14 after a bit of an argument with Ricky Stuart, who felt it was too early to take the point.
We have regular reunions and every time Chris sees me, he says 'Jacko, I hate you. If you don't score that try they'll remember my field goal for the rest of my life and, you know what, they don't even remember I kicked a field goal'. It's so funny, and so true!
We're up by a point in extra time with three minutes to play and I'm a frontrower standing in the centres. Andy Currier, the English convert, tried to grubber it out of his own 40, breaking an unwritten law. It was a horrible kick and Mal scooped it up and passed it to me.
I was an astute frontrower, I'll give myself credit for that. I always used to clock-watch, and totally understood the position of the game. 
I knew I'd been given the ball by Mal Meninga and my thoughts were 'I'm not passing it, I'm not dropping it, I will not make a mistake'.
That's all I was thinking. If you watch the try in normal speed it happens so quickly, but in my head it happened very slowly.
I had enough time to think, 'I've hit a few players here, I've done a spin, hang on a minute there's the try line, if I  can put this ball over the try line I've scored a try in a grand final.'
I slapped it down. I was winded. I looked up to see a young Bill Harrigan with his arm pointed in my direction. Bill has never looked better. And when he blew that whistle I just remember thinking, 'I've made it'.
Did I have goosebumps? I've got goosebumps now. I get them every time I think about it.
Thirty years later, I can't remember the exact feeling. It must have been amazing. I look at sides that win grand finals these days, I look at the players' faces and think, 'well that's how I must have felt'.
I didn't celebrate much. I scored a lot of tries in my career and that was normal for me. I was a serious character on the field, pretty aggressive, always thought, 'the job isn't done'.
I needed some air, needed to breathe, because everyone was hugging me. As we were walking back Gary Belcher was the last to come to me. He said, 'Fantastic try but Mal's missed the kick, it's three minutes to go, they can win with a converted try'.
So I had to switch back on for the game and that's what I did.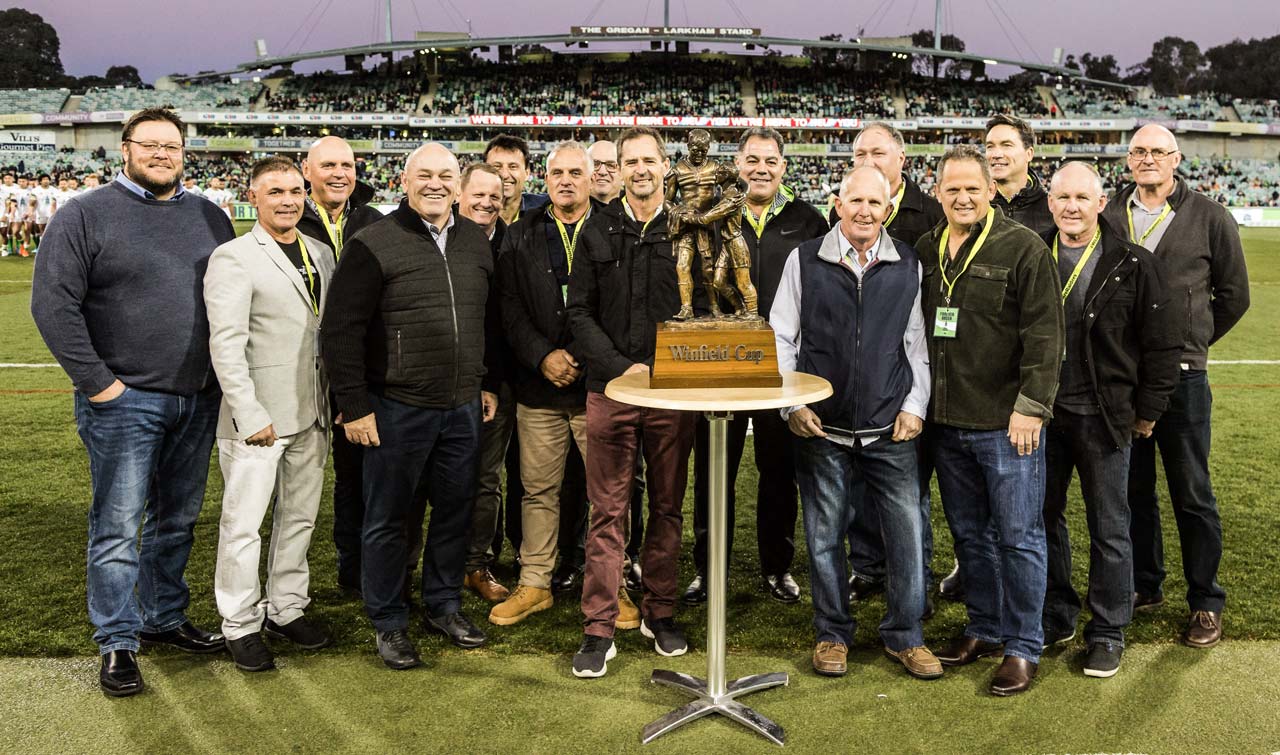 FAT CLUB AND PROUD
You couldn't have gotten a bet on Balmain at halftime, there was no way they could be beaten.
But we had some special talents.
Wayne Bennett started them off in 1987 and Tim came in 1988 and 1989 and made them grow more and more.
Mal was the security of the team. Whether you were young or old, Mal was like a big brother. He was a very strong character.
Gary Belcher, his calmness on the field, was a very important part of that side. When he spoke, everyone listened. Steve Walters changed the whole concept of the hooker. A lot of players who played in that Canberra side went on to be damn good coaches, astute players in the game.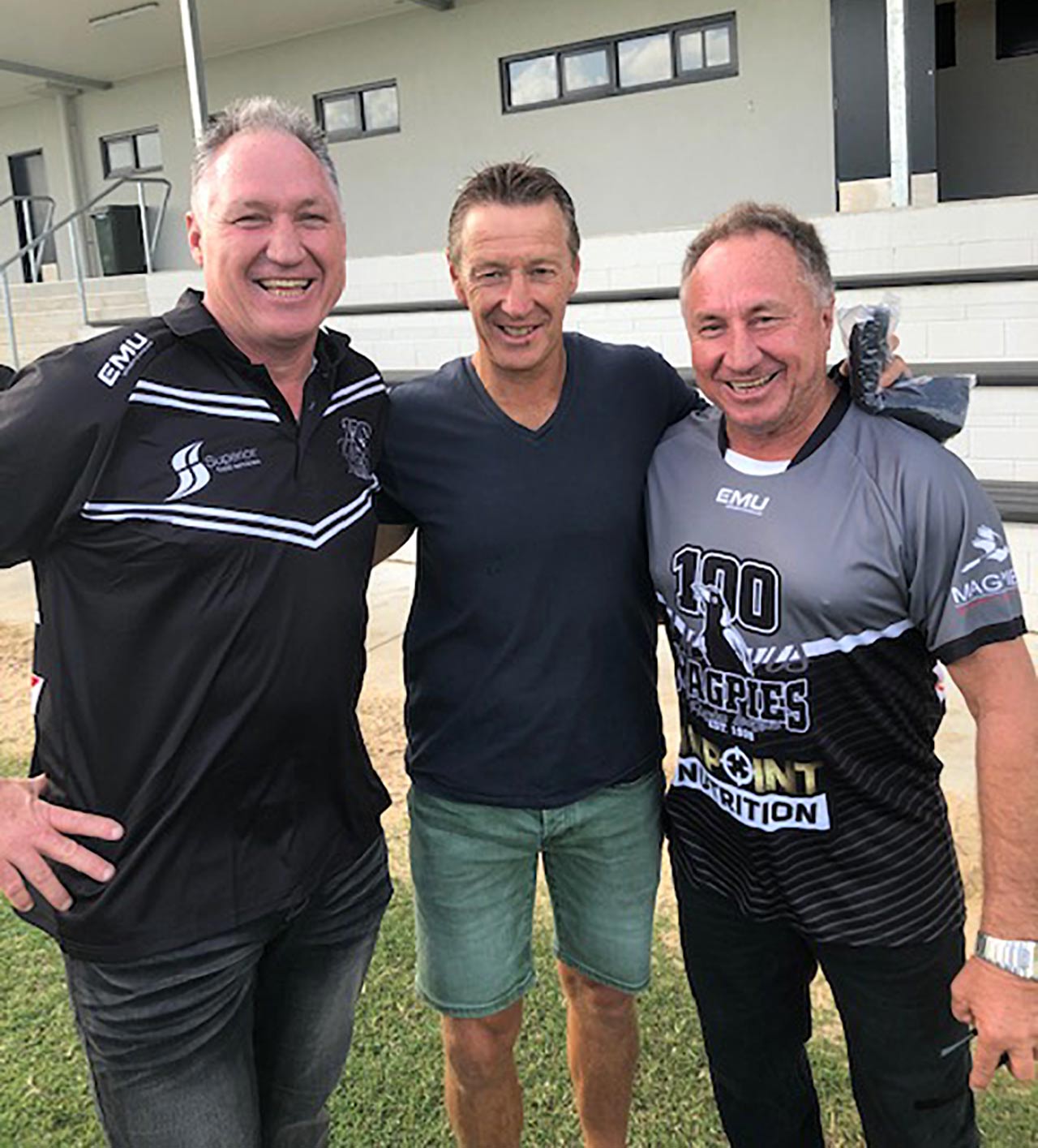 I used to do a lot of training with Craig Bellamy. He was still playing reserve grade but had the job to train the Fat Club.
I had the love handles. I should have played at 105kg and I'd get to 115kg at stages. But I enjoyed the Fat Club because it was extra training and kept you honest.
We had to run the Queanbeyan golf course a couple of times a week. Bellamy ran us from tee to hole one week and next week from hole to tee, all 18 holes starting at 6am. You knew then he was going to be a great coach.
Tim Sheens gave me the opportunity to live a dream. I don't know what he saw in me, I was a naughty boy in the younger grades, got into a bit of trouble – I punched some bloke in a nightclub one time and got our whole club banned from the club.
I could have been one of the real naughty ones, but Mal and Gary Belcher grabbed me early.
More about: Canberra Raiders | Craig Bellamy | Grand Final | Mal Meninga | Queensland Maroons | Ricky Stuart | State of Origin