The run that changed my life
One run changed my life. I don't know where I would be now without it.
I remember it so clearly. It was 2014, I was running with my friend Mel and I said to her, 'I'm probably going to try to go to England, or I'm just going to play netball socially because it's just consuming too much of my life, and all my eggs are in one basket'. 
My life was always going to be netball. But for a number of years after I left the Australian Institute of Sport I couldn't get a contract with the Queensland Firebirds – or with anyone else.
When the ANZ Champs contract periods would come around there'd always be talk that I'd get one, and then I'd always end up not getting one, and I'd be a mess.
So I'll never forget that day. We were running in an industrial estate in Brisbane, past a paddock with a few horses, when Mel asked me, 'Well, why haven't you made it?' 
And that was the moment when I was truly honest.
I said, 'I don't work hard enough'.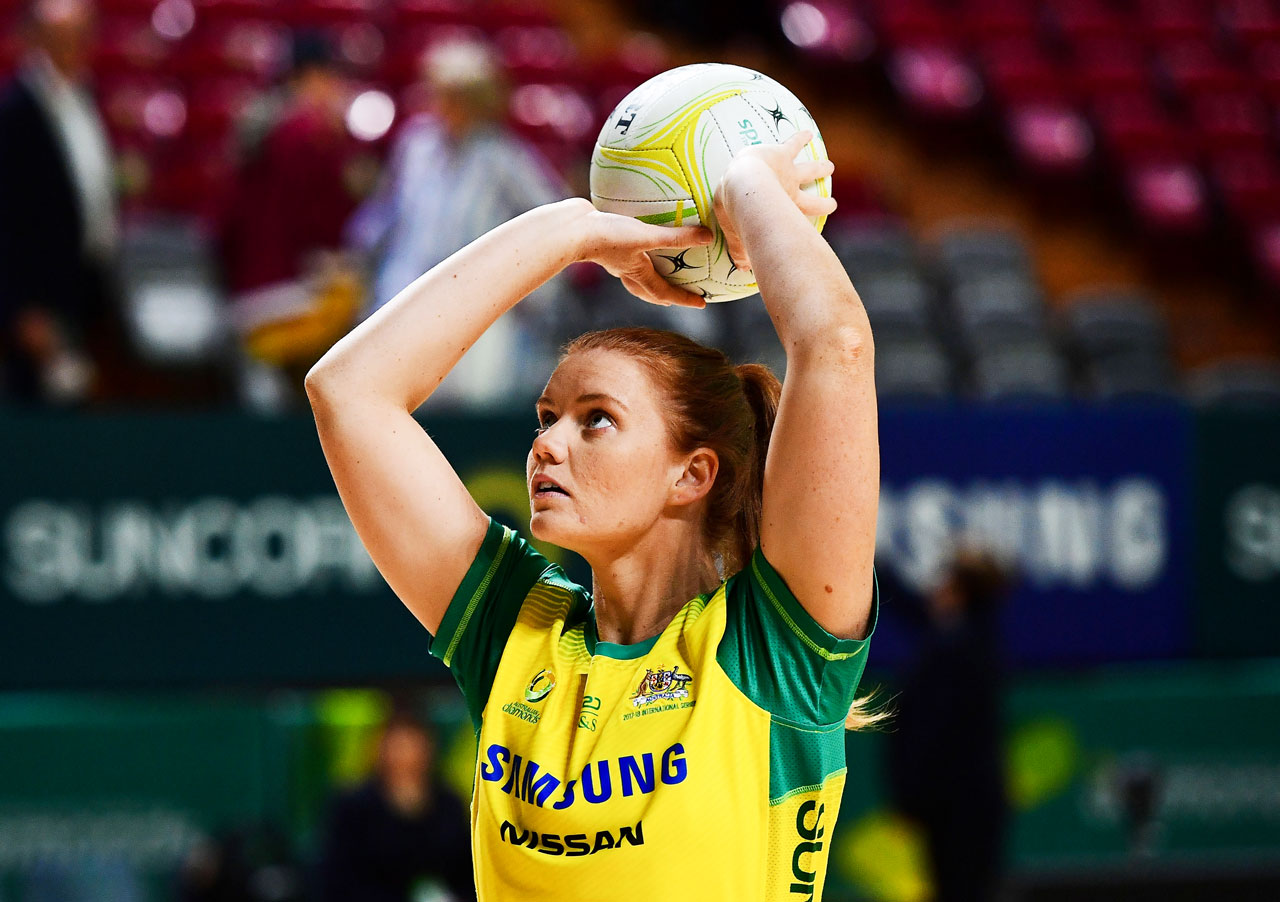 SO GOOD, SO YOUNG
When I was younger, I was that kid who had all the natural talent and zero work ethic. I made lots of teams, state juniors from 17s, bottom age and top age, and I was playing division one up at Pine Rivers Netball Association when I was 12 years old.
I was that kid that when people talked about me they said, 'oh, she's going to make it.' I had 'netball smarts', they'd say. The biggest things for me were probably my ability to read the game, to almost see two plays ahead, and my timing. I'm not the quickest player and I can't jump the highest, but I've always been able to read the game.
I went through like that until I was probably about 18, just relying on my natural talent. Then I went down to the AIS, and Sue Gaudion was my Institute coach. My first year, she was just brutal with me. She was the first coach who was like that, and in the beginning I did not like her because of it. Not at all.
But she was probably the first one who made me realise that 'oh, my natural talent's probably only going to get me so far'. I learnt so much from her. I still say Gaudie is one of the best coaches I ever had.
The big realisation, though, came when I wasn't getting picked. That's when it was like, 'ok, do I really want this?' And I decided that I did.
I'd had people saying 'oh, you should be in the ANZ Champs', and I probably bought into that. I was like 'well, everyone's saying I should be there, but I'm not getting picked'. I probably played the victim a little bit.
Without that conversation with Mel, I'm 100 per cent sure I wouldn't be where I am today. I probably would still be playing the victim, and probably be that player that everyone was like 'oh, she could have made it, but she wasted her talent'.
That was the moment when I was truly honest. I said, 'I don't work hard enough'.
But then in 2014, I pretty much did everything that I could. I worked on my fitness, which I'd never really done because I thought 'nah, I don't need to. I can run out a game'. But, to be honest, I couldn't.
And by the end of that year I had my contract with the NSW Swifts.
When I finally got the offer, I absolutely bawled my eyes out. Rob Wright, the coach, called me. I was at home, and I remember running out to my mum and dad and saying 'I think I just got a contract with the NSW Swifts'. Then I jumped in the car and drove straight to see Mel. We were sitting in her office and I was just like, 'I think it happened. It actually happened'.
I made my debut in New Zealand against Magic in 2015. We won the game and it was kind of a whirlwind from there.
I'm sure people still had question marks over me, over my endurance, but I didn't hear anything they were saying. I make a big effort not to read social media post-games or certain other things because I know they can be negative. Even if they're positive, I don't want to get in the habit of it.
WHAT BODY IS BEST?
I used to be quite pudgy, you could probably say. I loved the junk food, the chocolate, everything like that. It was a combination of not eating well enough and not exercising enough.
I did go through a phase when I dropped a lot of weight. I have put a little bit of that weight back on but I've put it on in muscle.
Even now, I don't have the classic athlete's long, lean body shape. But one thing I absolutely love about netball is that we don't have that 'typical athlete' any more. Yes, there's all those things that you want to be working on, and you want to be lean and fit, but you don't have to be this stick figure to play the game of netball.
Our Lightning coach, Noelina Taurua, always says to me that my size is my strength, as well. Sometimes people can see it as a weakness, but she wants to put it in a positive light because it's actually a strength.
And, at 175-centimetres, I've always been told I'm way too short to be in the shooting circle. But what matters is that there's no one particular body shape that can play a goal attack position, or a wing attack position; there's so many different shapes and sizes and you can all add different things to your game. 
That's what I like to tell little kids when they say 'oh, I'm too short to be a shooter'. I'm like 'if you want to be a shooter, you can do different things than what tall girls can do and they can do different things to you, but that's a good thing'.
You don't need to be put in a box and be like 'well that's what you need to look like to be able to play a certain position'.
I'm a firm believer that being unique makes you different and what makes you different makes you special. Of course, there's always things that you have to improve on, but I don't like to put people in boxes and I don't think one particular body shape, or height, or anything, fits a certain position better than anything else.
There's a quote that was said so many times to me: hard work beats talent when talent forgets to work hard. I always say that to the little kids now.
When I ask them 'who's heard about natural talent?' so many of their hands go up, but I also know that in this day and age there's so much we judge ourselves on compared to other people.
We shouldn't. Someone's going to make every team on their way through, but that doesn't mean that you won't make it as well. Everyone's got a different journey, and that's what is actually quite cool.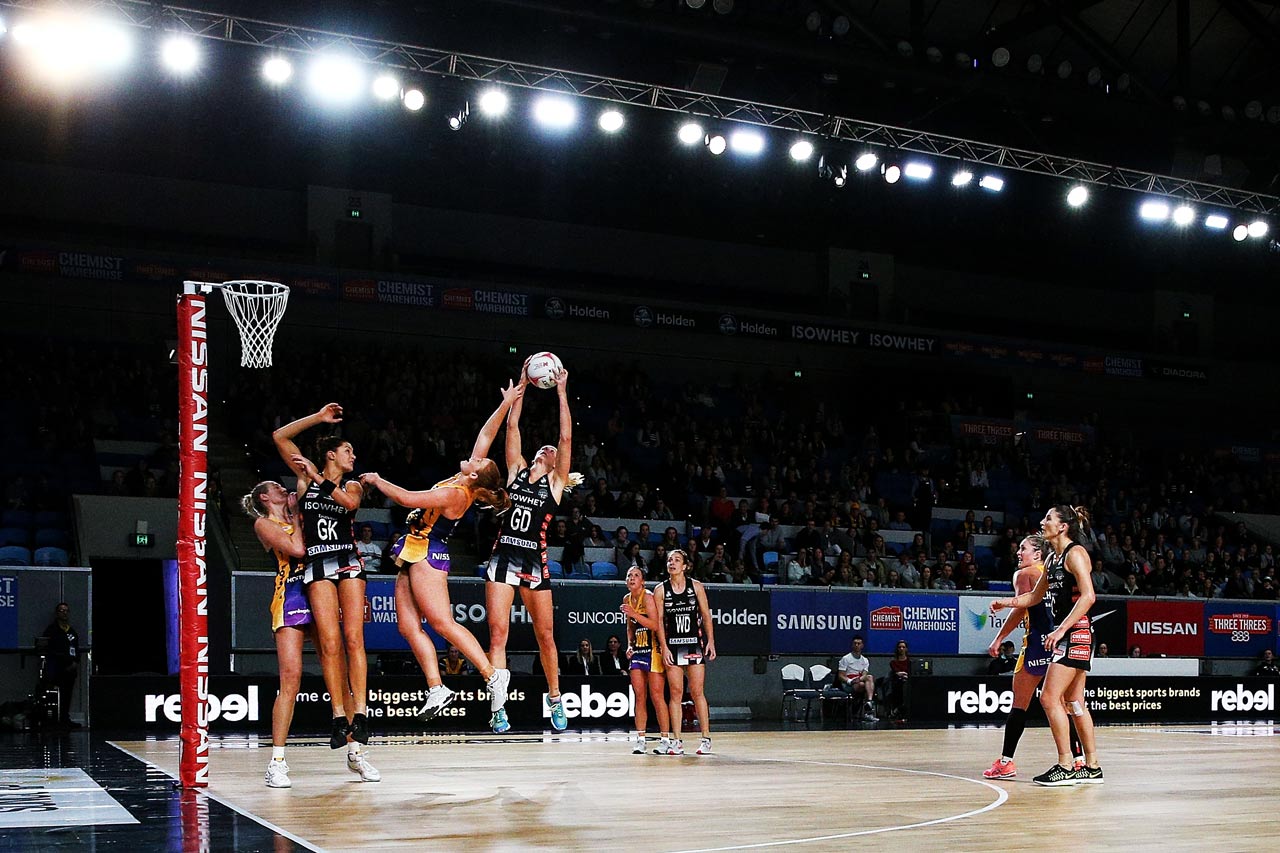 MY BIG BREAK
My two years with the NSW Swifts played a massive part in getting me to where I am now. I owe a lot to Rob and the whole club. When no-one wanted me, Rob was the one who took a chance. I wouldn't be here without that opportunity.
I learnt so much down there. I had awesome players around me, I played with Kim Green, Jade Clarke was there for a year, Julie Corletto – so I was coming up against awesome defenders in training.
Susan Pratley's been at the top of the game for a really, really long time, and being able to learn off her was absolutely amazing for me. Megan Anderson was the shooting coach, she had a netball brain as well, and kind of simplified how to play, which I really, really enjoyed.
Going from being the player no-one wanted, to the player that quite a few clubs wanted, was different, I guess. I don't really like being the centre of attention, I prefer to fly under the radar, so it probably was a little bit confronting.
I'm a firm believer that being unique makes you different and what makes you different makes you special.
It was a really hard decision to leave the Swifts. but in the end I had to do what I thought was best for me, personally. One of the big things for me is family, and my sisters are my two best friends; they're the first people I call if I need anything, so that was a big pull for me in going back home to Queensland.
I was in tears, though, because I wasn't 100 per cent sure either way. In the end, I can't remember who gave me the advice but it was 'make a decision, sleep on it, and if you wake up in the morning and you feel good about it, then you know it's the right decision'.
As soon as I made the decision to go to the Lightning, I knew it was the right one. I remember waking up and feeling very happy, and then going up to see Noels because she was showing me around the university to try to convince me to go there. I walked in and I couldn't contain it. I said 'I'm in. I'm here. I don't know who else you have, or anything like that, but I'm willing to go on this little adventure with you'. 
Noels had told me what her vision was and I'd talked to Laura Langman about it because we'd lived together in Sydney and I had become quite close with Laurs. So even though it was a leap of faith, because we didn't have an assistant coach or any staff, we didn't have anything to begin with, that kind of excited me; that challenge of 'we're literally starting with nothing, let's see what we can do'.
To be honest, maybe a year or two earlier, I would have had satisfaction in the fact that clubs were chasing me. But now, looking back, I'm happy I had those setbacks; they've done me a massive favour in the sense of the player and person I am.
With the Firebirds you can't ever deny that they had an absolutely amazing team, and they were at the top of their game, so I never think they were wrong not to pick me.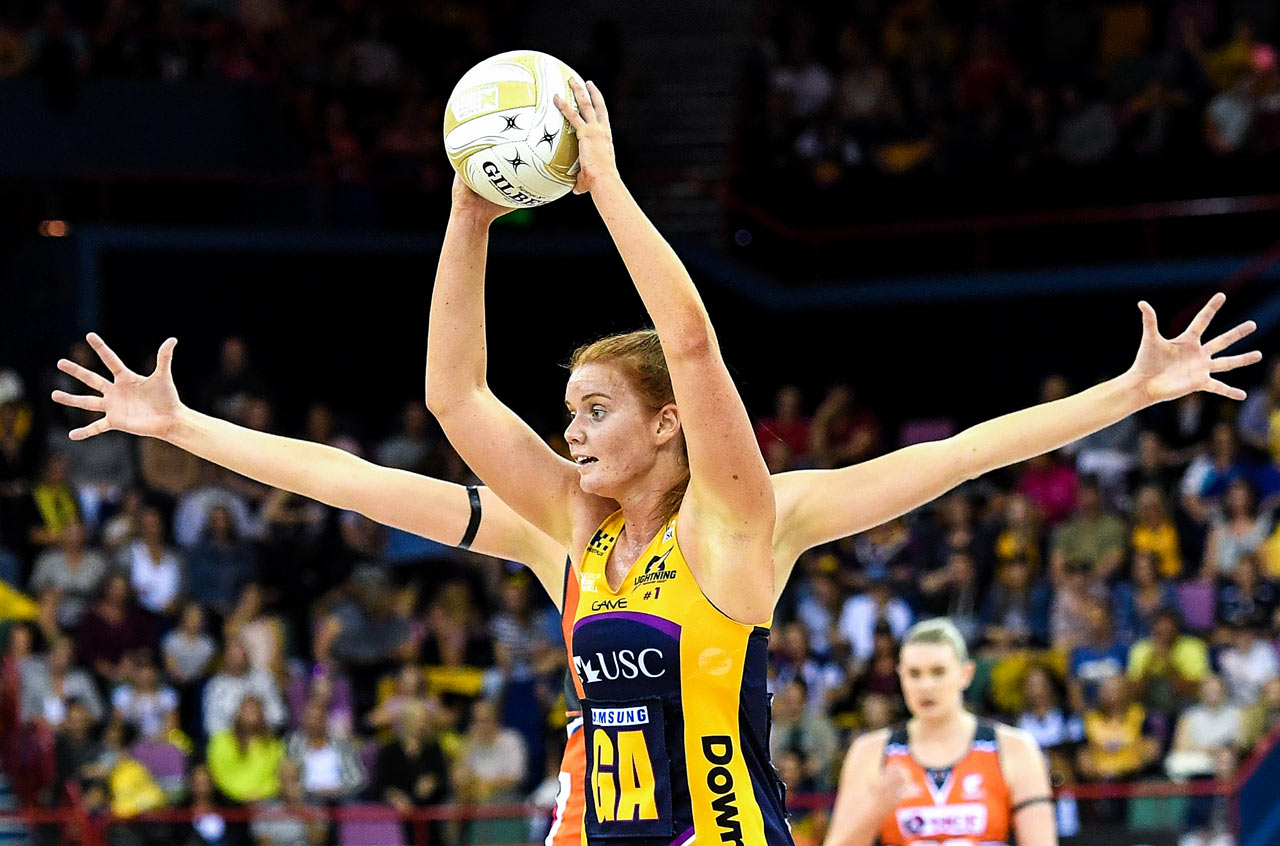 SHINING BRIGHT AS A DIAMOND
I made my Diamonds debut in 2016 when I wasn't even a starting seven player for the Swifts. So it definitely was a shock to me. And not just to me.
I'd booked a holiday with my sister, not even realising there was a Quad Series on at that time because I just didn't think being selected was even a possibility. So when I got the phone call from Lisa Alexander, she was like 'are you willing to not go on your trip?' And I was like 'well, of course I'm not going!'. 
My sisters went off together – it was a cruise around the Pacific islands – and they had a great old time, but I got to represent Australia, and playing for the Diamonds was definitely a dream for me. I would absolutely, 100 per cent, make that same decision again!
What I love about that Diamonds environment is that everyone is equal; no-one looked at me like 'well, how are YOU here?' It was a shock, and I still remember getting my Diamonds dress for the first time and having to make a speech, and I cried the whole time.
I don't think anyone could understand a word that I was saying, but it was a massive shock, and every time I put on that Diamonds dress now still kind of gives me that goosebump moment.
I'm very appreciative of every opportunity I get, and it's something that I will never take for granted, because, going back, as much as some people were saying 'oh, you should have made it when you were younger', I'm glad that I didn't.
I had to learn to work hard, So I'm quite grateful for not making it when I was younger, because, otherwise, I would not be the person or player that I am now.
LIGHTNING STRIKES
My start to 2017 was delayed after I needed a clean-up of my knee, but the great thing that Noels installs in all of us, and as a club I think we were really good at it, is just putting aside the fact we didn't have much when it all began.
It was like 'we're here to play netball, we've got a ball, we've got some bibs, we can do some great things here, we don't need to have all the bells and whistles.' They're great, obviously, but in the end, it's just a game of netball, and you throw and catch, and Noels was very good at just giving us that perspective.
As the season went on, we definitely had our ups and down. But I'd had a shot to win the previous grand final with the Swifts and I missed that one, so to be in three grand finals in a row and to come out of the third one with a win and the way that we did it was pretty special.
People say we have a team full of internationals and cast-offs, and I guess some of our Lightning players were unwanted and some of them just kind of wanted a new start. It was just amazing what we achieved. Sometimes even now when I see the footage or the photos I'm like 'oh, my God, you were crying like a baby'.
I seem to cry a lot. That seems to be a core part of my personality!
So, naturally, I bawled my eyes out after the Commonwealth Games gold medal match. That was tough. That was really tough. But I never thought that I would represent Australia, so even though it's not the result we wanted, it's still an amazing achievement to go out and win a Comm Games silver medal.
Like Madi Robinson said, I'm going to rock that silver like silver's never been rocked'. And to have my family there as well was something special.
I'm not going to lie. Since we've been back, I've given my captain Geva Mentor a bit of crap for 'stealing' the gold medal and spoiling my dream, stupid stuff like that. But that's sport, that's what makes sport so great, and what also drives me personally to be better.
I hope that I never have to go through that disappointment again, but the gold medal game could have gone either way. Unfortunately, it didn't go our way, but if that stuff doesn't light a fire in your belly, then is your passion there for the sport?
We'll be in England's territory at next year's World Cup in Liverpool. So there's definitely a fire in my belly for that.
More about: Diamonds | Gold Coast 2018 | NSW Swifts | Queensland Firebirds | Sunshine Coast Lightning | Super Netball