Never waltz in five minutes late
My alarm has been going off at 2.30am five days a week for the past eight years, to get up and host breakfast radio on the Gold Coast.
I don't reckon the teenage me would have thought I'd be doing that at 44, but it's an example of what being a professional footballer did for me. It taught me discipline.
Looking ahead when I was 17, I wouldn't have had a clue what I'd end up doing. I went to Hastings High on the Mornington Peninsula, found a bit of trouble and wasn't very successful at school.
At one stage, I decided to go into the army and at least get a trade under my belt – a lot of my mates had left school after Year 10 and done apprenticeships, become chippys or plumbers or whatever. I actually got the army sign-on forms and went close, but I realised I'd still have to turn up to do the course to get a trade.
My old man was a policeman until the mid-80s, then he did a lot of security work. He had to have two jobs, work weekends and nightshifts to make ends meet. I've got four sisters and a brother, and Mum was a traditional mother who stayed home and made our lunches, looked after the house and made sure dinner was on the table every night. We were surrounded by hard work.
As a 17-year-old who'd turn up at St Kilda, not do a lot of training and try to sit at full-forward and kick bags of goals and take a screamer every weekend, I wouldn't have imagined I'd play 291 AFL games at three clubs.
Footy wasn't as professional when I started, you could get away with a lot more. I was able to adapt the more professional it became but if I'd been met at the start with the level of professionalism footy had when I finished in 2008, I don't think I'd have played for 16 years.
Being able to transition throughout my career – admittedly with a few mistakes along the way – meant footy has been of great benefit to me.
When I started on Gold FM, I didn't know a lot about radio, about storytelling on air, working out what you can and can't say. It's been a great experience and I'm still loving it. In radio, you've got your coach, who's your boss, and you get reviewed every day after you come off air, like you do after a game of footy.
There's plenty of similarities and there's always that element of discipline. It frustrates me when we've got a 5am meeting and people are waltzing in at five-past-five. I'm like, 'Hang on, it's a 5am meeting!' In footy, you're there and ready to go when you're supposed to be, not five minutes later.
I always liked training in the morning. When I was playing and the coach would say, 'Once you've done your weights the rest of the day is yours', I'd be in the gym at 5.30 in the morning, get it done and get out of there. I used to hate having it hanging over my head all day – get up, get it done and move on.
For the first few years doing breakfast radio up here, I'd get up at 2am, go to the gym and see a legendary old bloke in his '70s named 'Flash' who'd put me through my paces. It's amazing who you see doing a workout at 2.30 in the morning, trust me!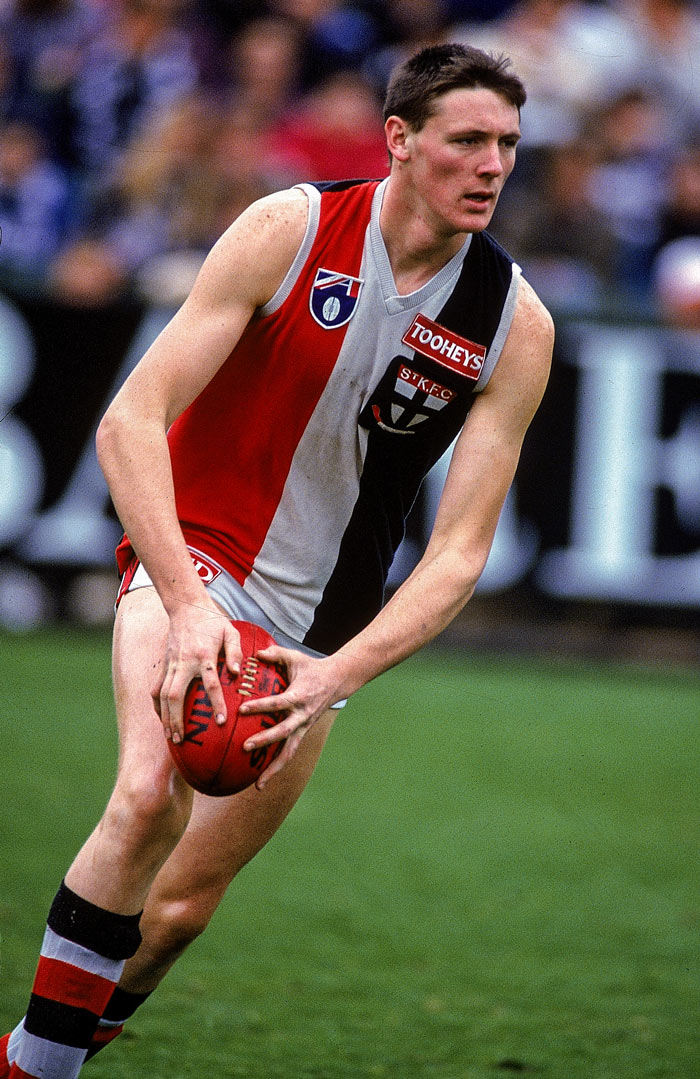 SUNS & SAINTS
People in Queensland are a bit jealous of the way footy is such a dominant part of the culture in Melbourne.
You talk to people up here who go down for the footy, they love seeing people walk into the MCG with their colours on, everyone from the rich to the strugglers, kids, women, all walks of life. They can't believe how many members every club has. I've had a bit to do with the Gold Coast Titans and they'd love to get a fraction of that support and level of passion.
I know people down there are negative about the Gold Coast Suns but I've seen AFL grow here. Like everywhere in Australia, the biggest growth has been women's footy but it's not only girls who are buying into the game.
You look at the Suns and see crowds of only 13,000 but the side's struggling. As soon as they get up to playing finals, you'll see 20,000-plus people there every week. I've got no doubt AFL will be successful here. The hardest thing is winning games but you've just got to keep improving.
My son, Boston, plays under-12s for the Southport Sharks and he and his mates absolutely love it. We're lucky to have Neil Lockett, brother of my old teammate the great 'Plugger', coaching the under-12s.
These kids know a lot about footy. It surprises me how much they buy into what the AFL players do – get the ball, handball back, switch to the fat side. Under-12s used to be 36 players chasing the ball, all trying to get a goal but now they set up, hold back, fill space – it's remarkable. Their footy nous is just as strong as the southern states.
You look at the Suns and see crowds of only 13,000 but the side's struggling. As soon as they get up to playing finals, you'll see 20,000-plus people there every week.
Boston is part of the St Kilda father-son academy. It's hard from up here, because they have several functions throughout the year that we struggle to get to but they send him a pack and keep in touch with him. He's got dreams of pulling on the Saints jumper one day; he's got good skills but we'll see how the next few years go. The next couple of years we'll get down to a few more.
It's a great program the Saints are running, now it's father-daughter as well. I've got a 16-year-old daughter who's six-foot-two, I'm trying to get her more into the AFL as well but she loves her basketball.
I do a travel show with my wife, Sheree, called The Great Australian Doorstep. It's shot mainly around Australia, with a bit of New Zealand – where Sheree's from – thrown in. It's the only Australian travel show played in China, we've got a little bit of the market there. We've obviously seen AFL games played there for points the past two years, but that's where I think the AFLX version they trialled in the pre-season is perfect.
A lot of expats play all through the Asian countries but the hardest thing is finding a ground. That's where AFLX comes in, playing on rectangular grounds. If I was the AFL, I wouldn't be concentrating too hard on the annual Port Adelaide v Gold Coast game in Shanghai, I'd be trying to take over a couple of celebrity games of AFLX. That market suits the international grounds.
As for New Zealand, I don't reckon there's enough people there to warrant trying to spend the kind of money it would take to produce AFL players. I know they want to promote Australian Rules to the world but at what cost? We're not like the rugby codes, where you can switch between them. AFL is a completely unique concept.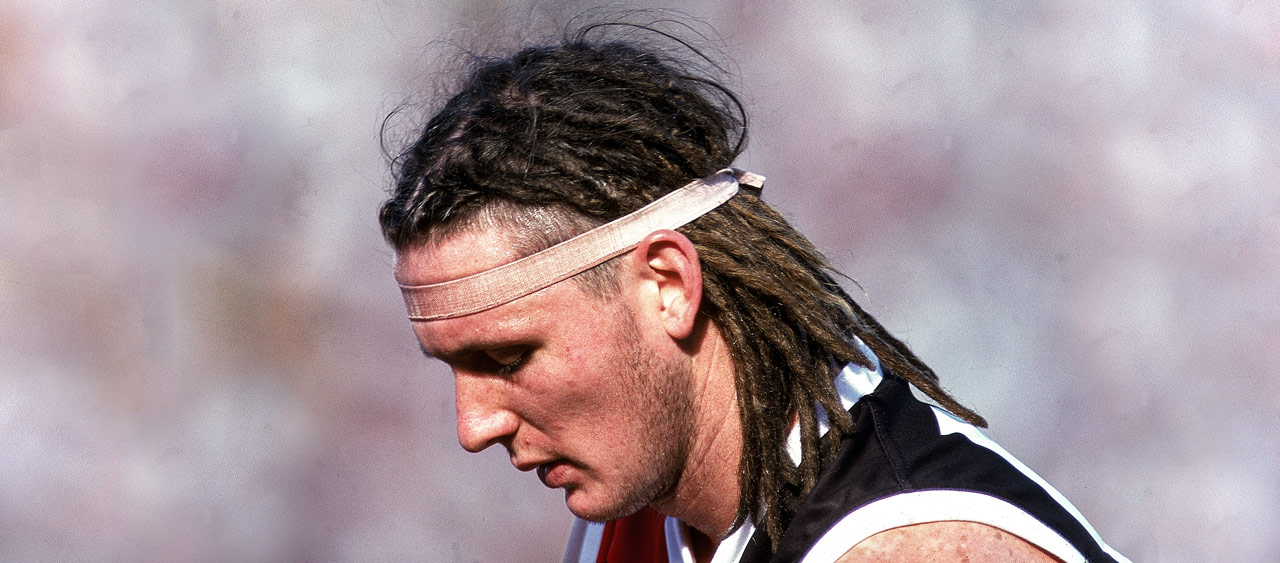 BIG BAD BAZZA
For all the talk about zones and rule changes and needing to make football more attractive, I still enjoy the game.
People say the players are more robotic and it's not as tough as it used to be but that's rubbish. If you take your eyes off the footy or don't go when it's your turn, that's going to be played all week. There's 40-odd cameras watching you. Ask me, they're as tough as ever.
I love Thursday night footy – as far as I'm concerned they could nearly play it every night. Why not? They're professional athletes, they should be able to follow the NFL and have it pretty much whenever you can get them out there.
Twice a year, we take 10 motorhomes on treks, from Melbourne to Darwin, and Auckland to Queenstown. I do the cooking most of the way up; we're heading off for Darwin next week, so I've been prepping for that all week.
We try and catch the Friday and Saturday night games as we stop, keep up with what's going on. The couples who come are usually footy followers, sometimes some rugby league people who only know us from the TV show. The Aussie Rules fans love to talk about the greats from days past, blokes like 'Plugger' Lockett who I was lucky enough to play with at the start of my career.
People say the players are more robotic and it's not as tough as it used to be but that's rubbish. Ask me, they're as tough as ever.
You know what it's like when you're talking to someone from Victoria or South Australia – they always have a friend of a friend of a friend who played a bit of footy.
People definitely miss the characters, for sure. Social media's good in a way, because you can see a bit more of someone and get to know them better. As long as it's harmless fun, like Mark Jackson or Warwick Capper used to be. But in every sport – and even every radio station – things are different now.
My old St Kilda and Sydney teammate Barry Hall said something stupid a few weeks ago that cost him his job. He wasn't unlucky to get sacked but he was a bit stiff the conversation wasn't stopped a lot earlier. You look at how long it was going down that path and think, 'Hang on, do we really need to go this far?'
I was surprised he was the only one who was penalised. The experienced people in the box should have known, 'Hang on, this isn't where we should be heading'.
Radio's no different to the AFL – we're given codes of conduct, ethics, morals, we're trained in how to perform. We should know how to behave before the mic is turned on.
OUTSIDE THE FISHBOWL
As much as I love footy and still love being involved in it, when it comes to living and breathing it 24-7, I'm happy to be out of it.
Playing my last two years in Sydney was a really good eye-opener, where you could look down the road and see exactly how small Melbourne can be, that fishbowl environment. I think a lot of players who are doing media roles there could step back, have a look at the view from a state that isn't a traditional hub of AFL footy.
On the Gold Coast now, there are so many different sports and as a result, so many opportunities. You get a look at all the codes. We've got the Queensland Reds here, the Gold Coast Titans in the NRL, we get State of Origin and of course, there's AFL. You're bound to find something you like in that.
It's been 10 years since I last played and I can't complain. You look back and think you'd have liked to be a one-club player but that didn't happen.
I wish I'd been able to get to Sydney a year earlier to have a crack at a flag but when I weigh up my career, I was able to play pretty consistently over 16 years. Nic Naitanui has just done a second knee, so I was very, very blessed to be able to run out for that long.
I've got no doubt playing AFL makes you better. There's a lot of benefits in being in a professional footy club – it teaches you a great deal about a team environment, about people and about life in general. I'd never complain about the AFL, they've helped set up a lot of people very well.
I know a lot of people have a dig at them but I'm not one of them.
More about: Gold Coast Suns | Gold Coast Titans | Hawthorn Hawks | Queensland Reds | Sports Commentary | St Kilda | Sydney Swans