Simon Mannering - Contributor
The day the coach's kid blitzed us
Nathan Cleary was only eight or nine years old when I first saw him kick a footy around Mount Smart Stadium at training. Even then you could tell he had something.
Nathan's old man, Ivan, was coaching the Warriors at the time. After training sessions had finished the players would stay on the field to do some stretching.
That's when Nathan would appear. We'd never see him until the end of the session. He was obviously there somewhere at the ground, but he must have been sitting quietly somewhere in the stand.
Ivan's the ultimate professional and he wouldn't have risked one of his kids wandering around on the field and disrupting the session. He must've had Nathan well trained even at a young age, because he was disciplined enough to not make a fuss while he waited his turn.
He wasn't there every session because he had to go to school and he was actually playing competitive soccer at the time before switching to league later, but if it was late in the day, a weekend session or during school holidays, we'd see him.
He'd come out on the field with Ivan and they would kick the ball around and go through a few drills. Kicking for goal, kicking for the line, drop punting the ball back to each other.
Nathan was only young, but I remember thinking, 'Gee, he goes all right. He strikes the ball really well for a kid'.
He had perfect technique already. He wasn't lining up shots at goal from too far out, but he was hitting them beautifully. Ivan was a great goal-kicker himself when he was playing. The apple hadn't fallen far from the tree.
This continued from 2006 all through the six years Ivan coached us.
Now that Nathan is about to make his debut for NSW, I'm not in the least surprised he has risen to the representative ranks at a young age. Not when I remember those early signs and I take into account the wonderful impact Ivan had on me with his coaching.
What a grounding for a kid who wanted to play footy, to have Ivan as both your dad and your personal coach.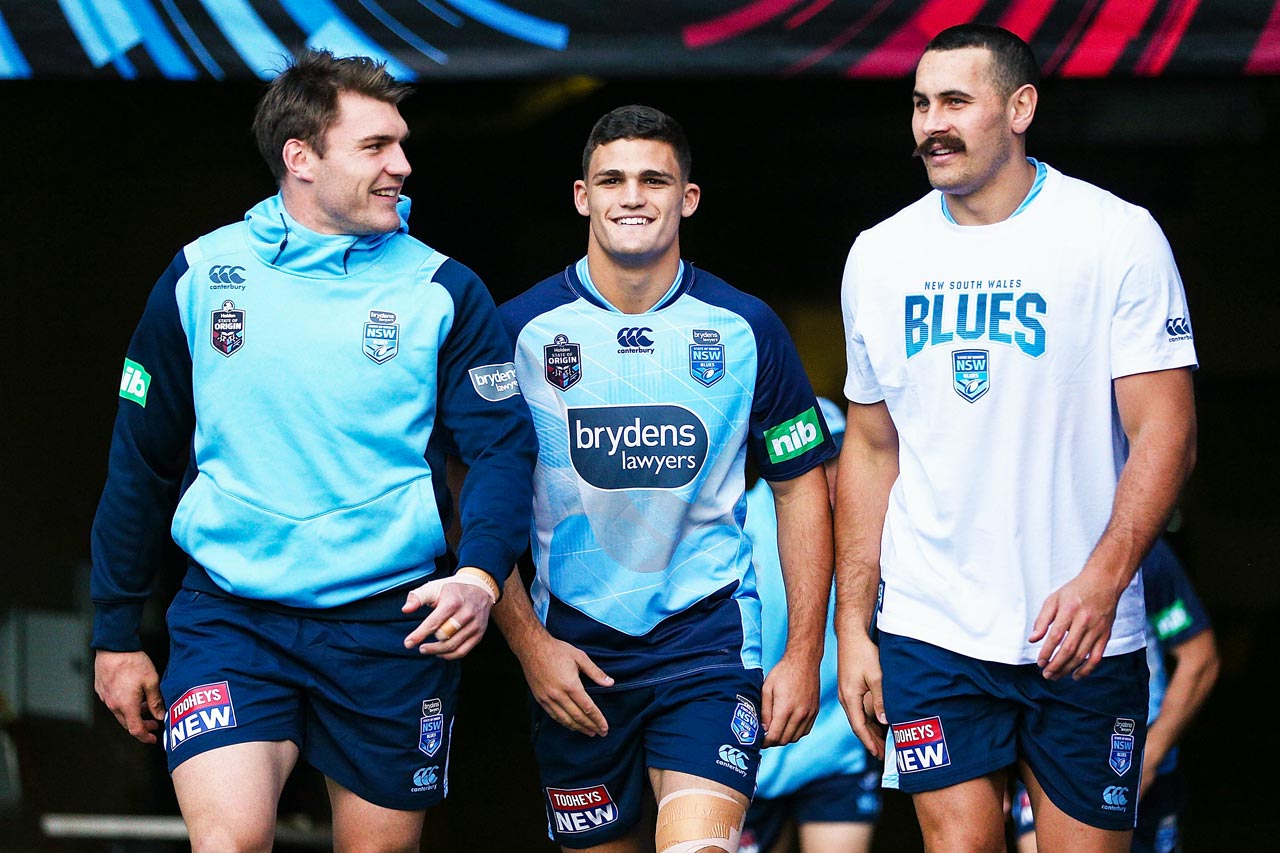 THE KID WHO CARVED US UP
Nathan was a pretty quiet kid. He didn't really hang around the boys. He just wanted to kick the footy. You'd say hello to him and that would be about it.
A decade later, he was still a teenager and I was playing against him.
He came to Auckland with Penrith for a game in round 21, 2016. I imagine that brought back a lot of memories for him. He has spent half his life here, first when Ivan was playing for the Warriors and later when he was coaching us.
He had perfect technique already. He wasn't lining up shots at goal from too far out, but he was hitting them beautifully. The apple hadn't fallen far from the tree.
We beat the Panthers in golden point that day, but when he returned last year he carved us up and scored three tries. The thing I remember about that game is how committed he was to taking on the line for such a young player. He was fearless when he ran and he put us under a lot of pressure.
I made a point of congratulating him on the way he was playing his footy. He'd come a long, long way from those days kicking a footy around after Warriors training sessions – and he had done it in very little time.
I know Ivan pretty well and I appreciate what he did for me and my career.
Ivan was our assistant coach when I made my first grade debut, in 2005. He took over as head coach the following season and was in charge through to the end of 2011. The timing of his arrival couldn't have been better for me.
I knew I had a lot of things to work on in my game if I was going to be a success at this level. Ivan put a huge amount of time and effort into me. He persisted with me when maybe other coaches wouldn't have. He saw the bigger picture. He realised my potential and taught me principles that have stayed with me ever since. I still follow them religiously today.
It's been seven seasons since Ivan last coached me, but I remain indebted to him for the lessons I learned.
He didn't make too much of a fuss if you got hurt. He expected you to keep playing, within reason, and he'd give you a pat on the back for it. He'd be stoked, actually, if you could push through the pain barrier, and plenty of times we did that because we wanted to do it for him.
He was big on defence and making a genuine commitment in that area. It was more about attitude than technique with him. Just putting your body in the way to stop a try. Working as a team and doing it with aggression.
Producing plays that were good for the team – and not necessarily ones that made the individual look good.
Micheal Luck was someone like that. He'd do all the dirty work – dive on balls when he knew he'd get hammered – and not give a second thought about maybe getting injured. I love playing with guys like that. They just get in there and do it.
If someone got ahead of themselves he'd give them a look. They'd know.
He didn't have to resort to ranting and raving to get your attention. I might've seen him lose his rag once in six years as coach. Maybe he kicked a chair over or something like that. But, really, it was nothing compared to some other coaches. Ivan's a pretty cool customer.
You felt bad if you let him down because we had so much respect for him. He didn't have to yell at you for you to know. You could see the disappointment in his face and hear it in his voice. His style resonated with me. He was the best possible coach I could've had at that stage of my career.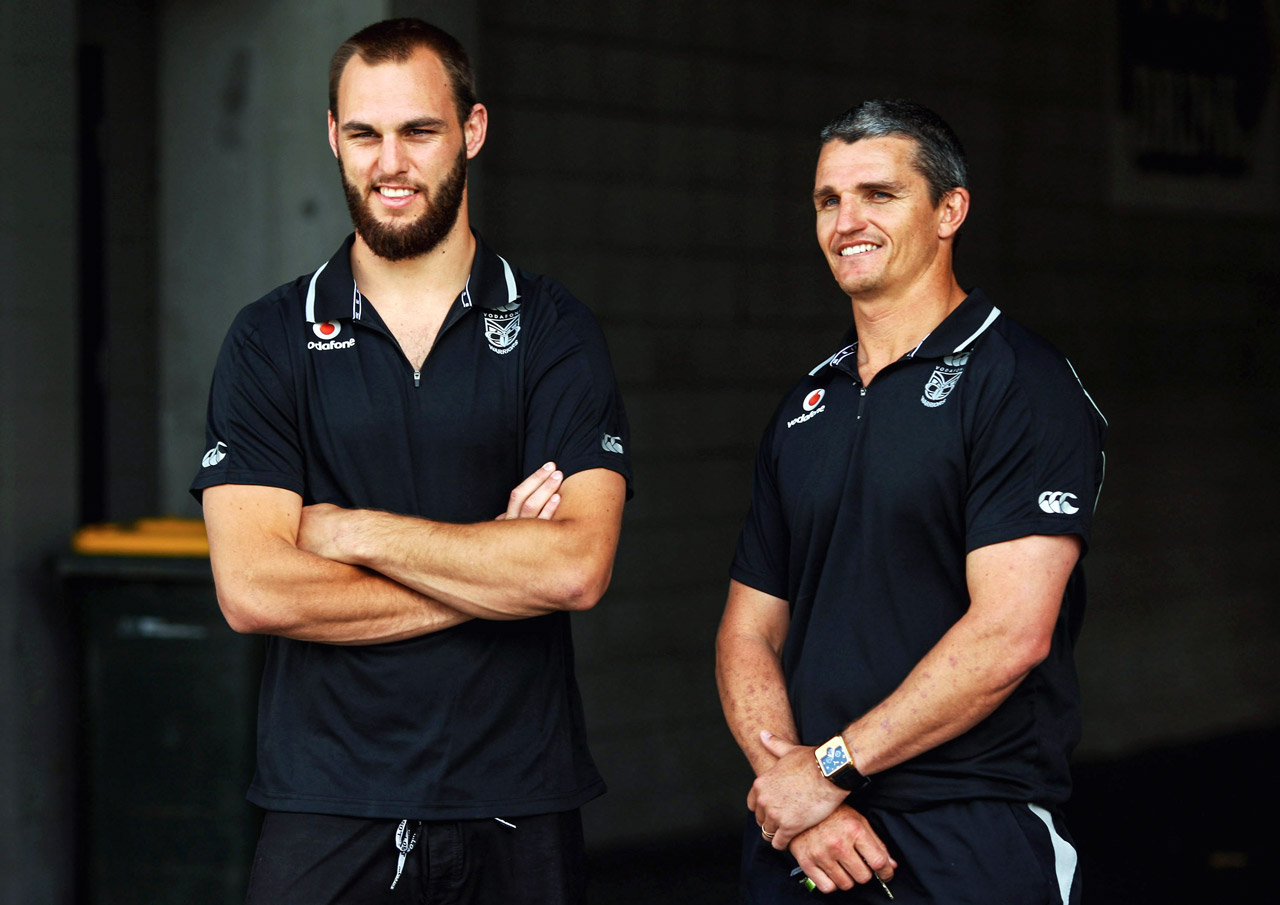 I hold everything Ivan taught me in high regard and, because I like playing alongside guys who play that way, I make a point of continuing to do it myself.
We had a team full of those sort of guys when Ivan was coaching us. Lucky, Jacob Lillyman, Brent Tate and James Maloney were just a few – great competitors, never stopped putting in and good influences off the field as well as on.
Nathan has clearly learned the same lessons. I see it come out in the way he plays. I'm sure it's Ivan's influence that has him in such a good position so early on in his career. He's made a huge impression.
Some of the stuff Nathan does on the field, 10-year veterans aren't even doing.
He's tough, he defends well, he does all the little things that Ivan was big on with us. He's very composed, he's got the kicking game, the game management. He hasn't got a big head and he's not playing for himself.
He's very composed, he's got the kicking game, the game management. He hasn't got a big head and he's not playing for himself.
I think the biggest wrap I can give Nathan is that I really respect the way he plays. Takes the  line on, not afraid to get hit, body on the line in defence. That's a real player as far as I'm concerned.
A lot of young guys just want to come up with the big play, throw the long cut-out ball to show off. Not him. He's very mature for his age.
I think what Nathan's doing speaks for itself.
It's going to get harder for him. The better you play, the more attention you get from the opposition. He'll have to improve as a player to cope with that. But he'll be aware of that challenge and he'll handle it. He's level-headed and humble and gets on with his work and that's why he's moving up in the levels of footy.
That's why he is about to play Origin at the age of 20.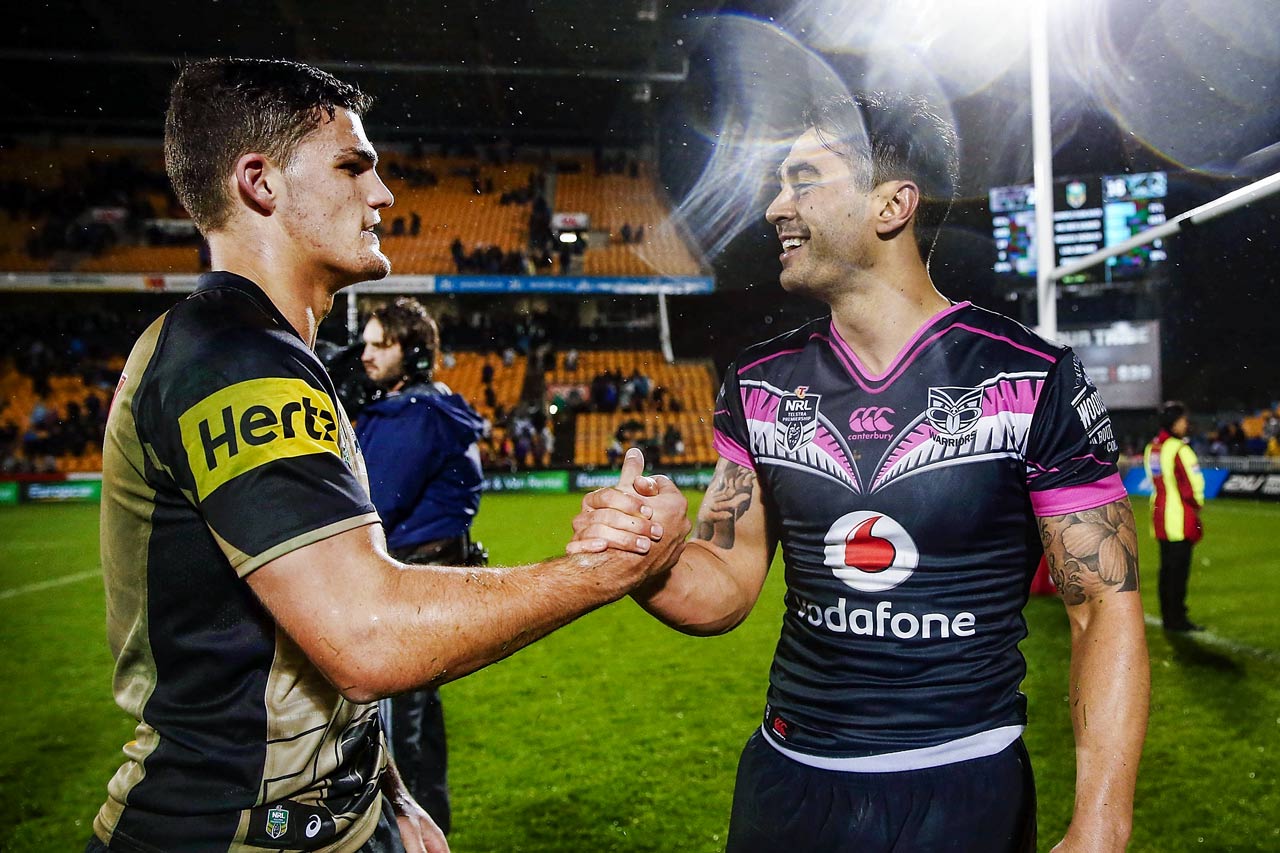 A PROUD DAD
I keep in touch with Ivan. I saw him when we played the Cowboys and Ivan's Wests Tigers played the Storm in a double-header at Mt Smart earlier this season.
We had a good chat. I told him I thought Nathan was going really well. I also mentioned a few of the things Ivan was always big on that Nathan's following through with – playing tough, good defence and all that.
Ivan's pretty humble as well. He's not going to start pumping his son's tyres up, even when he's not within hearing range. He was just sort of nodding his head and grinning, but it was clear he was as proud as punch. He couldn't hide that. You know what dads are like.
I don't know how it works at home, with them being at different clubs, but it must work pretty well because Nathan's still there. Ivan's a footy coach, but he's also Nathan's dad. He's obviously got the balance right or Nathan probably would've moved out by now!
I know Ivan. He wouldn't have started out thinking Nathan was his little project and he'd get him to where he is now. If Nathan was interested in footy then Ivan was going to have an influence on him whether he intended to or not. Nathan was naturally going to pick up on things.
But if he'd wanted to do something else I'm sure Ivan wouldn't have tried to push footy on him. Nathan just decided he loved the game and he was lucky enough to have a good mentor in his old man.
I couldn't imagine anyone doing a better job at that than Ivan's done.
More about: Ivan Cleary | James Maloney | Nathan Cleary | New Zealand | New Zealand Warriors | NSW Blues | State of Origin