The haunting look on Delly's face
Australia vs Philippines brought scenes unprecedented in basketball, particularly at an international level.
I thought the game needed to be called off immediately, to get the Aussies securely to the locker room, back to their hotel and on a plane unscathed.
A crowd of more than 20,000 in Bulucan had been kept quiet to that point but, when things erupted, you started fearing for the Australian players' safety.
When you see Filipino players, staff and perhaps even fans running in and punching our players in the back of the head, it's a matter of survival. You're trying to look after your mates, trying to protect yourself.
As soon as the broadcast ended, FOX Sports commentator Matt Russell and I literally dropped our headphones, looked at each other and said: 'What the f*** just happened? What did we just witness?' Matty rightly described it at the time as 'sickening'.
We stayed in the booth for another 15 minutes, going over it again. We could not believe what had just occurred. We went through social media and our text messages, looking at how other people saw it. It was incredible – the reactions raged all night.
Australia vs the Philippines ended in absolute CHAOS…. and 13 ejections! pic.twitter.com/ijpWlbWT7i

— FOX Basketball (@FoxBasketball) July 2, 2018
This is what I saw unfold.
I felt like there was niggle building up all the way during the game. While you could never imagine that it would amount to what it did, you could always feel that there was something brewing.
The unsportsmanlike foul that came from Roger Ray Pogoy on Chris Goulding is something you see on a basketball court – it was a cheap shot but it was not unusual. Australia had dominated the game, they held a big lead and the Filipinos were frustrated.
It was a total overreaction and totally out of character from Daniel Kickert to respond the way that he did, by coming and hitting Pogoy hard with his forearm.
Kickert came in to protect his teammate but it was an overreaction and it clearly contributed to what then unfolded; some terrible actions from the Philippines players and officials that escalated in such a surprising way.
There were spotfires everywhere after Pogoy went down. You didn't know where to look.
Chairs were being thrown – one hit Nathan Sobey in the head. In one piece of vision, a security guard looks to be holding Sobey and then a member of the Philippines staff – or at least someone with certification around his neck, wearing a Philippines shirt – is seen landing a punch right on the end of Sobey's nose.
This is a disgrace pic.twitter.com/ZbqxQAYWA4

— Glenn Hampson (@GlennHampson) July 2, 2018
You see 10, 12 guys in blue shirts, piled on top of two Australians who are being punched and kicked – Goulding and Sobey. Another piece of vision suggests that Goulding was hit with a chair while he was on the ground. And it was not only Philippines players involved but people in street clothes – you didn't know if they were officials, fans or volunteers.
One Philippines assistant coach later admitted his involvement.
Your words are hollow. You didn't act like a father who cares about his sons. You acted like a classless animal with zero brains. Hand in your resignation, your country deserves better. pic.twitter.com/P9CAxeGwLc

— Daniel Moldovan (@AgentMoldovan) July 2, 2018
You see Thon Maker – he looked like he was hurdling over other players, legs sticking out. It didn't look malicious, more like he was trying to get their players away from him and his teammates.
Kickert had two guys chase him from one end of the court to the other. He would have woken up today with bruises and bumps on the back of his head.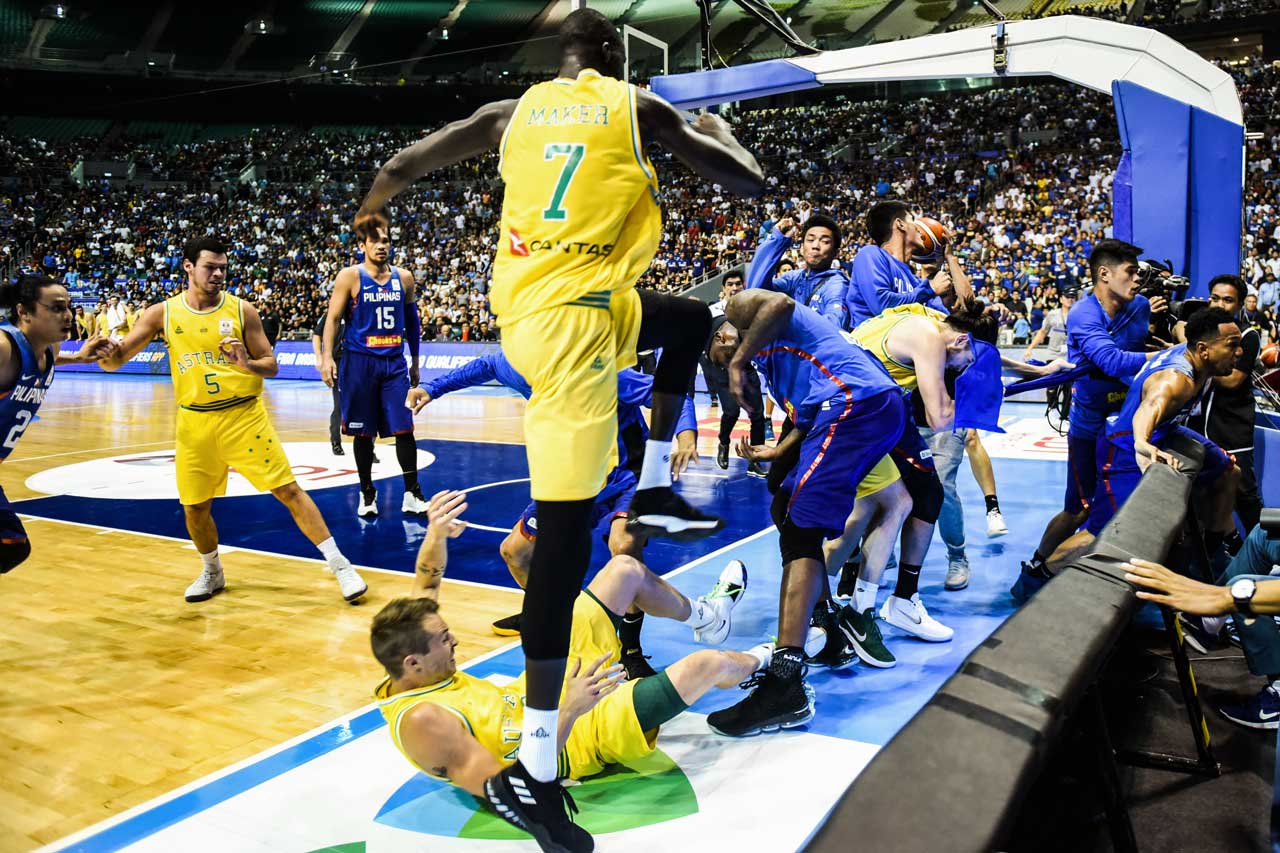 Luc Longley came from the Australian bench at the other end of the court to stick up for Kickert, then Goulding and Sobey after they were mobbed by the Filipinos. He was not being aggressive; he was trying to protect his team, instil some common sense, calm things down.
The Australian bench stayed at the bench, as per the rules. They showed discipline. In the middle of those players, calming them down, was Matthew Dellavedova.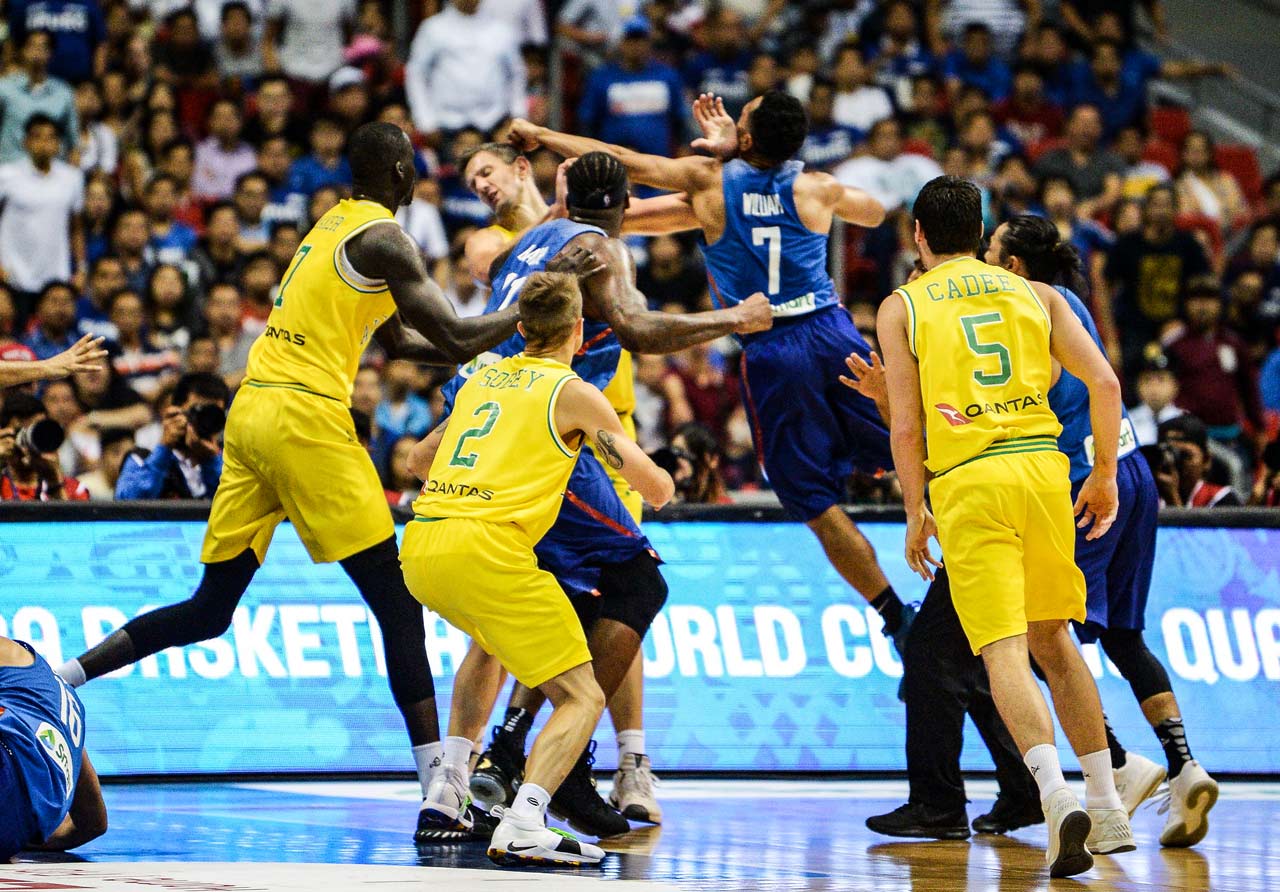 DELLY & TELLING REACTIONS
Delly made himself available to play despite an injury-riddled NBA season, because he is passionate about playing for Australia and representing his country. When things exploded, Delly showed the composure of an experienced guy who has played in big games.
The vision of Dellavadova when things settled down and the Boomers went into their huddle … he was deep in thought. The expression on his face, it was like he was hurt. That he couldn't believe that this had happened.
If it wasn't for Matthew Dellavedova this could have been so so so much worse. https://t.co/vIoFda8iRl

— Christian Bertacco (@Tarco_Bell_Ski) July 2, 2018
It was almost a hurt for the game; like he knew the game had been tarnished by what had just taken place and the actions of certain players. Here is an NBA guy who has won a championship alongside LeBron James, playing in these qualifying games because of the pride that he has for his nation.
Suddenly, he's embroiled in this mess – even though he's not on the court. It's like he knew in that moment what a black eye this would be for the game of basketball.
'What the f*** just happened? What did we just witness?'
And then, you look down the other end and you see the Filipino players taking selfies with a smart look on their faces, like they were proud of what they'd just been part of. Every time their faces were put on the big screen, they would giggle and laugh as they were applauded by the crowd for the way they had handled themselves.
It was a complete contrast between the two teams, in my mind. I could not believe that the Philippines players took a selfie.
You're sitting there thinking, 'This is a really dark day for the sport'. It was like the Philippines players were proud of their involvement. They were almost boasting about it. The vision was terrible and it resonated with disappointed fans as much as anything else.
This just happened. After one of the wildest on-court brawls in recent memory, the Philippines team pauses to pose for a selfie, like there's something to celebrate pic.twitter.com/fTXAaBA5lp

— Mitchell Scott (@WhippingBoySEN) July 2, 2018
I felt for Thon. Just 21 years of age, his first opportunity to represent the country … you want memories of such a proud moment to be lasting ones. You want him to come in, to perform, to love being part of the Boomers.
For him to be embroiled in this situation is rough. The vision being beamed back to the NBA and the Milwaukee Bucks will be disappointing for him. Thon had a target on him as an NBA player, as far as people highlighting his role in the brawl.
After this incident in Bulucan, you would have to be concerned about the likelihood of NBA players participating in qualifying games again in the future – especially in the Philippines.
You can never say that anyone is totally innocent in this sort of incident. But, hopefully, people can look at the facts and realise that most of the guilt does not rest with the Australian team.
— Thon Maker ™ (@ThonMaker14) July 3, 2018
CAUSES & CONSEQUENCES
There will be some very stiff penalties handed out by FIBA.
I would be disappointed if any official that came on to the court and assaulted any of the Australian players is not banned for life.
FIBA need to make a statement that such behaviour is just unacceptable.
It is harder to know how hard FIBA may sanction the Philippines team but, again, they will need to make a hard statement.
Given how many players may be suspended, the Philippines may struggle to have enough players to represent them in the next round of qualifying.
From the vision I have seen, Daniel Kickert is the one Australian player who will be – and should be – penalised by suspension.
Otherwise, I would have thought that the other Australian players involved reacted in self-defence after the court was invaded.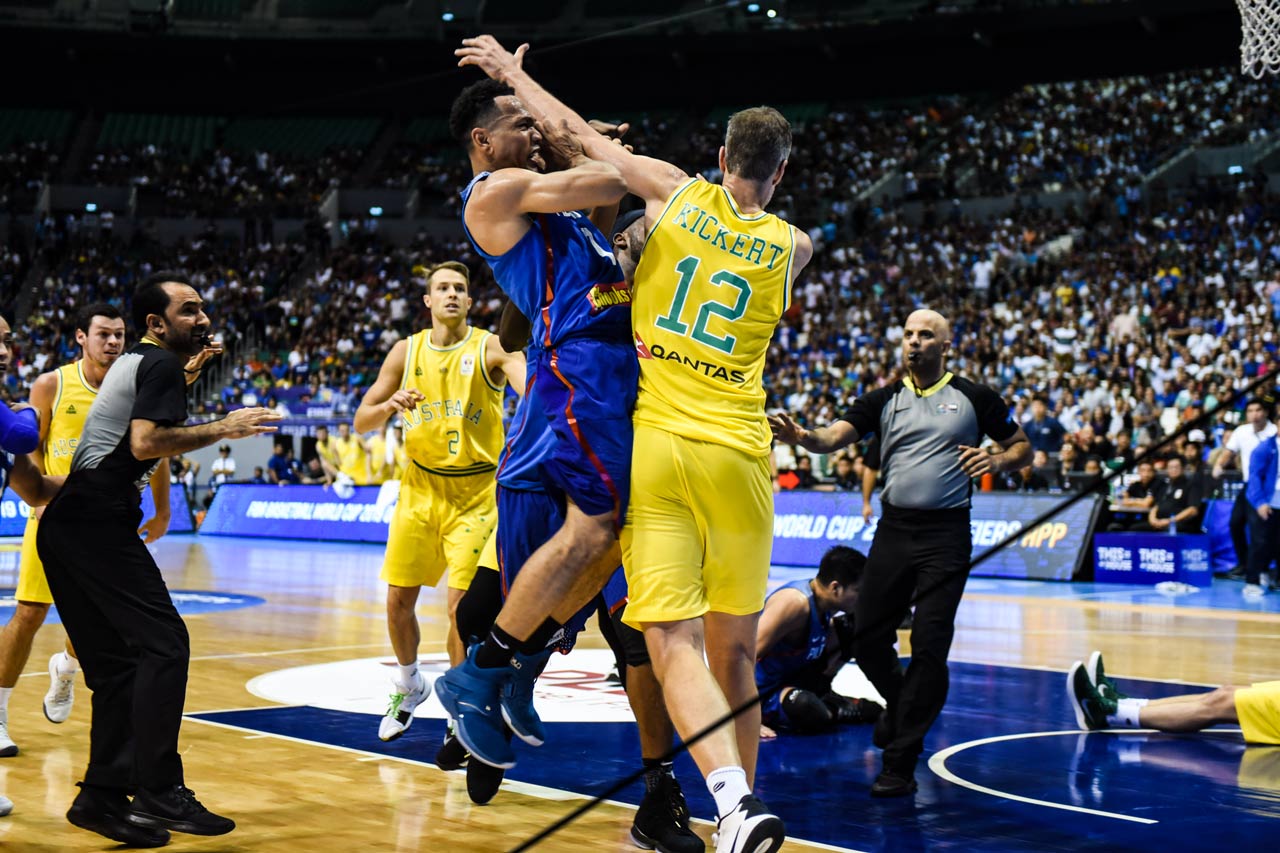 It will be interesting to see if FIBA decides that any of the Australians could have done anything differently, given the circumstances.
One report claimed that the Aussies may have upset the Filipinos before the game even tipped off.
The Australian team apparently ripped a decal off the court during their shoot-around. Supposedly, the Philippines team felt disrespected by the Australians doing that but if those decals were slippery and unsafe, that's an overreaction by the Filipinos.
Yet it seems that it may have been used as fuel to really take it to the Australians. Later, we even heard their coach, Chot Reyes, saying something during a time-out like, 'Hit somebody. Put someone on his arse'.
He was really challenging his players, even with the Aussies up by 30 points. It wasn't long after that when things erupted. His players were certainly frothing at the mouth when they came out and they really took it to the Aussies.
You would hope their coach didn't mean it as literally as it turned out – but he was saying it with a whole lot of passion to get his players to buy in, which they clearly did.
And there was a disappointing lack of remorse from Reyes after the game. His message was that Kickert had made contact with some of their players through the warm-up and that the Australians had instigated things.
You would have hoped that the Philippines officials would jump on board with the reality of the situation, understand the consequences that are looming from FIBA and also the poor reflection on basketball.
I would hope that Nathan Sobey and Chris Goulding are able to get through this mentally unscathed. They're difficult circumstances that no player should ever have to deal with.
They'll obviously have some bumps and bruises but you would hope no lasting effects, when it comes to playing on the road and experiencing those sorts of situations again.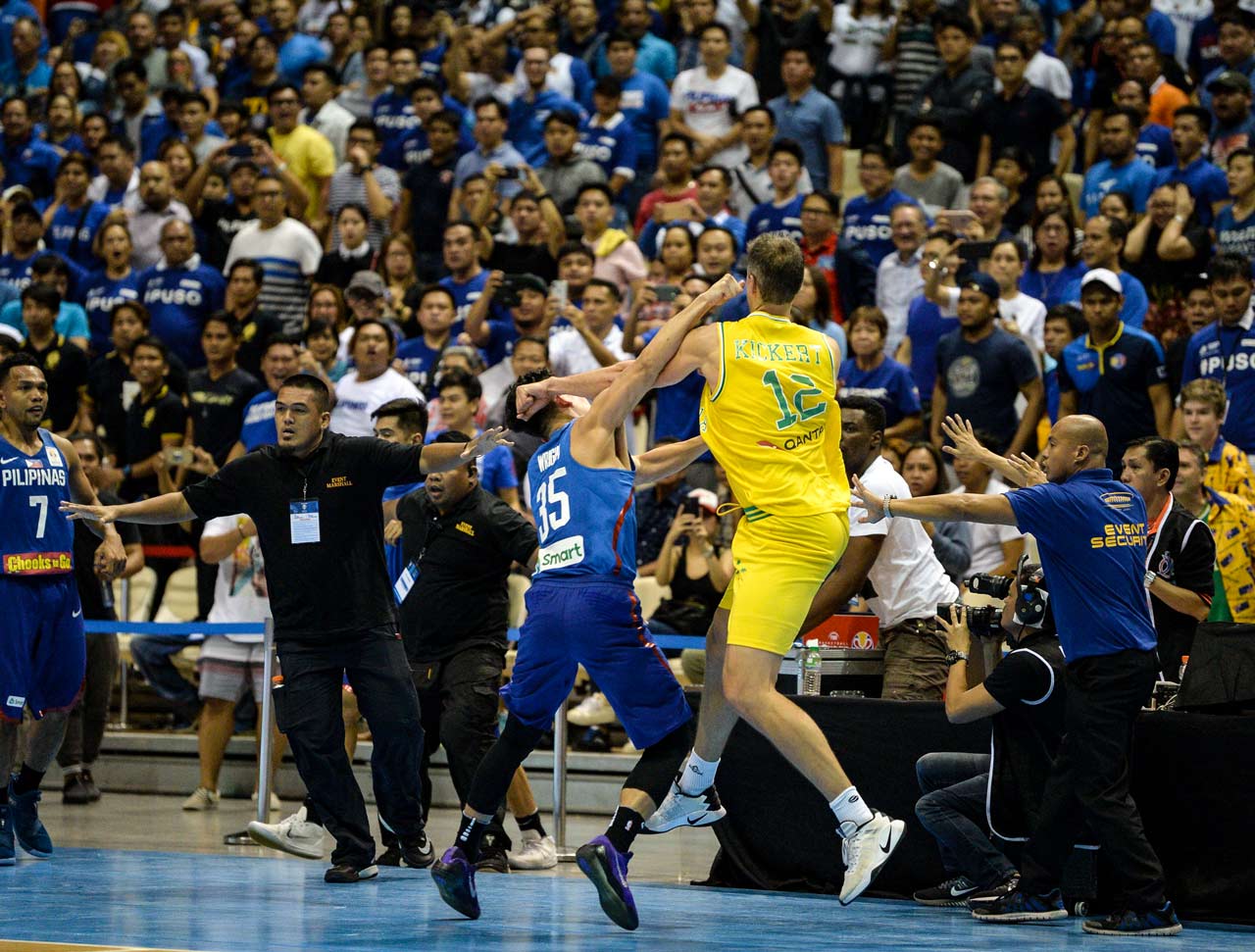 BLACK MARK IN GOLDEN TIMES
While I believe most of the blame rests with the Philippines, this a disappointing moment in the Boomers' history.
I have never seen anything that bad on a basketball court. It was actually unique in sport at the moment – you wouldn't see anything of that extent at an AFL or a rugby league game now. You wouldn't have thought that we'd ever be comparing physical altercations in basketball to what we've seen occur in other codes.
It's disappointing given the amount of kids we've attracted to our game.  And for mine, it's especially disappointing that this incident occurred at a stage with so many positives happening for Basketball Australia and the NBL.
We just had seven NBL vs NBA games announced. Never in my wildest dreams did I think that would happen. It is a massive thing for our league.
The NBL has gone from strength to strength over the last couple of years, in all aspects. The popularity, the crowds, the talent levels, the exposure. We've just welcomed back arguably our greatest NBA export, Andrew Bogut, to play with the Sydney Kings.
I would be disappointed if any official that came on to the court and assaulted any of the Australian players is not banned for life.
We have never had greater NBA participation numbers and just saw Ben Simmons win Rookie of the Year. The calibre of the team we will put together next year for the World Cup, with those NBA players at the core, is so exciting.
When you look at the potential line-ups with Simmons, Joe Ingles, Patty Mills, Aron Baynes, Dante Exum, Bogut … it's incredible. There are so many guys at the right stage of their careers who have international experience, have played in Olympics and have a belief that they can create history by winning a medal.
I have no doubt that they can win a medal at the world championships next year and then at Tokyo 2020. It will be our best chance in 18 years at making history by finally reaching the Olympic podium.
We've all put a lot of blood, sweat and tears into getting there. Finishing fourth in 1996 and 2000 made us proud but it also lives inside you: the disappointment, the failure that we didn't win that first Olympic medal. Now, you sit there in hope and support that our current Boomers can get something done that we couldn't.
And between Sydney 2000 and Rio 2016, we've had a tough time at the Olympics. Now, we've got so many quality players coming through, with more on the way; more in college, more headed to the NBA. You'd have to think that the momentum will carry Australian basketball through for decades to come.
With all those things brewing at this moment, to have an incident like we just saw in the Philippines is highly disappointing.
If there is any positive to be gained from the incident itself, it may be that it brings a tight Boomers team even closer together.
Australian teams have always had a strong culture, a firm mindset of togetherness. This won't hurt the Boomers. They will learn from it – try to understand if there were mistakes made and how they can be better handled moving forward.
Going through something like this and coming out the other side will only strengthen the bond of the team.
More about: Andrew Bogut | Ben Simmons | Boomers | Daniel Kickert | Luc Longley | Matthew Dellavedova | NBA | NBL | Sports Commentary | Thon Maker | Tokyo 2020