The most important scrum of all
Some of the most important scrums I've packed weren't at Canberra Stadium, or Eden Park, or Twickenham.
They were in our family living room in Lidcombe.
It would usually start with a phone call from my dad, David, who played two Tests for Manu Samoa in the early 1990s. 'Scott, I've got an idea,' he'd say. So I'd come home and we'd get down to it in the little space in front of the TV.
He's an ideas factory, my dad. He is always thinking about the game. I've watched tape of him as a player and he was very instinctive, very off-the-cuff, very play-what's-in-front-of-you whereas I'm more the type who will adhere to a gameplan.
We're both visual learners. It's fine to say something, but it's not until we see it and experience it that we truly understand a concept.
That's how the family living room became my classroom.
Dad would have a theory about a longer bind, a shorter bind, binding on the shorts, binding higher up on the jersey … whatever it was. Sometimes he would mimic the style of one of my opposing props to demonstrate. That way I could feel what he was talking about.
We still do it now. He's pretty strong for an old bloke, but there's not much pushing these days. Just technique and bouncing around ideas. I'll try what we practised at training on a Tuesday and see if I think it's something I can work into my game or not.
So many elements of the player I've become are a result of those sessions.
Dad doesn't know if he could've cut it in my era and I don't know if I could've cut it in his. You were lucky if you were playing for a slab of beer in his day. You played for the joy of it. Dad used to say that if his team had 40% possession, they knew they would win the game. That's how good they were – they could do incredible things with the ball with such little possession.
He would've made a great coach if he'd wanted to go down that path.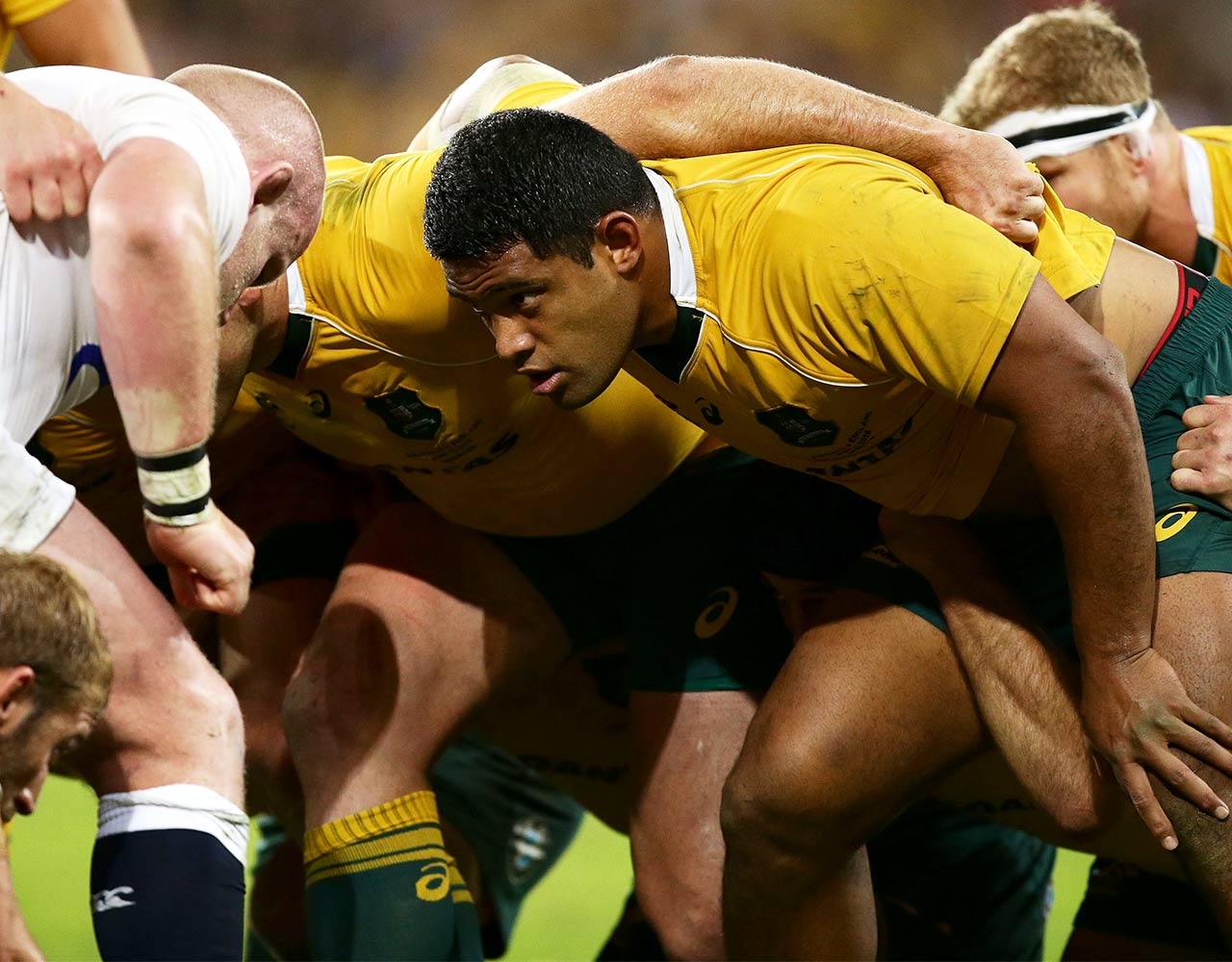 MUM, CANCER & FOOTY SCARVES
My parents are from Upolu in Manu Samoa. Mum was from a village called Vaiala, which is right next to Apia, and dad was about 40 minutes further away in a place called Solosolo. We would visit as kids, but Lidcombe was our home.
I was born in the same week Manu Samoa were playing against Scotland in the 1991 World Cup quarter-final at Murrayfield. That's how I got the name Scott (although Allan Alaalatoa reckons they should've called me Murray to sound more Aussie). I was pretty emotional when I played my first Test in Edinburgh in 2016.
Our family is very close. I owe them everything.
My mum, Tina, was tough on us in a good way. She instilled discipline and reminded us to appreciate what we had. She wouldn't let us go out all the time and she was big on teaching us the importance of hard work, earning money and the importance of not wasting it. Important stuff.
She's a very strong woman. She had cancer of the gallbladder at the same time I was doing my first pre-season with the Brumbies. She didn't want me to worry about her, so she didn't tell me about it. She had to have emergency surgery. I was the last person to find out.
That upset me but I understood her intentions.
She thinks her about her children first, even when in a life-threatening situation.
She's in remission now, thankfully, and you should see her at our games. She's crazy! She wears all the Brumbies kit, all the Wallabies kit – beanie, scarf, jersey, jacket, the lot. She absolutely loves it. It rubs off on people. She tells all the partners and the mums that they need to wear their kit to games. 'Hurry up! Got get your jumper!' It's hilarious.
My brother Patrick is 24 this year and he's playing for Eastwood after a couple of years playing for Stade Francais. He's speaking fluent French now. Patrick is like dad in that he is great with instinct and that's something I'd like to keep learning from him. He's doing really well.
Mum thinks her about her children first, even when in a life-threatening situation.
My twin sisters, Ana and Tina, are with the Parramatta Two Blues and the women's Waratahs squad. Ana is in the extended Wallaroos squad, too. The family situation is probably a bit too much rugby for mum. The old man is loving it!
Our family runs a money transfer business to Manu and American Samoa and New Zealand. We also run a family shop in Woodpark, near Merrylands, selling Samoan and Islander clothing. My sisters do a cool job with it. It's a real passion for them.
Sometimes I have to take a step back and think about the pressure on them to perform in their areas of work because of what I've done. I forget that now and then. But just because their achievements don't get a write-up in the newspapers doesn't make them any less valuable in the eyes of our family.
I hope they know that.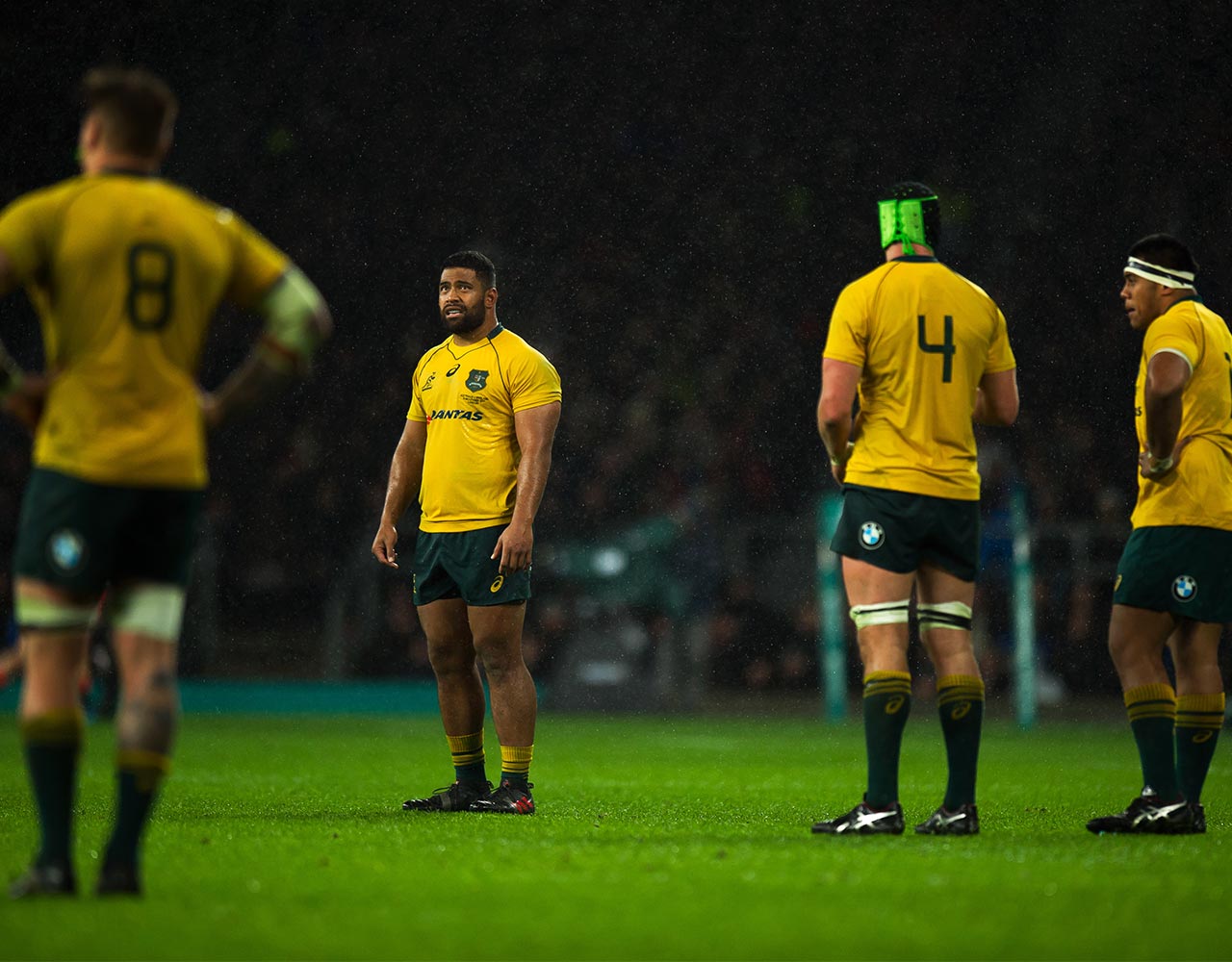 THE BEAUTY OF RUGBY
I started playing rugby when I was seven and league when I was ten. That was pretty standard in the west – you played rugby on Saturday and league on Sunday. I was a West Harbour junior in rugby and also played for Concord Burwood Wolves, who are a Wests Tigers junior club.
I loved the confrontation of league, the physicality.
I made a couple of Balmain development squads. Aaron Woods was our captain. Tyson Frizell was our inside centre with the Australian schoolboys. I also played against Will Hopoate.
I feel privileged to have shared part of their journey and I love watching them perform on the NRL, Origin and Test stages. They've all achieved special things.
But I knew pretty early on, league wasn't for me.
I love that rugby is a game that caters to every shape and size. There are also a lot more variables. At any point in time you can win the ball back – in any ruck, in any maul, in any lineout, in any scrum, off any kick. It's the unknown of what can happen in every single part of the game. That's exciting.
You've always got to adapt in this game. Rugby is forever changing. The rules and the interpretations are always being altered. The players come back every year a little bit quicker, a little bit fitter, a little bit stronger. And because it's a global sport, there are always new and different ideas and strategies coming from all around the world
It's never boring.
Everyone thinks we just adjust and go but every rule change takes a while to get used to.
When I first came into Super Rugby, it was crouch, touch, set … and then you could just hit 'em. You didn't have to hold the bind. The calling system was really fast.
Then they flipped the script on us in 2014. We had to have our bind up. There was a big pause between the bind and the set. Calling systems got a little bit longer. They wanted a gap. You couldn't be pre-engaged. You had to have your head on the shoulder.
That caused a lot of problems. It was a big change for those who were not as good technically. They were found out. It became a bit of a battle. It wasn't like the ball got put into the scrum straightaway and, if you lost the hit, the ball was gone. You had that opportunity to recover and marry that up technically with the power stuff you do in the gym.
You had to get pretty good, pretty quickly.
But that's all part of what makes rugby such a fascinating sport. It is always evolving.
For a prop like me, it's not enough to just scrum well, lift well and maul well anymore. You've got to be good at everything. You have to be able to run and carry as well as you scrummage, you have to chase and retreat from kicks as well as you can lift in lineouts and you have to be able to tackle as hard as you can maul.
There is no area where it's OK to falter or else everyone will target you.
We've got tightheads like Sekope Kepu who can score from 60 metres out like he did against the Chiefs. That would've been unheard of back in the day. The footwork and the acceleration of some of these front rowers and second rowers, you can't help but marvel at it.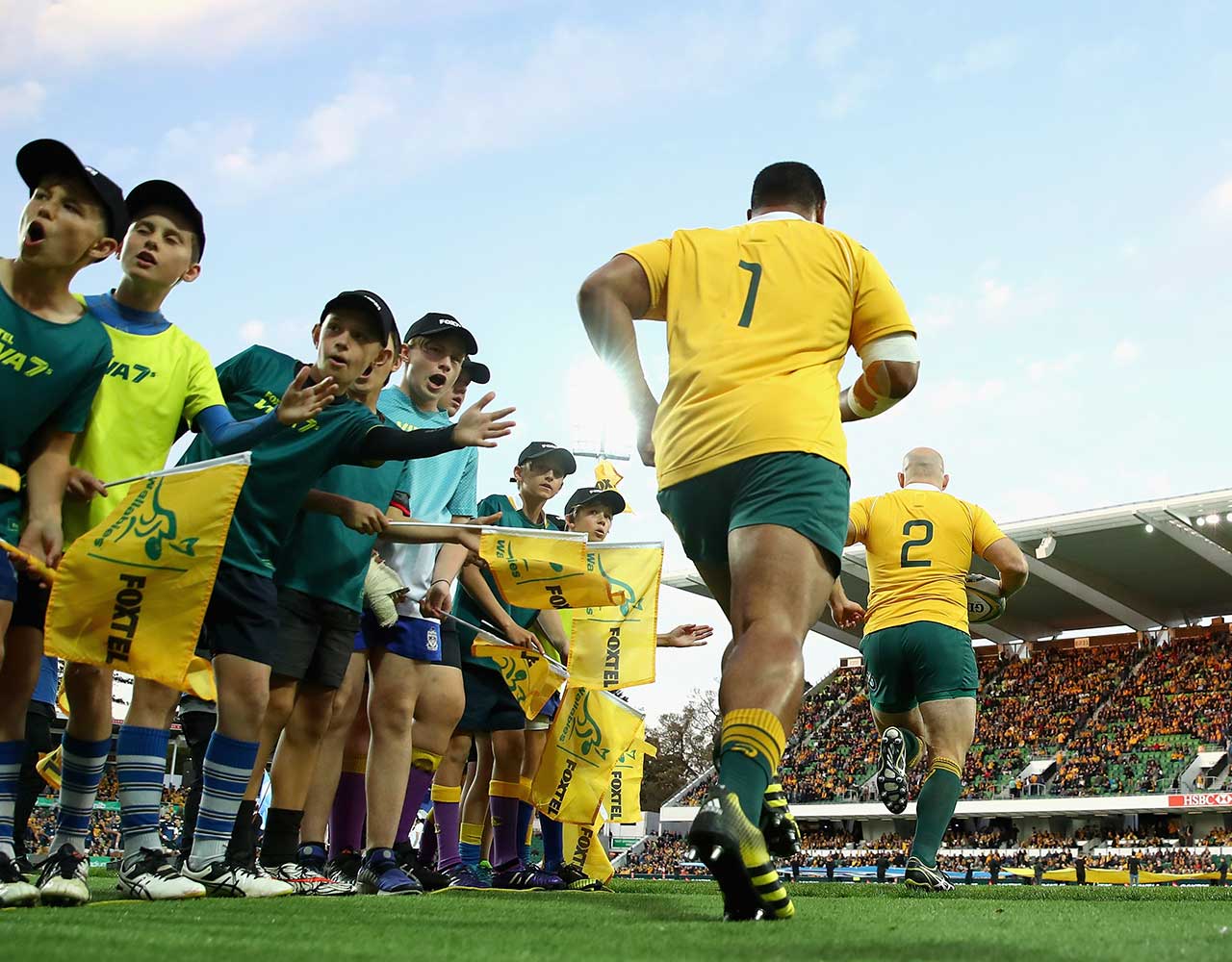 THE OLD HOUSE
All that said, none of this means much without support around you. I didn't get to where I am by myself. There are many, many people who helped get me here. I reckon pretty much everyone in international rugby would tell you the same thing.
Within the squad, we're always leaning on each other. Time away from rugby is just as important as the time you put in on the field. It can't be sport, sport, sport all the time.
I enjoy Fortnite. My roommate, Folau Fainga'a, is pretty handy but Ryan Lonergan is probably the best of us. I've gotten better. I've got a couple of wins, a couple of Dubs. We're also into golf. When we're in Canberra, we'll play Yowani, Capital … anywhere, really. It's all just a way of staying together, enjoying each other's company and supporting each other.
And, of course, there is my family.
The thing I'm most proud of in life – more than any win or trophy or personal accolade – is the fact we knocked down that old place in Lidcombe last year and built a new one on the same block of land.
Two stories. Five bedrooms. A granny flat out the back.
Never in my wildest dreams would I have thought we could achieve something like that as a family. But we did. After all they've done for us, it's no less than what mum and dad deserve.
We all contributed to it. It was a family thing. It was the culmination of all our hard work – not just mine, but my siblings and parents as well.
I love my family.
More about: Brumbies | Scott Sio | Super Rugby | Tyson Frizell | Wallabies | Wallaroos