The moment the kid stepped up
I joined Melbourne City around about this time last year. I knew a few of the boys and I was good friends with City goalkeeper Dean Bouzanis. Obviously, when you join a club you suss out all the individuals, and Dean said, 'There's this real, real good young player here – a very confident young lad'.
Dean and I enjoy taking the piss and having a laugh and he said this young player was a guy that we can feed on a little bit. His name was Daniel Arzani and I'd never heard of him.
I soon became aware of Daniel. I've been around a while and seen young players and it was pretty evident after two or three training sessions that Daniel was decent.
There are essentially two ways to judge a player – how they perform in training and how they perform in games. But there's only one way really. You can be the best trainer but if you don't perform in the games, you're going to get found out.
That was the question with Daniel – would he be able to replicate it on a Saturday?
His A-League debut was on January 6 this year against Wellington Phoenix, two days after his 19th birthday. He did OK and, as he started getting longer minutes throughout the season, it became clear he had that ability to beat players.
In the games towards the end of the season, he was clearly someone that we were looking to unlock games with, along with Bruno Fornaroli and Dario Vidosic. Daniel liked that expectation on him. Some young players wouldn't like that kind of expectation and it may put them off their game, but I think he relishes it. The more you place the bar high for him, the more he tries to reach it.
In his fourth match against Newcastle Jets, we were 1-0 down and won a penalty. Daniel had never scored an A-League goal, and we had other experienced players on the pitch.
He said he wanted the ball. He wanted to take the penalty.
Fair play to him. He backed himself and we all backed him. I like that he called for it and asked for it. You talk about actions speaking louder than words, and those were actions. That's a clear indication of what he's about.
Thankfully he scored, because if he didn't, he would have copped it from a lot of us!
TALKING THE TALK, WALKING THE WALK
I think what makes Daniel different to a lot of other players at his age is he's cheeky. But in saying that, so am I! It's an enjoyable thing having a back and forth with him here and there. I like to give it to him, and he'll return serve and keep going.
I remember him being cheeky in training one time, so me being me, I put him in his place by saying, 'When you've got my four Socceroos caps, you can come and talk to me'.
So after his first one in the recent friendly against the Czech Republic, I messaged him and said, 'You've got three to go, then we can talk'.
After his second one, I wrote to him on Twitter and said, 'Two to go', and he actually wrote back and said, 'Hopefully I've got four to come and I'll be coming to speak to you about it'.
2 More then we talk.

— Scott Jamieson (@ScottJamieson) June 10, 2018
It's pretty clear now that he will go past my four caps, and probably at the World Cup, so I'll have to find some other way to put him in his place. But that banter between us gives you an idea of what I'm talking about with regards to the way he backs himself.
There's a fine line between confidence and cockiness and Daniel has probably crossed it sometimes. But if you're going to a special player, you need to have that confidence. He does believe in himself and that's what I like about him.
After his second Socceroos cap, I wrote to him on Twitter and said, 'Two to go', and he actually wrote back and said, 'Hopefully I've got four to come and I'll be coming to speak to you about it'.
I do hope he plays at the World Cup because he deserves the chance. I think he'll bring something different to what we've got in the national team. He will definitely not be fazed by what he's up against in the French players. I've played with good young players before who were touted as something special, but like I said, Daniel will be himself and hold no fears against any of the French defenders.
Daniel has got the ability to beat players one-on-one. He can glide past players and I think in regards to what we've got in our national team, we haven't really had that for a really long time.
I don't think he should start the game. Based on the X-factor that he brings, you don't want to wear him out in the first 50 or 60 minutes and then have nothing left towards the end of the game. But I think he's perfect with where he's at now to be that impact player and come on and change something.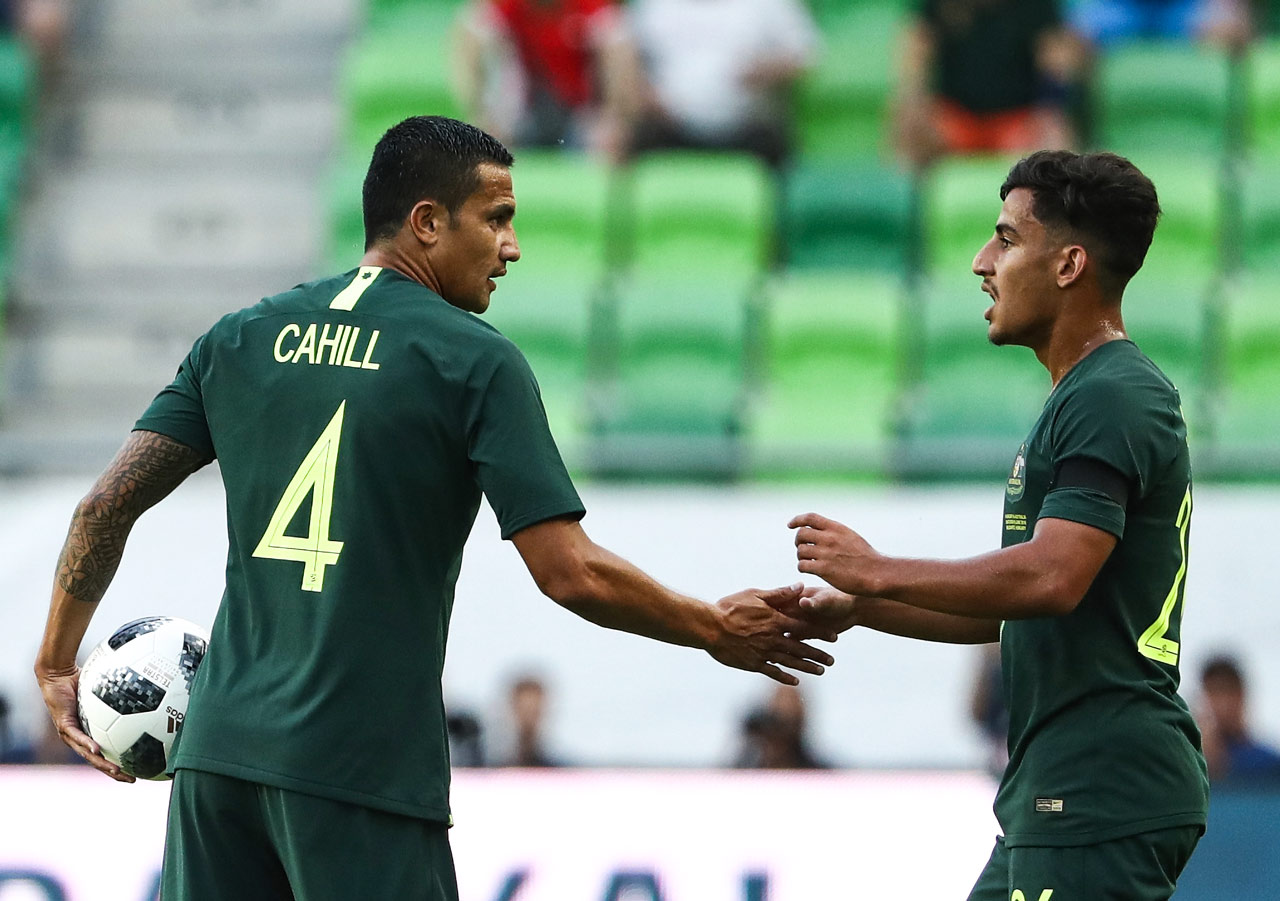 THE WORLD CUP X-FACTOR
Getting beat 4-1 by Norway wasn't the best start for Bert van Marwijk as Socceroos manager by any means, but I think as time has gone on, the players have seemed to adapt.
Talking to one or two of the lads in there, I think they've accepted now that the Postecoglou era is over, that his way of playing is gone. I think moving on was important for them, and the recent results have shown that with some good football.
I'm slightly more optimistic now. I think with the group that we've got, you'd think France would finish first, but we're playing them first and I think that's a great opportunity.
People might think that's not the best, but I think by the third game they might have found some rhythm. But if you play them in the first game, you maybe find them not at their most fluent. They've just drawn 1-1 with the USA, so there's certainly a lot we can take from playing them first when they're a bit rusty.
As for Peru, I think people have underestimated them. They're 15 games unbeaten now and they're not easybeats. They've certainly got a lot of confidence now that their captain Paulo Guerrero is going to be in the competition, after his ban got overturned.
And then there's Denmark. I played in Scandinavia and I know the standard of Scandinavian players is quite high and they have Christian Eriksen leading them.
For us, it's about getting off on the right foot against France and if we play well but lose, I still think that's a big positive. And if we can jag a win or a draw, that'll definitely put us on a good foot and hopefully move us forward to a place where we can surprise a few teams later in the competition.
I think people have underestimated Peru. They're 15 games unbeaten now and they're not easybeats.
I haven't watched every game under the new manager but I've read his reports closely, and at his previous jobs with the Netherlands and Saudi Arabia, he wasn't as open and free-flowing as Ange was.
I think his style is be tough to break down. That means getting numbers behind the ball. But what I'm excited to see is the transition and quick counter-attacking kind of football.
I think he mentioned a team like Atletico Madrid who have been so successful over the years with a style of being hard to break down, but in transition and counter-attack they're frightening. So that's definitely the way they're going to go, by all reports.
I think there's no right or wrong way football should be played. I think people get caught on that. They think the way Barcelona plays is the only way football should be played, but you can only use what you have.
Teams have different styles and I think the Ange style was very good. At times, there were results that were probably down to the possession-based style. But I also like this style. I like a team that's hard to break and that's fluent in the counter-attack.
What a pass from Daniel Arzani in the lead up to our match-winning goal ?

? @FOXFOOTBALL and @tensporttv pic.twitter.com/DJkeZeqMPf

— Socceroos (@Socceroos) June 9, 2018
Maybe it will frustrate some Australians that there are so many players behind the ball, but it'll be a quick change — from defence to attack and it'll be exciting.
And of course, it won't hurt to have 19-year-old legs when it comes to the transition. With Daniel's one-on-one ability, he's definitely a player that we should be looking to bring on for the last 20 or 30 minutes. And hopefully, he'll kill it.
PERFECT TIMING
In football you need a lot of luck, and timing is such a critical thing. I think if you look at the Socceroos squad, Andrew Nabbout and Dimi Petratos have had the best years that they've had. Two years ago, maybe they wouldn't be here in Russia. Daniel has taken his opportunities too.
I think obviously you need the ability, that's first and foremost. But you also need some luck and timing, no doubt about it.
I've read a few things with people saying, 'What if Daniel had started earlier in the season?' But the timing wasn't right. They don't understand he probably wasn't at a level of fitness or anything like that where he could impact games.
He had to bide his time, and the way he was managed was perfect for him.
With that goal he scored against Hungary, it's one of those where a keeper would save it nine times out of ten. But luck fell his way. That's him – he backed himself to shoot and he got the luck. That 'if you don't shoot you don't score' kind of attitude is what you need from an attacking player, and he's got that.
73' Daniel Arzani comes on.

74' Arzani scores his first Caltex @socceroos goal ⚽️?

? @FOXFOOTBALL and @tensporttv pic.twitter.com/3prNF1L9Tt

— Socceroos (@Socceroos) June 9, 2018
I think Daniel has got some good people around him. His family seem to be really supportive and Melbourne City as a club and a change room allow him to express himself, but they also make sure that he's listening and learning and keeps on moving forward.
When Daniel comes back from the Cup and listens to the staff and listens to the older players, I'm sure he'll realise that no one knows everything and regardless of what you've done you need to keep building on that.
So-called 'second year syndrome' is definitely a possibility, and he's definitely going to go through dips and struggle with form in his career. But what makes me think he won't have that second year syndrome is his confidence. I've never really seen anyone like him as a young player.
Even when he does struggle with form and dip, he'll know that he can work his way out of it.
As Australian supporters, we should be happy that we've got Daniel Arzani in the Socceroos arena. If he listens and learns like he has so far and keeps true to himself, he'll be fine and hopefully he'll be twice the player when he comes back to Melbourne City.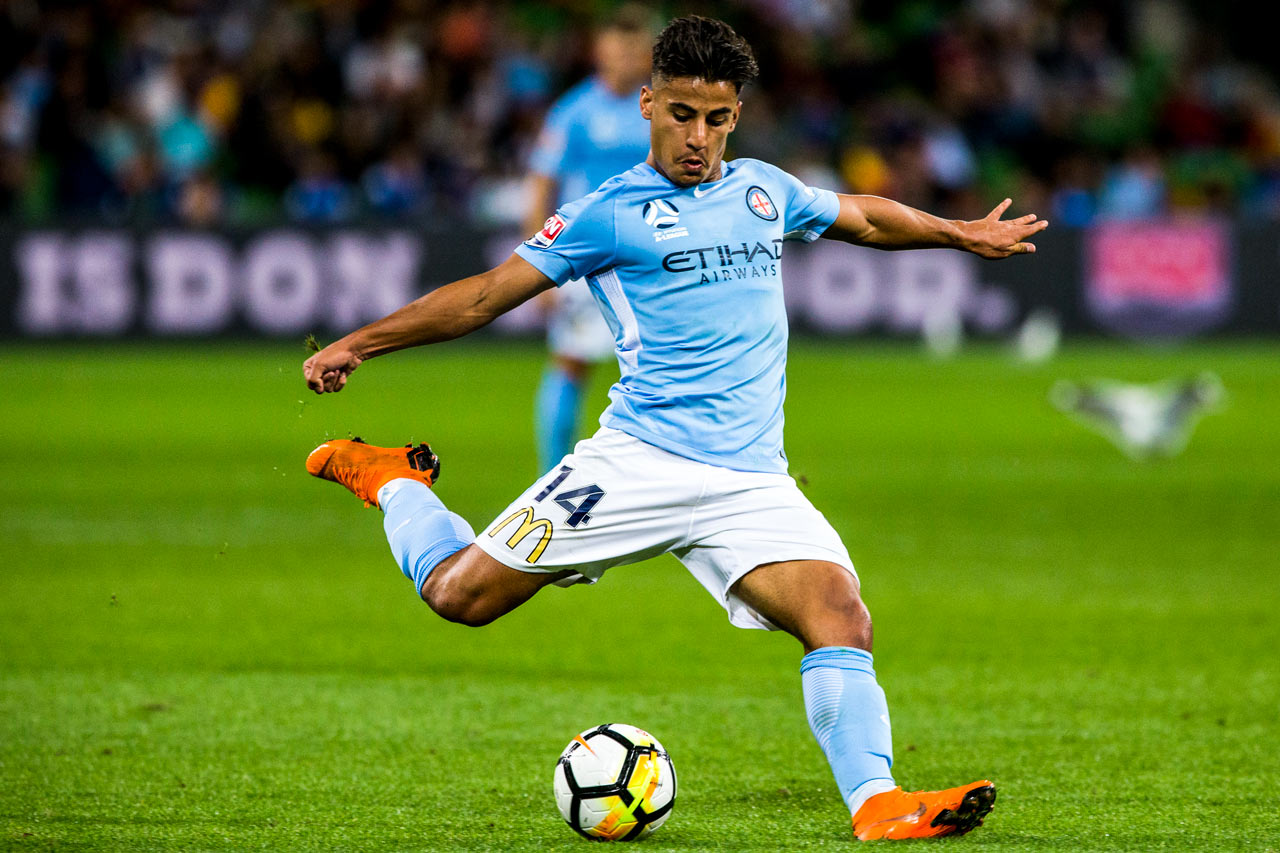 He'll be expected to do things next season and we'll give him every opportunity. Like every player in our club, we want the best for them. We all want to do well and be successful and he'll buy into that and be a part of it.
Having said that, when he comes back to Melbourne City he's got to be ready to cop a lot of shit from us boys including myself! But I'm sure he'll enjoy that. He'll kill it at the World Cup, and then he's going to cop it!
More about: Andrew Nabbout | Ange Postecoglou | Barcelona | Daniel Arzani | FIFA World Cup | Melbourne City | Russia 2018 | Socceroos