I don't know how this happened
I feel relieved.
Relieved that I proved to myself I could still perform. Relieved that it's over.
Some people might expect the classic it's a dream come true reaction from a bowler who has just played in a winning WBBL final with the Sydney Sixers and been lucky enough to be named player of the match.
But relief is what I feel.
It was only a year ago I announced my retirement from cricket at the age of 25. I meant it. I was done with the game. I was having serious issues with anxiety and eating. I wasn't in a good place.
The events of the past 12 months have been challenging, rewarding and surprising. Very surprising! It didn't even occur to me that I would be playing cricket again at the start of last month, much less playing in the Women's Big Bash League final at the Adelaide Oval.
I don't even know for sure why I decided to play again, to be honest. And I have no idea if I'll play against after this.
But here I am, sitting here trying to digest it all. I wish there was a single word to describe how I'm feeling. 'Rollercoaster' is probably closest. It changes all the time.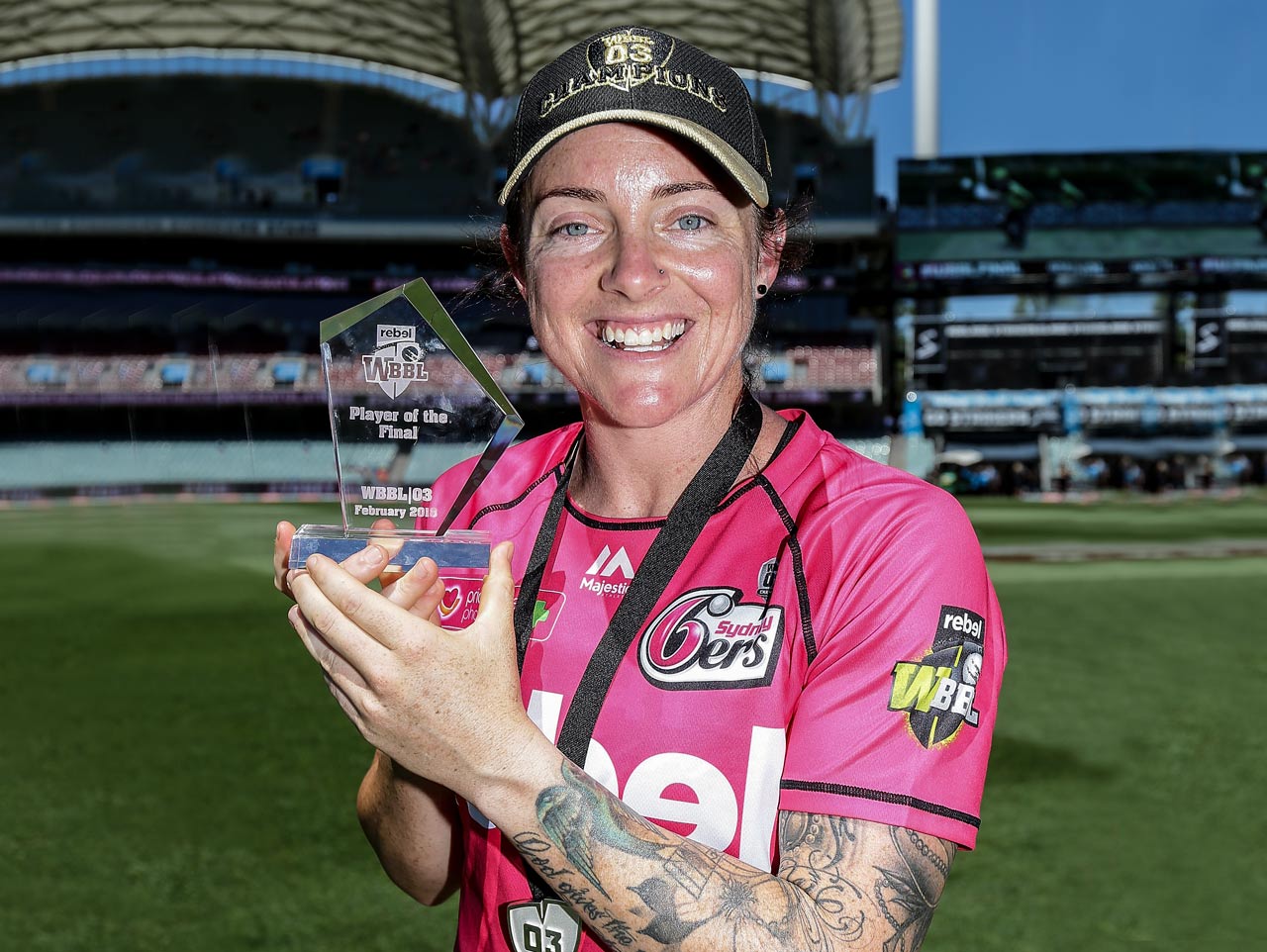 A LOST LITTLE KID
It all started at Vicker's Bakery in the Sydney suburb of Jannali.
It was early in the new year and I was buying a coffee. My phone rang but I didn't recognise the number. I picked up the voicemail. It was Ben Sawyer, the head coach of the Sixers WBBL team.
'Hey Coytey. Give us a call.'
I thought, 'Shit, what's going on here?'
I called back. Ben said, 'I'm not sure if we can even do this – or if you're interested – but our South African players, Marizanne Kapp and Dane van Niekerk, have to return home for a tour and that leaves us a bowler and batter short. I saw you played a grade game for Penrith a couple of weeks ago. I'm just reaching out to see if you're interested. If you are, I'll chase it up.'
He said I didn't have to answer straightaway.
I honestly didn't know what to think. Playing cricket was the furthest thing from my mind.
It was only a year ago I announced my retirement from cricket at the age of 25. I meant it. I was done with the game. I was having serious issues with anxiety and eating. I wasn't in a good place.
The Hobart Hurricanes called me at the start of the season and asked if I was interested in playing for them this season. I had no interest whatsoever. I had moved on.
Then Ben texted back a few days later to say he could make it happen if I wanted it. He asked me to come in for a bowl. I went to the SCG on a Wednesday afternoon in the second week of January and bowled for about 40 minutes.
I felt like a broken human. I was like, 'My God, my body isn't used to this.' I also had the feeling of a lost little kid. I was around a new group and trying to find my feet again in that environment.
Fortunately, the Sixers culture is very chilled. There's a lot of support around. My fiancée, Bec Cady, encouraged me to go for it, and dad was positive too.
I thought to myself, 'It's only two games.' But I hadn't considered that the Sixers had already cemented a spot in the finals, so it would be two more games on top of that if they made it all the way through to the decider.
I guess curiosity ended up getting the better of me. I suppose I wanted to see if I could still perform at this level. I think that was the reason, at least. I'm not 100 percent sure.
I just decided to do it.
ANXIETY, EATING & STARTING AGAIN
I should probably take a step back for those not familiar with my story.
I come from a big sporting family from western Sydney. Both my brothers played high level cricket and I made my debut for Australia at the end of 2010 when I was still a teenager.
I managed to hold my cricket career together for six years through struggles with anxiety and an eating disorder. I documented much of this in my blog.
It came to a point where I couldn't keep going.
You know that feeling when you take the winning wicket or score the winning run? I would be overwhelmed by the thought of it. Not that it happened, but the idea that I might not be able to do it again in the next game.
And that might lead to me getting dropped. Or it might change the way family and teammates looked at me.
I realise how that must look written down on a page but, honestly, that's how I felt. I couldn't get past it. It was with me all the time.
I was also having problems controlling my food and issues with my body image. So I retired.
It took me a while to get structures in place in my life and I'd be lying if I said I had everything completely sorted now. Cross-training helped, and I was lucky enough to find a coach who helped me put together a well-balanced diet – not an eating plan – that helped fuel my body for exercise and recovery.
I felt like a broken human. I was like, 'My God, my body isn't used to this.' I also had the feeling of a lost little kid.
But probably the biggest breakthrough was my job.
I became a school learning support officer at the Reiby Juvenile Justice Detention Centre. I wasn't sure about it at first because I couldn't see how I could help these girls in detention.
But, over time, I've come to enjoy my new job, my new life and the ability to come home and see my family. You don't get that when you're a professional cricketer. You're on the road for most of the year.
The girls at Reiby need a constant routine. In the morning, I'll assist them with their times tables, or reading, or whatever they need and after morning tea we'll do key learning areas, like geography or a health-related subject. Then we'll do some physical work, like volleyball or basketball, and finish off with art or some brain games.
It's rewarding and challenging. We have a few older girls and they want to do TAFE courses. But sometimes we can't authorise that because TAFE courses cost money.
It's hard to keep them engaged, but once you find something they want to do – and you see it just click – they start to participate in class. It's like a light turning on, an instant change in their behaviour. It's pretty cool.
None of them knew about my life as a cricketer and I didn't go out of my way to tell them.
That's changed in the last few weeks, though. They saw me on the ad for the Big Bash and recognised my tattoos. Admittedly, they are a bit of a giveaway…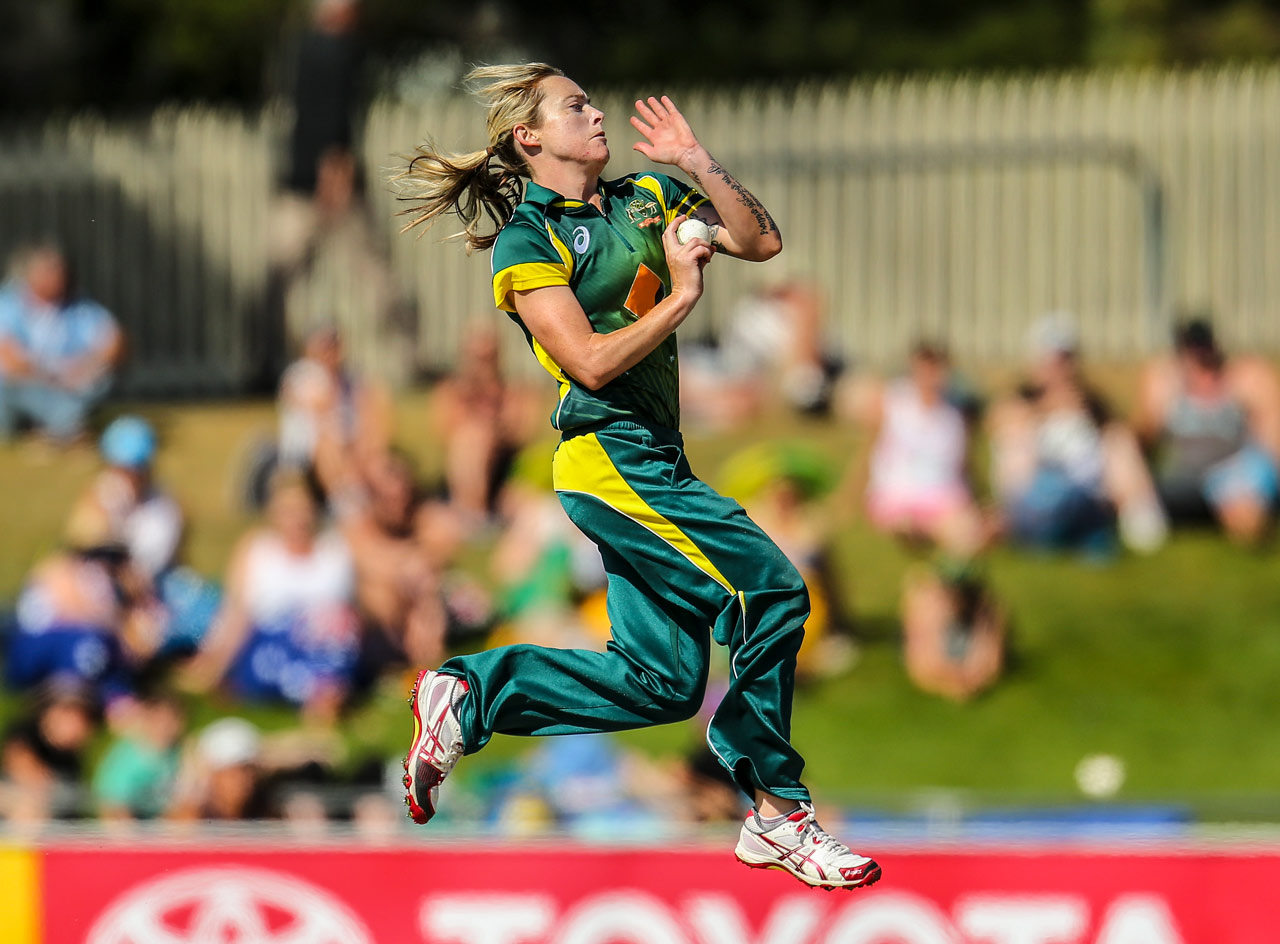 A FRIENDLY FACE IN THE CROWD
Bec plays for Penrith and one weekend not so long ago I decided I would jump in and play a game instead of sitting on the sidelines. That's all it was supposed to be. One game.
I had completely detached myself from cricket to that point. I didn't watch any of the Ashes during the summer. I would see the scores at the end of the day when Cricket Australia would post them to Instagram. And I would check how my best mate, Megan Schutt, was going as well as Elyse Villani and Nicole Bolton. But that was it. I didn't see a ball bowled.
Then came the call from Ben. And before I knew it, I was picking up my Sixers kit.
My moods were all over the place leading up to my first game back against the Strikers at Hurstville Oval.
There's still a heap of anxiety that goes on in my head. My mind went through the whole, 'You're going to get up in the morning and train before you play cricket.'
I knew if I didn't start moving physically before the game, my mind wouldn't be ready to play a game. So I got up early and did a gym session. I did that on the morning of the final, too.
More so than the final, Hurstville was my big battle. I had to trust what I'd done in the nets. I kept telling myself, 'My job is to bowl for four overs and field for 16.' That's how I approached each day. That's how I got through it.
Getting out on the field was a huge thing for me. It was more important than wickets or trophies or awards. I was fortunate to have a team like the Sixers around me, who were incredibly supportive. Bec was, too.
There have been some issues along the away. I've been away from my routine. The first two games were in Sydney, so that was OK, but this last week in Adelaide was tough around food.
But I suppose that was all part of the curiosity – not just whether I could still play, but also whether I could stick with the plan and keep that balance.
There was a big moment for me about five overs into the final.
I was looking around the ground trying to find Bec in the crowd. I couldn't see her and I was panicking a bit. Then I saw someone waving to me. It was Erin Burns' fiancée and she was trying to tell me that Bec was next to her.
The second I saw her I felt an incredible sense of calm. I knew I had my support there, I felt ready. It was like, 'Right, let's do this. Give me the ball.'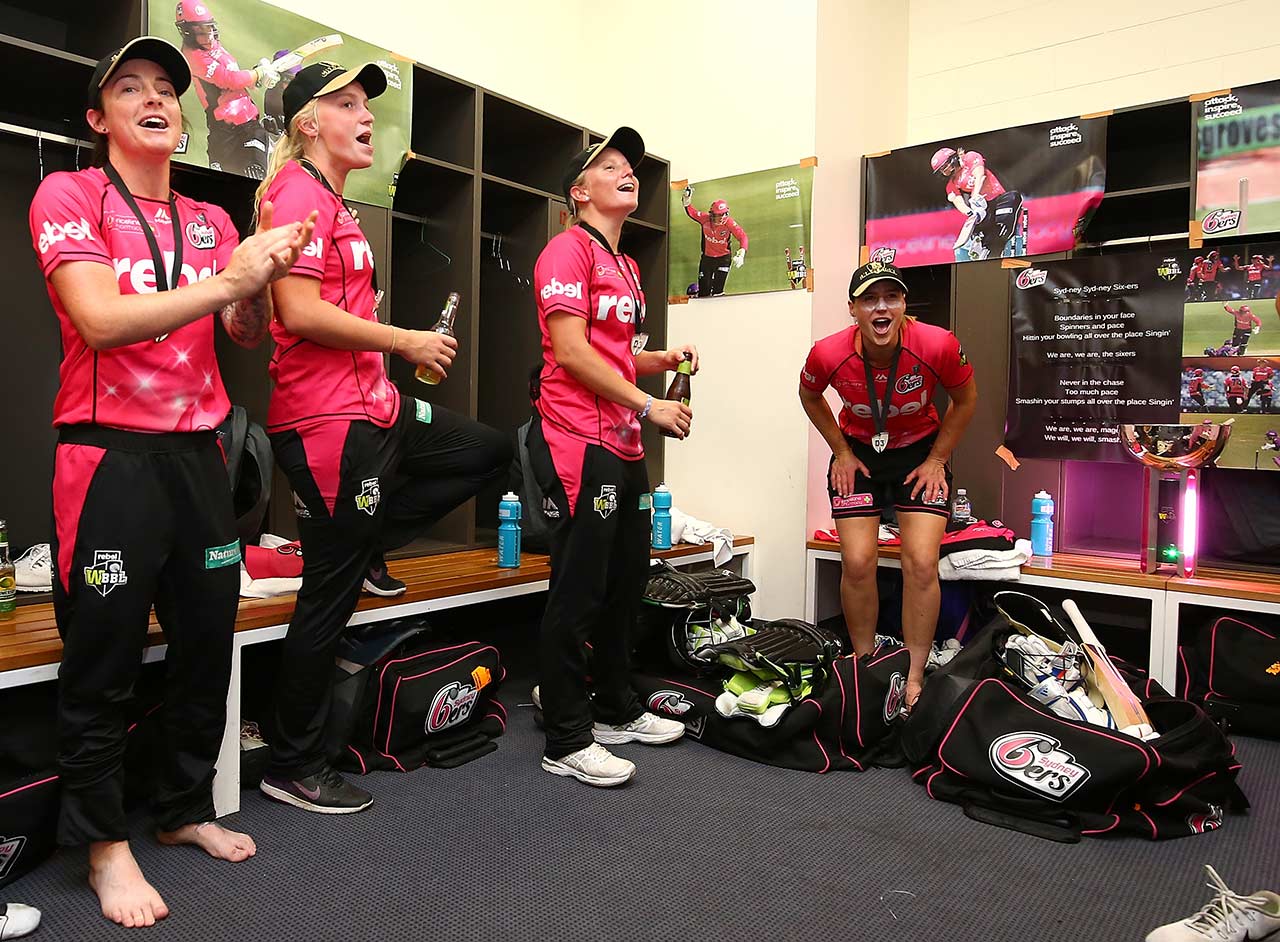 DON'T CALL IT A COMEBACK
It's all one big mind game for me at the moment.
The last four games have been pretty successful, so everyone is like, 'Welcome back! What are your plans for next season?'
I tell them, 'I'm not back. I didn't say I would play next year.'
I have a life outside of cricket that I enjoy. The lifestyle of a professional cricketer won't accommodate that. I'm not looking at playing for Australia or playing fulltime.
I hope these last couple of weeks haven't added pressure with people asking me about coming back. That wasn't the intention. I literally just helped Benny and the Sixers out and they did everything they could to make it easy for me to come into the group.
I'm glad I did a good job for them. But that doesn't mean I'm trying to rekindle my cricketing career.
I wouldn't completely shut it down as an option but I wouldn't want to get everyone's hopes up either.
I don't know what my state of mind is on this. It constantly changes. I ride the wave every single day.
More about: Southern Stars | Sydney Sixers | WBBL