You could call it my sliding doors moment.
Even though I can't imagine not being a professional basketballer, there was one stage during a really rough patch I went through about four or five years ago when I thought about going across to netball.
I'd lost my confidence completely and when that happens to any elite athlete it can ruin your career. Mine stayed lost for, like, two years. I was in my first season with Dandenong Rangers, straight out of the AIS.
I hated basketball. I was in tears after training, did not want to go to training, would just do what I had to do.
I went from being so enthusiastic to being the last one to arrive and the first one out. It was a really crap time. I went from being on such a high with how I was going, to coming into WNBL and doing well, and then just halfway through it just dropped away and I was struggling so badly that it got to the point where I was having chats to my Dad, Andris, who competed at the 1976 Olympics, about quitting basketball.
Now I think, 'God, I was such an idiot, what was I doing?'
I remember Phil Brown, my coach at the Institute, called me up and wanted me to play at the World Uni Games, which is the emerging Opals team, and I said no to him four times. What player does that? Having the chance to play for Australia? To go over to Russia and be part of a great team?
But I was like, nuh. He called me a week later. Nuh. Then he called me another week later and still nuh. Then he said, 'Ok, we want you to come back to the AIS, on scholarship, we'll give you another whole scholarship for a year.' And I was like, 'No.'
He ended up convincing me to go to Russia, but I still hated it, and it wasn't until I was half-way through my season with Bendigo where it was like, 'Well, if I'm still playing WNBL, why not just start trying to get good again? Pull your head in Sara. If you haven't quit, you obviously still like it.'
From then on the mentality completely changed and now I absolutely love it.
But I did have some conversations with Cathy Fellows, who's now a coach at Collingwood, about going to the Melbourne Vixens. Cathy was my sports teacher at Sunbury College and coached me in netball there. And one day I was out for coffee with my Mum, Karen, who competed at the 1984 Olympics, and I was chatting with her for ages about how I wanted to go to netball.
At that exact moment Mum said she could get in touch with Cathy Fellows for me, I kid you not, Cathy was walking past us down the street. What are the chances of that happening?
She was like, 'Hi guys, how's basketball going?' And I replied, 'Honestly, I hate basketball.' She was shocked.
At the time, I was in the process of signing a SEABL contract with Geelong Supercats and there were a few issues with it, to the point where I said, 'If this contract falls through, I will go to netball, and if it doesn't I'm staying with basketball.' It ended up coming through and I moved down to live with my brother Mark, who plays footy for the Cats, in Geelong.
I do wonder what would have happened if I'd gone to netball, but I'm so happy with how it's all worked out. Mark said to me, 'What the f… are you doing? You're not going to netball. Netball's crap.'
And then I thought, 'That's giving up way to easy, as well, on something I started playing seriously when I was 16 and really enjoyed, so why am I thinking of going to netball?' It kind of just faded after that.
I wasn't depressed or anything, that's not me at all. I'm the happiest person ever. I just hated basketball. I was still loving life.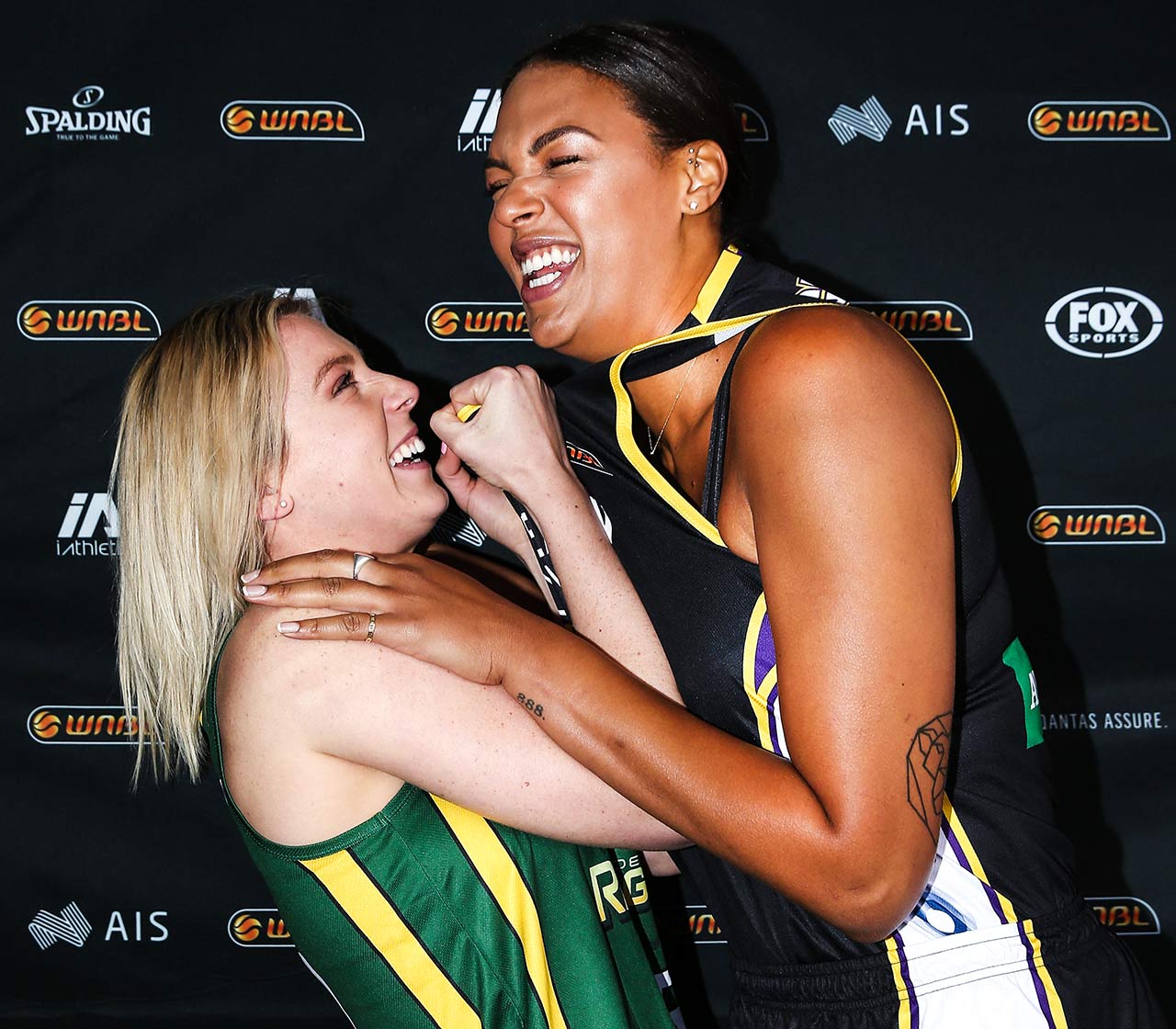 My parents, the olympians
I get asked a lot if I was always going to be a basketballer. I know. It's funny. You'd think with Mum and Dad being who they are, that it was almost just meant to be.
I have two older brothers, Kris, who plays for the Supercats, and Mark, and our whole family's always been very active. Every weekend when we were younger, we'd write up a list of activities, vote 3-2-1 and whatever got the most votes we would do.
Whether it was down at the beach in Torquay, at the Aquatic Centre, an obstacle course out on our backyard tennis court, bushwalking, or table tennis competitions.
I was actually a pretty good runner. I managed to win a gold medal in the 1500m in under 12s nationals or something, made cross country teams for Victoria quite a few times for cross country, made states for athletics, but I quit when I was 13, so who knows what might have been?
Secretly, deep down inside, my parents were probably like, 'She chose basketball, yeah!' I think Dad was really proud. He's been on the rollercoaster with me all the way.
'Well, if I'm still playing WNBL, why not just start trying to get good again? Pull your head in Sara. If you haven't quit, you obviously still like it.'
Both my parents are very, very modest, the most humble people ever, but around us kids sometimes they're like, 'I had the best jump shot in the league.' and I'm like, 'Calm down, Mum.' They've got a few of their tapes. Dad's got this little stash of videos from when he played.
It was more when I was at the AIS that I got to know all these older veteran players who knew my parents quite well. A lot of coaches, like Ray Tomlinson, Robyn Maher, Michele Timms, Carrie Graf, Phil Brown, a lot of really well-known people in the basketball world. They would always say stuff about my parents, 'Oh, your Mum had the best jump shot in the league,' and, 'Your Dad was such a great shooter,' and I'd be, 'Yeah, OK, whatever.'
One day I said, 'Dad, do you have any footage of when you played?' And he was like, 'Glad you asked. Here's my box of tapes!' So I've seen the snippets of them. Mum was very good, too.
From what I've seen and heard, Dad was going somewhere. Injury ended his career when he was 24, but he'd already made the Olympics and he was a very, very good player. But you kind of get over get a little bit over hearing how good your parents were – it's like, 'Stop talking about my family – what a way to put pressure on me. Seriously!'
I'm in a bit of a scoring rut so far this season. You've got to practice, practice, practice. I'm 24 now and Mum and Dad were so good at shooting at that age, and I'm not consistent yet. I'm like, 'How did they do it? I train like five hours a day. Far out!' But they say I need to do even more.
Sting-pong & WWE
Kris, Mark and I were the most competitive siblings out there.
We were really fortunate we had a full-sized tennis court in our backyard and Dad put a ring up and a foul line, so it was a pretty good little basketball court as well.
It would literally be one-on-one til someone cries. But they made me tough. I would drive to the basket at eight years old and be thrown to the floor and they were, 'You're all right.' I'm pretty sure Mark cried once, too, so I was like, 'Yes – winner!'
Kris was a very good basketballer, and he could have gone somewhere, too. He was really good when he was 16, 17, 18, then lost the passion for it, which I think he does regret now. 
I played for Sunbury and then I moved to Melbourne Tigers for one reason: exposure. At that time, I had to, because no-one was looking at Sunbury Jets; everyone was looking at Melbourne Tigers. Kris could have done that, but he didn't. The last five years he's been playing SEABL.
Mark was so lucky with how the whole football thing happened. As a steeplechaser, everyone thought he was a future Olympian, but he was never going to make it to London in 2012. Four years later, in Rio, I think Mark would have made it, 100 per cent, but he wasn't ready that year.
Of course I'm gonna say I'm the best athlete in our family – I can't not say it! You ask any of us and it's me, me, me. But, speaking of athleticism, Kris is a natural at running, riding, anything. I guess our whole family are natural athletes, but just to make it even ground I'll say Kris is better.
How will Mark take that? Oh, he'll hate it.
It would literally be one-on-one til someone cries. But they made me tough. I would drive to the basket at eight years old and be thrown to the floor and they were, 'You're all right.' I'm pretty sure Mark cried once, too, so I was like, 'Yes – winner!'
The fact we were so competitive definitely made me part of who I am. I have the clearest memory of me playing with my Barbies in the backyard.
I was a girly-girl/tomboy when I was younger, and one time Mark ran over to me, grabbed my Barbie doll out of my hand, put her hair in some water, rubbed it in dirt, threw it on the ground and said, 'Let's go kick the footy.'
I was like, 'Oh my God… oh, fine…' That's how our family is.
We had a table-tennis table and one of our favourite games was sting-pong. Every time you lost a point you had to stand with your back against the end of the table and lift up your shirt and face the window and then the others would get a free sting at you.
They would smack the ball so hard that you'd get thick welts from the ping pong ball. But I'd get them back, too.
We used to be heavily into WWE. We'd be in the loungeroom and stack up our mattresses, doonas, pillows, everything. We'd flip the couches on their sides to make a ring and get a stool and a camera and film ourselves doing a full wrestling match.
We'd get in costume for the intros and walk out to the actual music of the wrestlers. One time when I was about 12 I went as Triple H, so I drew on the handlebar moustache, and because I was the smallest, I'd get everything done to me.
They'd throw me down and beat me up, and all this stuff. We have it all on camera. We'll never throw them away. They're such great memories. Maybe beating each other up doesn't sound like fun, but…
I introduced my teammate Steph (Cumming) to Kris, I set them up, so I take all the credit for the fact they're married now.
I've never had a sister and she's never had a sister and we get on so well – we're both so weird, crazy, insane, that she fits so perfectly with our abnormal family. She's so much fun and, other than being my sister-in-law, she's one of my best friends as well, so it's worked out perfectly.
OPALs, europe & wnba
It all happened at an early age for me after I first moved to the Melbourne Tigers. Thank goodness my Dad pushed me a little bit to go, because I didn't want to.
I was only 15, and there was a lot of bitchiness from other people that, 'It's unfair, she hasn't done this, she hasn't done that.' I heard it all. 
But, honestly, I love people talking about me. It just makes me think they're jealous so I'm like, 'Thank-you, keep going'.
Anyone's going to get picked who's naturally athletic, but I also tried hard, I brought so much effort, too. I was attacking and aggressive at a young age. I'd run the floor, I'd rebound, I'd jump, I'd defend, so those are all the basic things that any coach would want.
At the Tigers, I got put into the Vic Metro tryouts, made Vic Metro, got picked for my first AIS scholarship camp, then my first Australian camp, all in that one year. I was just thrown straight in. It wasn't until maybe four years ago that I realised athleticism can only get you so far – now it comes down to talent and hard work.
My first European tour was in 2015 and then I made the Oceania team that year as well, to play New Zealdand at Rod Laver Arena.
One: playing in front of 15,000 people was unreal. Two: I was playing for the Opals. Three: we got given these fake jerseys featuring every player's name who's ever played for the Opals, and what was really cool was that Karen Ogden, my Mum, was written on it, too.
Just seeing that was such a surreal feeling. As cliched as it sounds, I felt very honoured. I never really understood what feeling honoured meant until that moment.
Honestly, I never expected to make the team for the Rio Olympics, so I wasn't that devastated. I was actually really proud of myself in getting to the last 15 or 16. I really didn't see it as, 'Shit, I got cut.' I saw it more like, 'Awesome. I can't believe I got so far.' And then also I was like, 'Damn it, Sara, you got so far, why didn't you make it?'
I actually do have my life planned out, so I hope it all works out! My two massive goals for next year are Commonwealth Games and world champs in Spain, and If it doesn't happen, it doesn't happen, but if it does, awesome.
WNBA is on the list. I would love to try and at least get to a training camp; even just an opportunity to try out.
Through my Dad's side of the family, I'm a dual citizen now, so my Latvian passport's going to be here in a month. That means I don't have to play as an import in any of the European leagues, which makes me more attractive to recruiters over there.
The stories I hear, about being lonely and all that sort of thing, they scare me, but you've got to try it, at least once.
I can see myself in basketball for about 10 years, and after it's done I want to go on a beach and own my own snorkel shop or a bar on the sand, live in a shack in like, Barbados, for another 10 years. That's my goal.