Seven days that changed us
In just seven days I saw a change in the way Australia sees the Matildas. And a change in the way we see ourselves.
Yes, we knew the Tournament of Nations had attracted quite a bit of publicity back home. But those games were in the USA and many of us returned to our overseas clubs straight after.
Coming home was incredible and, in many ways, quite overwhelming. Record crowds. Green and gold everywhere. Tons of media attention. And so many young girls and boys there that knew all our names.
I think the Matildas will soon be household names in Australia. We were saying after the game in Newcastle: imagine if we'd played that match on the weekend. We would have had 20,000 fans in the stadium watching us!
It was another level to anything we'd known before. Mainstream. As a team, we felt a difference within ourselves. We could perform with the eyes of the nation on us in a big game, against a football powerhouse.
MY NATIONAL ANTHEM MOMENT
All of the Matildas had heard about the ticket sales for both matches against Brazil, but we never would have thought the week would pan out the way it did.
Singing the national anthem in front of that huge crowd in Penrith was awesome. I actually stopped singing for a while so I could hear the crowd and soak in the moment. It's not something I'd experienced as a player in Australia before.
I've watched many games at the men's World Cup. During the Chilean national anthem the music cuts out and the crowd continues to sing. I'd always wanted that. It was unreal to just hear all those Aussies singing and to see that sea of people wearing green and gold.
We've been saying for ages that we're a really good team with great role models. A lot of people around Australia saw that over the last few days.
I think the Matildas will soon be household names in Australia. We were saying after the game in Newcastle: imagine if we'd played that match on the weekend. We would have had 20,000 fans in the stadium watching us!
As well as being tough, strong and fast we also have a tonne of skill and play great football. It's a good combination. We have that touch of class but also grit. We're not afraid to stand up for ourselves, no matter who it is.
When one of the Brazilian players pushed Caitlin Foord in Newcastle there were five or six of us running over to back her up. You could really feel the crowd get behind us then.
I don't want to talk us up too much but I think we really are an exciting team. We're honest on the field, we don't play that diving game like a lot of other teams do.
People appreciate that for what it is. What you see is what you get with the Matildas.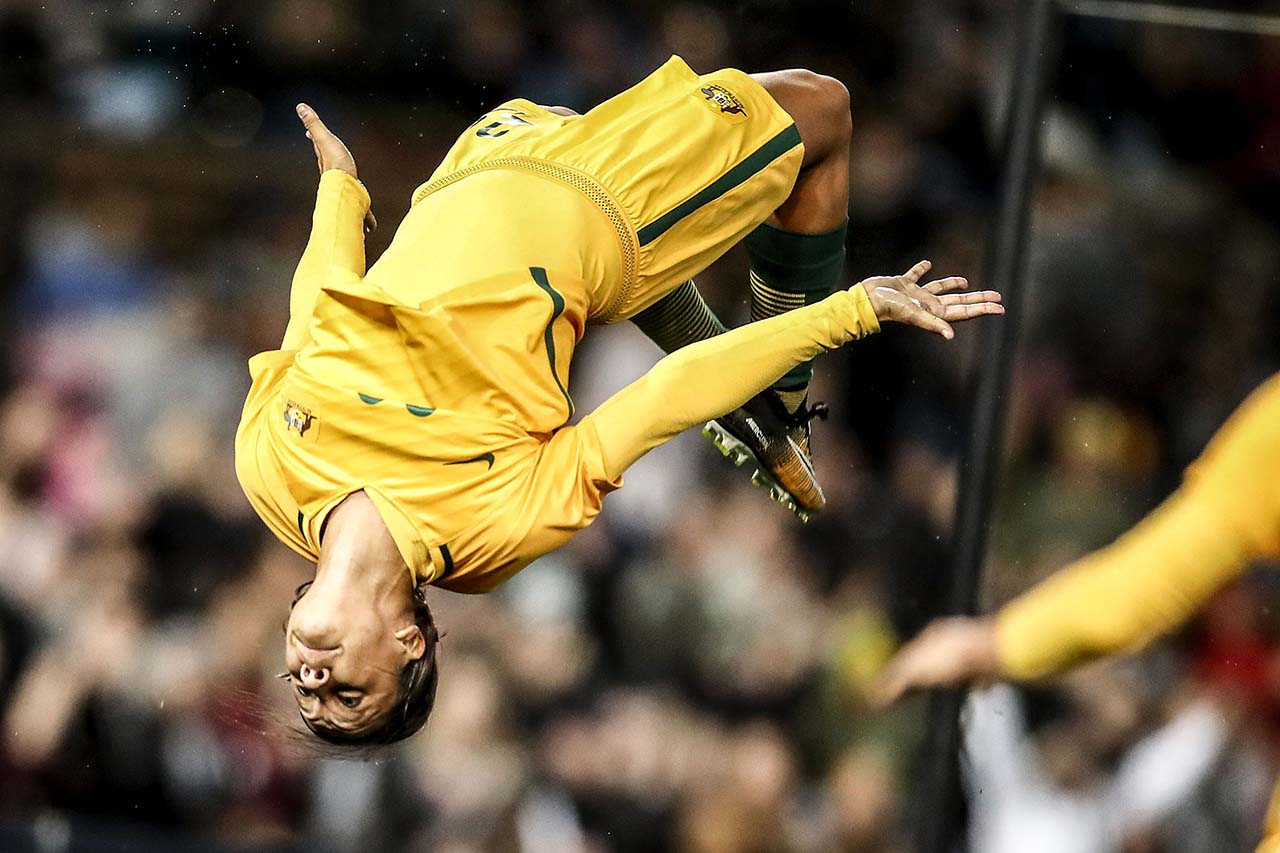 THE 'WOW' MOMENT
Our performances weren't really a surprise. At the moment, the confidence in the team is so high.
We think that if we play our best, no one can really go with us. Brazil are definitely a good team, though, and we certainly didn't think we'd beat them 6-1 again. We're still falling into the trap of starting slowly, but I think we dominated the second halves in both games and showed that we're up there with the best in the world.
Our training sessions are really intense. We pride ourselves on our fitness and ability to play a pressure game for 90 minutes, not just 60 or 70.
We play all-year round as well. The girls are learning quicker – we're fitter, faster and more experienced. This is my fifth year playing overseas and I feel like I've learnt so much.
You grow up away from the field, and that also helps, but the main thing is the professionalism of being away and then coming into an international camp and knowing what it takes. Years ago, you just wanted to have fun but now we're here to win World Cups and be the best professionals and athletes that we can.
Our coach, Alen Stajcic, told us this was our chance to prove that we can walk the walk, talk the talk.
I think we did ourselves proud. We showed that we can perform under pressure, in front of big home crowds. We did well to keep our heads and not get caught up in the moment.
Personally, I didn't feel the nerves. I thought all the girls kept it together pretty well. Those first few steps onto the field for the warm-up in Penrith, when we first saw the crowd, I had a bit of a 'wow' moment but you pull yourself together pretty quickly.
We love playing in front of big crowds but the most important thing is the result.
Trust me, it's never fun having Staj yell at you at half time for not being focused!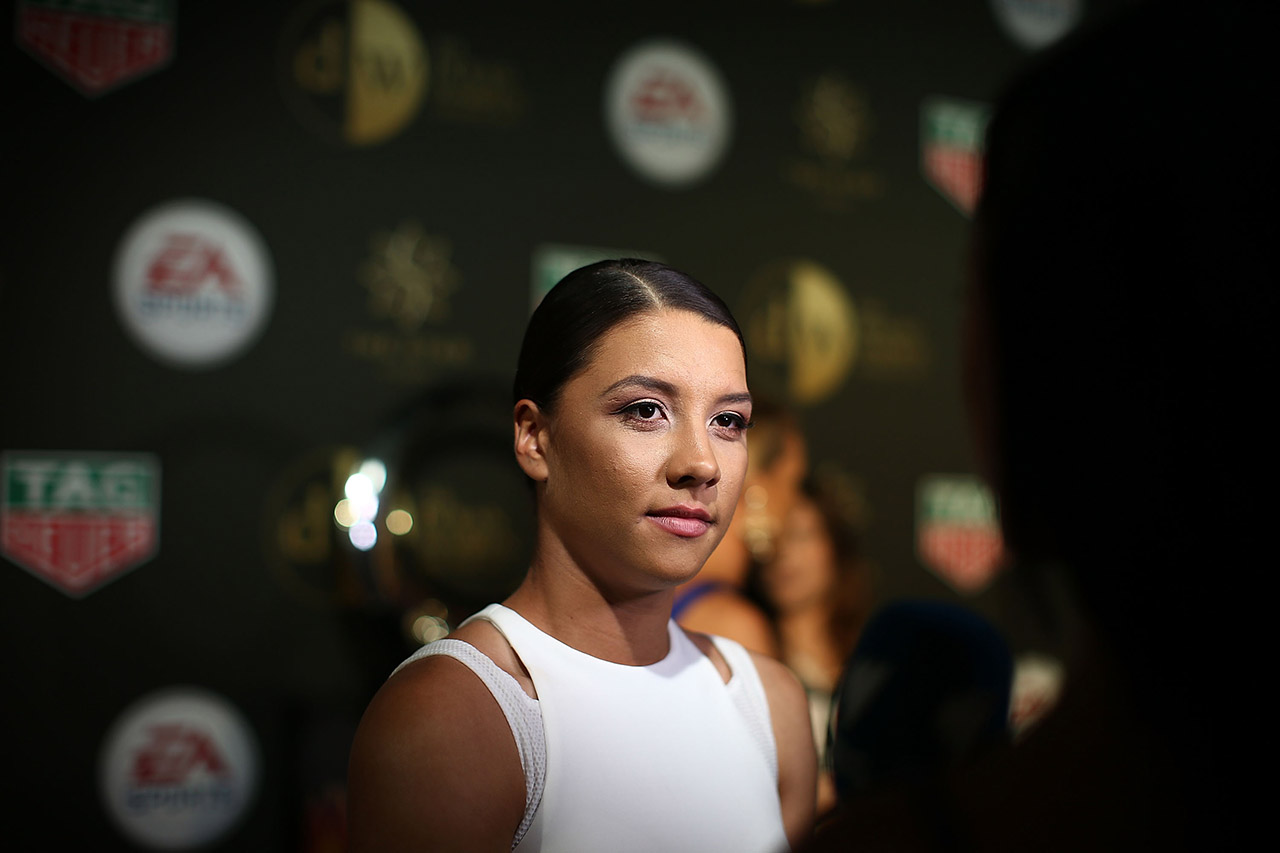 BRAZIL, BUMPS & BRUISES
We had a bit of a slow start until Lisa De Vanna scored that volley.
It made us more relaxed and we started to play a lot better. Then I got the second and we went up another gear again. It doesn't really matter who scores in the Matildas, everyone gets around them. It's a team goal because we're fighting for the same thing.
At the same time, it was a relief when I scored that header. There had been a lot of talk about me and the team in the lead up to the match. I was just happy to help out. Everyone was super pumped and to do it in front of a packed stadium in Penrith was unbelievable.
I wasn't surprised by Brazil's physicality at all. We'd just beat them 6-1 the game before and I think most teams would come out with a point to prove after that.
A few of us had a few knocks and sore ankles after the game though. Chloe copped a good one, Ellie Carpenter got a cork, Caitlin's back was put out. But that's football.
Whether it's dirty or not, you cop a few knocks.
As well as being tough, strong and fast we also have a tonne of skill and play great football. It's a good combination. We have that touch of class but also grit. We're not afraid to stand up for ourselves, no matter who it is.
I think a rivalry with Brazil is good but it's something that we try not to get caught up in because it takes your focus away from the actual game. I think, if anything, the rivalry was felt more on their side.
I'm sure they only grew to dislike us more over the last week. For us it was just like any other games – a step toward winning the World Cup in 2019.
They'll be out to get us next time for sure. All Brazilian football teams are kind of the same, they hate to lose, whether it's a friendly or a game in the backyard. They'll be hating those three straight losses to us.
THE SHIRT THAT WENT VIRAL
When I heard about a fan's DIY job on an old Lucas Neill jersey in Penrith, I thought it was so cool. There were actually two people that did it – a brother and sister.
Lucas Neil was a great player. He was a Socceroos legend. It was just another thing that showed how the times are changing positively for the women's game.
Apparently, the reason they did it was because there were no 'Kerr' jerseys on sale at the game. Hopefully in the future there are personalised jerseys for fans to buy. That will be another step forward for women's soccer.
It all worked out in the end. They both came to the Newcastle game and got to come on the field. It was a cool moment for all of us. I gave them my playing jersey and said, 'Thank you'. It went nuts on social media.
It feels really good to see people that support football as a whole, rather than just the Socceroos or just the Matildas. It's just football to us.
We had a bit of a laugh actually because there were a few fake people on Twitter who were claiming it was them!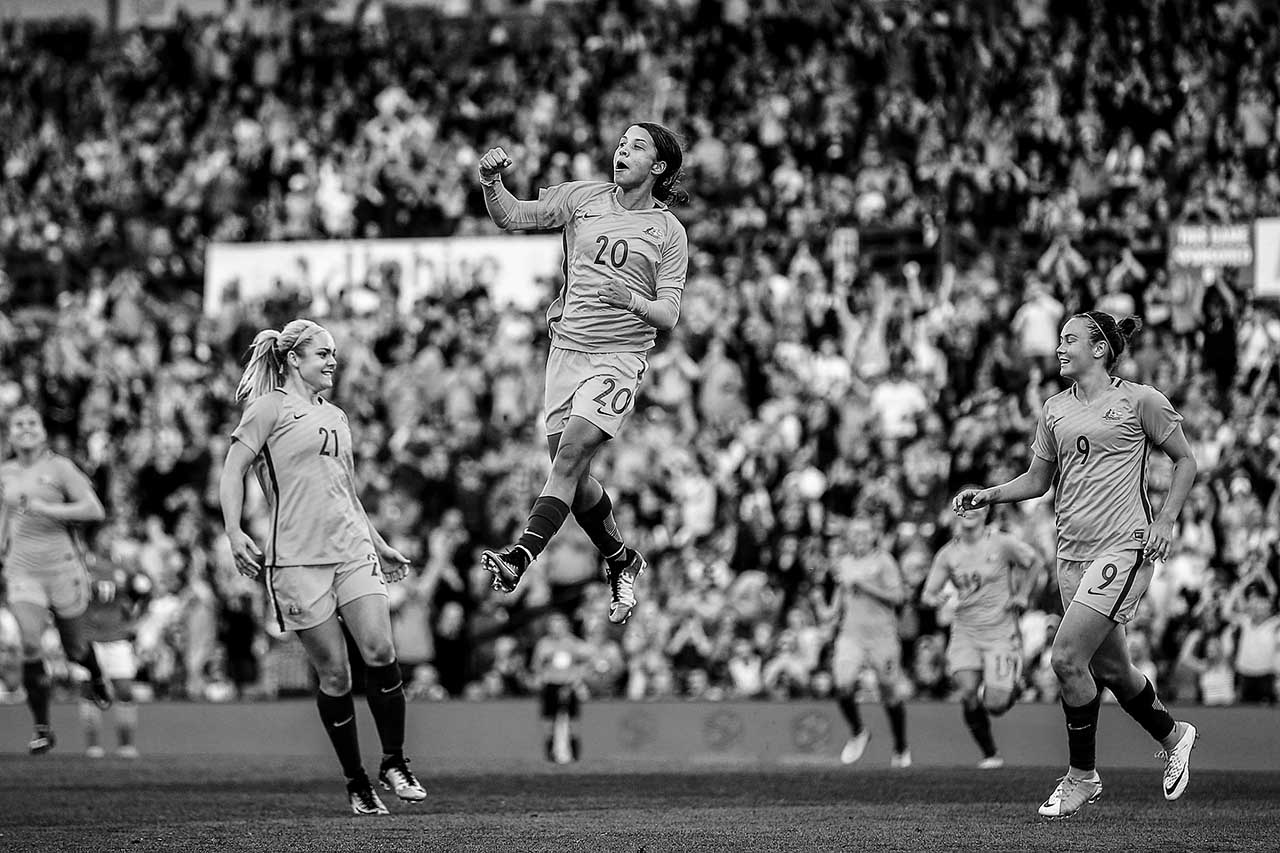 STICKING THE BACKFLIP
Everyone had been asking me to do a backflip, especially at both open training sessions. I didn't get to do it in Penrith. It just didn't feel right. I scored two goals in Newcastle, though, and I was able to celebrate one of them with a flip.
It was after my second goal, Emily Van Egmond and Chloe Logarzo absolutely annihilated the Brazilian defenders with a quick one-two. Chloe put in a great cross and I was lucky enough to be on the end of it.
It wasn't my best finish but it was a great team goal. That backflip was for the fans. It wasn't my best backflip either, unfortunately! I like a bit of hang time and I thought it was a bit quick. I'll take it, though.
It was my first backflip celebration in Australia since the goal I scored in the 2013 W-League Grand Final. It felt pretty good!
The crowd was amazing that night. We expected Penrith to be bigger than Newcastle, so to draw an even bigger crowd was incredible. There were some great characters there and it was pure entertainment for us girls. They were unbelievable funny, supportive and down to earth.
I've heard that outside the Olympics it was the biggest crowd to ever watch a stand-alone women's sporting event in NSW. It was also a fully ticketed event. It's awesome to see fans actually paying their own money to come and see us.
In the past, we've had tickets bought and people not show up, but this time everyone was well and truly invested in the Matildas and women's football.
MY FAVOURITE MOMENT

Everything ended pretty quickly after the game. A lot of us had to leave that night and some of the girls had other commitments.
We sung our team song, which was a great feeling, and then Staj thanked us for the week. He said it was a stepping stone but we've still got some things to work on.
Since then, we've received some really nice emails from everyone at the FFA, just letting us know how proud of us they are.
We had an absolute blast. I wish it went for longer than a week.
My favourite moment was Mini (Katrina Gorry) missing that open goal. She almost completely missed the ball! Luckily enough she nudged an 'assist' – that's being generous – to Caitlin!
We were all having a laugh on the field. It shows how confident we all are – usually we'd be stressing out about it. All the girls have been laughing at Mini ever since. It's been hilarious.
I'm back in the US now. It feels pretty good. All the attention is great but it is quite taxing. It's nice to finally have a chance to slow down, lay on the couch for a few hours and relax.
More about: Alen Stajcic | Matildas | Sam Kerr