My life has completely changed since I was last living in Australia.
My phone has been red hot. It's been really hectic, especially in Fremantle where I live. Everyone is talking about women's football.
The kids are funny. They're always coming up to me in the street and asking me to do a backflip. They don't realise that concrete sidewalks aren't the best place for such a high-risk manoeuvre!
Even my little cousin, Sebastian, is at it. I was playing with him at the park and after he scored a goal he looked at me and said, 'Well, go on then!'
It's funny how the flip has kind of become my thing now. I used to look up to athletes who had their own celebrations because it made them stand out. There's nothing better than watching Tim Cahill box the corner flag after scoring a goal for the Socceroos.
It's kind of cool that I'm being recognised in the same way.
My friends are a funny group.
They are super proud of what I've achieved in the last 12 months but they give me shit about it all the time.
If I don't reply to their messages quick enough, they tell me that fame has gone to my head. There's no risk of me getting ahead of myself!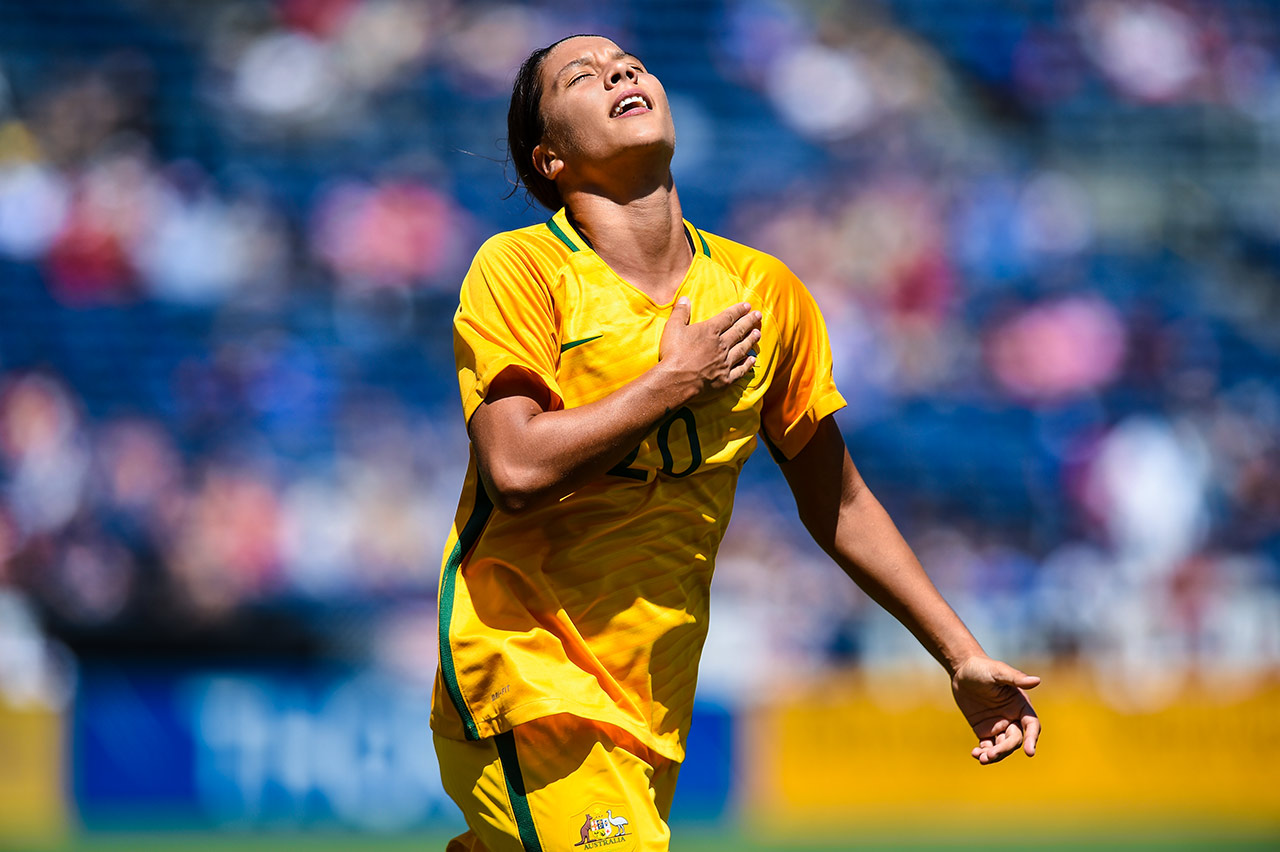 A CHALLENGE TO MELBOURNE
Melbourne is known as the sporting capital of the world.
I'm putting out the challenge to them: almost 17,000 fans turned out to watch the Matildas on a school night in Newcastle, so if Melbourne can't beat that for our match against China they might have to give up the title!
I know I'm biased but I reckon we're one of the hottest teams in Australia right now. Why wouldn't you want to come out and see what the fuss is about?!
Still, there's a lot of work for us to do. It can be even better.
In the U.S, I've seen 40,000 fans turn up to watch their women's team play. That's amazing. That's what we want in Australia. We don't want to be the popular thing that lasted for a year and then fizzled out. We're here to stay.
The kids are funny. They're always coming up to me in the street and asking me to do a backflip. They don't realise that concrete sidewalks aren't the best place for such a high-risk manoeuvre!
China will be difficult. They're ranked 13th in the world, ahead of some really good teams. They've made the World Cup final before, so you can't take them lightly. They're tough and very smart opponents.
We might have to play them in the Asian Cup next year as well, so it's a good opportunity to see where we are at.
All of us Matildas have a real competitive streak.
When we are in W-League mode, we are all just focused on winning the title. When we used to play against each other, we would catch up for dinner after games. It's not really like that anymore but that's not a bad thing either. The league has become more professional and a lot more competitive.
That's why everyone is really excited to be in camp. We get to set aside the rivalries and just enjoy hanging out and playing alongside our best mates.
I'd rather be on Steph Catley's team than running at her, that's for sure.
I hate going up against her when the Glory play Melbourne City. She's a super smart defender which is why she is so hard to beat. On top of that, she's very fast and a great athlete.
I wrote an article here after the Brazil games back in September, saying that in seven days I saw a change in the way Australia sees the Matildas. I also saw a change in the way we see ourselves.
Playing at home in front of record crowds with huge attention from the media was incredible. It made us believe that women's football can become mainstream.
I think we can take things to another level with these two games against China.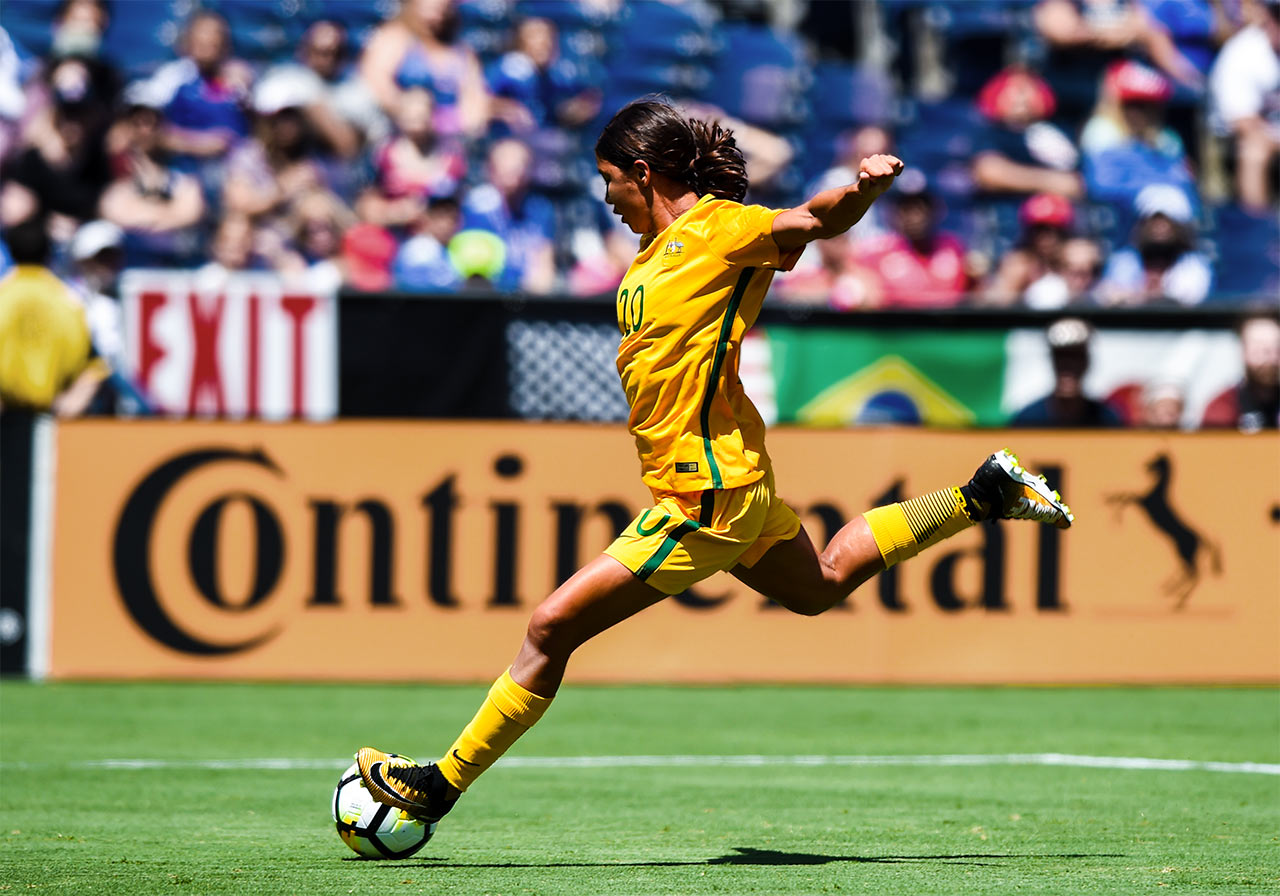 SELFIES & GOING VIRAL
I went to a bar recently and some people were asking me for photos. I didn't want to be rude to them but it made me feel conscious of how I appear.
Obviously, I'm allowed to go to bars but at the same time it's not the best look. I don't want it to seem like I'm this crazy party animal, because I'm not.
The good far outweighs the bad, though, and I like knowing I'm a role model.
There's a really cute video from inside the tunnel before our game against Brisbane Roar. There was this sweet little girl, who was the mascot I was walking out with. She was looking up at me in this way, I could tell she was a little bit in awe of me. It was a cool moment, I thought.
It was funny, the first thing she said to me was that her twin brother was one of the other mascots. She thought it was great, being able to introduce me to him.
This young mascot was completely in awe of Sam Kerr ?How cute is this??: Fox Sports Football

Posted by Westfield W-League on Sunday, 5 November 2017
I've been doing a bit more TV work as well with Fox Sports, so I'll be getting recognised more and more.
I really enjoy it, especially if I can just stay in my football gear. I'm not fussed about getting all dressed up and my hair and makeup done. I'll get used to it.
MY CHANGING ROLE
I get mad when other teams say that they're going to try and shut me down. It's disrespectful to my teammates.
If that's the way they want to play it, I'll stand in the corner and they can mark me there. My teammates can carry on playing and score all the goals.
I'm really focusing on becoming a better playmaker this season. I want to bring other players into the game and provide some more assists.
When I'm playing as a lone striker, I worry that my teammates can feel a pressure to play a certain way. They might feel like they always have to give me the ball. I just want them to feel relaxed around me. I'm just like any other girl.
That's why I'm so excited about this season. We've recruited really well.
We signed another striker, Rachel Hill, who was a rookie in the NWSL.
Last year, every ball went to me but this year, we've got two points of attack. It takes some of the pressure away from me and I can just be myself.
I get mad when other teams say that they're going to try and shut me down. It's disrespectful to my teammates.
I'm really loving playing with Rachel. She's younger than me, which is weird, because I've always played alongside older strikers.
She is really shy though, which is quite funny, because she's absolutely killed it so far. After the first game, when she scored two goals, she came to me and said she kind of wished that she hadn't done so well.
She was worried that people would expect her to score every game.
I said to her, 'No one is expecting anything and you can play really well without scoring.'
She scored a hat-trick in her next game.
There's no way around it now, Rachel! Everyone is expecting goals.
She's only young but I can learn so much off her. She's tough and skilful. We can get the best out of each other I think. She's scored six goals already and my friends are giving it to me. She's showing me up!
Melbourne City beat us in the grand final last season, so we were really determined to wipe the slate clean and get off to a good start this time around. We beat them in round one and then got a win over another big contender, Brisbane Roar.
I don't care about whatever bragging rights that might give me. Now I'm in camp with the Matildas I won't be rubbing salt into any wounds. At the end of the day, it's just two games and the season has a long way to go.
Adelaide gave us a bit of a wake-up call but we bounced back from that and beat Melbourne Victory on the weekend.
We're on top of the ladder. It's been a great start.
I just want us to get to the end of the season and not have any regrets, knowing that we gave it everything we had.
More about: Matildas | NWSL | Perth Glory | Sam Kerr