Dad's priceless note of advice
I've got a tattered old post-it note in my wallet. It's been there since 2012.
It has a few key messages written on it. In the dressing-room, before I put my boots on to play, I pull it out to read. It'll probably fall apart eventually, but it's hanging in there for now.
My dad, Paul, gave it to me. He played first-grade at the Roosters in the 1980s and he and my mum, Sondra, are my biggest supporters.
We were sitting at home in the week before I played my first SG Ball game for Parramatta and I noticed him writing something down. I was 17 and in Year 12 at school. It was my first rep team.
Dad handed me the note and said, 'Footy can sometimes seem complicated, but if you remember these key points it can be easy'.
This is what he jotted down:
Be confident. Purpose in everything you do. Aggression. Back yourself. Make each play count. Harder you run, more hesitant the defence is. Be physical in defence.
It was relevant to me then and it's just as relevant now.
Strip everything back and footy is still all about running hard and tackling hard. It has been since 1908.
That'll never change. People love the fancy plays: the flick passes, the big side-steps. All of that stuff is great but if you don't have the fundamentals, you won't be a good player.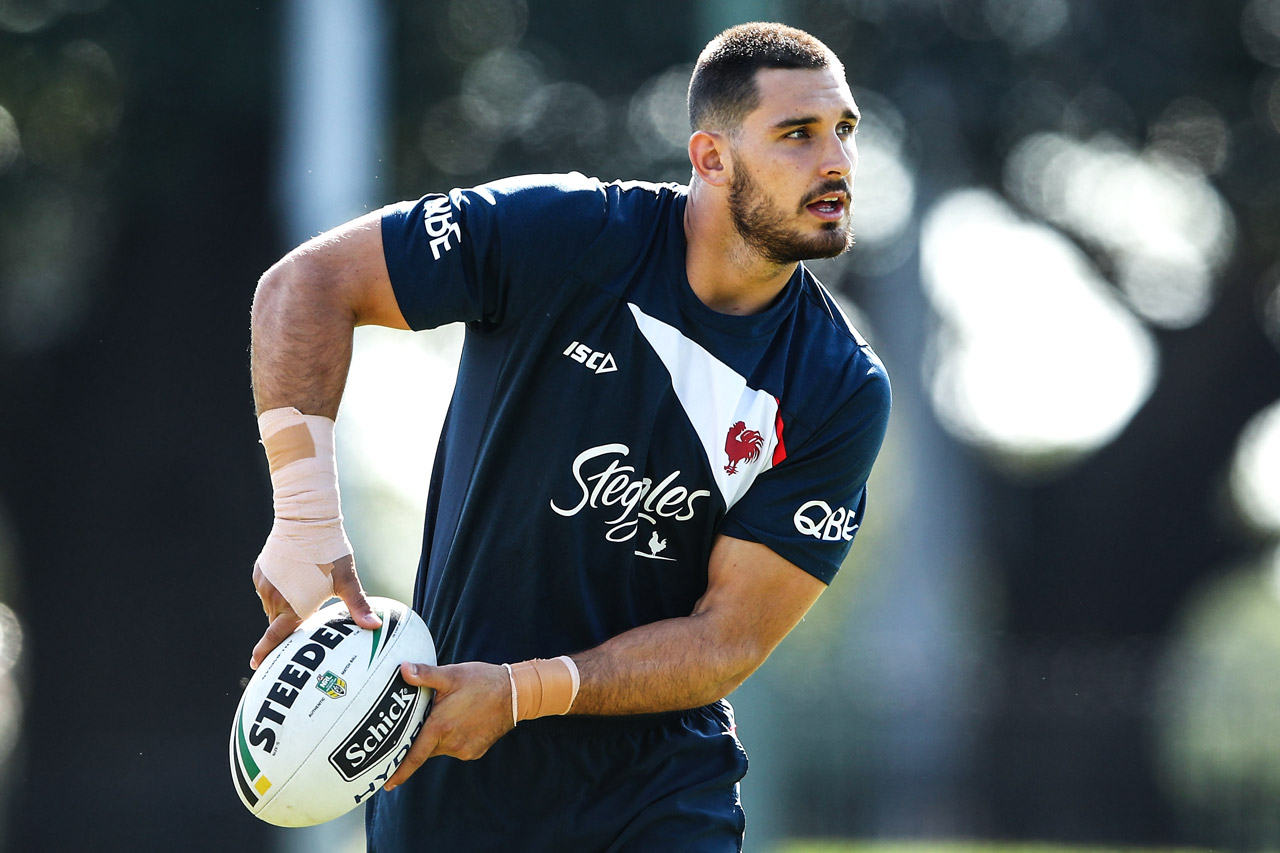 HALVES OR FORWARDS?
There was never any doubt I was going to play rugby league. I come from a big footy family. Dad and his brothers, Greg and Terry, grew up a stone's throw from the local footy ground at Chester Hill, in Sydney's west, and played junior footy for the Hornets there.
Their dad – my pop, Charlie – did a lot of coaching at the club.
Terry played for the Roosters and went on to have a great career at the Broncos before getting into coaching. Greg has been coaching Newtown in the NSW Cup since 2008.
I wasn't a big kid growing up. I was actually pretty small compared to the others. I started off on the wing, but that got boring. I wanted to get my hands on the ball, so I went to hooker. When I did start to grow, I got a bit too tall to play there, but I was still pretty skinny so I didn't want to play in the pack.
I thought I'd give the halves a crack. I loved it.
I grew up at Wentworthville and played junior footy for Wenty Magpies and then the Bankstown Bulls. I was a Parramatta junior and the Eels signed me as I was entering my last year of school.
I started filling out and put on about 12 kilos in six months. I went from SG Ball to the under-20s in the same year. During my last year of eligibility for the under 20s, in 2015, I re-signed for three years but then later that year, Parra signed Kieran Foran.
I realised that was going to hurt my chances of playing first-grade. They wanted to put me in the back-row, but I didn't feel ready for it at that stage of my career. I decided to look at other options and the Roosters was the best one.
Trent Robinson didn't promise me anything but he said, 'If you work hard, I'll give you a crack'.
There was never any doubt I was going to play rugby league. I come from a big footy family.
When I was in my late teens, people were always saying to me, 'Mate, you're getting too big, you're going to end up in the forwards,' and I'd say, 'No way'.
It wasn't that I was scared to go into the forwards, I just enjoyed the creativity of playing in the halves. I got to choose when I ran and I got to shift the ball and organise things.
I played a bit of five-eighth in my first year at the Roosters in 2016, in first-grade and for the feeder club, Wyong. I played a few different positions. Prop, wing, I'd come off the bench sometimes and go wherever I was needed.
It made me realise I had to be adaptable. At the same time, I came to accept I'd gotten too big for the halves. So I went with the flow and played wherever I could get a game. I realised I wanted to be a back-rower and felt I was ready to make the switch.
The Roosters said they would make me the player I wanted to be. I've learnt a lot from blokes like Boyd Cordner. I've accepted the challenge and haven't regretted it.
I play at 108-109 kilos now. I'm 194cm tall. So I've got a physical presence. But the skills I developed growing up playing in the halves are still there. I still practise them at training. I've still had a licence to kick at the right time in games and I've forced a couple of repeat sets this year.
The coach obviously trusts me to be able to do the job for him. With Luke Keary out this week, I'm looking forward to a run in the No. 6.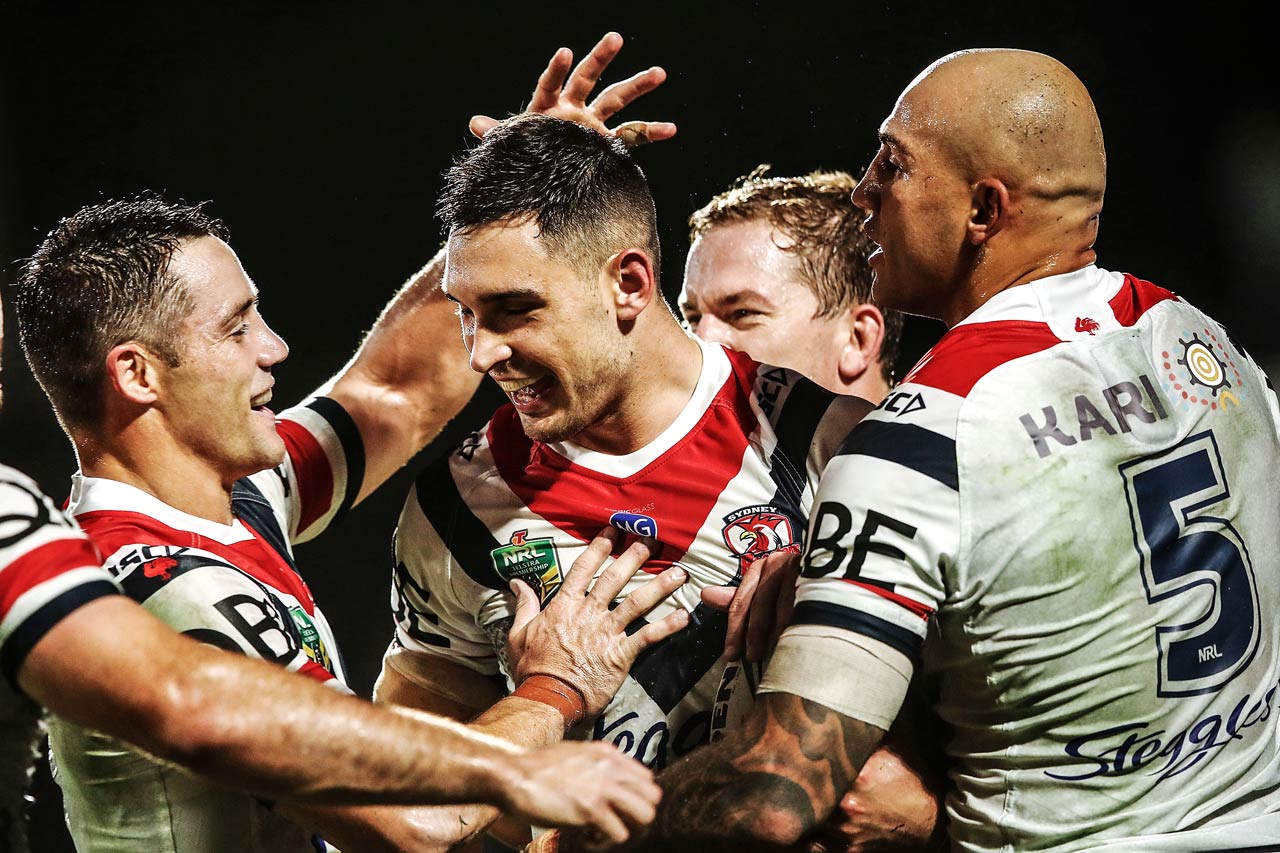 THE HEAD KNOCK
I experienced concussion symptoms and was out of the game for eight weeks earlier this season.
It was a scary time. I thought I might not be able to play again for the rest of the year.
I was hearing stories about players from ice hockey and various footy codes who had suffered from this sort of thing, and some of them took a long time to get over it.
I wouldn't wish how I was feeling on anyone.
I'd taken a head knock in each of the previous two rounds and been OK afterwards. But this time, against the Broncos in round 11, it was different.
I was hit flush on the forehead by the ball from a close-range kick by Kodi Nikorima. I was on the ground feeling pins and needles in my legs. After the game, I didn't feel right. I was sick in the stomach.
I passed the CogSport test the next day, but my understanding is that only deals with memory and reaction time, and I was fine in those areas. I had other problems.
I had light sensitivity, noise sensitivity, headaches and dizziness. I was in the wars.
The doctors told me I had concussion symptoms. I was still hoping I'd be OK to play the next round, but I wasn't. Then I thought I'd recover in time for the following round, but I didn't.
It was a scary time. I thought I might not be able to play again for the rest of the year … I wouldn't wish how I was feeling on anyone.
The club looked after me. I saw two neurologists and spent a lot of time at home resting, trying to get better. I was taking medication. I didn't go to training at all for about four weeks.
If I went to training, I felt pressure from within myself to come back and play. Being around the boys in that footy environment just made me want to get back early, when I knew I wasn't ready. I needed time away from the game to just recover and the club was really supportive of that.
I kept getting really tired. I was sleeping 15, 16 hours a day at one stage.
I was stressed out and wondering, 'Am I going to play again this season?' It was frustrating. So I started doing a bit of meditation to try to relieve that. I saw a chiropractor as well and he treated my neck, which helped.
I got my wrist operated on just to kind of take my mind off things. It needed a clean-out and was going to be done eventually anyway.
When you're going through something like this, your best test is to ask yourself, 'How do I feel?' Because it's only you who really knows.
One day, I woke up and felt a little bit better and the next day, better again. I was finally on the mend. Soon after that I went back to full training and, after a week of that, I was ready to play.
I've had three games back now.
Concussion is a serious thing. It was a tough time going through that, but I had great support from the club and everyone around me. I focused on my recovery and now, I'm back playing good footy and looking forward to the Roosters making a bid for the premiership.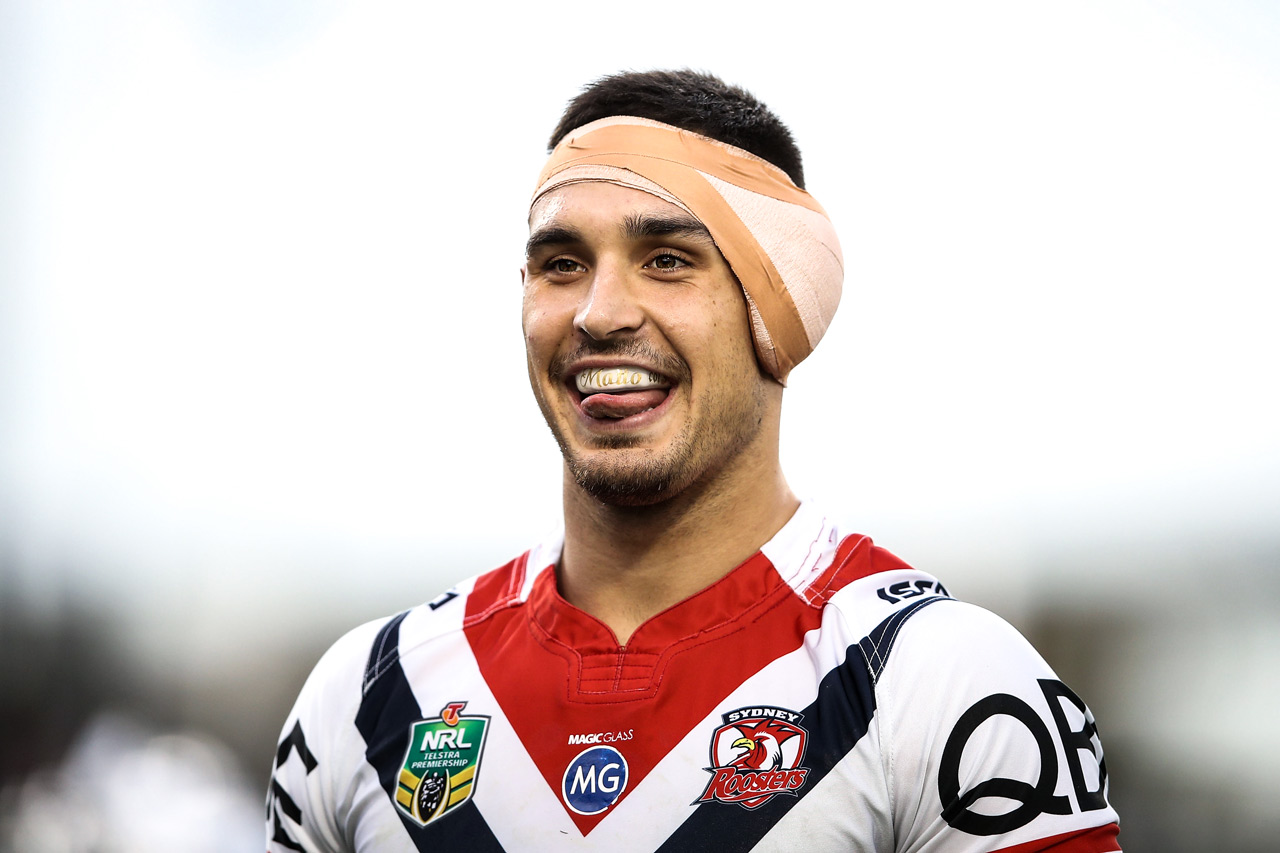 COOPER & MITCH
I've picked up and run with the saying, Win Or Dominate?
As in, 'Do you just want to win, or do you really want to dominate?'
I'm told it's the sort of challenge the great All Blacks rugby union player Richie McCaw set himself and I try to build that attitude into everything I do – on and off the field.
Off the field, I'm big on getting my recovery right, so I make sure I get enough rest and I'm careful with my diet. I put a lot of time into planning my match preparation.
On the field, it's not about being satisfied with playing well for 70 or 80 per cent of the time you're out there, it's about playing well for 100 per cent of the time and dominating your opponent.
It helps to play with great players.
Be confident. Purpose in everything you do. Aggression. Back yourself. Make each play count. Harder you run, more hesitant the defence is. Be physical in defence.
I'm fortunate to have had terrific halfbacks like Mitchell Pearce and Cooper Cronk alongside me. They've both provided me with great direction.
As a young halves player, I used to look up to those players. To graduate from that to running lines off their passes is a brilliant experience.
Cooper is a big talker on the field. He's constantly talking to me and directing me through the game, especially in defence. He's the eyes in the back of my head, basically.
As I'm running back into the line, he'll be surveying everything in front of us and saying things like, 'They're doing a shift here – get up, get up', so I'm constantly thinking about what's going to happen next. He wants you to learn how to be ready to react ahead of it happening.
He brings a lot of clarity. If he's talking to the team, he really breaks it down and won't finish until everyone understands their role. He's big on everyone knowing the structure and realising there is going to be a sequence of events we need to follow.
It was the same with Pearcey when he was here. I had a great relationship with him, on and off the field. Great players like them can see two or three plays ahead. They're invaluable.
More about: All Blacks | Boyd Cordner | Concussion | Cooper Cronk | Injuries | Kodi Nikorima | Luke Keary | Mitchell Pearce | Parramatta Eels | Sydney Roosters | Trent Robinson