They just couldn't stop him
When I was coaching Jordan Mailata last year in the Rabbitohs' National Youth Competition rugby league team, I'd put him on, we'd create a set play for him, and he'd often score a try because of the athlete he is.
The assistant coaches and I used to joke, 'Oh, I wish it was NFL. We'd get him off and put him back on when we get another attacking set on their try-line'.
It's not that he couldn't tackle. He could defend well, he was fine. But he was just so good at the attacking side of the game, and sustained, repeated efforts in defence are hard when you're so big. It just doesn't marry up.
That's the main difference between the two sports and why NFL players probably couldn't cross over into rugby league, and why rugby league players probably couldn't cross over into NFL.
Unless they're Jordan Mailata.
As a rugby league player, Jordy has an unbelievable skill set. To be able to move at the speed that he does for his size is quite phenomenal. I've never seen anything like it. His speed and agility for such a big guy was like nothing else I've ever coached or come across in rugby league.
Obviously, rugby league has an endurance part to it as well, which is probably not suited to him. But in terms of the power game, no one could get near him, especially in his own age group.
While Jordan never played a first grade game, I don't think he was too raw for first grade. He's a smart kid and he knows what he needed to do. But knowing what you need to do and being able to do it at the speed of the NRL is a different thing.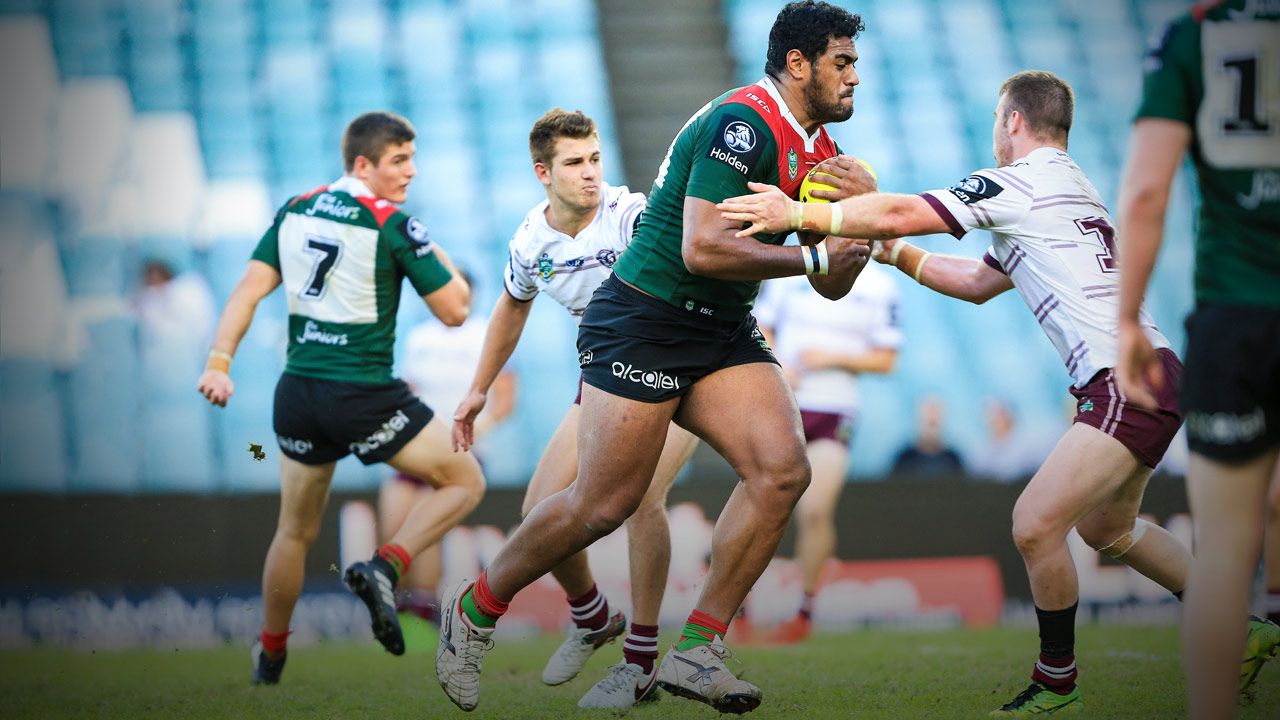 Rugby league is a demanding game in many ways beyond a player's specific role. NFL is much better suited to a specific, targeted role, which is great for Jordy because as I've said, he could do things better than anyone I've ever seen in certain specific roles.
I love the way he carries the ball and maintains his balance while he moves forward into contact. That's hard. A lot of people struggle after contact. They might lose balance and fall over. But he can maintain his balance and keep his feet and continue to move forward even post-contact with three or four defenders on him, which is probably why he sparked the NFL's interest.
Put simply, he could get hit and maintain his forward momentum no matter how many people were on him. And it wasn't just his ability to run hard. There was also his agility and the way he could change direction whilst maintaining his speed. You don't expect that from a guy of his size, but that's what makes him so unique.
As I said, we used to joke quite often that he'd be perfect for the NFL because of that short burst type of game. So obviously, when I heard he got drafted by the Philadelphia Eagles, I was really, really happy for him.
As an athlete and as a person, he deserves it.
DROPPING 20 KILOS, PUTTING 'EM BACK ON AGAIN
I first crossed paths with Jordan Mailata at Redfern in October 2016, not long after I'd been appointed coach of the Rabbitohs' NYC team.
I was walking through the gym, and none of the other players were in at that stage because it was prior to pre-season training commencing. But Jordy was so keen to get started, he'd organised himself a pre-pre-season program. The recruitment & performance staff had done a great job in identifying his obvious talent and were working hard to harness it.
He'd been working out for a few weeks there, which was a representation of how dedicated the kid was, and how much he wanted it. I thought that was great.
Put simply, he could get hit and maintain his forward momentum no matter how many people were on him.
He was around 160 kilos when he first came to us. We got about 21, 22 kilos off him throughout the pre-season and got him down to about 140.
From my perspective, I was just so proud of him that he stuck at it, to lose more than 20 kilos without anything but hard work. Obviously, it was a full-on program in terms of his diet and his training. It was so hard for him, but he never shirked it once. Never once, even throughout the hot summer months of pre-season. It was a massive effort.
I remember saying to Jordan throughout it all – aside from how transforming his body would improve his footy – that losing the weight would be life-changing for him. And he definitely had a new lease of life.
Twenty kilos lighter, that's a lot of weight.
Even after he lost that weight, he was still a huge guy. When people ask me how to describe him, I put it this way: Every time I was with Jordan throughout the year, whether it be at an NRL game or wherever, he would stop people in their tracks.
Everyone stops and looks at him. He turns heads, that's for sure. He's one of the biggest people I've ever seen. Even the NRL first grade players would come down to the gym to check him out and admire his size.
Even after he lost that weight, he was still a huge guy… Every time I was with Jordan throughout the year, whether it be at an NRL game or wherever, he would stop people in their tracks.
The thing about Jordan is his height makes him seem so big. He's 6 foot 8 (or 203cm) and it's his height – not his weight so much – that gives him his presence. Jordy doesn't look like a guy who's overweight. He just looks like a big human being because he's so tall. When you meet Jordan, you look up to him.
Obviously with rugby league being a part-endurance sport, we needed to change his body type. So we shaped him to achieve maximal performance within a rugby league game.
However, now that he's crossed over to an NFL program, they have put on all the weight that we took off him to play in the NFL. I'm sure its 'good weight' and I get that. It's just the way it is in their sport and what he needs to be dominant against a much bigger opposition.
DRIVING 900KM FOR A DREAM
Jordan always had great family support.
The first time I met Jordan's family was after they had driven all the way up from Sydney to Queensland to watch us play a game of under-20s. I remember he told me his family were there and I couldn't believe it. I made him take me over to meet them and thank them for coming up to not only support Jordan but our team.
The fact that his family are so supportive to him reflects his dedication to them, and it tells you where he's got his character from. Ultimately, I think he is the person he is because he's been brought up so well.
Jordan is a great human being who I've got a lot of time for. He's a really likeable guy with a great personality who's really good in the team environment. He's great around the boys and I think the Philadelphia Eagles are lucky to have him around.
His family are not only supportive to him – but are humble and polite and so well-natured. And that's just how Jordan is. On and off the field, he's a great person and that's why I'm really happy for Jordy to get an opportunity like he has. He deserves it not only for his ability but for who he is as a person.
The phrase 'Gentle Giant' could have been made for Jordan. He's humble but I think you'd have to describe him as a 'confident humble'.
He's humble but I think you'd have to describe him as a 'confident humble'.
Jordan can be cheeky and be the life of the party when he wants to be. Whenever we would have a break in team meetings, someone would get asked to tell a joke or sing a song to lighten up the mood. Everyone would turn to big Jordy for one of his jokes. He thought they were always hilarious, although his mates would sometimes argue differently.
But at the same time, Jordan is always respectful and never goes overboard with anything. He knows his limits, which reflects how he's been brought up by his family.
I'm excited for Jordan. I don't know how long it will be until he plays his first NFL game, but if and when it happens, I'll be watching.
It's a massive, massive thing when you consider the scale of NFL to almost any other sport in the world. The sport is just huge, so the fact that he's even gotten to where he is already is a phenomenal effort.
I'm obviously really proud of him and he should be proud of himself.
Whether he gets game time this coming season or not, he has already achieved so much and can be proud of himself for that.
More about: NFL Draft | Philadelphia Eagles | South Sydney Rabbitohs