I'm turning 80 in August. Thinking of 80, it seems a long way away from when I was playing at Wimbledon – for the first time, as a 17-year-old back in the amateur days, and for the last time, in 1977.
I look back at my career and think, 'God, I've had a pretty useful 80 years!'. There were not many things that I didn't accomplish. Tennis was certainly my life. I enjoyed it, my mother and father played it, and my two elder brothers had played it.
Yes, there were some tough moments to get through when you were growing up and competing and learning you can't be playing great tennis all the time. You've got to accept there's going to be some down times.
But, for me, when I look back at it, what I had with tennis was sort of a love affair.
always a troublemaker
I'd dreamed of Wimbledon virtually since I'd first lifted a racquet and I was fortunate enough to win the championship four times. I've been going back there as a spectator for a few years now.
It's still a great thrill walking through those pearly gates. It's just wonderful being able to come back, and enjoy some of the memories it brings. 
You're walking past a few of the courts and you think, 'I remember playing so-and-so, or doing such-and-such and it was a long match, or whatever it was'. Some of those things just don't go away. That part of Wimbledon for me just doesn't fade.
There were some funny moments. The old No.1 court was close to the centre court back in those years and I do remember one time there was this strange situation when I was playing Stan Smith in a quarter-final or something and the balls wouldn't bounce.
They put all the balls in refrigerators, but they'd turned the refrigerator up too high that day and I was telling the umpire, 'These balls are cold, they don't bounce'. He said, 'Two minutes to go'. So I said, 'Are you listening to me? These balls, we can't play with them. They don't bounce'. He said, 'One minute to go' … then, 'OK, OK, we're going to have to stop. Oh yeah, that ball is cold. We'd better change them'.
Yes, I always was a troublemaker! 
These days I like being able to go and sit in the Royal Box two or three times with the chairman, Philip Brook, and his wife Gillian, and every year I look forward to chatting to some of the players from my era. Living in California, I don't see John Newcombe and Tony Roche, for example, as much as a lot of the other players, so meeting up with all the Aussies is something I really enjoy.
My favourite Wimbledon memory? The last title, probably, in '69. Playing Newk in the final and winning that one led to winning the Grand Slam at the US Open that year, so it's pretty meaningful right there. But really, any of the Wimbledons that I played was a highlight, and, even though I was happy with my career, getting the chance to come back and play again as a pro gave me a new lease on life.
The centre court really gave me an amazing feeling. I was never nervous when I went out there on that court, even to play the final. It just sort of geared me into another feeling when I was out there competing. I was just seeing the ball better, timing the ball better, and just concentrating a little bit better. And Wimbledon seemed to do that for me.
Playing on grass is a little different, because sometimes it can be a little slippery if the weather is not favourable, and you're worried about delayed matches because of the rain, so it's a combination of all of it. You'd wake up in the morning and look out the window and you'd say, 'Oh, thank God I've got blue sky everywhere. We're not going to get rained out today'.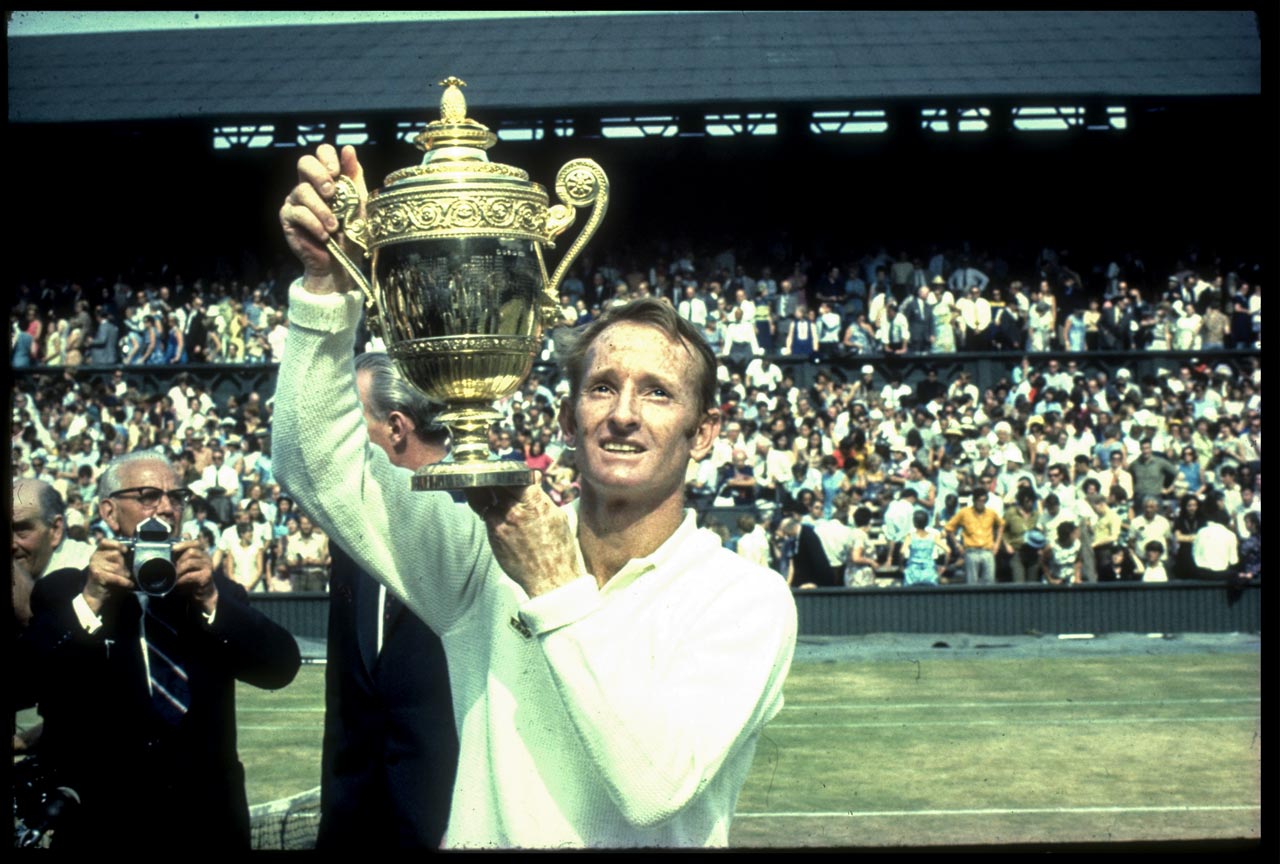 10 pounds for winning wimbledon
When I won Wimbledon in 1962 and 1963, I got a 10-pound voucher and a firm handshake. It just didn't add up financially.
So I didn't have a choice – I had to turn pro. I knew I had a future in the pro game that would mean I'd made something for myself and my family at the end of my career, so I had to look at Wimbledon and say, 'I'll never play on this court again'.
So that was hard to take, but not for long. I had to think, 'Am I going to go back to Australia and teach tennis for a pound an hour or something? This is not going to work'.
That's why I accepted that I had to turn pro. I won 11 grand slam titles in my career and I missed 21 during the years after I turned professional in 1963. But I don't have any regrets.
When I won Wimbledon in 1962 and 1963, I got a 10-pound voucher and a firm handshake. It just didn't add up financially.
It wasn't until 1967 that the chairman of the All England Club, Herman David, said, 'You guys get your best eight pro players and we'll have a tournament two weeks after the '67 Wimbledon'. And then the next year, if you guys fill the stadium for the last two or three days, then you're invited to come back and play in our tournament in 1969'.
So of course we did, and Open tennis was born. It was pushed in, really. The French, Australian and the US had to accept it. For them, it was, 'How do we get around this? Oh, there is no getting around it. So let's have Open tennis'.
When I won Wimbledon in 1968, the cheque was for 2000 pounds, and in '69 it was 3000 pounds. Fifty years later, the 2018 champions will get over two million pounds. That's quite something. We've come a long way.
It's the 50th anniversary of Open tennis and it's so great to see. We would have loved Open tennis to happen 10 years earlier, but the amateur officials were adamant that it shouldn't be professional, and none of them could see what the tennis was going to do, how big it was going to be when it went Open. All of us professionals back in that era with Jack Kramer, as well as a lot of the older players, we were just amazed that a lot of the amateurs couldn't see how great the game was going to be.
Butch Buchholz was saying, 'We haven't even scratched the surface of tennis that is going to come out of where we are. When you find sponsors and see the money that's coming into the game, you'll be thinking, how big is this going to be? It's such a huge situation'.
And he was right. You look at all the players who are competing now, and how many circuits there are. The ATP have done a really good job with men's tennis. Everyone wants to play.
But I do think that if I hadn't turned pro maybe Wimbledon would have looked at it differently and said, 'No it's fine staying amateur, this is going to be fine to stay the way we are'. In the end, Wimbledon was the only one that could see that something had to give, because 'Laver's gone. Ken Rosewall's gone. Lew Hoad's gone. All these players that had to turn pro'.
I made zero as an amateur. Some of the European players could maybe play for $1000 a week in under the table payments, and that's a good amount of money. We got just enough money to pay for the hotel and our meals. Wimbledon could give me 250 pounds towards all of my expenses; all the other tournaments, too, would give you $200 or $300 to play.
So, yes, that meant you'd be ahead of the game, but how far?
We thought of ourselves as outlaws during that time, but we did that to ourselves. We had to! Now it's just unbelievable. Everybody's pretty close now. You couldn't have envisaged any of this back in 1962. So it's great that Wimbledon had a big role in bringing in Open tennis, and I am proud that we all played our part.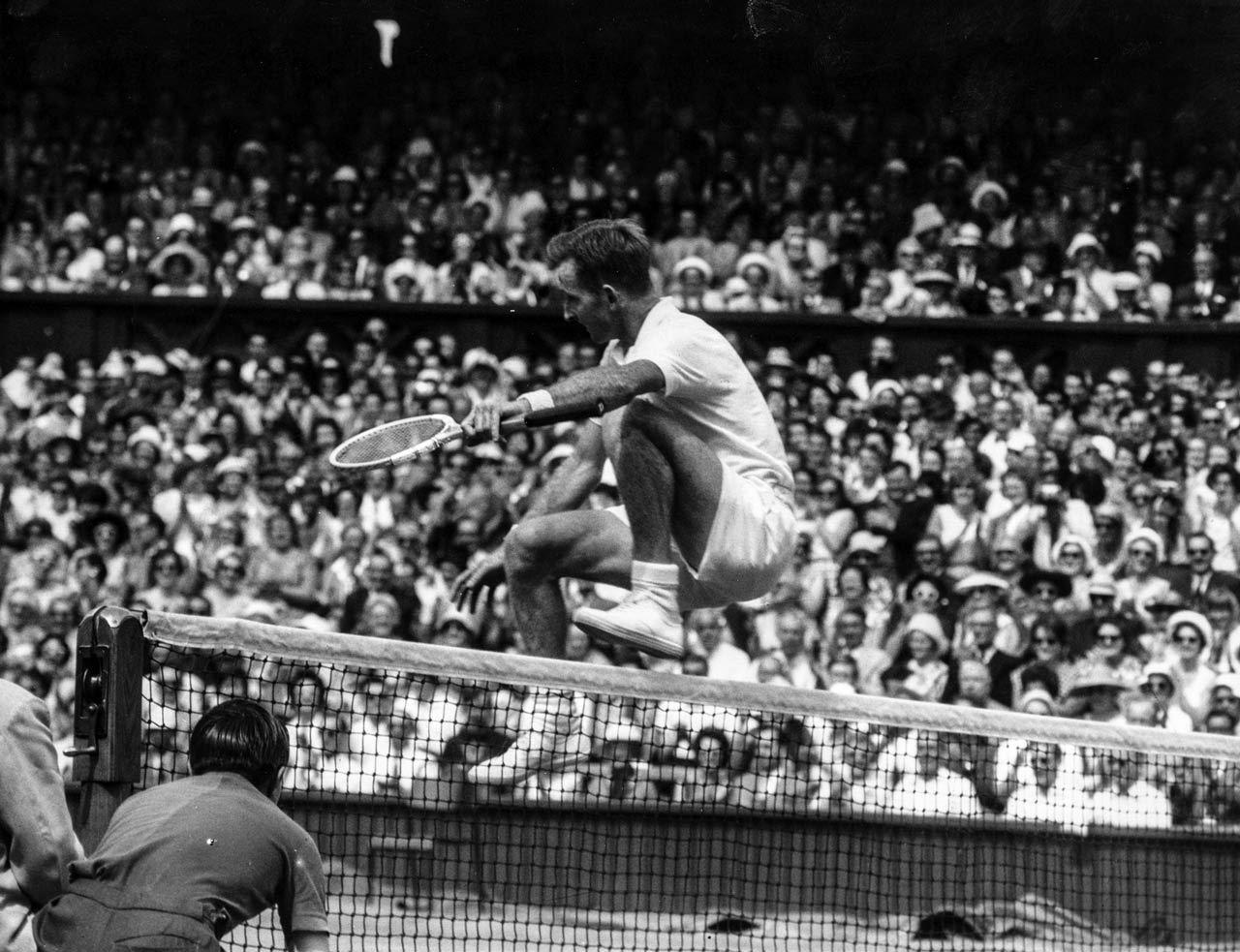 who i rate in TODAY'S GAME
I enjoy it when I see Roger Federer at various tournaments, including the Laver Cup, which started last year. We're both pretty quiet, and tennis always seems to come into the conversation whenever we see each other.
We just chat. I don't know. We just get along.
He's still my favourite player to watch. It's amazing. You have to accept the fact that he can't get around quite as well as he has done, but I think he's still moving darn near as well as he did last year.
The Australian Open in January, again, he lasted five sets. And at 36? You think, 'Ah, how does he do this?' It's great. Yes, he trains well, and he's got great people around him to help him physically and keep him fit. That's the secret in longevity: just knowing how much to do, how much to practise, and when to have a break.
Roger didn't play on the clay, but with two or three tournaments on the grass before Wimbledon, he'll be match-tough again. That's a smart play to just do a small amount of tournaments, and skip the Grand Slam he's the least likely to win.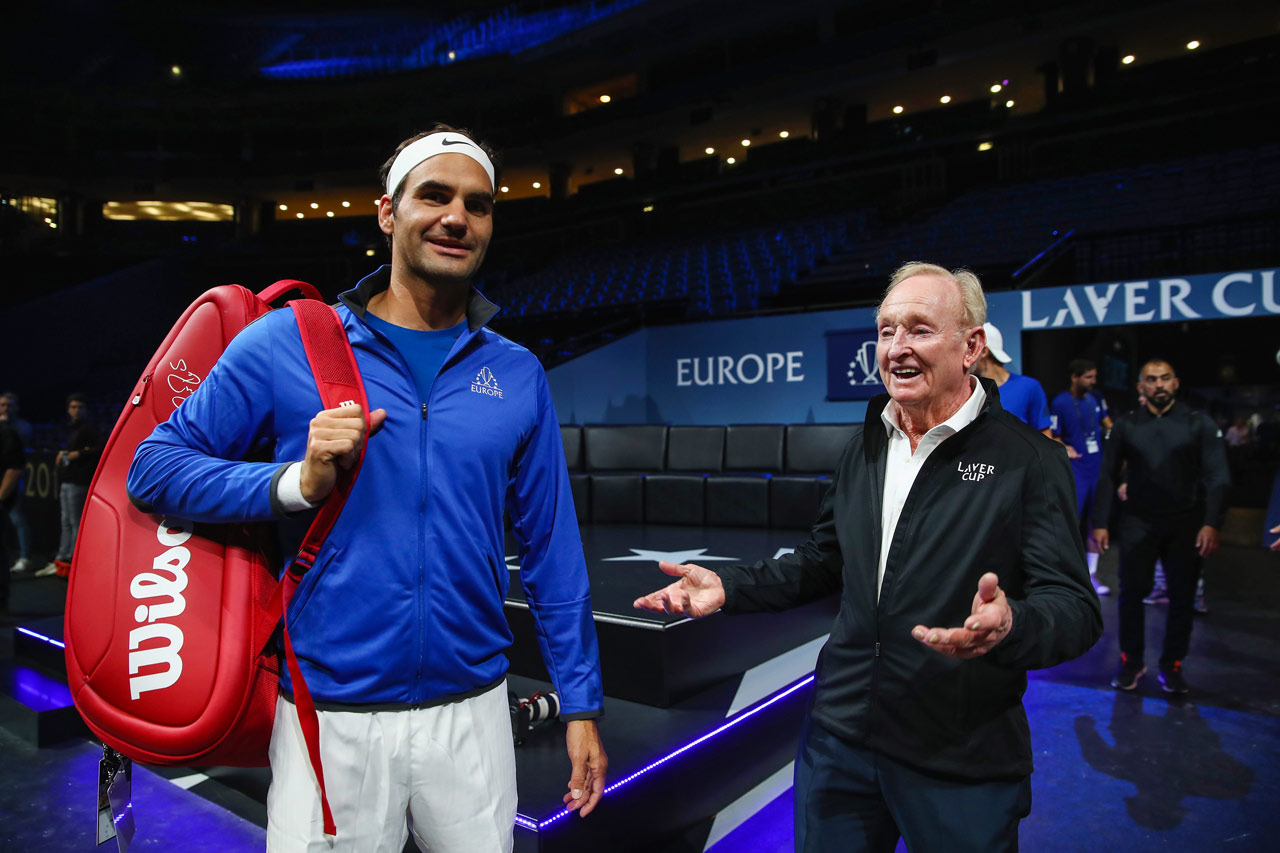 There's a lot of players out there who can win on the grass. Especially these days. Look at all the big servers. Now they're volleying better, their groundstrokes are good, so that's always going to be a tough fight. Roger has the experience, though, so even someone who's really playing well probably won't be able to stay with him. 
But there's so many great players out there. Even Nadal can play on the grass. The ball now bounces a lot higher than when we were playing back in the '70s, because they've changed the grass, so it's a tougher grass and also the ground is a little harder than we remember it being, so the ball bounces up perfectly. Yes, you're going to be slipping and sliding, but if it's a dry day Roger will be tough to beat.
I enjoy it when I see Roger Federer at various tournaments… We just chat. I don't know. We just get along.
I'm very impressed with the young Canadian, Denis Shapovalov. He's a leftie, like me, and at 19, he's showing a tremendous amount of promise. I feel like he's certainly going to reach the top if he continues with the attitude he's got. He enjoys playing, every post is a winner, he's very keen and naturally talented. You need some major strokes, like a big serve and a big forehand and he's got that, and a single-handed backhand as well.
Now he's just got to enjoy the other side of it, but he's pretty tenacious when he's out there competing. He doesn't give anything away. He works hard on every point.
Alexander Zverev is a bit older, and he's a better player than Denis is at the moment. Zverev and Dominic Thiem, who made the French Open final, are probably the two young ones at the moment that are great, but Denis just needs to get a little bit more experience. Sometimes when you're young, you say, 'I want to show you guys how I can do this', and so the next thing you know, you're trying to do too much in your game. You've got to stay under control.
Nick Kyrgios is the other one who has heaps of talent and the potential to win everything. He played a great match in the Laver Cup against Federer, almost should have won the match, but he has had a lot of injuries. Elbow issues don't go away very quickly, I've had elbows on the inside, the outside, and you have to work through it. 
Nick Kyrgios is the other one who has heaps of talent and the potential to win everything.
They hit the ball so much harder these days and there's more vibration in the composite racquets. With a wooden racquet, yes, we had to generate power, but it wasn't causing any stress on your elbow. I don't know what the answer is. Novak Djokovic is in the same position with an elbow problem.
Zverev and Thiem and these guys, their consistency is unbelievable. But Thiem doesn't play many volleys, so he may find when he gets to Wimbledon that playing from the baseline is going to be a little bit more difficult.
The variety of play is great now. The game is so huge, and fun to watch, and I enjoy being there in person to see some of the tennis. I enjoy a lot of the rallies and I'm really happy to see that tennis has just blossomed. One thing I don't like so much is when it's just about a big serve, though, because hardly any of them come back.
four words of advice
I've always thought a tennis career is like climbing a ladder. You go up two rungs and then all of a sudden you drop back a rung and stay stationary and then, in another six months or a year, you go up another two rungs, and then you drop back one rung again.
It's a bit of a different way of looking at your life but you excel and you get right up there to peak and then drift back down again. But you don't drift down to where you were, you're a little bit better than that, and that's how I sort of saw myself when I played.
Winning four Wimbledons is the pride of my career, and being able to complete a whole year winning all four and therefore the calendar-year Grand Slam which is the Mt Everest of tennis, and doing it twice. It's a record that's stood for 50 years now, and it's turning out to be bigger and better than anything else. None of the guys today seem to think it's possible.
Well, sure it's possible. It can happen again. Roger would have won the Grand Slam except Rafael Nadal was there, dominating at Roland Garros almost every year. Nadal is the best player on clay, so how do you beat him?
In the years ahead, someone might just be that much better than everybody else on a special surface, whether it be the grass at Wimbledon, wherever. That's certainly going to happen.
So, yes, it's possible, and if it happens in 2019 I'll be the first person there to shake his hand. But now there's so much competition and any one of 30 players on the tour could beat the top players in the world. Just look at what we saw at the French with Djokovic. Djokovic played a good match, and the other guy, Marco Cecchinato was around No.70 on the computer, but he plays well on clay. That's the way things work.
I'm thrilled with the life I've had. I've got a granddaughter who's 17 now and she's a hot soccer player. She's a goalie, so I see a lot of her matches and that's a thrill to be able to see her life unfold.
When I'm asked to give advice to young people, I say that the big thing is to enjoy whatever you're doing. If you don't like tennis, take on cricket, take on something else.
When I'm asked to give advice to young people, I say that the big thing is to enjoy whatever you're doing.
My granddaughter, I said to her, 'I want you to learn tennis, just purely because when you get into your 20s or 30s and someone says, 'Let's go play tennis' and you say, 'Oh, I don't play tennis', I don't think you're going to be very happy with yourself'.
So I got her lessons for about six months, twice a week, Mondays and Thursdays, for two hours every day and she became unbelievably good. She doesn't even know how to score, but she just learnt how to hit the ball.
Her love is soccer, and she's already being looked at for college scholarships here in the US, but now she knows what tennis is all about. That's really nice, because it's part of our family history.
I've always loved the sport. All those years after I left Rockhampton as a young man who got to travel the world with a tennis racquet, I still do.
More about: Grand Slam | Nick Kyrgios | Novak Djokovic | Rafael Nadal | Roger Federer | Wimbledon