Robert Allenby - Contributor
My hero
We met because I was his hero.
He has been mine ever since.
I first crossed paths with Jarrod Lyle 20 years ago. He was 16 at the time. I was at Huntingdale for the Australian Masters from memory and I signed an autograph for him.
A year later, I received a call from Dave Rogers from the Challenge cancer support network. He told me there was a boy in hospital who was really sick. 'He loves golf, he loves you, and it would mean the world to him if you could pop over and say g'day.'
I headed over to visit him soon after. All his family were there. I thought he looked a bit familiar.
'I remember your face,' I said to him.
'Bullshit you do,' he said with that big smile of his.
That pretty much set the tone for our entire relationship. Lots of laughs. A bit of banter. Tons of honesty and warmth. Not once in the two decades I have known him has he deviated from the values instilled in him back home in Shepparton.
We spoke for a while that day and I eventually said to him, 'Mate, I hear you love golf. How about you hurry up and get out of here so we can play a round at the Capital?'
A couple of weeks later, I got the message he was keen to get out on the course with me.
He was still going through chemo, crook as a dog. But he was determined to get out of his bed.
We didn't play a full round because he was weak from the chemo. The first thing you lose is your strength. The doctors are basically sucking the life out of you so they can put the life back into you. In the circumstances, I was stunned he made it out to the course at all.
But he did. We hit a few balls. We hung out. We had lunch. It was a beautiful few hours.
That was the moment our friendship really began.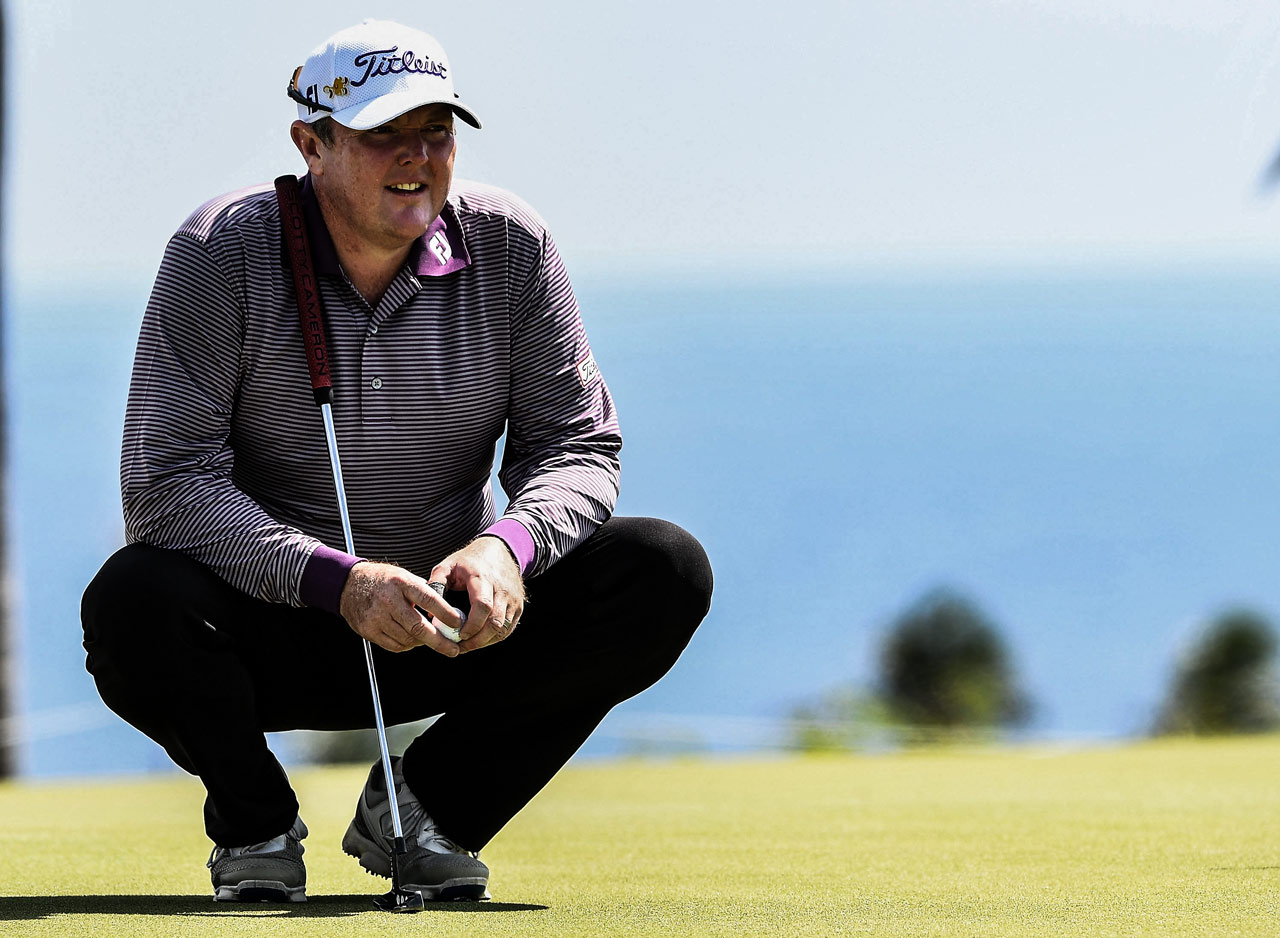 FROM CHEMO TO THE TOUR
Jarrod made it clear from the start that his ambition was to be a professional golfer. But, if I'm being honest, I couldn't see how in the beginning. I mean, there aren't many 17-year-olds who have suffered acute myeloid leukaemia, survived it, then gone out and turned pro.
What I would come to realise over time is that Jarrod possesses a determination, grit and inner strength unlike anybody I've met in my life.
His will to survive and smash the odds is incredible.
I draw strength just from being around him.
I remember clearly the first time I saw him on the PGA Tour. It was the Sony Open in Honolulu, the first official PGA Tour event of the year.
We'd been playing back in Australia prior to that and I'd been trying to pass on lessons and advice I thought might be helpful to him in the US.
We were out on the range on his first day and I said to him, 'It's all going to happen today and tomorrow.'
'What's going to happen?' he asked.
'You're going to be set upon by all the golf manufacturers,' I told him. 'They're going to come up to you and try to put clubs and equipment into your hands so you'll use them.'
I stepped away for five minutes, max, and returned to the range. The reps were all over him!
'Tell that guy there to get nicked! And tell that guy to get stuffed! His clubs are perfect. Get away from him!'
He just laughed as the whole thing unfolded. Always bloody laughing.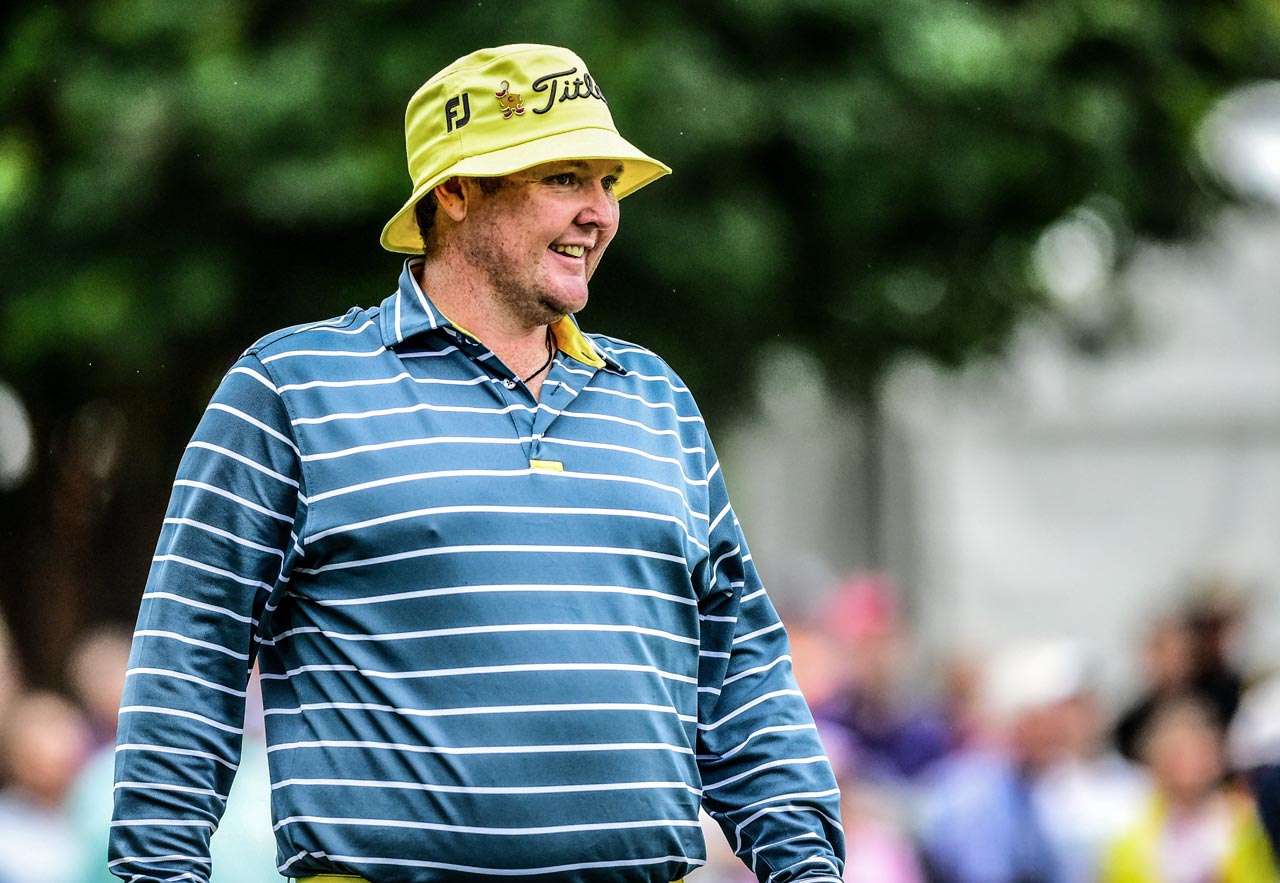 I guess I felt protective of him, knowing what he'd been through to get to the PGA Tour. I tried to be a mentor – and, occasionally, a bodyguard! – because I knew how tough it really was out there on the tour. I knew the kind of focus you needed to succeed.
I'd say to him, 'You're here because you can play. Stay out of your own way. Don't let anyone else throw you off course. Go out there and play your own game.' It's a message I've repeated over and over again in the million practice rounds we've played.
He achieved all that and more. He won tournaments and fans everywhere.
I'm in Reno this week. I have had rules officials, PGA Tour staff, journos, spectators, players, caddies all coming up to me to say Jarrod is the most loved golfer they've encountered on the PGA Tour.
It's true.
'Bullshit you do' … That pretty much set the tone for our entire relationship. Lots of laughs. A bit of banter. Tons of honesty and warmth.
He has a huge heart and has touched many, many lives. His character, his charisma, his generosity, his humility and gratitude are beautiful. He embodies everything good about people.
If you get a chance, jump online and watch the video of him hitting an ace on the 16th at TPC Scottsdale in 2011. If I had to pick one image to sum him up, it's that one.
A smile from ear-to-ear. Arms in the air. Running over to his caddie shouting, 'YOU FUCKING BEAUTY!!!' as the ball bounces once, twice, three times and rolls into the cup.
Woods. ✔️
Lyle. ✔️
Molinari. ✔️

Is there a better place to make an ace? pic.twitter.com/TtqZIKKlvM

— PGA TOUR (@PGATOUR) January 31, 2017
That's just him to a tee.
He's also got a great sense of humour. You know those guys who can be smartarses but say it in a way that doesn't offend anyone? That's Jarrod.
He'll go, 'You know, Robert, you are the biggest wanker I have ever met.'
And I'll say, 'Mate, it takes one to know one.'
THE SECOND BATTLE, THEN THE THIRD
I remember his second bout with leukemia like it was yesterday.
Jarrod had finished fourth at Riviera in Los Angeles and played the Mayakoba Classic in Mexico after that. He was over at my place on a Monday night for a barbecue with a few other people before the Honda Classic.
He said to me, 'I don't feel well. I got bitten last week by a mosquito. I've got this big lump. I don't know what to do, mate.'
The first thing I told him was to head back to his home in Orlando and see a doctor. But then I thought about it for a minute.
'Actually, why don't you just fly back to Melbourne this week instead of next?' I said. 'You're heading back for the birth or your baby anyway. Golf will always be here. Don't worry about that. Your health is the most important thing.'
He went to Orlando and saw the doctors there. They didn't detect anything.
We spoke on the phone. I said to him, 'Mate, change your flights and head home. We have the greatest doctors in the world in Australia.'
So he flew back to Melbourne early, did all the tests, and was told the cancer was back.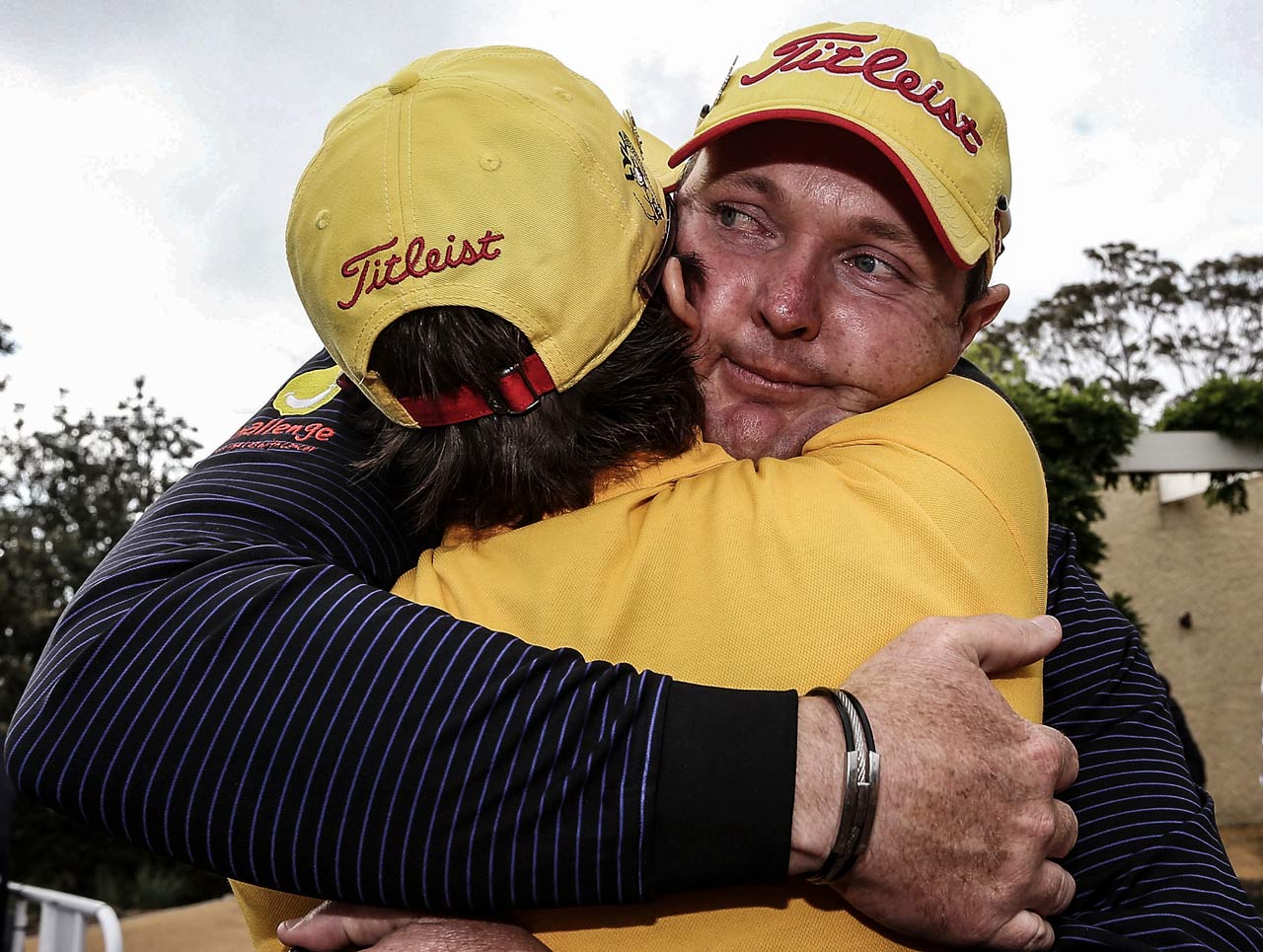 He called me. He couldn't get the words out through the tears. I started crying because I knew exactly what he was trying to tell me. It was devastating.
I pulled it together and said to him, 'Listen, mate. You've got a baby coming. Your daughter is going to want you to be in her life. Draw on all that inner strength of yours and fight this. You've done it before.'
He said, 'Yeah, mate. I will.'
He did it. It showed the character and the strength of the man. That's not to say there weren't rough patches and emotional moments along the way – it must crucify a person inside to think they might not live to see their kids – but he committed to the treatment and came out the other side.
I'm sure there were times where he doubted he'd make it through. That he not only survived, but returned to competitive golf, is mind-blowing. I rate his comeback at the Masters at Royal Melbourne in 2013 as one of the most courageous acts in sports history.
The treatment didn't rob him of his skill. A couple of years ago, at my charity event at the Yarra Yarra Golf Club, we plonked Jarrod on the 15th – a par three with a big, two-tiered green – so he could play a hole with all the participants.
Jarrod hit two holes-in-one that day. Actually, no. It wasn't even a day.
His aces were something like 30 minutes apart. Who does that?!
We celebrated that night. Plenty of beers and then we cracked open the wine. We celebrated life because we never knew how long it would last. We always made sure we did it properly. When cancer hits you twice, the thought of it coming back is always there.
Half of the bone marrow from his transplant the second time around was from a female donor.
For a number of years, even up until recently, we'd be playing and I'd say to him, 'Mate, shouldn't you be playing off the ladies' tee? I could ask the tour for an exemption for you.'
'Allenby, you are such an arsehole,' he'd say, followed by that big Ho! Ho! Ho! belly laugh.
I know it's not very PC but we found it funny.
I have had rules officials, PGA Tour staff, journos, spectators, players, caddies all coming up to me to say Jarrod is the most loved golfer they've encountered on the PGA Tour.
I could tell from the start that this third cancer battle was going to be tough. There was a confidence in him the first two times, an 'I'm going to beat this' attitude.
It was different this time. We were at the Australian Open in November and he said to me, 'I'm really scared. I don't think this is going to be a great outcome.'
I burst into tears. We must've cried a thousand times together through the years.
The problem, in the end, has been the amount of medication put through his system to fight off the cancer. It's taken a massive toll and reached a point where his body can't take any more.
His mind is great, but his body has been deteriorating for a few months now. There have been infections and, over the past month, a loss of eyesight.
I can't explain in words just how hard he has fought this thing.
He beat it twice. And the third time hasn't got him yet.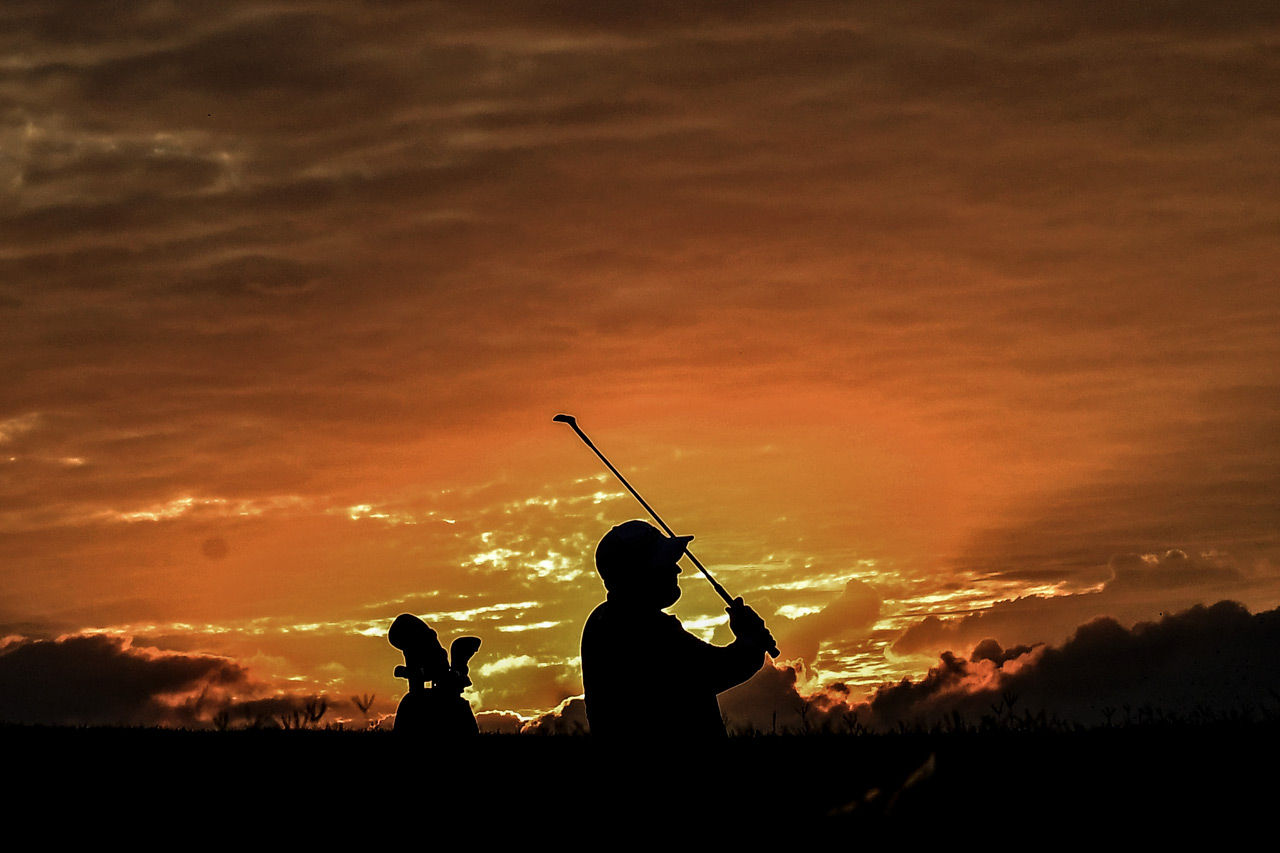 TWO MIRACLES
Briony is an incredible human being. She is the strongest person I have ever met.
To be able to support Jarrod throughout his last two battles with leukemia while giving birth to two beautiful daughters, Lusi and Jemma, and raising them … wow.
I can't even begin to imagine what that has been like for her.
Briony and Jarrod wanted to have children together and there was a time when doctors told Jarrod it might not happen because of all the stress and strain his body had been through. But like with so many other elements of their lives, they defied the odds.
Lusi and Jemma are absolute miracles. The look of joy and love on Jarrod's face when they were born was the most beautiful thing in the world. For as long as I am alive, I'll be there for those kids and treat them like my own.
That goes for Bri, too. She must be hurting so much on the inside. She doesn't show it – she's being strong for Jarrod and the kids – but when the time for gritting teeth is over I hope she knows there will be people there to support her.
I can't fathom the emotions that must be inside her. She's had no time to really process them or let them out. From the moment her first daughter was born, she's been looking after everyone else.
She's doing an incredible job.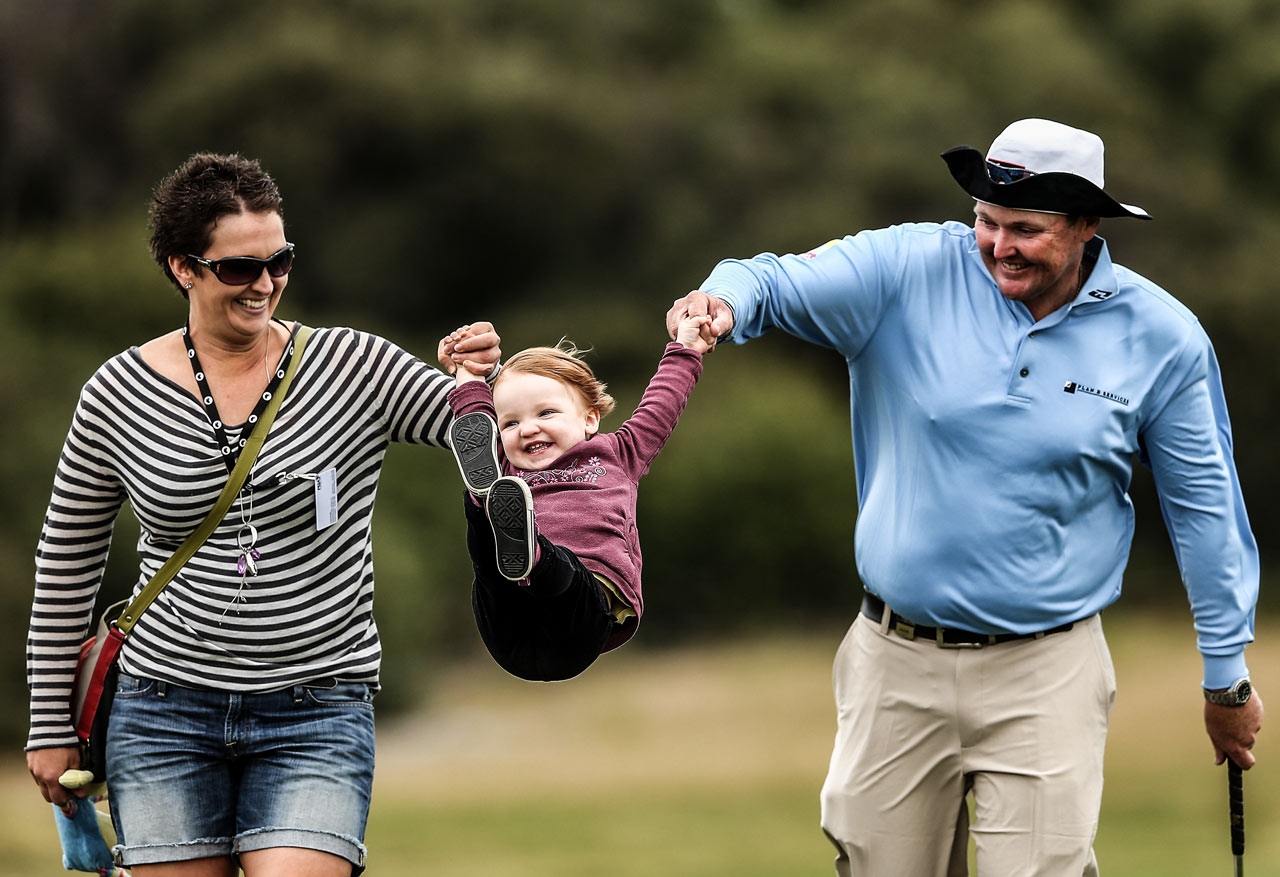 Bri and I were chatting backwards and forwards the night before she posted the news about Jarrod's palliative care on his social media accounts.
She said, 'Jarrod will call you in the morning.'
She said he wanted to talk to me. He called a couple of us over here in the US. It was very sweet of Bri to do that.
I was on the putting green here in Reno when the phone rang. I thought Jarrod was going to call an hour or two later, but he phoned while I was putting.
As soon as I saw his name come up on my screen, I started crying.
I said, 'How you doing?'
And he said, 'Nah, not good, mate.'
He wanted to say goodbye and talk to me one last time. I cracked a joke because I wanted to hear him smile again. I said, 'I'm still the biggest wanker you've ever met.'
He laughed. 'You're right. You are!'
I said, 'Don't worry, mate. Sometime in the future we will be having multiple beers together again.'
It's not a goodbye. We don't know where we're going to end up when we die. I'm a pretty spiritual person and I believe I'll see him again. 
That's pretty much how we left it.
MY HERO
It's hard to think right now. My mind has been so bloody clouded these last few days. All the emotions. I haven't been myself for quite a while.
But here's what I do know: in life, you don't have too many top quality friends – ones you can trust, ones you can call upon. You can count them on one hand.
Jarrod's on that hand for me. There's a bond and a trust that I will cherish forever.
I love him like a brother and count myself fortunate that I have had him in my life for this long.
He's a top bloke and an inspiration to millions. He is loved and admired all around the world.
I hope he is pain-free and at peace.
He is, and will always be, my hero.
FUCK CANCER.
More about: Cancer | Jarrod Lyle | PGA Tour | Resilience | Robert Allenby