A netball husband, an NBA wife
I know it sounds silly but, honestly, it just feels like fate. I really can't believe I'm back playing Super Netball again.
Everything happened so quickly. It all just fell into place, and the timing couldn't have been any more unreal, or more perfect.
I'd retired at the end of last season so we could be together as a family of four in Salt Lake City, where my husband Joe plays in the NBA for the Utah Jazz. I didn't even take a netball with me – although we have basketballs all throughout the house!
In my heart I thought I'd played my last game. I really did. Which is probably why it was so hard.
I would never change that decision, because I put Joe and the family first, and I've absolutely loved our time over in the States. It's just really tough that the sport that I chose for a career isn't actually played over in the US.
So I retired with a really heavy heart and what made it harder was that my body was still feeling good, I felt like I'd got a little bit of form back after having the kids and getting back onto the court. I had unfinished business, but I was also OK with that, because I wanted to support Joe and our family unit.
Retirement after a 15-year professional career definitely left a hole I couldn't fill. Foremost was the team camaraderie. I really, really missed being in the gym, or on the court, or out running intervals, whatever it was – but doing it as part of a team and doing it for one another. 
It's just a completely different motivation, getting yourself to the gym, pushing yourself to your limits just for yourself, when I've always had bigger goals, whether that be to do the best pre-season I could, make a Diamonds team, win a premiership with my club, or a Commonwealth Games or World Cup gold medal.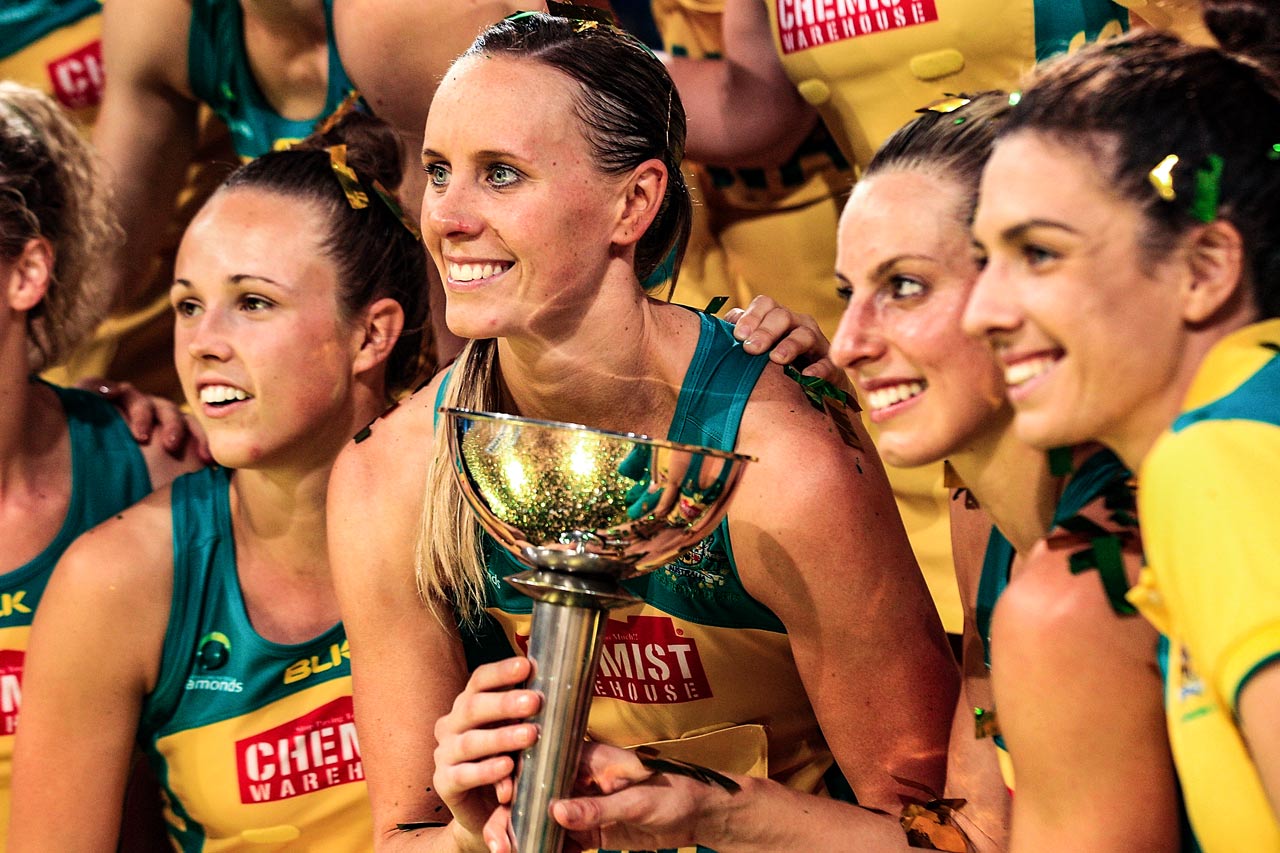 Once I was pregnant I set myself goals of getting back on the netball court, back into Super Netball, so I've always had challenges and reasons to push myself for someone else, for the girls next to me.
After retiring, I didn't have that – even though I wanted to keep myself fit, healthy, and feeling good. I didn't have that. I got bored really quickly!
There was definitely something missing, and every training session I did it was always in the back of my mind that I would love to get back on the netball court. I just didn't actually think it was going to happen, and certainly not at Super Netball level.
So the moment that I got the phone call offering me the chance to be part of the team again, especially in my home town of Melbourne, I knew it was an opportunity I wasn't going to miss.
FANCY SEEING YOU HERE
Joe, the twins and I came home after the Jazz lost in the playoffs, and we were all just really excited to get on a plane and come back to spend some quality time here together.
We arrived on the Tuesday morning and I really ummed and aahed whether I was going to play VNL on the Wednesday night because I was obviously so buggered and jetlagged after the flight home with the twins. It's never easy – it feels like it takes double the time getting home!
But the Wednesday came around and I said to Joe, 'Absolutely I'm gonna play. I've missed netball, and this is an opportunity to get out on the court again and I really want to do it'.
That night I ran into a few of the Melbourne Vixens' girls and a few people in Vixens management. Everyone was a bit surprised:
That I was back in the country.

That I was to be playing netball that night.
By the next morning, the call had come though. The information I was given was that there were a few injuries in the Vixens camp, and that it would be great if I could come back into the space as a training partner.
Retirement after a 15-year professional career definitely left a hole I couldn't fill.
I learnt pretty quickly that Chloe Watson was pregnant, so there was the opportunity to become a contracted player. That was really exciting and very unexpected. And, given I've been in Chloe's situation myself, I know it's so much nicer to be replacing a player due to pregnancy, rather than injury.
When I announced my own pregnancy, I remember saying to everyone that I was determined to come back and play again. I got a lot of raised eyebrows and people looking at me like I was crazy, but I knew I wasn't done. I also wanted to be a role model to the kids, to show that anything's possible if you put your mind to it.
Did I think it was going to be hard? Yes. And once I'd actually had the twins, a month or two in, I thought, 'Oh wow, ok. Now I know why everyone looked at me like I was nuts!'
But netball's been a huge part of my life so for long and, given how far the sport has come, and the support that we have as mums now, it's such a great opportunity to get back out there and show that you can be a mum and have a career as well.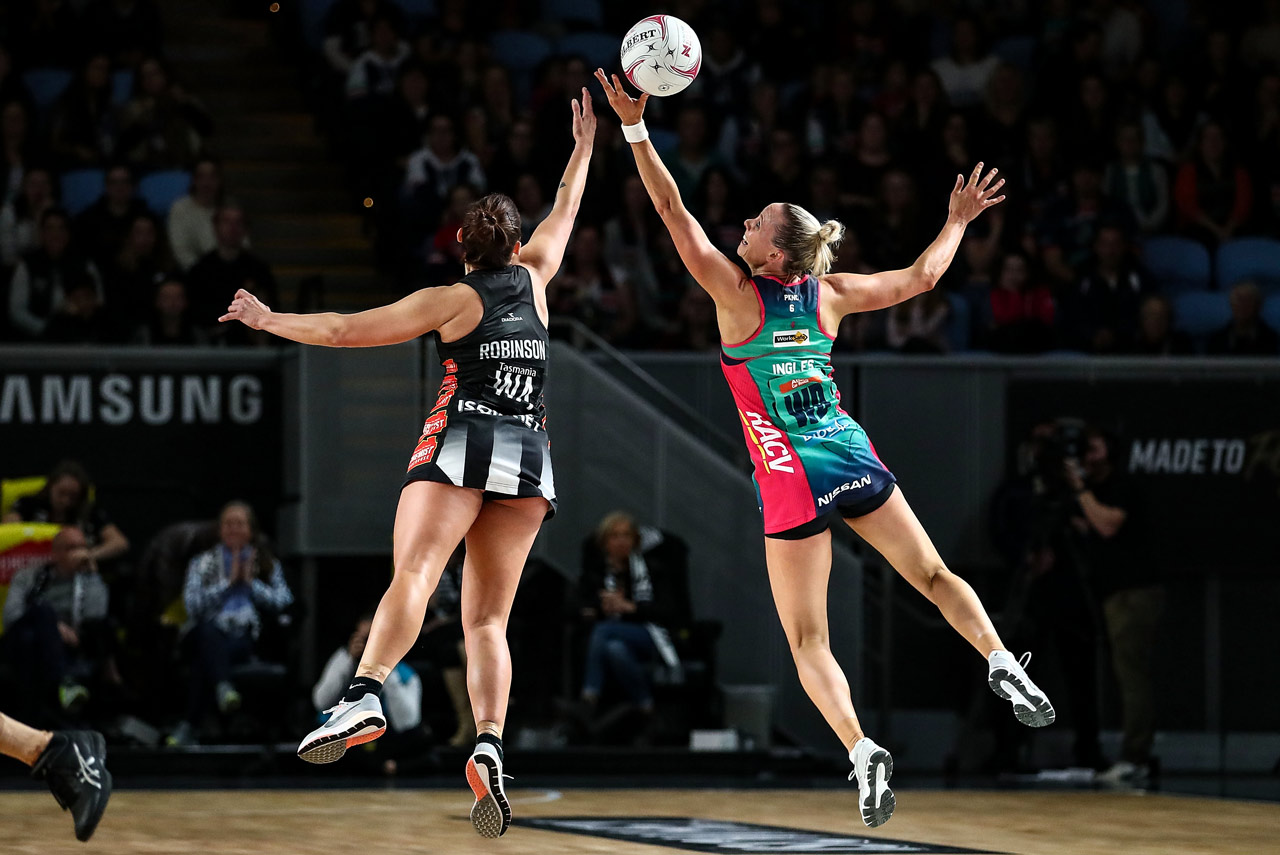 A WAG'S WORLD
Joe is from Adelaide and I grew up in Melbourne, which is where we met. I'd come off a premiership with the Vixens, in 2009, he'd come off a premiership with the South Dragons, and we had a lot of mutual friends.
We have jokes about how we got together, and each tells a very different story. My version is that, for a couple of weeks, Joe begged me to go on a date with him and I kept saying, 'No, no, no, not interested'. He kept begging and begging and eventually I gave in. (I do have to say, though, that once I actually sat down with him for that first date we hit it off straight away and really enjoyed each other's company. I'll give him that much.)
His version is that I had to beg him. Which we all know is not the case.
Joe also says I have better abs than him. That is 100 per cent the case.
A month after we met, Joe moved to Spain and played over there for four or five years, then to Israel, and now he's into his fourth year in the NBA. So we've been all over the world, and done long-distance from all over the world, which was another reason for me retiring last year – just for us to be in the one spot to see what this marriage thing is actually like.
I'm certainly not your traditional WAG, and I still don't see myself as one. I spend more time in sweatpants and sneakers at home with the kids than I do looking glamorous! I'm certainly not involved in any WAG drama or any fun and games in that sense. I guess I just go and support Joe as a wife.
People in Salt Lake City knew that I was an athlete, but no-one there knew what this weird and wonderful sport of netball is that I did for so long! A lot more people now know what netball is though, and a few are begging me to start up a little league there, so who knows? Maybe down the track.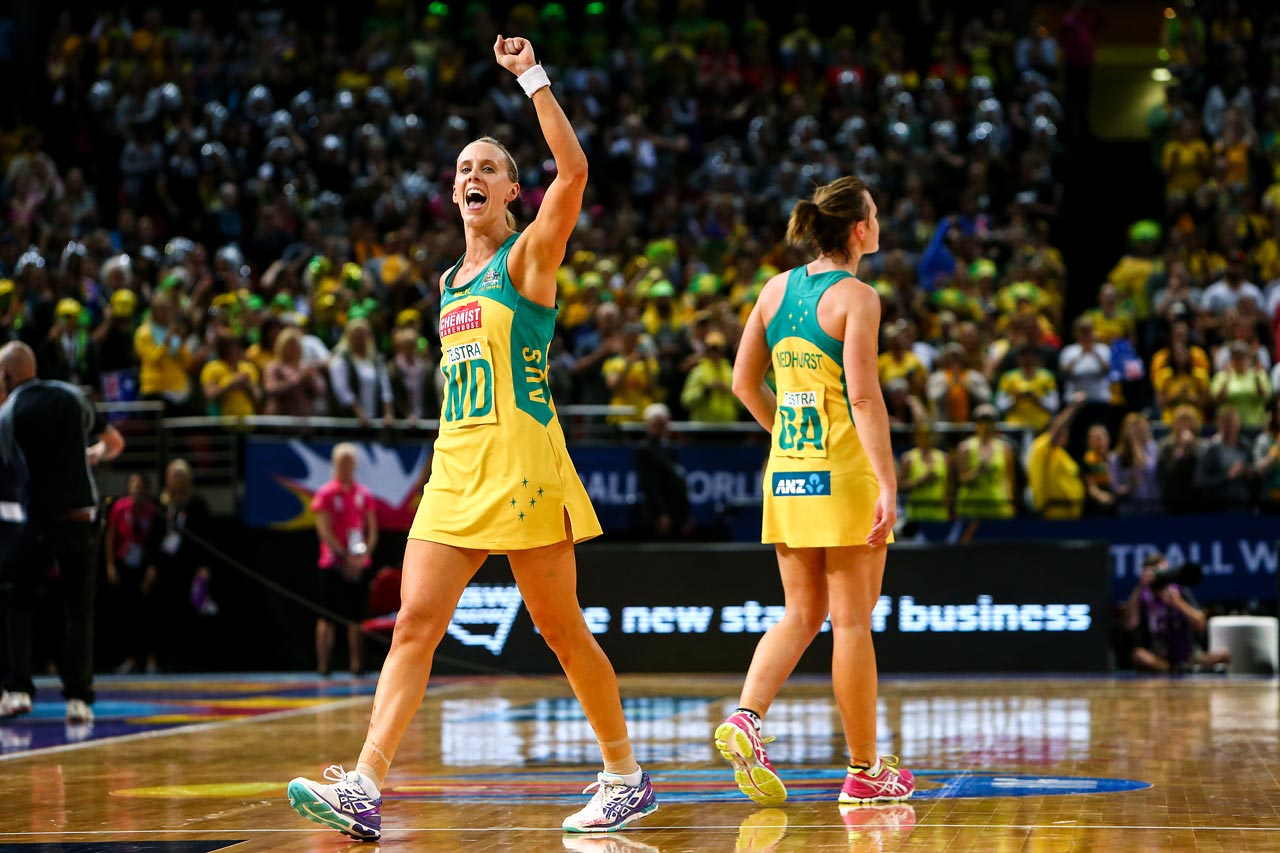 DADDY DAYCARE
There are definitely more pros than cons that come with being part of an elite sporting family. We both know it's such a short lifespan as an athlete that you've got to give it all you've got while you can.
I understand 100 per cent from Joe's perspective the ebbs and flows and demands of a season, going from a club level into an international level and all of the pressures that come with that. And vice versa. Joe gets it, too.
Having the kids has added another dimension to that. Jacob and Milla are going to be two next month and being away from them is honestly the hardest part of coming back to the netball space. We're lucky in a way that we don't have 9-to-5 office jobs because, whilst we're busy, we can still make our schedules work so that one of us is with the kids when the other is at training or travelling for a match. My parents have also been a huge support to us, and to my comeback.
It's actually nice this year that we've done a complete role swap, and Joe's at home as a full-time dad. And as a house-husband, I have to say Joe is exceptional.
He's not only a full-time Daddy Daycare, but he's an incredibly supportive husband, as well. So he ticks all of the boxes; not only making sure the kids are happy and healthy, but keeping the house in order. I have pretty high standards, so it's a tough thing to do!
Jacob and Milla have always got a ball in their hands, and they love the atmosphere whenever they go to Joe's games, or mine. They haven't quite got the concept yet of clapping for mum or dad's team; at the moment they just clap whenever any goal's scored, but that's OK. And they're pretty used to being in change-rooms or around some pretty tall people. So they're not too intimated by that. For their age, they're pretty tall, too.
Motherhood has changed me. Yes, I'm the same Renae Ingles that I have always been but you just have so much more perspective now. 
In a netball sense, everything had to be perfect before. All the boxes had to be ticked in my preparation, in everything, whereas now there's more of a sense of calm in what I bring because I prioritise the big things and get them done, and the little things just don't matter any more. What matters is that my kids are safe, happy and healthy and that I get the chance to go and play the sport I love.
It's just a different sense of enjoyment, because there's really nothing quite as special as looking up into the stands and seeing your kids up there. Now I know what Joe means when he says that. It's true.
Joe's not due to go back to Utah until September, so at the moment I'm really just focusing on this season and the next game, playing my role for the team. But I can exclusively say that I haven't written off next year. I'm really enjoying getting better and better each week, and learning and experiencing netball with a different group.
So I'm not saying yes, but I'm not saying no. We'll explore that later in the year. There are possibilities. It's harder logistically than it is physically, so it's just getting those logistics right and seeing how we go.
As cliched as it sounds, receiving my Vixens dress from the girls the night before my first game, was so, so special. I'm not a junior. I'm 31, and I really am the veteran-come-new-kid-on-the-block at the moment.
I would never, ever take an opportunity like this for granted, but it's certainly a little bit more special now, knowing how I was feeling once I'd retired, and how it feels to be back.
More about: Diamonds | Joe Ingles | Melbourne Vixens | NBA | Sponsored | Super Netball | teamgirls | Women's Sport