Singing our way through adversity
The incident that could've derailed us ended up being the making of us.
We lost our final World T20 pool game to India by 48 runs. We didn't play as well as we would've liked and, to make matters worse, Alyssa Healy and Megan Schutt collided in the field leaving Midge with a concussion.
The defeat meant India finished on top of our group and we would face the West Indies – the tournament hosts and defending champions – in the semis. In each World Cup I've been a part of, there has always been a moment you look back on and acknowledge as the fork in the road. A point when you overcome adversity or let it get the better of you. This was ours.
The very next morning we were scheduled to visit a local school in Guyana. The disappointment of the loss to India was still pretty raw. There are plenty of teams out there who would've let that drag into the next morning.
But here's what happened instead.
Sophie Molineux jumped on the DJ decks. Our unofficial song on tour was Believe by Cher – someone played it on the team bus one day and we all just ran with it – and she pumped it out over the loud speakers at the school. We were all dancing away and having a laugh with the couple of hundred students who'd gathered to meet us. It was an absolute blast!
DJ @SophieMolineux1 showing off her skills ? #WT20 pic.twitter.com/HOpo18309R

— Australian Women's Cricket Team ? (@SouthernStars) November 14, 2018
I thought, 'You know what? Our team's in a really good place.'
It was a big moment.
Instead of getting down or making excuses or blaming each other, the disappointment actually brought us closer together. That's how good teams operate. We worked on what we needed to and beat the Windies by 71 runs in the semi-final and met England in the decider in Antigua.
There was a point where we needed 15 or 20 runs to win the final with wickets in hand and overs to spare. Ash Gardner and Meg Lanning were set and the win was pretty much locked away.
I was padded up and took a few seconds to stop, think and take it all in.
I looked to my right and saw the happiness on the faces of Alyssa, Soph, Schuter and Ellyse Perry, and I thought about the pain of getting knocked out in the one-day World Cup last year, the work we'd done since and my own journey. The joy erupted when we hit the winning runs and again when we were presented the trophy by Viv Richards. I'll never forget it.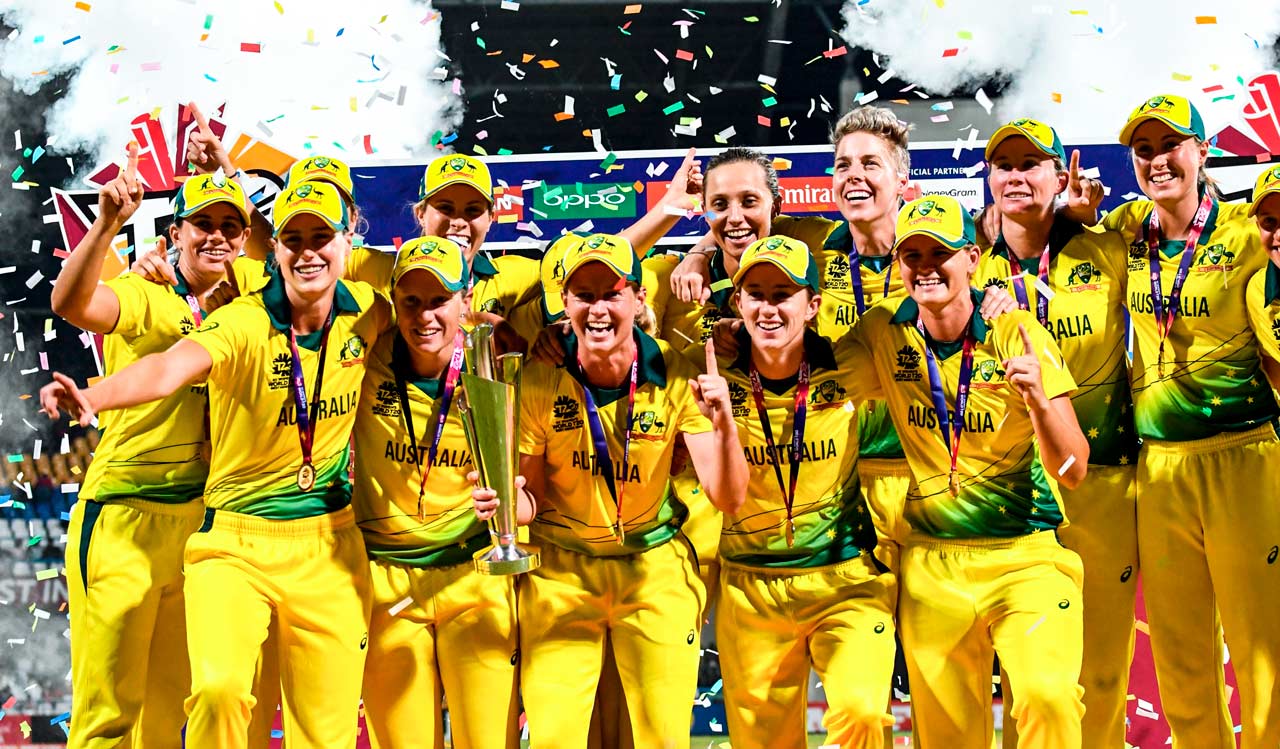 Afterwards, when the cameras were packed away and the crowd had gone home, the players and support staff gathered in the middle of the Sir Vivian Richards Stadium. Our coach Matthew Mott and I made a point of speaking early in the evening to reflect on the last 12 months.
There are so many times in your sporting life when you work towards a goal and, for whatever reason, you fall short. But when you actually achieve that objective? Wow.
Those are the moments you cherish as a player.
THE EVOLUTION
The week or so since we've been home has been eye-opening.
One of my first-ever series playing for Australia was the World T20 in the Caribbean eight years ago. We won that tournament and came home to a nice lunch with the Cricket Australia staff.
This time, there was a public reception in Fed Square.
There were hundreds and hundreds of kids and office workers and well-wishers, all of whom had been really engaged in the tournament. It was a bit overwhelming, to be honest, and it showed me just how far we've come as a team and a sport.
And they played the Cher song! Someone had done their homework on us.

I spotted Belinda Clark in the crowd. She was one of the great pioneers of women's cricket and someone who fought hard behind the scenes to evolve our game.
I also had a chat with Karen Rolton at the opening round of the Women's Big Bash at Junction Oval. She's another one who played a massive role in the rise of women's cricket. She's a coach these days – she would've absolutely dominated the WBBL as a player! – and you can tell how proud she is about how far the game has moved in her lifetime.
I'm proud, too. It's a privilege to be part of this generation of women's cricket. When I started my career, the only people watching us would be immediate family and friends. Today, we play in front of big crowds and our matches are broadcast live to hundreds of thousands of people across the country and millions around the world.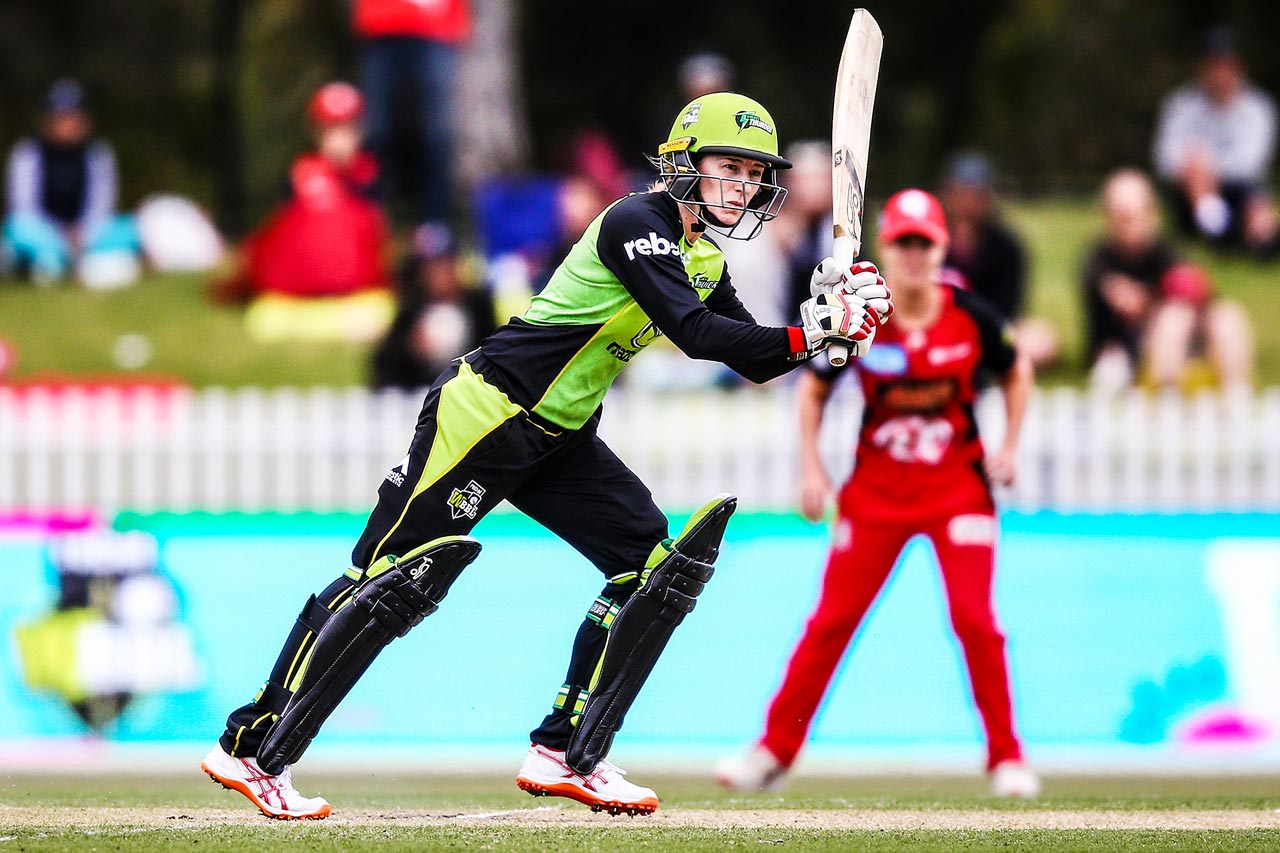 There was a moment on the weekend that gave me goosebumps.
A young girl came up to me wearing a Stars outfit she had made. Her name was Erin and she said hello and gave me a high-five. What struck me was that she wasn't supporting a women's team or a men's team. To her, they were halves of the whole. 
She just loved the Stars. Gender didn't come into it.
That's completely new ground and exactly where we want to be.
We won the World T20 eight years ago and came home to a nice lunch with the Cricket Australia staff. This time, there was a public reception in Fed Square.
I know for a fact that none of this generation of women's cricketers is taking it for granted. We want to capitalise on the excitement and exposure we're getting across the national team and WBBL and bring more and more people along on the journey with us.
I'd like to think that by the time I retire, many women's cricketers will be genuine household names and there'll be lots of buzz around big contests. Imagine a Thunder-Sixers WBBL clash with all of Sydney getting behind it. It's exciting just to think about! And I think we're well on the way to getting there.
The next World T20, recently renamed the Twenty20 World Cup, is in Australia in a little over a year. As hosts and defending champions, I'd love to think we'll pack out a few stadiums during the tournament. That would be incredible and continue the great momentum that's been building.
More about: Alyssa Healy | Australian cricket team | Ellyse Perry | Rachael Haynes | Southern Stars | Sydney Thunder | T20 World Cup | WBBL | Women's Cricket | Women's Sport