'Weird trait' that set Cronk apart
Cooper Cronk has announced he will be retiring from the NRL when his two-year deal with the Sydney Roosters finishes at the end of the 2019 season.
He talked about the friendships he's developed in the game, across a career with Brisbane Norths, Melbourne Storm, the Roosters, Queensland and Australia during a press conference on Monday. Meanwhile, the rugby league community paid tribute to him.
This is PV Heat, a home for the best athlete reactions to the biggest news in sport.
Cooper Cronk …
The game doesn't exist without the NRL community and therefore I don't exist. The game cops its whacks every now and again, but the game has ability to transform lives and it transformed mine.
To everyone that's played a small part or a large part, I'm forever in debt because rugby league has given me an opportunity to play the game I've loved and given me the opportunity for a life I never thought was possible.
I really appreciate everything Melbourne Storm has done for me. I moved to Melbourne as an 18-19-year-old kid just with an opportunity.
Without Melbourne Storm I don't stand here today. If I can just highlight a few people: the big three of Melbourne Storm – Craig Bellamy, Billy Slater and Cameron Smith.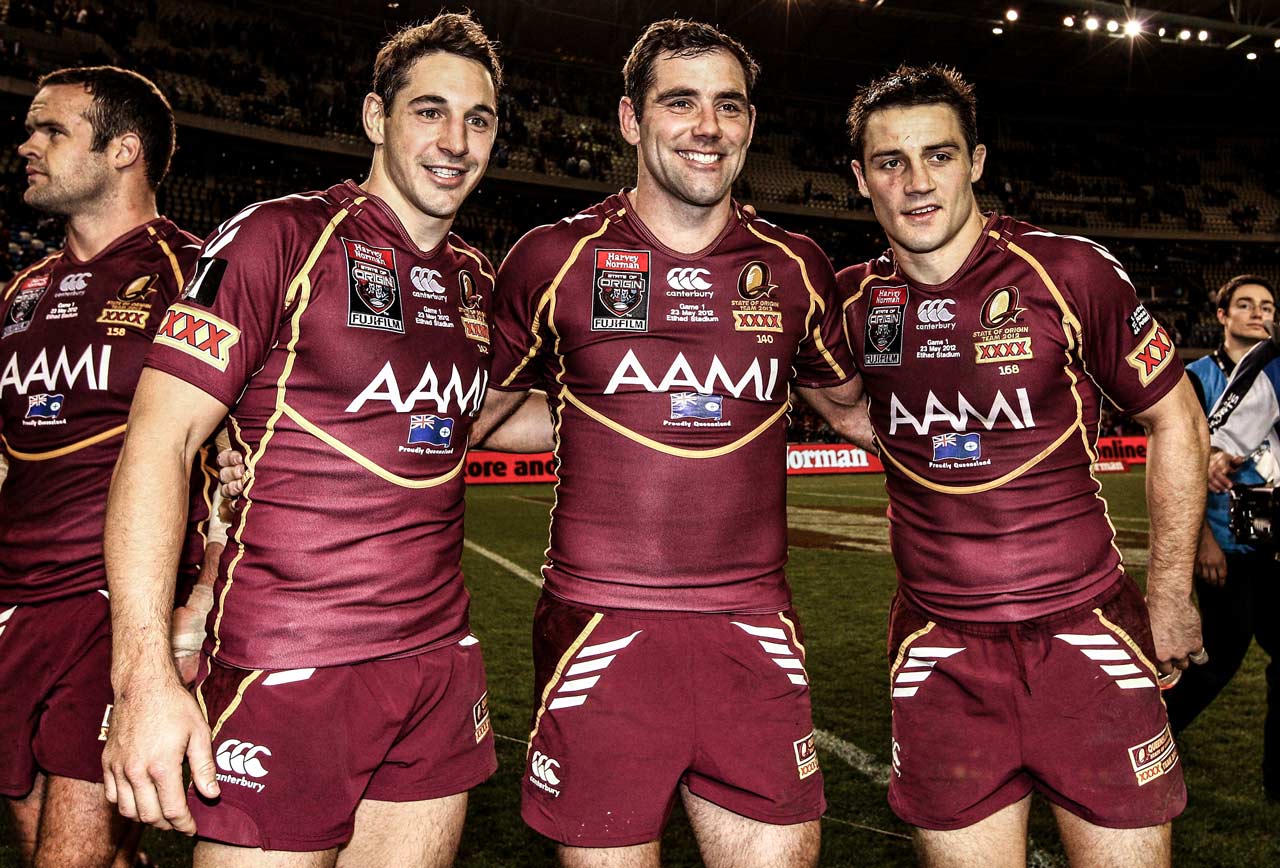 I'll start with the two lads first. To Billy and Cameron, I don't think 'thanks' cuts it, to be honest.
Those two guys will go down in history as the best two players in their positions for as long as the game of rugby league is around.
That probably makes me the best third wheel the game's seen too, because I just jumped on the back of whatever they were doing from the first day I met them at Brisbane Norths to our last game on Grand Final day in 2017.
My job was pretty easy – a future Immortal would pass the ball to me and I'd just pass to another future Immortal. Things were pretty cruisey and I really appreciate the things they did for me on the field.
But it's also the moments off the field that aren't seen by the cameras, it's the weddings, the births, the parties, the good times. I'll be forever grateful for what those two guys did for me on the field and off.
The game cops its whacks every now and again but the game has ability to transform lives and it transformed mine.
In 2001, when we met at Brisbane Norths, who'd have thought we'd have that journey together and I'm humbled my name gets spoken of in the same breath as those two.
To singlehandedly the most influential person in my football career – Craig Bellamy.
There's not too many other people on this planet I respect more than Craig Bellamy. From what he did for me as a young kid all the way through to my last days, we achieved a hell of a lot. But the best thing I think fondly about is our mateship.
I can't wait for him to shout me a beer because he's never shouted me a beer in 15 years. To share a beer and memories, not just about footy but as mates. Because that's what Craig is to me, he's a mate first and a coach second.
In terms of football stuff, the work ethic, the humility, the dedication and overall what it takes to make it, he taught me that. I wouldn't be having the career or fond memories that I've had without Craig Bellamy because he had a major impact on that.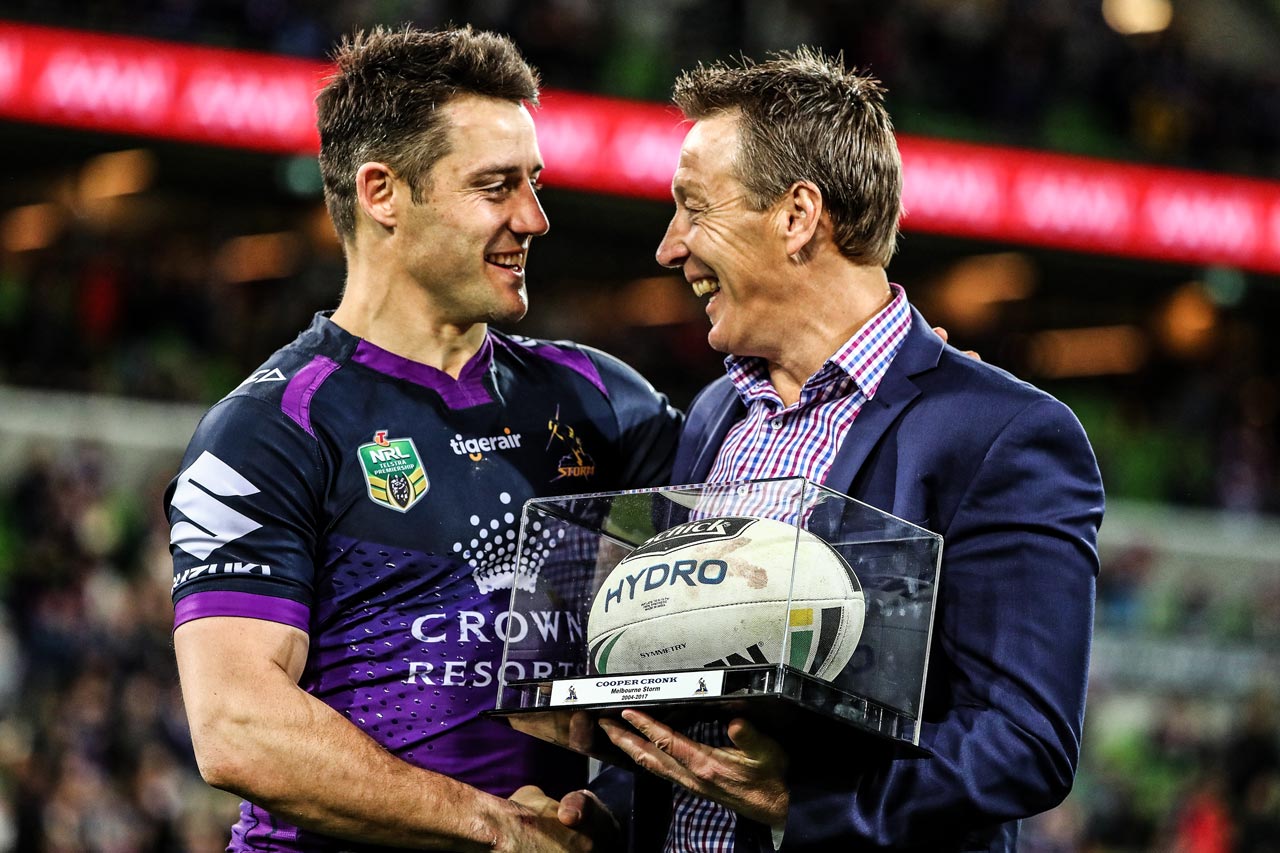 The Roosters have a reputation of living the high life in the eastern suburbs, sipping on lattes or whatever, but experiencing it there's a lot of heart, a lot of care, a lot of emotion and a selflessness that exists in the Roosters emblem, and that's because of people like Nick Politis and Trent Robinson.
I still don't know why they chose me today with the decision they made but I'm very grateful for it because they allowed me to have the two loves of my life in football and my family here in Sydney, and we achieved the ultimate thing last year.
They sacrificed a lot for me to come here and I still don't think I've lived up to that, and I'll be doing everything I possibly can to repay that debt.
I've had a little bit of a chat to the lads back at headquarters. Those guys mean a helluva lot. They've played a significant part in me in the past 18 months.
I'll never forget the sacrifices they made for me to be a part of this. There are examples in football clubs where big decisions have been made and they don't work. They only work because of the people in this organisation. From the bottom of my heart, thanks to everyone who wears the red, white and blue ‒ I hold you close to my heart.
My mum and dad, thank you for driving me around to every sporting field in the state of Queensland for 15 years. I've just had my own child and, for the first time in my life, I've actually known what my parents did for me from the age of zero through to 17.
I'm going through the lack of sleep at the moment and had to tell my mother on Mother's Day 'thanks very much for everything you've done', because as young people we don't actually understand what they do.
To my mum and sister specifically, the women who have influenced me in my life to be the person I am today. Their dedication, humility and selflessness is the only reason I am the person I am today. They support football, but they support me the person wholeheartedly. There are not many thanks or gifts I can give them to catch up to what I owe them.
I called my grandmother last night and told her about my decision. She said, 'I thought you would have said that after you got sinbinned and played poorly on Friday night'. I said, thanks Nan 'I appreciate that'.
Finally to the best things that have happened to me, my wife and my son Lennox. Life's never been better. My wife is the best thing that's ever happened to me and, ever since the day we met, I honestly wake up with a smile on my face and I go to bed happy at night because my wife and son are the two people I see first and say good night to last. I look forward to being the dad I hopefully can be and passing on as much love care and support and overall hugs and kisses to those guys for the next 50, 60, 70 years.
More about: Billy Slater | Cameron Smith | Cooper Cronk | Craig Bellamy | Kangaroos | Luke Keary | Melbourne Storm | Queensland Maroons | State of Origin | Sydney Roosters | Trent Robinson