Best of athlete storytelling worldwide
The great concussion debate
The gloves came off, so to speak, between James Graham and Peter FitzSimons this week over the emotional and complex issue of concussion.
The timeline starts with a revelation from Andrew Johns that his recent epilepsy diagnosis could be linked to head knocks he received during his career.
Interviewed the next day, Dragons forward Graham said he'd "gone and done the homework on" concussion and was aware of the risks, "but what else am I going to do?"
Enter, Fitzy – the ex-Wallaby-turned-media guy and vociferous elucidator of the dangers of head trauma in sport – who gave the Englishman a bit of what-for in a Sydney Morning Herald column titled 'Graham must wake up to dangers of concussion'. Graham's response on his club's website leads this edition of PV Clips.
Also this week, Pat Cummins discusses a teammate's mental health journey at Direct Hit, King James pays tribute to C-Bosh at the NBA, Religion of Sports delves into rodeo culture and Coach K is revealed as a Queen Bey fan.
At Uninterrupted, 'The Gronk' explains why, despite being worth squillions, he wears clothes until they're dead, a little-known boxer makes an offer to 'The Man' at Exclusive Insight, and Justin Westhoff's former teammates reveals what aspect of his public image annoyed the players, in a piece for the AFL Players' Association.
These are our favourite stories this week about elite sportspeople, as told by elite sportspeople, from our favourite athlete platforms around the world. Just like you get on AthletesVoice everyday.
GRAHAM RETURNS SERVE
If anything can be gleaned from reading James Graham's response to Peter FitzSimons', posted on the St George Illawarra Dragons website, it's that the tough Pom takes concussion seriously.
In the lengthy 'statement', the player references numerous studies and sources which have seemingly given him a well rounded understanding of a complex subject.
Interestingly, he also makes a suggestion about how the NRL might mitigate the incidence of concussion among players.
"One suggestion of mine is the restarts. Greater distance between players tends to mean a greater force in the collisions. If this is proven, what does the game look like moving forward?"
Dragons front-rower James Graham has penned a personal statement, in response to a Sydney Morning Herald article aimed at him late last week in respect to his views and comments on concussion.

Read here: https://t.co/AbnQnpa1op#redv pic.twitter.com/n8QeWuKf3B

— The Dragons (@NRL_Dragons) March 24, 2019
MO'S MESSAGE
By making public his mental health problems, Moises Henriques further helped de-stigmatise the issue. Seeking help can be hard for anyone. But, for those in the public eye as athletes, there is another layer of apprehension that can creep in.
In this lovely three-minute package at Direct Hit, AthletesVoice founding contributor Pat Cummins explains the importance of Henriques' decision to talk about his condition.
"To come out the other side and share his message, share his story, be so open – I think it shows incredible bravery," Cummins says.
"I think he's going to help out of a lot of other people around him in similar circumstances."
A beautiful tribute from Pat to his great mate Moises Henriques – who has bravely shone the light on mental health.

Good luck to Moises in the #ShieldFinal, starting on Thursday pic.twitter.com/zUkAq9GnVr

— Direct Hit (@directhitau) March 27, 2019
WORDS FROM KING JAMES
Chris Bosh has called it a day and Miami Heat went all out to make it a ceremony to remember, culminating in the prized jersey retirement.
His old teammate, a handy player named LeBron, paid tribute with some words posted by NBA.
"Congratulations to my man C-Bosh, CB," James said. "Listen, I don't win my championships in Miami without him – without you. He meant enough to that team in Miami, when I was down there my four years, even the couple years after, when I was gone.
"He's just the true definition of what being a professional is all about."
Meanwhile, we're just trying to get our head around LeBron's get-up.
CB Forever! @KingJames to @chrisbosh! #ThankYouChr1s pic.twitter.com/9OA9mf23go

— NBA (@NBA) March 26, 2019
YES SIR, YES MA'AM
Rodeo culture is as American as apple pie. In this Religion of Sports documentary, the heart of the US and Canadian west and midwest beats to the sound of hoofs and lassoes, and the story of three riders chasing the top prize at the Calgary Stampede.
"Rodeo is a time warp," one rider says. "It is stepping back in time. And, there's parts of that I cherish so deeply."
Another says: "Rodeo definitely offers a touch of the primitive side of what we were. The old west is something that a lot of people from a lot of different walks really fantasise about."
Giving your all to your sport comes with immense sacrifice. Sometimes, those stakes are higher than others.

?Watch the full episode here: https://t.co/QTI9UxsSes pic.twitter.com/SyVobcTRf8

— Religion of Sports (@religionofsport) March 24, 2019
COACH K AND QUEEN BEY
Over a near-40-year career as a coach, you must come up with a range of strategies to motivate your players.
For Duke University legend Mike Krzyzewski, apparently a big Beyonce fan, 'Queen Bey' provided the spark at one time, according to Quinn Cook, who played under 'Coach K' at Duke and is now a Golden State Warrior.
"We were barely beating teams we were supposed to man-handle," Cook recalls in this interview at Uninterrupted. The team was brought in to a theatre, where Coach K showed them footage of Beyonce mustering her staff before a performance that night.
"He's showing how hard she's practising, she's rehearsing, for her show," Cook says. "It was a little correlation about how hard you have to practise for it to transfer to the court."
The full interview is here.
Coach K is a @Beyonce fan.
Coach K is all of us. #MarchMadness | @RoadTrippinPod
?: https://t.co/1Gksi34Gay
?: https://t.co/SAsjsKaRLY pic.twitter.com/V0FDFFXCQN

— UNINTERRUPTED (@uninterrupted) March 27, 2019
GRONK FASHION
When you've been earning somewhere in the region of $10 million a season for much of your career, finding things to do in retirement might seem a little easier.
In this edition of Kneading Dough at Uninterrupted, NFL superstar Rob Gronkowski – aka 'the Gronk' – admits he's going to have some fun now that he's stepping out of the limelight.
However, the Patriots axe lets on, he's unlikely to be spending up on what he wears.
"No matter what, if I like the clothing and I like the shoes, I'll wear those shoes and I'll wear that clothing down until it's rag-dolled."
Now that he's retired, maybe @RobGronkowski will relax and start having some fun with the money he's earned…?? Enjoy retirement big fella! #TightEndGOAT #MoreThanAnAthlete@chase | #KneadingDough pic.twitter.com/4BWxKuXrxQ

— UNINTERRUPTED (@uninterrupted) March 27, 2019
BOXING THE MAN
Michael Zerafa is a man on a mission. After breaking the news to his parents that he was leaving school to pursue a career in boxing, the 26-year-old has maintained his drive, despite the loneliness and negativity he's encountered.
"There is one fight I am out to lock down and that's Anthony Mundine. It's a fight I've wanted since I was 15 years old," Zerafa writes in this from-the-heart piece at Exclusive Insight.
"I remember sending him a message when I was 17 years old, you know saying I was a big fan, one day I will fight you and you know he replied back, 'Oh I appreciate the support, all the best of your career. Hope to see you down the road."
Zerafa writes that the greatest respect he could show Mundine would be to "force him into retirement for a final time".
Read his story here.
WESTY THE WORKER
There seems to have been a nice relationship built up between Jasper Pittard and Justin Westhoff during their time together at Port Adelaide.
In this piece at AFL Players' Association, to mark Westhoff's 250th match, Pittard reveals he of the magnificent beard to be a kindly and humble man. However, Pittard reveals that one aspect of 'Westy's' image was definitely off the mark.
"One thing that was frustrating is the perception from the outside that he was laconic. Westy was one of the fittest and most hard working guys at Port Adelaide," says Pittard, who's now with North Melbourne.
"It used to frustrate all of us that he was labelled with that tag from the outside because internally we knew that he was anything but that."
"He's never done anything for recognition, he does it because he thinks it's the right thing to do." #AFLPowerBlueshttps://t.co/id3elbXSzx

— AFL Players (@AFLPlayers) March 27, 2019
THIS IS FOR NATHAN
Josh Hodgson says he loved his brother more than he would ever know. Sadly, Hodgson's older brother, Nathan, passed away in December. He had struggled with clinical depression, Josh writes in this piece at AthletesVoice.
"When we farewelled him, I made a plan," he says.
"I want to win the grand final with my wife and kids in the stands and Nathan looking down over his little brother, proud as ever. Then I'll take the trophy back to England where he is laid to rest, crack open a beer, sit there with him and say, 'I did it, mate.'
"I promised myself I would do everything in my power to make it a reality."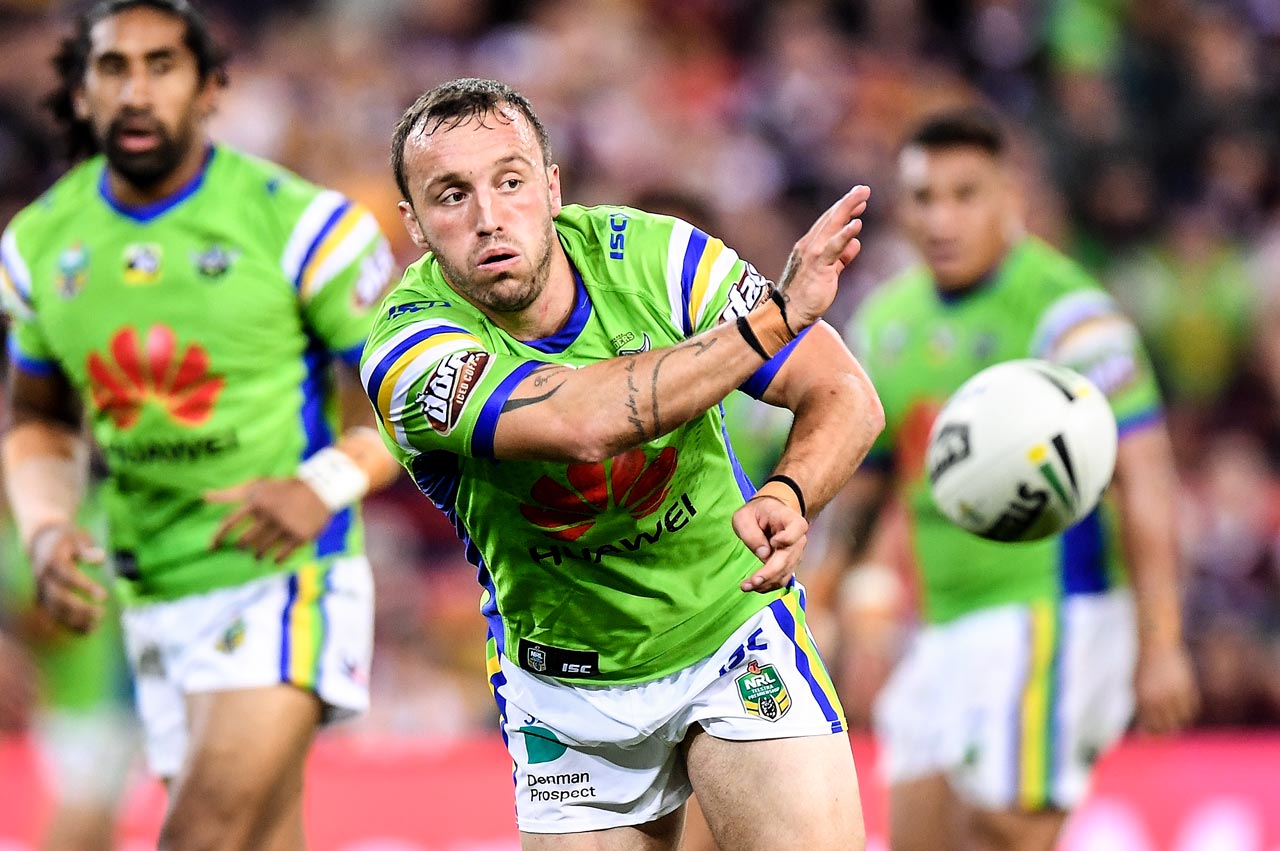 More about: Anthony Mundine | Boxing World Champion | Concussion | NBA | NFL Draft | North Melbourne | Pat Cummins | Port Adelaide | St George Illawarra Dragons