Best of athlete storytelling worldwide
His spirit has returned
Stuff we didn't see coming in 2018: NSW leading the Origin series after game one, the West Coast Eagles leading the AFL at the halfway mark of the season, and the Penrith Panthers leading the NRL at the same point.
By the way, did you know that Panthers are not a cat in their own right? They're actually a black version of a jaguar or leopard or other big cat that pops out reverse albino. True story.
Here are some other true stories we liked this week. These are our favourite stories about elite sportspeople, as told by elite sportspeople around the world, from our favourite athlete platforms. Just like you get on AthletesVoice every day.
the more things change …
America's NFL recently banned the act of 'taking a knee' – the protest started by former 49ers quarterback Colin Kaepernick, who said 'I am not going to stand up to show pride in a flag for a country that oppresses black people and people of colour'.
We've been to a very similar place before.
Fifty-one years ago this week, a group of prominent American black athletes came together to support Muhammad Ali in his fight for justice at an event known as 'the Ali Summit'. That, too, was frowned upon by sports authorities.
There's a new documentary about that event called 'United We Stand: The Ali Summit' and there's a trailer right here at Uninterrupted – the digital platform owned by LeBron James.
LeBron James shares his thoughts on the Philadelphia Eagles being uninvited to the White House.#NBAFinals pic.twitter.com/yeQOwXeMbG

— NBA TV (@NBATV) June 5, 2018
For the record, James this week said that no matter who wins the 2018 NBA Finals series, no one plans to accept the invite anyway to the White House. The man is no fan of the president's opposition to athletes taking a knee, so it's no surprise he's helping plug the Ali doco.
harnessing the passion
We liked this story about Canberra Raiders NRL captain Jarrod Croker and his passion for harness racing.
There's also a funny moment at the start where he recounts how when he was a nice young Catholic boy, he would take Communion at church with his footy gear underneath so he could dash off to the game immediately after completing his religious duties. You can find the story at Exclusive Insight.
Jarrod Croker still has a burning desire to play for the @NSWRL, and at 27, the @RaidersCanberra captain has time on his side. https://t.co/GTuhk1gUl4 pic.twitter.com/uok6vLd0mn

— exclusive insight (@exinsight) June 2, 2018
amazin' JASON
Recommendation for a quiet evening over the long weekend: this poddie from former North Melbourne Kangaroo and Bali bombing survivor Jason McCartney. It's haunting stuff.
From a young man growing up dreaming of playing League footy, to lying in a hospital bed fighting for his life, this is a story of tragedy, courage and iron will.

The Moment, Jason McCartney, tells Jason's story >> https://t.co/HBCSG3tlJj@jasmac5 @MarkHoward03 pic.twitter.com/w0IN27jJ0A

— PodcastOne Australia (@PodcastOneAU) June 7, 2018
the man who beat an 'unbeaten' fighter
If you haven't yet watched our fantastic Jeff Horn fight diary, get around it. Each day this week, we've brought you an instalment of our inside view of Horn's training and life as he prepares for his title fight against unbeaten American, Terence Crawford.
Crawford, by the way, is one hell of an interesting guy. Dude got shot once. In the head. This actually happened. You can read his full story here to see how he survived – and we should point out that no other Australian site or platform has gotten Crawford to say a word about himself.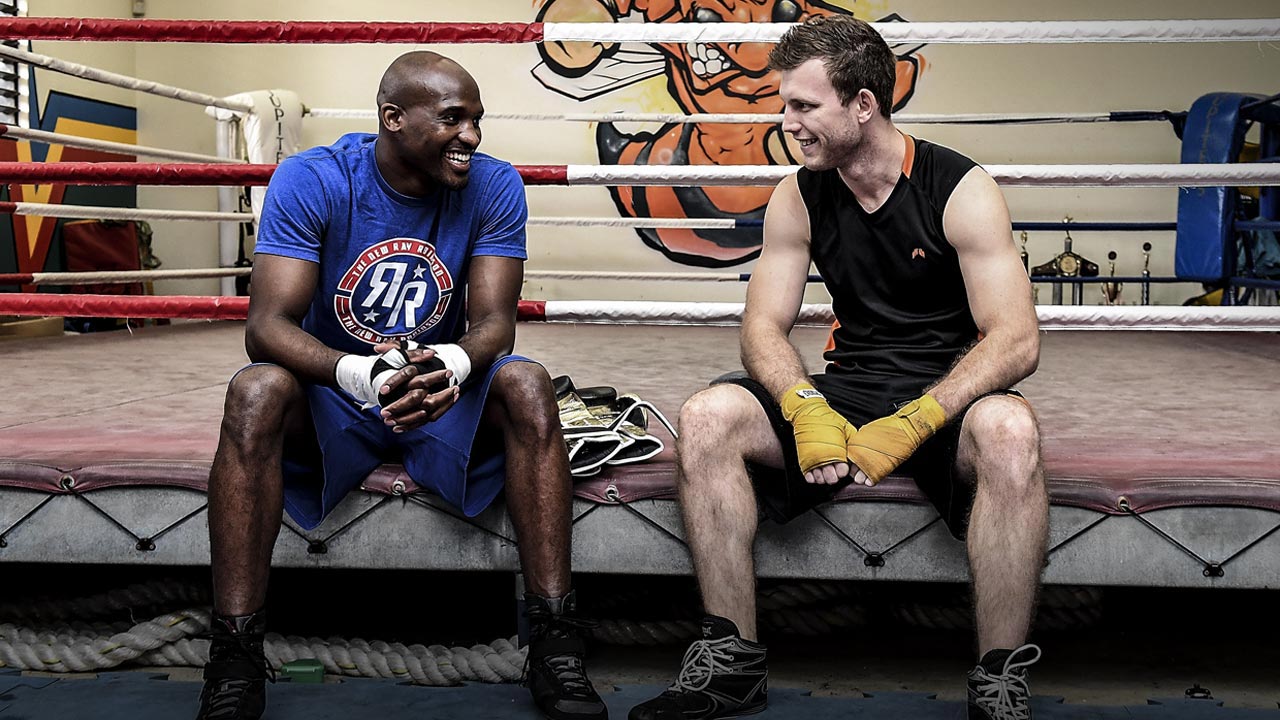 Plenty of keen judges rate Crawford among the best two or three boxers currently fighting anywhere in the world. His professional record reads 32-0. But here's the catch. He lost back in his amateur days, and the guy who beat him was American Ray Robinson, who's been sparring with Horn in training.
Here's hoping that after next weekend, Robinson ain't no Robinson Crusoe in terms of beating Crawford.
More about: Boxing World Champion | Canberra Raiders | Cristiano Ronaldo | Jarrod Croker | Jeff Horn | LeBron James | NBA | Terence Crawford