Best of athlete storytelling worldwide
A change that brings optimism
Athletes' first-person pieces are bringing more clarity than ever to the critical link between players and coaches.
In Chris McQueen's story for Exclusive Insight, the former Souths and Queensland forward reveals how playing under new Wests Tigers coach Michael Maguire, his mentor when he was at Souths, has given him the belief he can get back to his best. McQueen says he "probably would have moved on" if previous coach Ivan Cleary had stayed at the Tigers.
Also, in this week's instalment of PV Clips, there's a fascinating piece at The Coaches' Voice by Paul Hurst, who took over an English football team struggling for life and turned it into a proud outfit once again. 
We also get a close-up look on Direct Hit at conditions in India before the Aussies claimed an historic ODI series win, retired AFL player Shaun Hampson writes a letter to Shaun Hampson at AFL Players, Karen Paxman outlines her approach to leadership with Exclusive Insight and Olympic gymnastics legend Simone Biles' mother explains what her daughter was like as a kid at Religion of Sports.
There's plenty more on offer in this bumper edition, so have a flick through and enjoy. 
These are our favourite stories this week about elite sportspeople, as told by elite sportspeople, from our favourite athlete platforms around the world.
Just like you get on AthletesVoice everyday.
Back in the game
Chris McQueen wears more than tatts on his sleeve. In this piece at Exclusive Insight, the Wests Tigers forward goes inside his struggle to return to form after surgery last season.
He then opens right up about how he felt like a marked man under the Tigers' previous coach Ivan Cleary.
The piece, titled 'How Madge Gets The Best From You', reveals that McQueen would have probably exited had Cleary stayed. But, with his former Souths coach Michael Maguire at the helm, McQueen is eyeing a big comeback this season.
It's been a difficult two years for @McQueen1070, but a full summer of training has given him renewed confidence.#ExclusiveInsighthttps://t.co/fwAoKK6eB3 pic.twitter.com/yh7DWfQ82k

— exclusive insight (@exinsight) March 13, 2019
Taming the Shrews
Paul Hurst had a 15-year career as a player, but seems to have inadvertently found his calling as a coach.
Hurst's piece, 'Keeping Counsel', for The Coaches' Voice, chronicles his remarkable achievements in reversing the fortunes of struggling sides, most notably Shrewsbury in late 2016.
"It was the strangest atmosphere I've been in," Hurst writes in this unusual piece.
"There were quite a lot of big characters at Shrewsbury, and I was told that three or four of them had asked to be put in temporary charge when the previous manager left.
"I hadn't expected to walk in and find everyone skipping around and on top of the world, but it almost felt like a fight was going to break out at any moment.
I'm no shrinking violet. I love being competitive and don't mind if there's a bit of fallout. But the dynamic within the group just didn't feel right."
?️ "It was the strangest atmosphere I've been in… it almost felt like a fight was going to break out at any moment."

⚽️ Former @shrewsweb manager Paul Hurst recalls what it was like to take over a team that was bottom of the league. #Salop https://t.co/Ef7EoXKcKg pic.twitter.com/l5VaXqMdYL

— The Coaches' Voice (@CoachesVoice) March 10, 2019
Camo Haydos
Apparently, to use Matthew Hayden's words, his shirt was "shitcanned" on social media. But that's only part of the story.
We want to know why Mitchell Johnson has assumed the nickname Johnny. Furthermore, we'd like to know if said nickname has anything to do with his, ahem, film star moustache.
All suggestive content is contained in Glenn Maxwell's latest instalment on Direct Hit, on location in India.
Maxi warms up for THE DECIDER v India by engaging in some quality bantz with @HaydosTweets and @MitchJohnson398 ?

Good luck to @Gmaxi_32 and the Aussies in Delhi! pic.twitter.com/CU0pKNgiop

— Direct Hit (@directhitau) March 13, 2019
Dear Shaun
Shaun Hampson made his AFL debut in 2007 and retired in 2018, but only managed to squeeze in 98 games for Carlton and Richmond over the years.
In this letter to his younger self, published at AFL Players Association, Hampson explains to Hampson junior that during that time he'll come to understand the true meaning of resilience. He'll also learn what the real value of having an AFL career is.
"You won't play 100 games, you won't win a premiership, a best and fairest or a Brownlow but it's OK because when you do leave the game, they're not the things you'll think about or miss," the 201-centimetre former ruckman writes.
"It's the deep and unique relationships that football allows you to create that you'll miss. The camaraderie, care and the pointless locker room chat."
Read the story here.
"You'll have coaches that like you, ones that don't and some that just couldn't care less."https://t.co/QcRn2loBQT

Former Blue and Tiger Shaun Hampson shares a candid letter to his younger self. pic.twitter.com/rNScISqyDO

— AFL Players (@AFLPlayers) March 12, 2019
Role-playing
Karen Paxman says she's learnt more in the past couple of years playing in the AFLW than in the previous 13 or 14 seasons. Part of that education has been to arrive at a place where she views leadership as much more than making everyone simply 'plays their role'.
"Play your role for the team yes, but also strive to go beyond it. It's those one-percenters on and off the field. Finding a way to get better and be better. For me this season, I knew that leadership was one of those things I needed to work on."
Paxman's story about her experience as captain of the Melbourne Demons is at Exclusive Insight.
.@aflwomens All-Australian @Paxy_4 is letting her actions do the talking.#ExclusiveInsighthttps://t.co/GnMvr04Xr0 pic.twitter.com/ittTJwUKAP

— exclusive insight (@exinsight) March 7, 2019
Flipping great
OK, it turns out to be a Nike ad, but we're fans of this perspective of the world of Simone Biles from the viewpoint of her mother.
"When she was a little girl, Simone was always hyperactive, always flipping around in this house," Biles' mother says.
"She is one of the most stubborn, competitive [people] that I know … She's very driven, very focused – but she likes to have fun. … When I see how dedicated she is, it humbles me."
Religion of Sports posted the near-two minute piece as one of a series of International Women's Day social media posts.
"When I see how dedicated she is, it humbles me."

Celebrating #InternationalWomensDay means celebrating forces of nature. @Simone_Biles is no exception ? pic.twitter.com/xkwM3Jas2x

— Religion of Sports (@religionofsport) March 9, 2019
Understated Americans
While we're in Nike-land, Uninterrupted has US soccer star Alex Morgan offering a close-up look of the Americans' get-up for the World Cup later this year.
The Matildas' kit received mostly positive reviews, despite flirting with garishness. But Team USA has gone the minimalist route with neat blue and red armbands punctuating an otherwise nearly completely all-white strip — boots included.
Check out @alexmorgan13 giving you a first look at @USWNT's brand new @nike kits as they look to add a fourth star at the 2019 @FIFAWWC this summer ??‌#StriveForGreatness pic.twitter.com/aIzbiyT74J

— UNINTERRUPTED (@uninterrupted) March 11, 2019
Juggling two-ply
How does Mario Balotelli warm up for a game? By juggling a toilet paper roll, of course. Well, at least he did a couple of days ago, as posted by Dugout.
We counted 14 touches by the Italy and Olympique Marseille striker, which suggests he probably goes all right with an old-fashioned hacky sack.
?⚪️ @OM_English's @FinallyMario warming up for today's game in style… ? pic.twitter.com/gxJAa164TV

— Dugout (@Dugout) March 10, 2019
Make my day
Marcus Stroman is a shorty for a Major League Baseball pitcher, but he stands tall in our eyes for his philosophy on bringing joy to others.
In this video at Uninterrupted, the Toronto Blue Jays player talks about his visit to the SickKids Foundation in Toronto, where Stroman started visiting last year.
It might sound cliche – famous athlete goes to see kids in hospital – but to actually see a first-person insight gives you a sense that Stroman really enjoys the impact he can have.  
"Knowing that I can come and just make someone's day, I can't put into words just how much of a special, unbelievable feeling that is," he says.
Sometimes your most important job is putting a smile on someone else's face. ?? @mstrooo6 #MoreThanAnAthlete pic.twitter.com/4KRYotiuzB

— UNINTERRUPTED (@uninterrupted) March 12, 2019
For me and them
Lieke Martens was named the best footballer in the world in 2017, alongside her male colleague Cristiano Ronaldo.
In this snippet from Otro, the Dutch star, who plays for FC Barcelona and her national side, conveys her understanding of the role she plays in providing a great example for youngsters, especially girls.
"All those girls, instead of looking up to the men, they look up to us," Martens says.
"Of course, I'm playing football for myself, but I know what I'm doing now is also really good for the future of women's football."
Leader. Role model. Inspiration. Listen to @liekemartens1 talk about what it means to be a role model for young female footballers everywhere, only on https://t.co/NmeiKUWafP. #OurOtherClub pic.twitter.com/4JXux2d6vV

— OTRO (@OTRO) March 8, 2019
No time for goodbyes
Jordan Kahu's exit from Brisbane was swift, unceremonious and, he says, deeply emotional. 
With a change of coach, from Wayne Bennett to Anthony Seibold, Kahu writes that he sensed he wouldn't be a first-choice player and it was time to move on. 
"I had been around long enough to know I wasn't fitting into the new coach's plans. It was frustrating and it hurt. I had to make a break," says Kahu, who has joined North Queensland Cowboys.
"My emotions were all over the shop when I arrived with my fiancée, Jess, and our two young kids, Jayla and Jude, to sign the release papers. Disappointment was foremost in my mind, but I was also pissed-off."
Read the full AthletesVoice story here.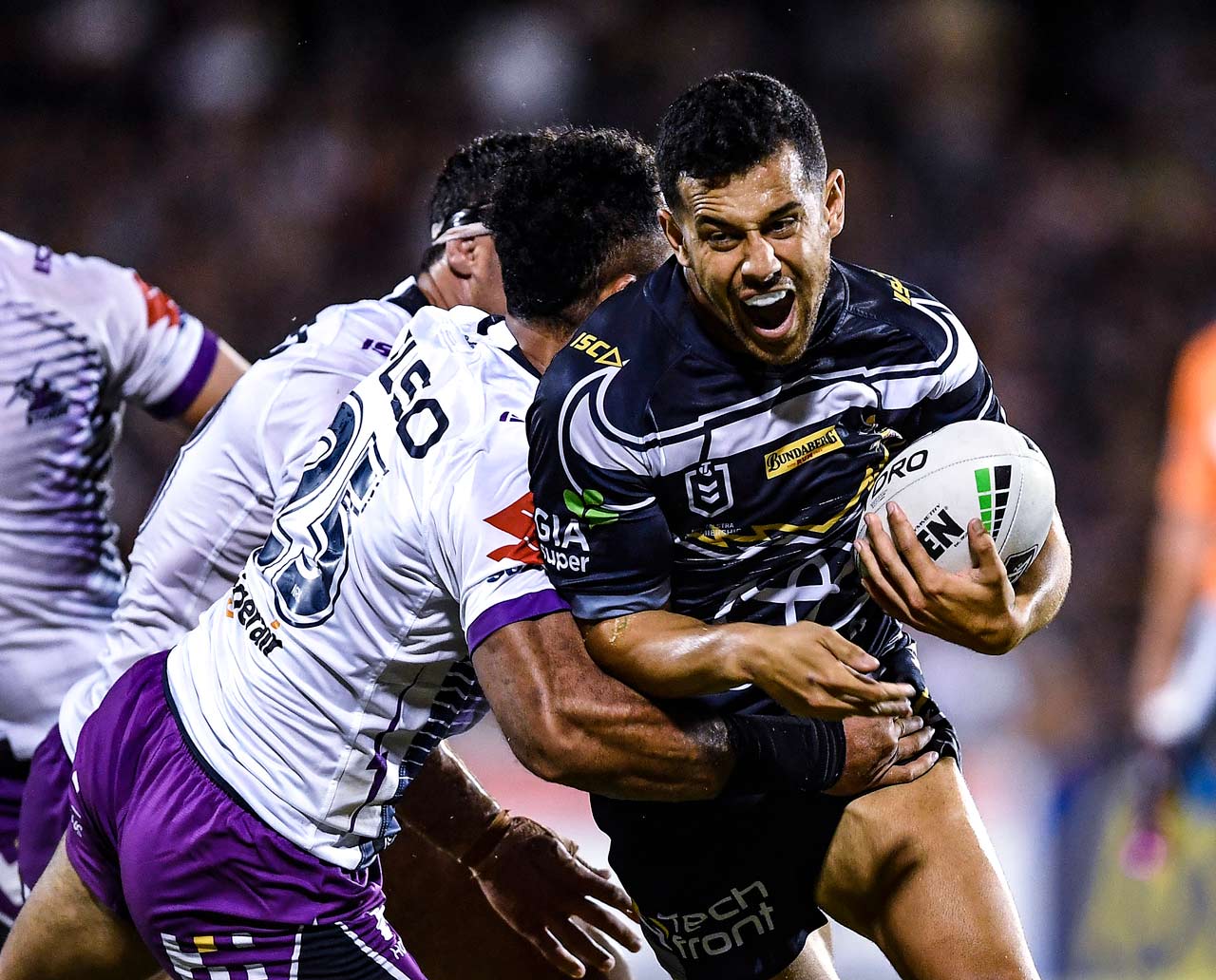 More about: Australian cricket team | Brisbane Broncos | Carlton | FIFA Women's World Cup | Major League Baseball | Matildas | Melbourne Demons | North Queensland Cowboys | Olympic Games | Richmond Tigers | South Sydney Rabbitohs | Wests Tigers | Women's Sport