A legend to the very last tackle
Was it ever going to end any other way?
Johnathan Thurston was never going to bow out meekly. He was never going to have an off-night on his last night.
And so it was that like the champion he is and always will be, JT played a huge role in a Cowboys victory over the Gold Coast Titans in his last ever NRL game. All the trademark moves were on show. The deft passing. The pinpoint-accurate kicks. The hits – OOF! – that defied the wisdom of the many, many doubters who said he was too small and skinny to make it when he was younger.
What a shot from the man himself, JT!#TelstraPremiership moment of the match#NRLTitansCowboys pic.twitter.com/UPlP7LtMzI

— NRL (@NRL) September 2, 2018
Here at AthletesVoice, we've run plenty of tributes to the best playmaker of a rugby league generation. We want to share a few quick highlights of the words and thoughts of our very own contributors, to remind you just what we'll be missing next year.
HE Did AS MUCH OFF FIELD AS ON
AthletesVoice launched about a year ago, right as the NRL finals were underway. You'll recall that the Cowboys surged all the way to the grand final from 8th place despite JT being out injured. Kicking goals in his absence was Ethan Lowe. As Lowe wrote for us:
"It was the Preliminary Final against the Eels and I was practicing my goal-kicking in the warm-ups.
I had a couple of shockers. They missed by miles.
At that point, you're usually isolating in your mind what went wrong and trying like hell to make sure you don't repeat those mistakes in a live game situation. That's magnified even more in a knock-out game.
Fortunately for me, I had one of the greatest pressure kickers in history watching me.
Johnathan Thurston called me over as I was walking back to the sheds. He gave me some advice. I won't say exactly what it was, but it helped me convert all four of the Cowboys' tries and we went on to beat Parramatta 24-16."
https://t.co/KVXhz2ApUK's Match Highlights from #NRLTitansCowboys:https://t.co/7BAVhl7oPo#NRL pic.twitter.com/tbdBvPI6ta

— NRL (@NRL) September 1, 2018
he understood what players were thinking
Kyle Feldt is another player who shared a story with us about Thurston's generosity in offering advice with regards to goal kicking. You'll love this. It's from the story we ran just this week: The man with two hearts.
"A couple of years later, I was a member of the Cowboys' under-20s squad that made the grand final against the Warriors. We were 14 points down with ten minutes to go but levelled it up on the bell. I had a shot at goal to win the game. I missed. We ended up losing in golden point.
The disappointment stayed with me through the off-season and was still weighing on me when I rocked up for the pre-season. I think JT could sense that when he walked over for a chat.
'Every kicker misses a shot every now and then,' he told me. 'You'll get your chance at redemption.'
It meant the world to me. Here was a legend of the game, a future immortal, taking time to comfort a kid in the under-20s who was hurting. It says a lot about the kind of bloke he is and the kind of team culture we have up here.
And he was right, of course.
Four seasons later, I was on the end of a bit of Michael Morgan magic to score in the corner in the last second of the NRL grand final against the Broncos."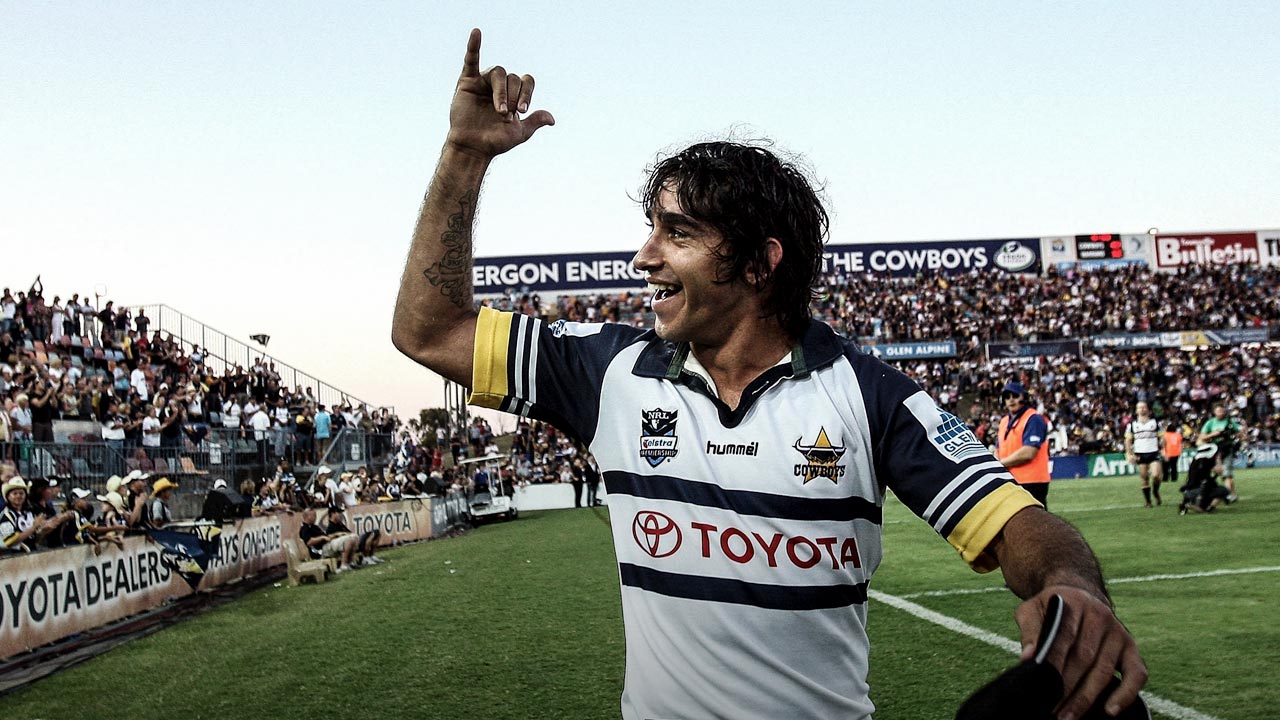 Master of the micro moment
Speaking of that famous final few minutes of the 2015 NRL Grand Final, premiership-winning Cowboys coach Paul Green explained the final moments better than anyone ever has in this excellent story on AthletesVoice:
"On the fourth tackle, Jimmy Tamou took a carry and got a really quick play-the-ball.
When I saw that, I thought, 'Now's our chance'.
But – and this is what a lot of people don't realise – JT didn't drop the ball cleanly. It didn't hit the ground well. It was falling over to the right as he went to hit it and, with the opposition already charging at you, the last thing you need is to have to factor something else in.
But JT knew and he made the necessary adjustment in the micro-second he had to think about it. He twisted his foot around the ball a bit to make sure the contact was good and got it to go between the posts.
This is what only the truly great players can do. From him, it didn't surprise me one bit."
Farewell JT ?#TelstraPremiership moment of the match#NRLTitansCowboys pic.twitter.com/7VXoYnW95y

— NRL (@NRL) September 1, 2018
HE WAS ALWAYS SELFLESS
Look no further than this anecdote from this story.written for us recently by Steve Price. Even as a very young player, JT had an innate awareness that a team game often demands personal sacrifices. Incredible stuff.
"By 2004, he was playing well. We made the grand final. I was ruled out of the decider against the Roosters with a knee injury. JT got a run off the bench, wearing number 18.
We beat the Roosters 16-13 and the players went up on-stage to collect their premiership rings. JT came straight up to me after his presentation and said, 'I want you to have this. It's your ring, you deserve it'.
I felt a bit embarrassed. I said, 'No mate, you've worked just as hard, it's yours'.
But he was adamant and made me take the ring. The club was able to arrange with the NRL for a few more rings to be made for players who had played a part during the season, but JT didn't know that would happen.
He was leaving to join the Cowboys, but he was prepared to give up a lasting memento of his time at the Bulldogs for my sake. 
That's the sort of bloke he is."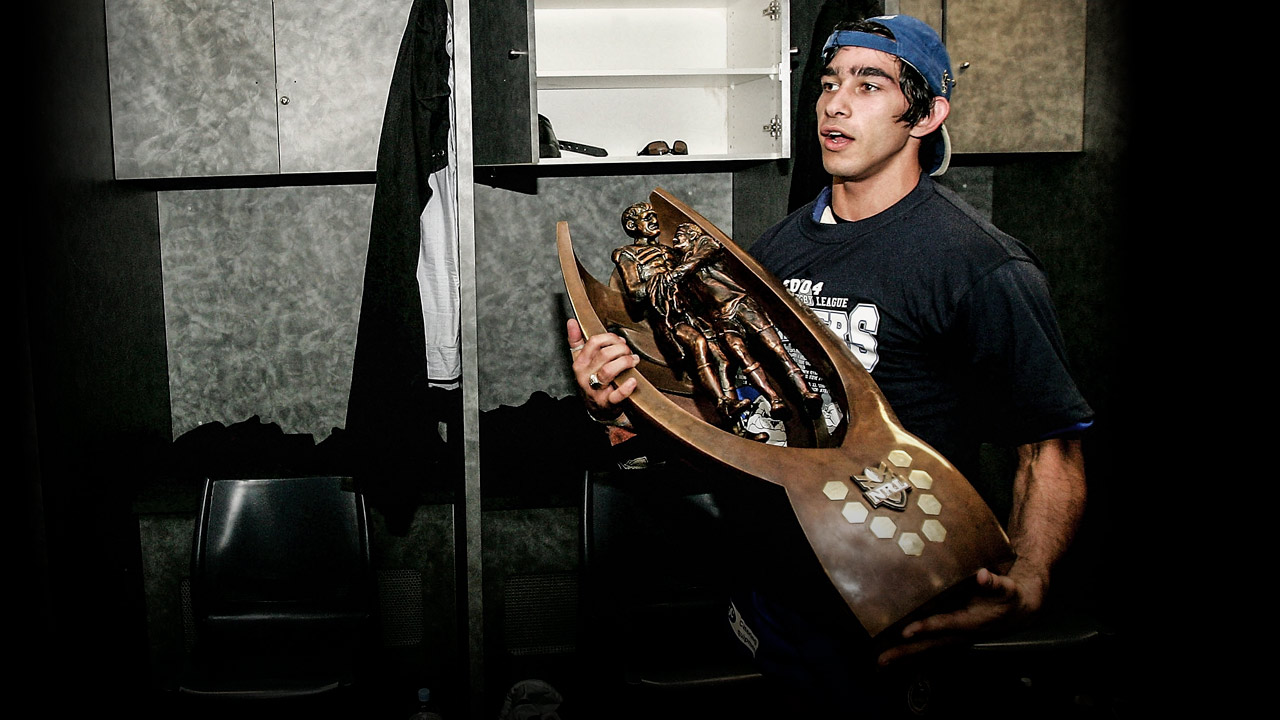 but he was also competitive as hell
Don't be misled by all these stories of helping other blokes. You don't get to the very top of the top by being anything other than a super-competitive beast. Here's just one example of his competitiveness in a fantastic story Cowboys try-scoring freak Matt Bowen (who played nine seasons with JT) wrote for us this week.
"The Cowboys had a ping-pong table in the locker room and, at the start of the season, all the boys started with a ranking from 1 to 30. To advance, you had to challenge someone higher up you on the ladder, play them twice in the same week and win.
One year, I can't remember exactly when, JT and I got right into the spirit of it. We were both handy table tennis players and we'd advanced to the finals section. Whoever won would be crowned the Cowboys' champ for that season.
One afternoon we began playing after training at around 3pm, maybe 4pm. JT was sweating. He was carrying on a bit. He wanted it bad. With the way he was approaching it, you'd swear we were playing for an NRL premiership ring.
He refused, point-blank, to leave the dressing room until he was on top of the ladder. I was playing well but I eventually threw that game because I had to get home for dinner. It was after 7pm. We'd  been going for hours!
That's what he was always like. The ultimate competitor."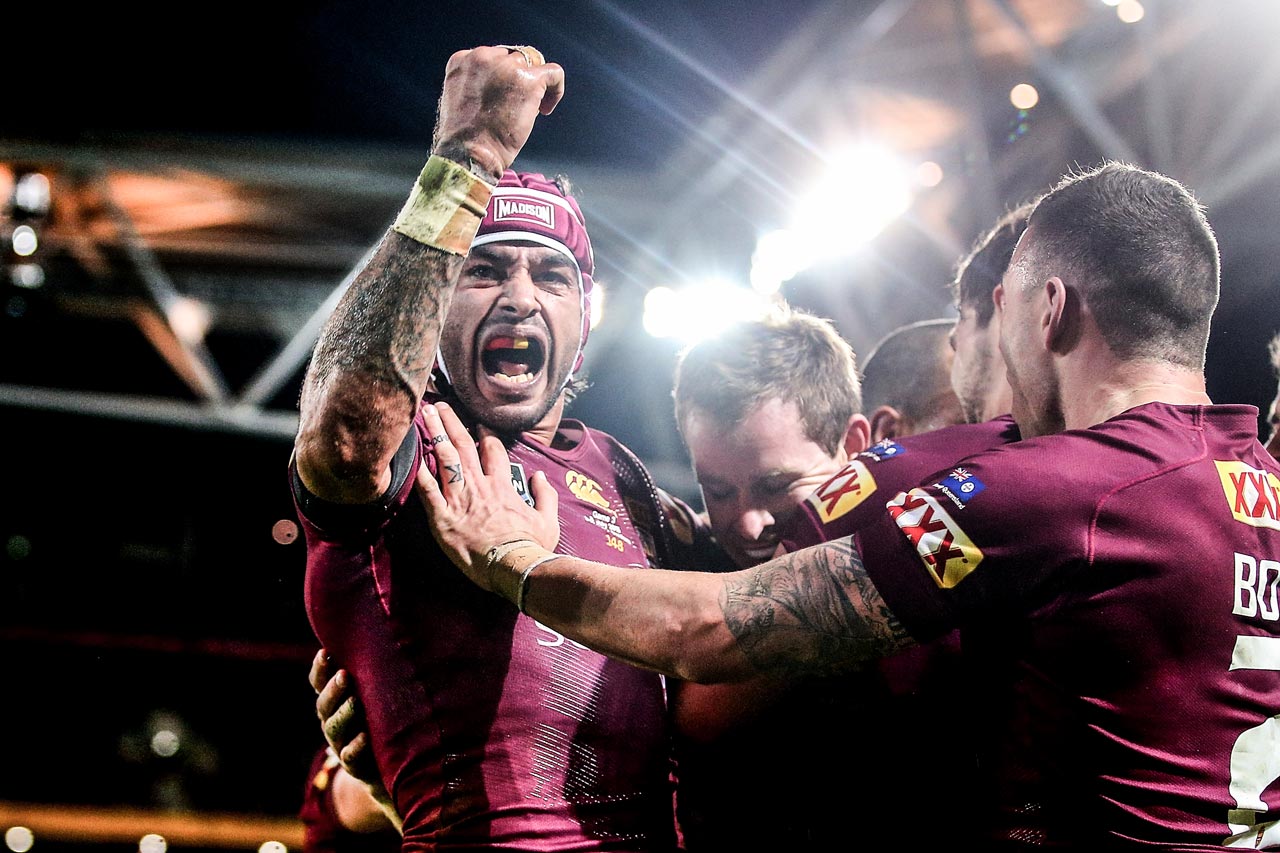 pain? what's that?
We could go on about JT's sublime playmaking abilities all day. But if you're reading this story, you know all about them too. What's always worth reminding ourselves of is his defensive skills. Kevin Walters did just that in this epic State of Origin recollection on AthletesVoice:
"Johnathan Thurston had missed Origin I due to a shoulder injury. He'd only made it back for one match with the Cowboys before Origin II.
The Blues were always going to target him and, sticking to the script, Tyson Frizell absolutely smashed him in the first half. He was pretty much playing with one shoulder, one arm, in a lot of pain.
It was desperation stakes at the break. We were down 16-6 and already trailing one-nil in the series. We needed our main men to lead the way back.
I walked over to Johnathan and asked, 'Mate, are you OK to keep playing?'
He looked at me like I was kidding.
'Of course I am! Nothing's going to stop me from going back out there. We've got to win this game.'
The Blues kept running at him. His tackle count in that second half was way up. Sometimes he'd get caught front-on, as the first defender in, and he'd put his body on the line and act as a bumper bar until he got support.
You've got to respect that. Even the slightest bit of contact hurt.
It was so courageous.
He soldiered on in true Johnathan Thurston fashion because he knew that even with one arm, he could still influence the result. As a coach, you've got to trust your players and JT wasn't a rookie. We had to believe him when he said he could get through it.
We never considered taking him off.
And even if we'd tried, Alf and Gilly would never have been able to pull it off – JT would've told them where to go!
In the end, he was the telling factor. He kicked the goal from out wide for us to win 18-16. Who else in the world would you have wanted to take that kick? Nobody.
But it wasn't just that. It was his whole second half with only one half of his body working. That will stay with me forever as one of the great Origin moments."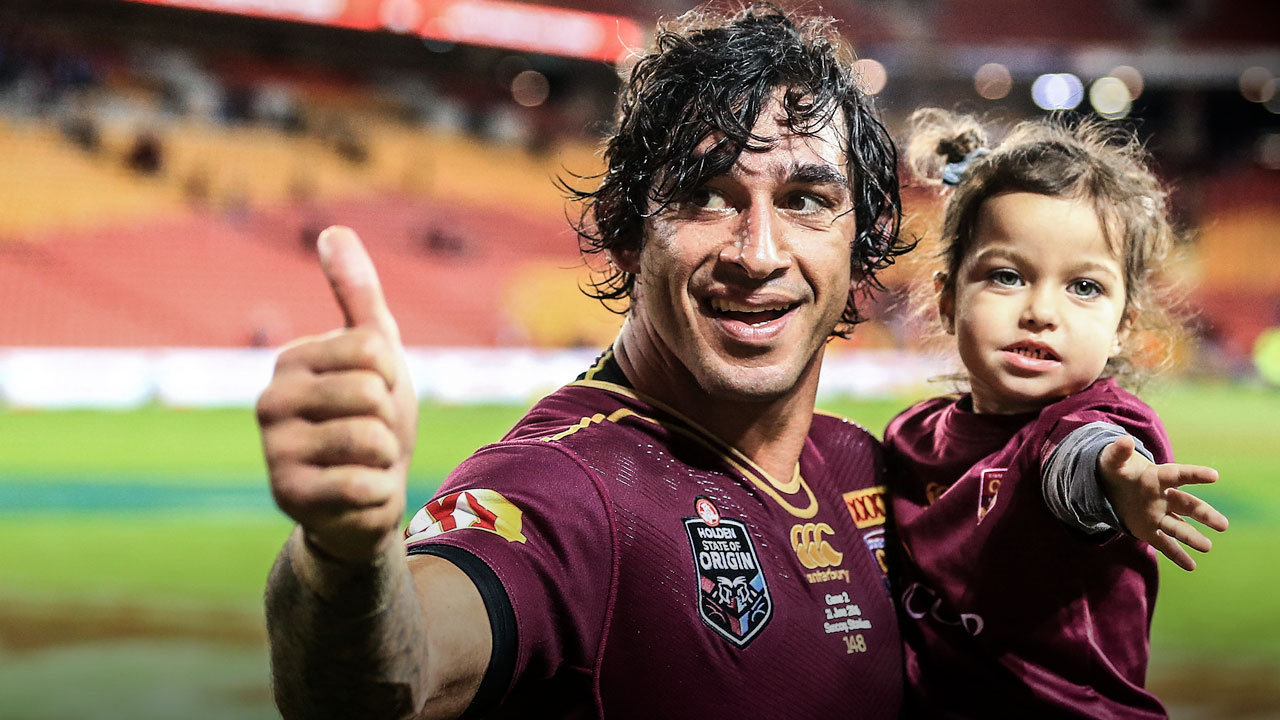 the last word
There's not much more to say. And yet there's everything to say. No matter who you speak to in the game, they've all got a story about the skill, toughness or generosity of Johnathan Thurston – whether they played with him or against him.
But perhaps the last word should go to his coach at the Cowboys Paul Green. We don't doubt a word of what he wrote for AthletesVoice. Especially the last two.
"When his career is finally all over, I'm sure Johnno will be emotional.
One day you're a professional athlete and your job is training with 30 of your good mates, and the next day you don't have to be at training. You don't have to wear this uniform or eat this food or follow all this structure you're used to. It's hard to adjust to that. You love it and you miss it.
The JT as a player that I know is ultra competitive, team first, professional and enjoys everything about it. The JT as a person is very caring, got time for everyone, a lot of fun to be around and fiercely loyal.
They're all great qualities he'll take into his post-playing life and whatever he wants to do, whether it's in footy or some other field, they'll stand him in good stead.
Whatever challenge he takes on, he'll be good at it.
Probably great."
More about: Indigenous Australians | Johnathan Thurston | Kangaroos | North Queensland Cowboys | Queensland Maroons | Retirement | State of Origin