One thing all great leaders do
My brother Pat probably played the most significant part in my footballing career. He's three years older than me and we were both at Marist College in Canberra, a very rugby-dominant school.
Pat's friends were big fans of Aussie Rules, which was rare, so he decided to join in and play too. But I think his choice of sport was also due to mum being a GP. She'd seen her fair share of injuries from rugby, so she wasn't all that keen on us playing rugby.
Like all younger brothers, I had to do what my big brother did, which meant I played Aussie rules.
I didn't play a proper game until Year 4, so while a lot of people started Auskick when they were six, I was 10 when I started. Some of the school kids thought Aussie Rules was 'not cool' and called it some pretty terrible things. There were three rugby teams in every year due to its popularity and AFL paled into insignificance compared to rugby. But we were fortunate to have enough players for a team.
I vividly remember playing much earlier in the day than my brother and then staying in the full playing kit, boots and all, just hoping to get another game in the case my brother's team were short. I was definitely very enthusiastic about footy.
Then in Year 8, my dad moved to Adelaide for work, and mum, my brother and I went – leaving my older sisters in Canberra. Instead of driving around town and seeing rugby posts everywhere, suddenly every oval in Adelaide had 8 posts. It was great.
Immediately I was just an average player. I'd played for the ACT rep team in under-12s and under-13s, but my school team in Adelaide was almost as good as the ACT team and we weren't even that flash hot. So it was a shock for me to go from one of the better players in Canberra to a run-of-the-mill player in Adelaide.
One of the great things about Adelaide was that we'd kick the footy at recess and lunchtime, and I could go and watch AFL games every weekend if I wanted to. It was just brilliant.
At that stage, playing AFL was obviously a pipe dream. Fortunately I grew quite considerably in Year 9. I was improving and slowly becoming one of the better players in my school team, but still the AFL wasn't a realistic goal.
Even playing in the Firsts team in year 10 and 11, it wasn't until the end of year 12 I thought I may even get drafted.
A GIANT SHOCK
I was very shocked and humbled to be taken at number 10 in the 2008 national draft by the Adelaide Crows because for so long the AFL seemed out of reach.
I was really enjoying my time at Adelaide and I signed a one-year extension within my first two months there. Then in my second year, Nathan Bock left to the Gold Coast which meant that after playing 15 games in my second year, there was another spot open in the backline for my third year – which was really exciting.
I was out of contract the next year, so I had a chat to my manager who believed we should wait and see to make sure that I was playing consistently so that my spot in the team and value were being correctly judged by the club. I never ever thought about leaving, rather it was merely to make sure that we were all on the same page.
Then at the start of 2011, I was picked for the first game, played quite well and then we had the bye for Round 2. That's when my manager said, 'We need to catch up and talk about your contract'.
I thought we were working out the strategy with the Crows, but he gave me this GWS Giants pamphlet that was eight or nine pages. They were a NEAFL team in 2011 but were joining the competition in 2012. Anyway, my manager spoke for 15 minutes before I said, 'Oh, that's flattering but I'm not interested. Can you please start negotiations with the Crows and tell them that I want to stay'.
He made a few phone calls to the head of football, and unfortunately in the next match I hurt my shoulder and missed the next fortnight. I came back and dislocated my shoulder. Season over. This was in Round 6 and meant 2011 was now all about rehab on my shoulder and organising my contract.
My manager was like, 'The Giants have just kept on calling me the whole time, they are really keen and they'd love to have you'.
I said, 'Okay, let me think about it'.
I ended up getting another presentation put forward to me about the Giants, about all the list establishment rules and so on. This was close to the middle of the season, and I had a bit of a lightbulb moment where I first thought, 'Maybe I need to genuinely think about this'.
Things slowly gained momentum from there. It took me about two or three months to work out what to do, and finally I decided that the Giants were the best fit for me.
Once I'd made up my mind, I decided to tell the Crows to help them with their planning. Just like that, my locker was cleaned out and my time as an Adelaide player was up and was soon to become a Giant.
Little did I know that I would face even greater challenges.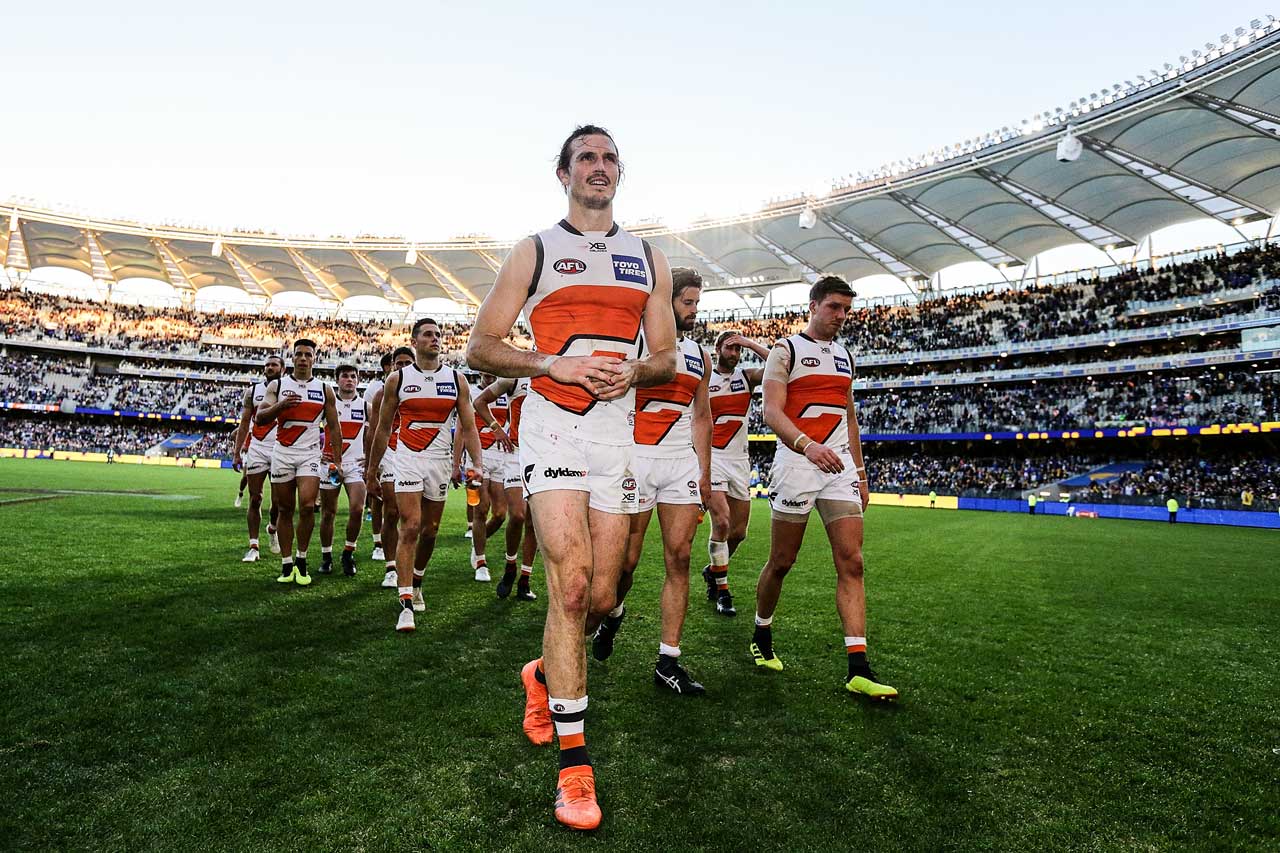 'WHY DID I LEAVE?'
Coming to the Giants was definitely a shock to the system, and something I definitely misjudged.
It was very different to what I was expecting. I knew of all the future plans and future facilities, but even with that knowledge, I had gone from a brand new $21 million facility at Adelaide to portables and baseball diamonds at Blacktown.
On field, we were worse than I thought we were going to be. We won two games in the first year but that was OK as it was still so exciting and new. But in the second year we won just one game – a 37 point Round 19 victory over the Demons who we happen to be playing this weekend.
Expectations were higher in that second year, but we were playing worse than the first. I also missed five or six weeks with a back injury plus our facility was still not complete, so it all just added to a very challenging year.
Once I'd made up my mind, I decided to tell the Crows to help them with their planning. Just like that, my locker was cleaned out.
That second year was a really low point in my career. I really struggled. I had moments where I questioned my decision to leave Adelaide. It was just a very challenging time.
In 2014 we won six games and there seemed a great sense of progress. And since 2015, we've won more games than we've lost and just continually improved.
Even with the disappointment of the last few years and failing in the penultimate game, we are as hungry as ever. We want that ultimate success and are striving for that daily.
I've loved playing for the Giants. We've been able to have some really great people stay at the club and recruit some in – from the playing group to the coaching staff to the football department to the admin staff.
Football is just really enjoyable now. I've met and worked with so many fantastic people, and that's why I've continued to extend my contract at the Giants and want to play out my time here.
I also love living in Sydney, the lifestyle and everything that comes with it.
Melbourne, Adelaide and Perth are football-centric and there's so much external pressure. But I love the anonymity in Sydney. I would maybe get recognised once or twice a month in the Balmain area where I live – and one of those people is usually the diehard Crows fan Ryan 'Fitzy' Fitzgerald!
Whenever someone does recognise me and I'm with my girlfriend Greta, she always has a bit of a laugh because it is so rare!
FRIEND FIRST, LEADER SECOND
Leadership is something I always aspired to from a young age – more for the fact that it was thrust upon me in my junior teams.
In Adelaide, the leadership group led by Simon Goodwin really fascinated me. I idolised 'Goodie'. He was outstanding, and I really saw what strong leadership was.  He wanted to be a part of something bigger than himself and influence other people – this resonated with me.
When I was handed the co-captaincy of the Giants at the age of 21, I thought I could do it. But I will openly admit that my skillset was extremely inadequate to captain an AFL side, especially one in that position.
However, I was very fortunate to be alongside Cal Ward and Luke Power. Luke's been an amazing mentor to me throughout my career. He's a fantastic man and has been influential in my development as a person, player and a leader. As has Cal, who has a great ability to teach and help me, lead the group and play at such a high level every week.
When I was handed the co-captaincy of the Giants at the age of 21, I thought I could do it. But I will openly admit that my skillset was extremely inadequate to captain an AFL side.
I am very picky, some would say OCD, but I just like things being done in a certain way. But I've definitely mellowed in that area and needed to, because great leaders let people express themselves and do things their way.
At 27, I'm far more relaxed as a leader now and see the huge value in investing quality time with my teammates. I'm more aware now that being able to build good relationships helps you get your message across and help maximise your teammates' potential.
Once you know more about people, you have more chance to get the best out of them. That's what leadership is: you're galvanising a group, putting them on the same page so you can head in the one direction, and are maximising everyone's ability and hence, the ability of the team as a collective.
So many great people have helped me along the way – from Leon Cameron to Nick Maxwell (who was here for two years) to Simon Katich. Kat was actually our leadership coach for a couple of years there and is a great friend and mentor to me. We still catch up every few weeks and I am able chat to him weekly.
Just on a side note, he would have been an amazing leader of the Australian cricket team.
A BIT OF A BRAT
I'm very competitive by nature.
My parents are competitive too. Actually, mum isn't competitive against anyone else except for my dad, which is actually very funny!
I'm the youngest of four, and I think that meant I was always competing in some capacity at home, whether it was for attention, the last biscuit or in sport. I think being the youngest caused me to be a bit of a brat to my siblings. I just love to win I guess.
Growing up in Canberra, I never ever thought there'd be an AFL team with a regular presence in the city. North Melbourne used to play there, as did the Western Bulldogs. Both teams played maybe one game a year, so it wasn't exactly part of the fabric of the city.
But the crowds at UNSW Canberra Oval have been fantastic. I was just a young kid in Canberra who loved footy and would have loved to have had more opportunities. That's what the Giants have been able to do, and playing in Canberra has been a great aspect of my time at the Giants.
At 27, I'm far more relaxed as a leader now and see the huge value in investing quality time with my teammates.
Last weekend against Sydney was probably up there with one of the more painful injuries I've experienced – and I've had a couple to compare with. I couldn't actually run off the ground as my hip was so sore, and then when I went to get tested, I couldn't lift my leg onto the table.
Fortunately the doctor was able to weave a little bit of magic and I was able to 'jog' again. But I've learnt that it's all a part of footy. If you can learn to play with some discomfort, you're only going to be more effective.
It was a disappointing result against Sydney, especially after what we were able to do to rescue our season over the last 10 weeks, and after leading for most of that match. But we've addressed a few things from the game and are very confident about the weeks ahead.
With the pre-finals bye being introduced, not being in the top four isn't as detrimental as it used to be. It used to be a real handicap, but in 2016 the Doggies came from seventh and even travelled for the first three weeks.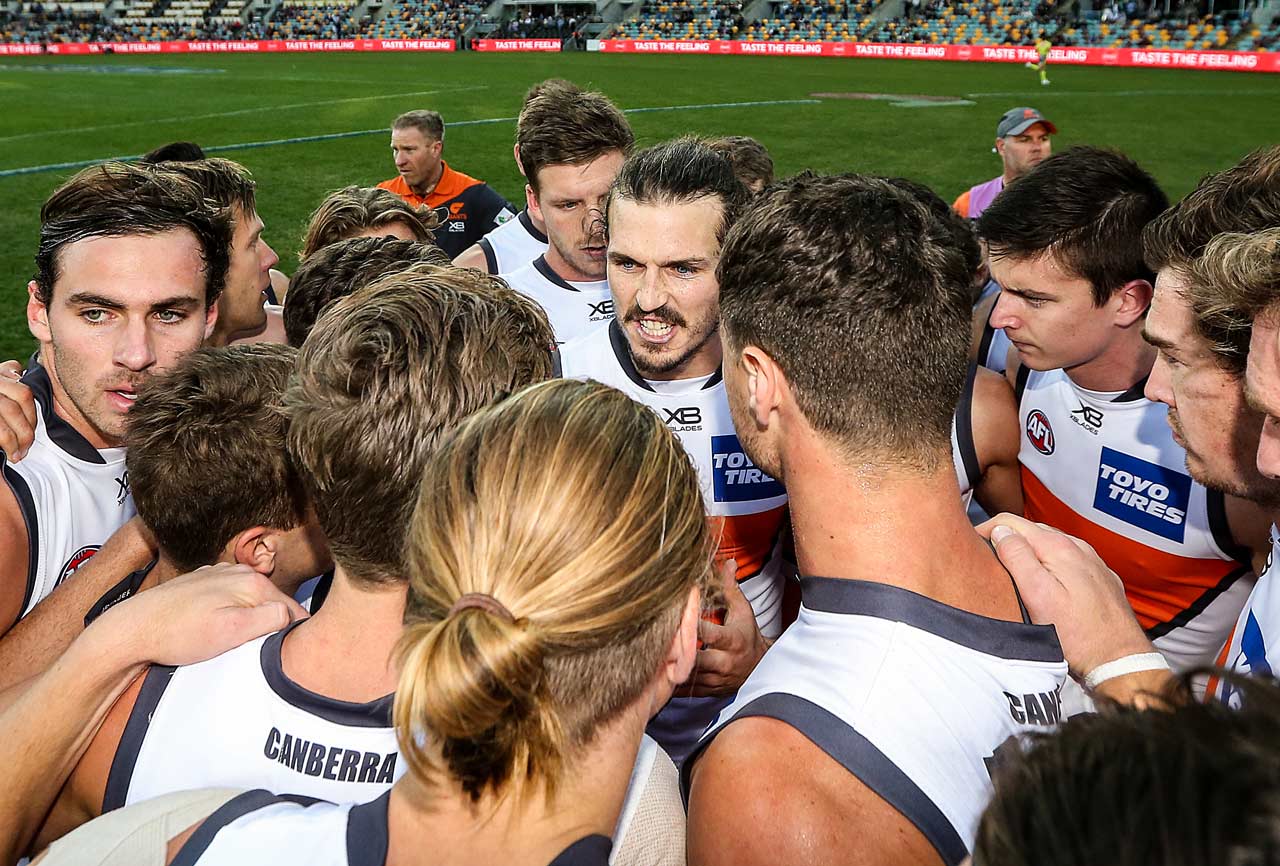 No doubt it's not ideal to be outside the top four as you'd still rather be there, but from our point of view, we're still very confident in what we've been able to do. And depending where we finish after this weekend, we can still have a say in September.
I don't spend too much time thinking about all our players who are unavailable through injury either. Would we like to have a full squad to pick from? 100 per cent, but unfortunately there aren't many teams in the comp this year that are in that position.
In footy you get dealt certain cards and you have learn to adjust and be resilient. There are certain players you don't want to lose, and losing them is frustrating, but you have learn to swim a different way. Otherwise you sink.
More about: Adelaide Crows | GWS Giants | Leadership | Sydney Swans