Mum is still cheering somewhere
I was at the hospital the night my mother passed away. It's the hardest thing I've ever had to go through.
Almost three years on, it still breaks me up to talk about it. I don't think you ever get over something like that. It was a very emotional time.
Mum had been through an awful battle with breast cancer. She'd fought hard and was in a lot of pain.
I'm grateful I was able to share those final few hours with her.
Mum and I were close. She was my greatest supporter in footy. She was a massive driving factor in my career and my life. Growing up, it was just her and me. I was an only child and from day one she raised me on her own as a single working mum.
We lived at Blaxland, at the foot of the Blue Mountains, and she drove me all over the state to footy carnivals as a kid. She wanted me to get every opportunity to make it in the game.
Mum loved coming to watch me play. I'm sure she's still cheering me on from above.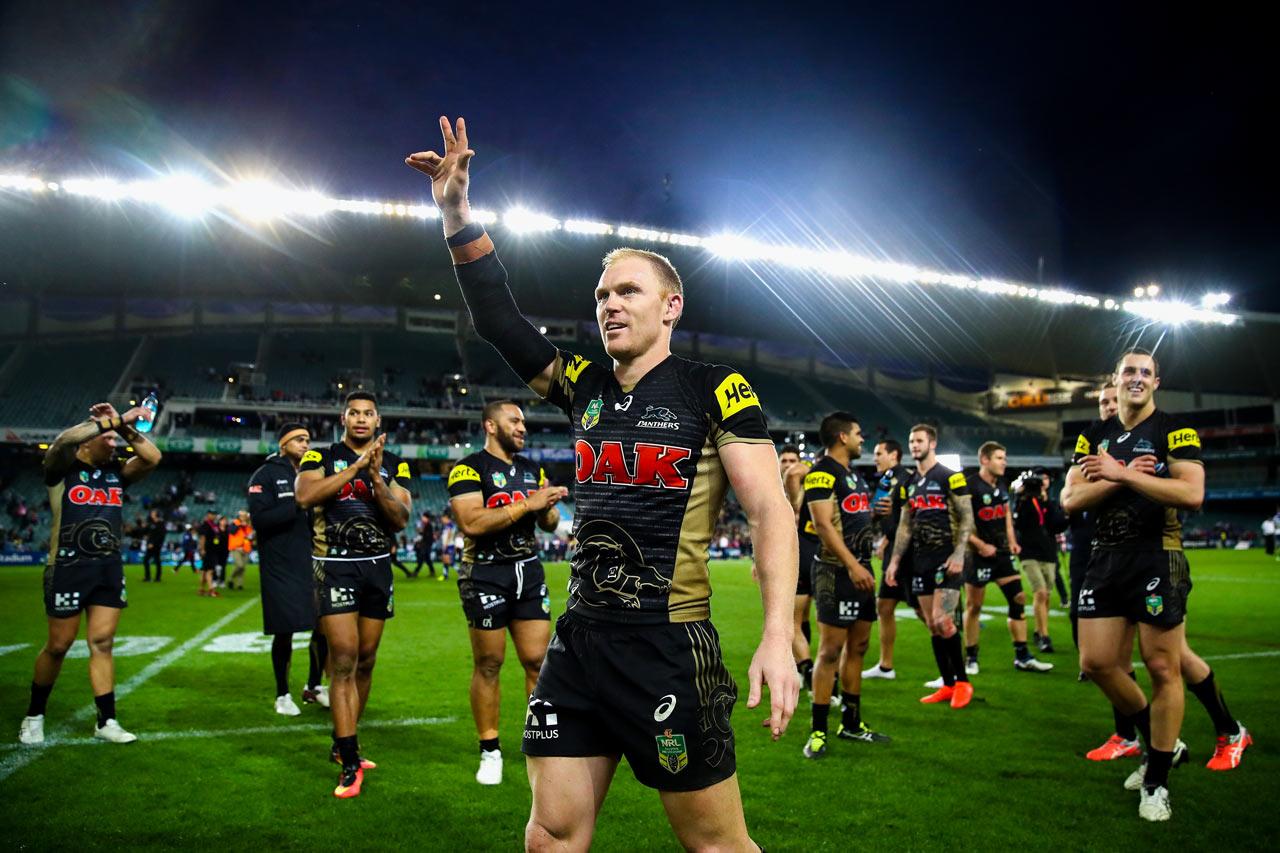 THE NIGHTMARE
Mum's death and the massive battle I faced because of back-to-back knee reconstructions made 2015 the most challenging year of my life.
It pushed my ability to deal with adversity way harder than it's ever been pushed and, without my wife Madeleine's fantastic love and support, I don't know how I would've gotten through it.
I'm a positive person by nature, but you can't help getting into some dark corners when you're struggling with a long-term injury.
I've torn my right ACL three times. It threatens your whole livelihood.
My mum's struggles gave me a strong dose of perspective, but there were still times during that period after my second reconstruction in particular when I really needed my family right by my side.
It happened in July 2014, my first year back at the Panthers after five years with the Broncos. It was a Saturday afternoon game against Cronulla in Bathurst. I wasn't initially sure if it was the ACL and the doctor thought the knee was still fairly stable, so I went back out and played the second half.  I didn't want to let the team down.
But it wasn't good. I fell over a couple of times. I knew I was gone.
I've torn my right ACL three times. It threatens your whole livelihood.
It was a crushing blow. There's no other way to describe it. Knowing what's coming up with the operation and the rehab and how hard it is, and being 28 by this time and heading towards the back end of my career. I had a family now and a lot more to worry about.
The surgeon said the operation had gone well, but you never really know how it is until you get to your rehab and later start running.
Eventually, it's supposed to settle down. Your first month – maybe two months – it's swollen, but then it should gradually improve and start to look and feel like normal. Mine was always sore. It never felt right, never stable enough.
I got back to playing in 2015, but every day was a struggle. I'd train and have to put ice on it straight afterwards. Then I'd go home and attach myself to a Game Ready ice and compression machine all afternoon just to get it good enough to go again at training the next day.
I was in the physio room all the time. The club doctor would send me for scans, but we couldn't find a solution. It wasn't getting better.
It wasn't even staying the same. It was actually getting worse and I was thinking that even if I finished the season, I wouldn't be able to play the following year because I wouldn't survive the pre-season.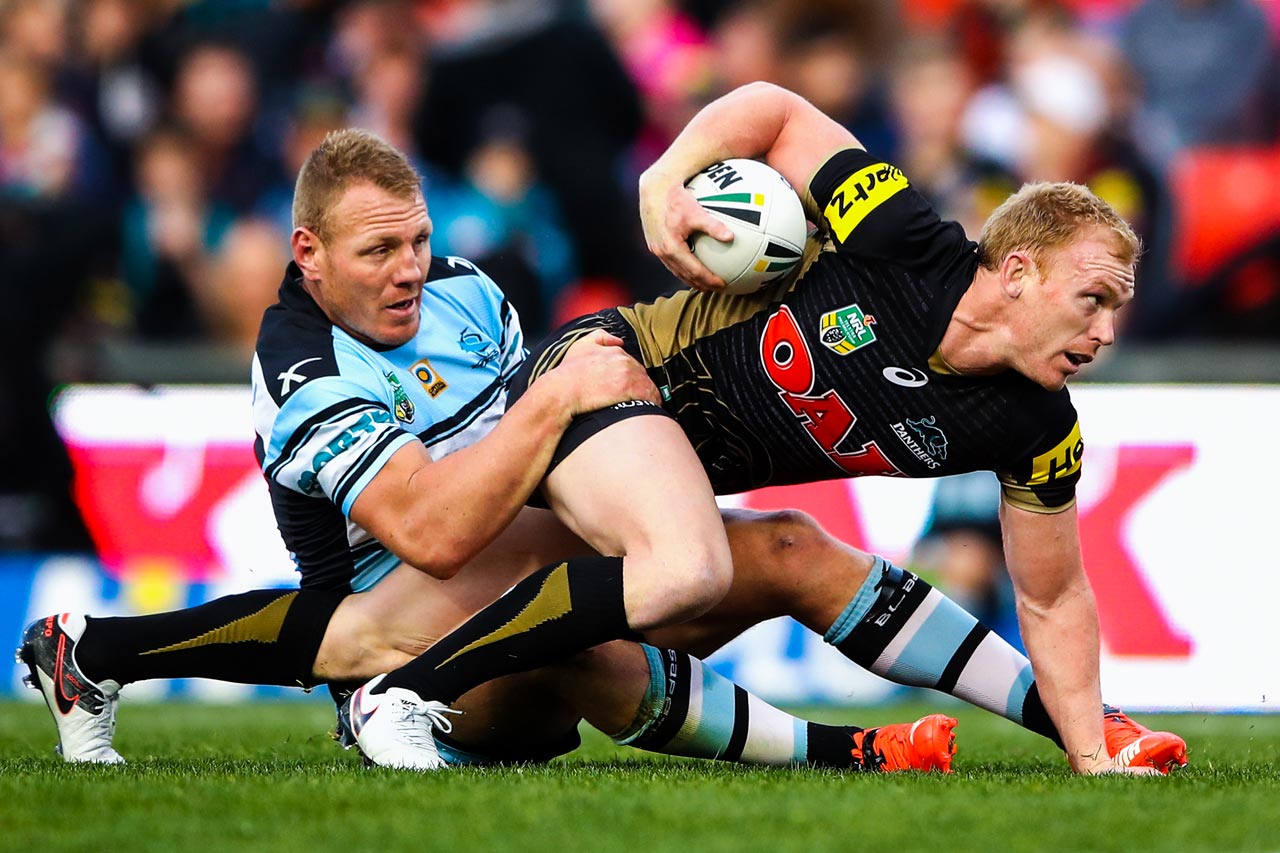 THE CADAVER & THE ACHILLES
I'm not big on talking when it comes to these things but Madeleine could tell how hard it was for me. She knew what I was going through and went through it with me. She didn't want to see me stay stuck in that rut.
I don't know about depressed, but I was unhappy. It's not just about the football – it limits your life and stops you from doing things that are important to you.
I couldn't enjoy playing with our daughter, Poppy, as much as I would've liked. I'd be on my feet for an hour, bending down or whatever, and then I'd have to go and ice my knee for two hours because it had blown up and was stiff and swollen and I had to get ready for training the next day.
It was horrible at the time, but you get through it because you have to. Life throws a lot of shit at you sometimes. You've just got to deal with it.
It's not just the time is takes to recover. It's the energy as well. You're always worrying about that one thing. That's energy you could be spending on doing something you enjoy.
It was a testing time, definitely, but I always try to take the view that there are better times ahead and there were. We've got Finn now as well. He's seven months and Pop's five in May.
I've always felt that I was mentally strong and that helps so much in this game.
Mum's death and the massive battle I faced because of back-to-back knee reconstructions made 2015 the most challenging year of my life.
Eventually, my ACL went for a third time in a game against Canberra in July 2015.
It was actually a relief. The second graft probably wasn't positioned in the ideal spot for my knee. It was bound to go again at some stage.
As bad as it was to do it again, at least I had the chance to get it right. Fortunately, this time the operation worked. I had a good rehab, really smooth, and when I came back for pre-season I was in great shape.
That last reconstruction involved the surgeon making the graft from the Achilles tendon of a cadaver. They try to match you up with someone similar, so that body part became available because a young, healthy male had died.
That's a reminder to me that if you're alive, you've got the love of a good family and you're doing something for a living that you enjoy, you're lucky.
I'm a donor as well. It makes sense to be. There's no point taking it with you. You're not going to have any use for your body, so you may as well make your organs and everything else available for people who can use them.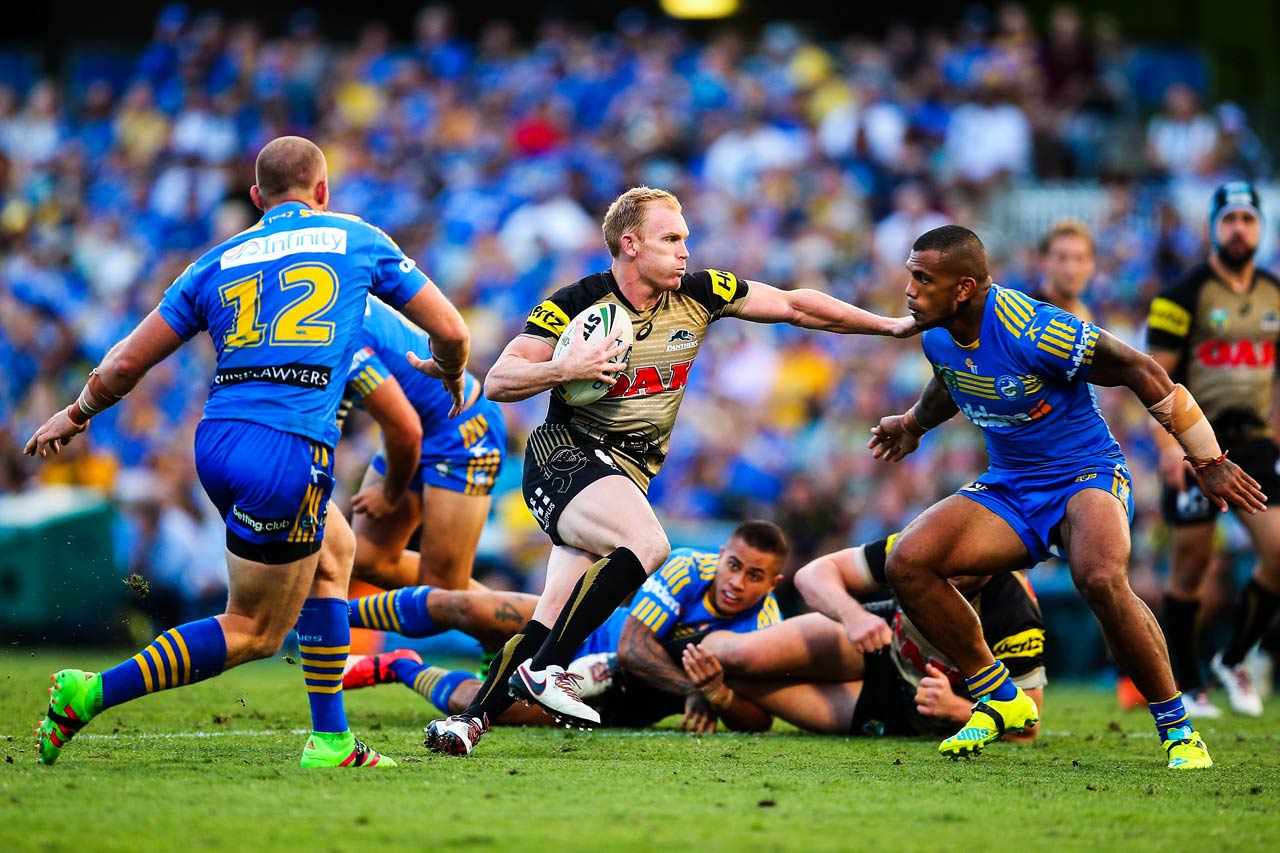 PANTHER PRIDE & ORIGIN
Anything I've wanted to do in terms of making a contribution on the field and overcoming setbacks, I've been able to do. Whatever's happened, I've managed to get through it and move on. Being able to roll with the punches is one of my biggest strengths.
League's more mental than physical. I can drive myself to compete with players who are bigger than me, or more skilful.
I think 'determined' is a good word to describe me.
The day I stop having ambitions will be a good day to give the game away. I'm nowhere near that stage.
I want to do well with the Panthers this season, but I haven't given up on getting back into the NSW State of Origin side either.
I knew I was well in the running for the hooking spot last year, but then I tore my groin in our last match before they picked the team for game one.
It was another tough break to take. It would've been a great opportunity. I haven't played Origin since I was the Blues halfback in 2009.
But I think hooker's wide open again this season. Obviously, you've got to be playing well and your team's got to be firing. We'll see what happens.
I think I'm improving as a player as I get older, so I've definitely still got something to offer at that level. I'm comfortable at hooker after a couple of years there now. It was a bit of a makeshift thing for a while, but the more I played it the more I enjoyed it.
I did it out of necessity to start with. We needed a fill-in there and at the same time we had a couple of good, young halves coming through. I'd lost a metre or two of pace due to injuries and getting older. When the chance came to do it full-time, I jumped at it and now it feels like home.
It's just the natural evolution of my career. It's worked out all right. Things usually do if you're prepared to stick at them.
More about: Penrith Panthers