Last year I got back on a bus with Danny Spud Frawley, and it was just like it had been 30 odd years ago, sharing beers and laughs and a passion for our game and country.
We've always had a strong connection that stretched back to the mid-1980s, playing against and with each other.
That was a different era for the game. There was a strong connection back then with those of us from that era, because we were part-timers.
We had an after-match function where we had a strong interaction with opposition players. Plus you had the state games where you got to train and play with guys who weren't at your club and didn't know really well.
I've found there is a strong bond with players from that era. The football community seemed closer. I don't think it exists as much now because you've got 18 teams around the country, players are fully professional and spend most of their time at their own clubs and with their own players.
Spud and I worked together as well, heading out to do coaching clinics in the Melbourne suburbs and Victorian country with a whole crew of players who became close thanks to the times we spent together.
When you were out in the country, you weren't meant to, but you snuck out to the local pub at Horsham or Warrnambool or wherever else on a Wednesday night for a couple of beers.
I'm sure our coaches Wallsy and Parko had no idea that we used to go and have a drink at the pub. And Spud was one of the ring leaders.
His commitment to the game and coaching was special. I'll never forget the smiles he brought to the kids' faces on those trips to the country.
He's been on that journey of making kids smile and adults smile for so long, all the way up to when I saw him last Saturday when he was in at Fox to do the Bounce.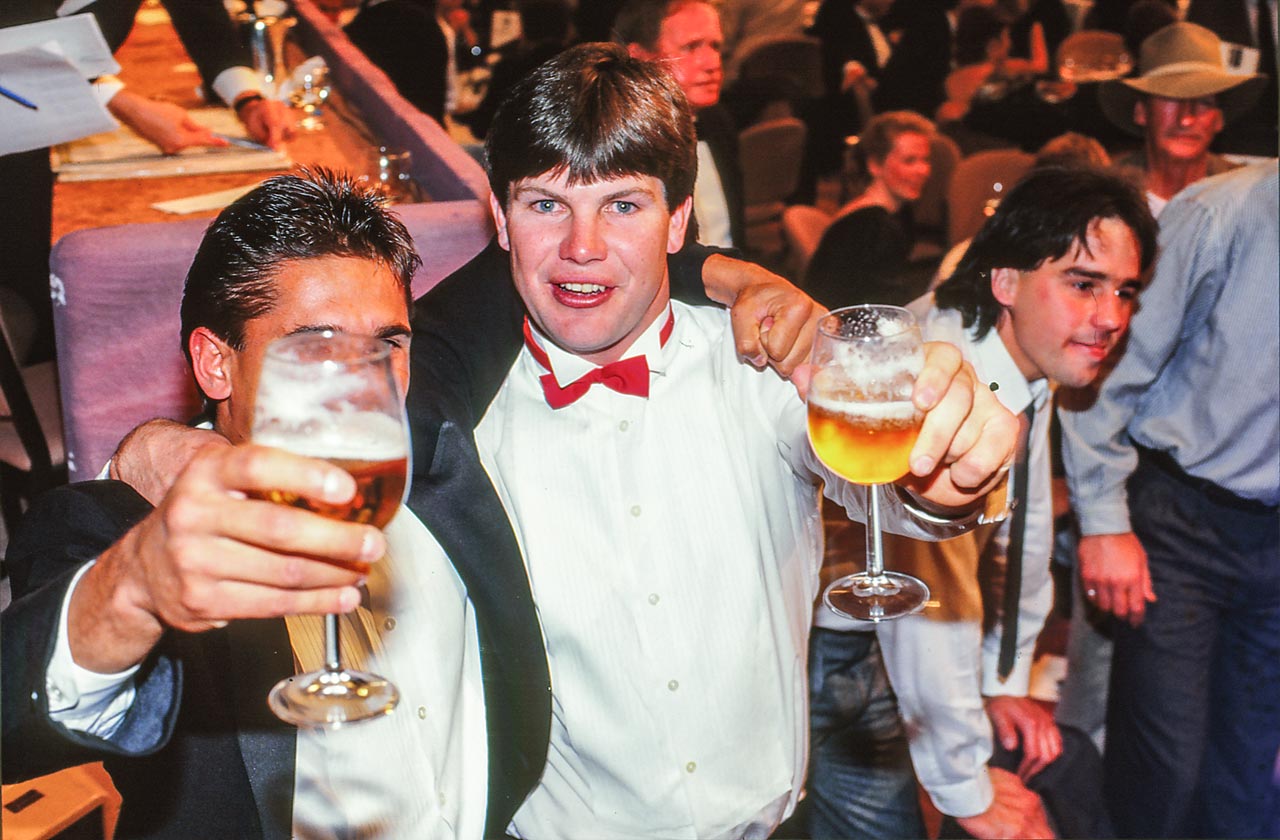 people gravitated to him
In April last year we were on country roads once again. Bushfires had devastated the town of Camperdown on St Patrick's Day and I went down there with Spud and some other former players after a friend of mine had organised a relief benefit.
I spent the whole trip laughing at him. He took the mickey out of himself and everyone around him.
The bus journey back to Melbourne was hilarious. The stories didn't end. You can't pick out one, they were so constant.
Spud was the life of the party, telling some funny tales about his life at St Kilda and his childhood at the family potato farm in Bungaree.
He'd always been someone people gravitated to and had a heap of fun with, and that never changed.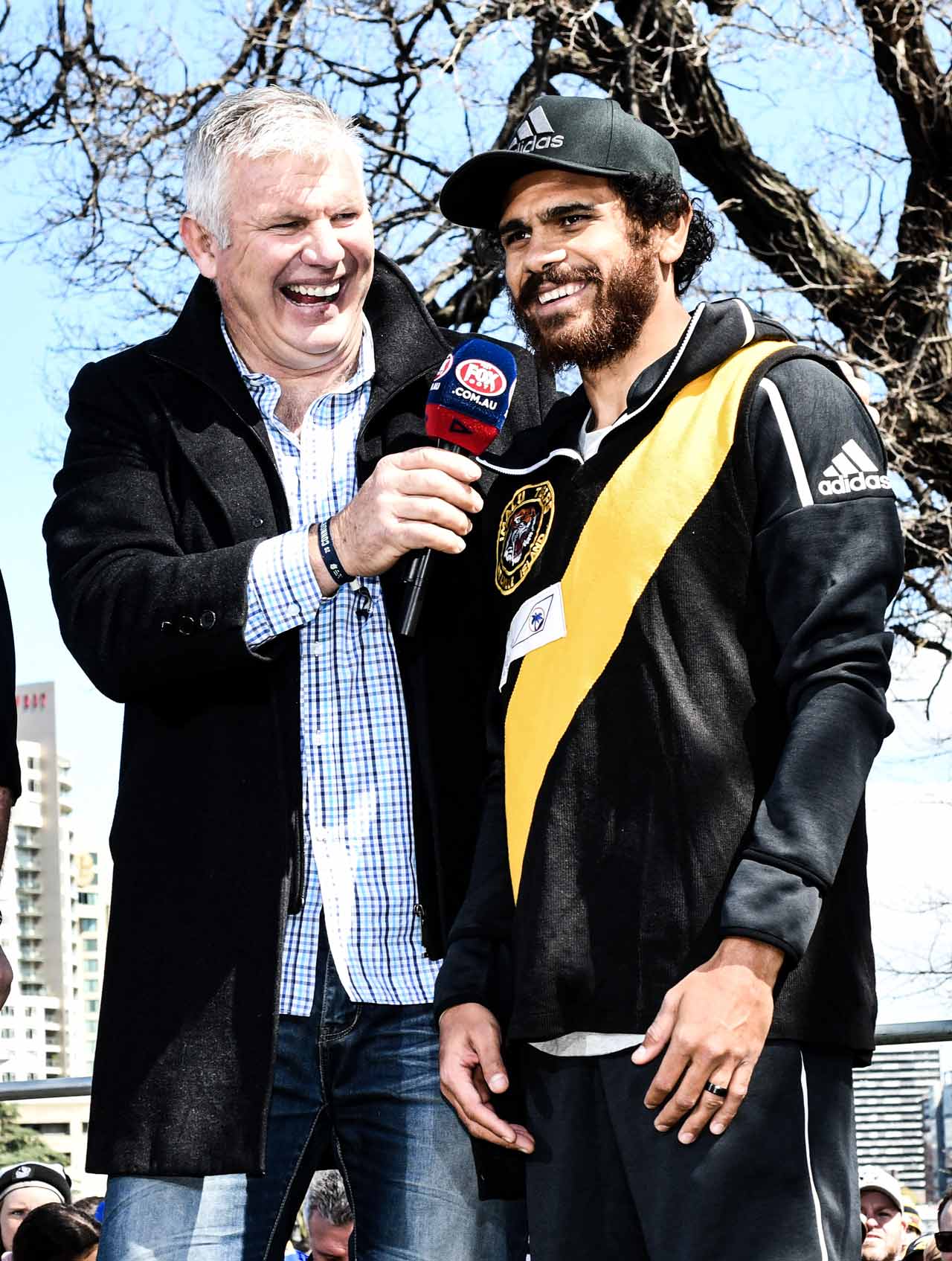 'handshake and a couple of beers'
Leaving Melbourne to move to Sydney for 20 years meant I mostly saw him from a distance after our early travels, but I coached against him and watched him as a commentator.
As a rival, Danny was so competitive. Younger fans who only know him from Bounce might not get how fierce and ruthless a competitor he was as a player and a coach with points to be won.
His teams would be ready to fight and bite and scratch, do whatever it took, because that's who he was to the core. He was territorial and loyal and everything else that makes up a great talent.
At the end of the game it would be a handshake and a couple of beers at the bar. For me, that was Danny – to coach against him, to know you were going into battle with him but at the end you would walk across the ground and shake his hand, one of the great pleasures in sport.
It could be the coliseum at the MCG or the coliseum at Morrabin, he was a gladiator who added so much to the theatre of our sport.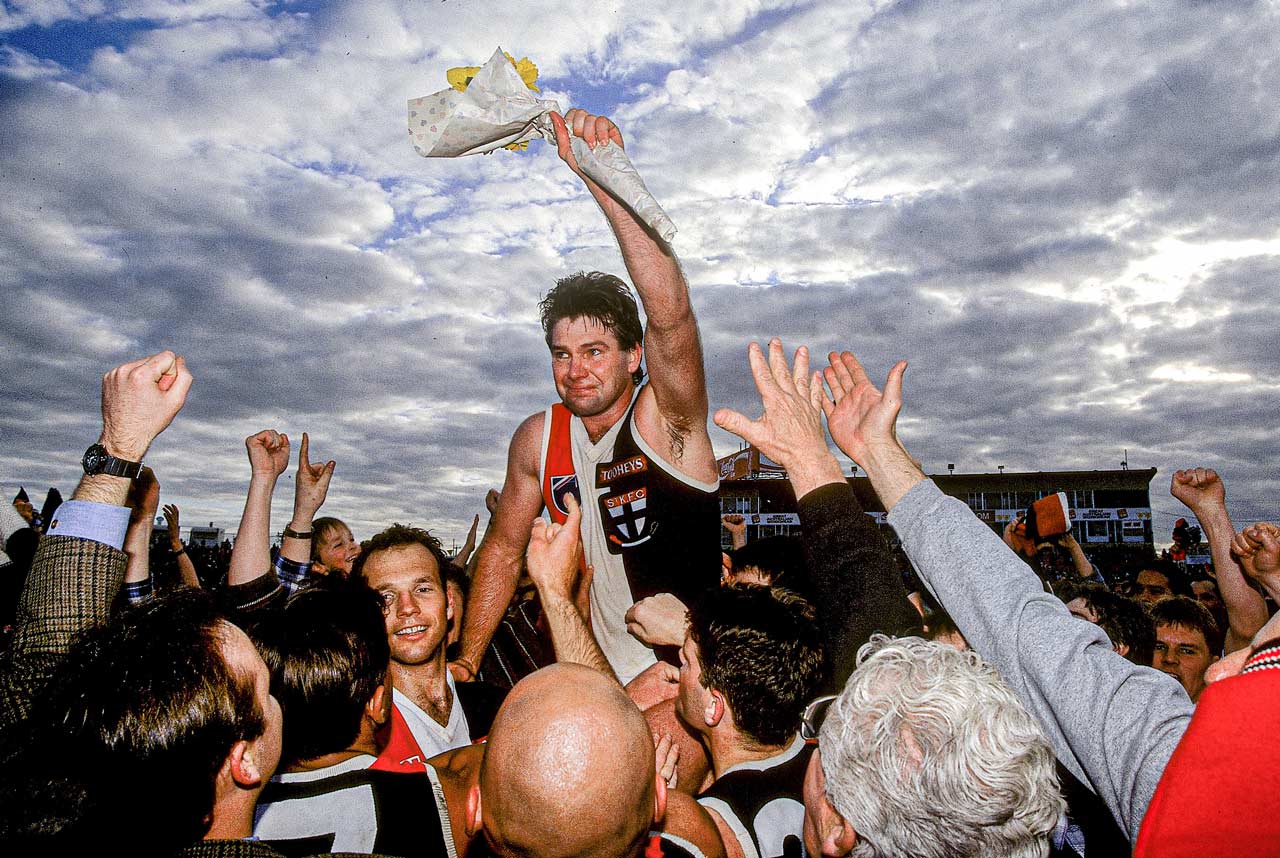 THE IMPACT OF LOSING HIM
Lately, I've been living near Spud at Brighton.
My son, who's 25, works at the local café. He doesn't know Danny or his history that well, but when Spud came he'd ring and let me know: 'Spud's here dad!'
I'd see him down at the café and usually piss myself laughing at him.
I'd see him out riding his bike, dressed up in the finest lycra and I'd shoot him a text – 'Mate, no one wants to see you looking like that'. I'd get a couple of emojis back.

When I heard the news, my thoughts were about the totality of the man.
He was cross-generational. From playing to coaching, to being on radio and TV, he was a person who drew in people of all eras. He was incredibly well-loved and the outpouring of emotion yesterday from around the game and far beyond was universal and raw.
You could see that that last night, walking into Fox Footy. Everyone in the building, from the camera operators to the PR person to make-up were deeply affected by his death.
For a person who was so lively and vibrant and so infectious, to suddenly not be there is such a shock. You can say that with anyone in those circumstances, of course, but you double it with Spud.
When something like that happens, it's so dramatic and so impactful.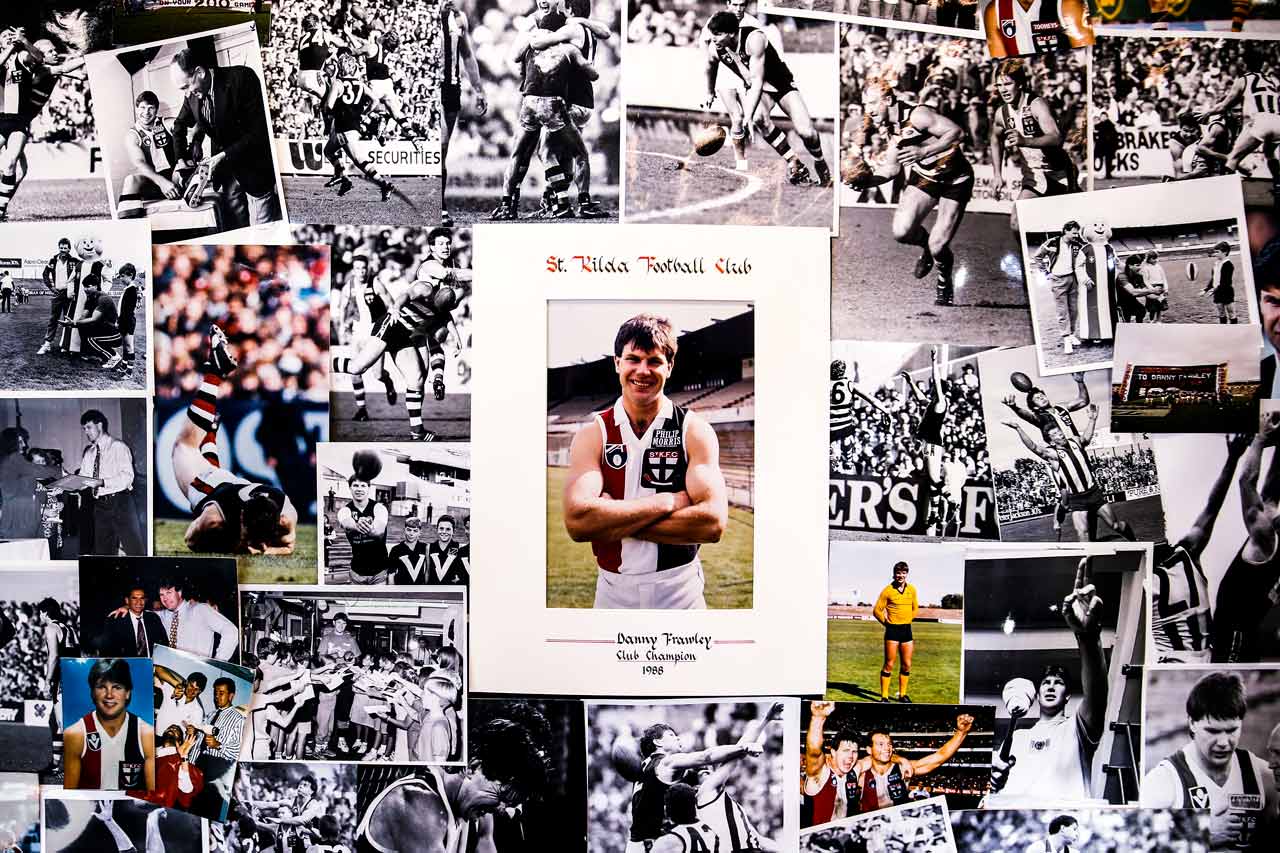 DANNY'S LEGACY
I was, of course, aware of his issues with mental health. He tackled that with an openness and honesty that has done a great service and benefit to community attitudes and affected players.
With occasions like RUOK Day, and Mental Health week coming up, it's important to look at the work guys like Danny and Wayne Schwass have done to push community understanding along so dramatically, and allow people from our generation to feel they can confront issues.
When we were playing football it was part-time but it was train harder, train harder, train harder. Guys bonded over training as hard as they could and playing as hard as they could on the weekend.
It's been a really big change in the football environment. Football is now a leader in the vulnerability space and player welfare and relationships. Footballers are being more open and feel that there is a safe space for them to talk about their issues.
Having big Danny Frawley come out and talk about being vulnerable and having issues, having played played against Ablett and Daniher and all those tough full forwards, advances the conversation dramatically.
Looking back, my time with Spud was 100 per cent fun. I can't pick a bad moment. I can't think of a time I ever had an argument with him.
The way he interacted with everyone, the jokes he used to play, the little sneaky laugh he had.
He had an inspiring life and I'm grateful I got to spend so much of the journey with him.
If you or someone you know needs help, please contact Lifeline or Beyond Blue.
More about: Bushfires | Coaching | Danny Frawley | MCG | Mental health | Paul Roos | St Kilda