Loudest MCG crowd in my life
I was a Carlton supporter and, as an eight and nine-year-old, I went to the 1972 and `73 Grand Finals with a mate who was a Richmond fan. Carlton played Richmond in both – the Blues won in `72, the Tigers in `73. We were just kids, but even then the passion and sheer depth of the Tiger army just hit you in the face.
As an 18-year-old in my eighth game for Fitzroy I played against Richmond at the MCG for the first time. It was an unbelievable experience. They had this group of players – Jimmy 'The Ghost' Jess, Dale 'Flea' Weightman, big 'General' Mark Lee, Michael 'Disco' Roach – who somehow made them seem different to every other team. That's still there. The Tigers are still unique.
At the end of the preliminary final win over GWS last weekend, my Fox Footy colleagues Dermott Brereton, Jonathan Brown and myself all had our phones out shooting video of the crowd singing the song. I'm 54, I've been involved in AFL footy since 1982, and I've never been to a game like it. It was just extraordinary.
MAKING THE EMOTIONAL EMOTIONLESS
The amazing thing is this club that is the epitome of emotion has reached its first Grand Final in 35 years by not allowing itself to be emotional. The ability to make really analytical decisions in an emotional environment is the key factor in winning a premiership.
When there was a push for change by a group of former players at the end of last season, and president Peggy O'Neal and CEO Brendon Gale fought off the uprising and backed Damien Hardwick as coach, that was a huge show of faith that's led to where they find themselves this week.
Emotion isn't limited to the media – it's the emotion of the CEO, the emotion of the football manager, the emotion of the board.
Some things haven't changed in footy, and behind the scenes it can still feel like you're in a scene from the old movie The Club with Jack Thompson fighting to keep his job. To hold firm against that wave of emotion is vital to success.
When Damien was reappointed there was some real credibility about it. It wasn't like he'd been a poor coach – he'd taken a team that had been a bit of a basket case to three finals series in a row then missed out last year. He had some runs on the board. It was a logical decision, and thankfully logical people fought off the coup and allowed the coach to do the job.
Then you've got to have a game style that stands up, and the Tigers have made dramatic changes this year that have made them a significantly better team. It's a very simple game style – numbers around the ball, contested footy.
It's pressure, it's tackling and chasing, it's a very well-organised backline, it's going quick on turnover, it's getting the ball in the forward half and keeping it there.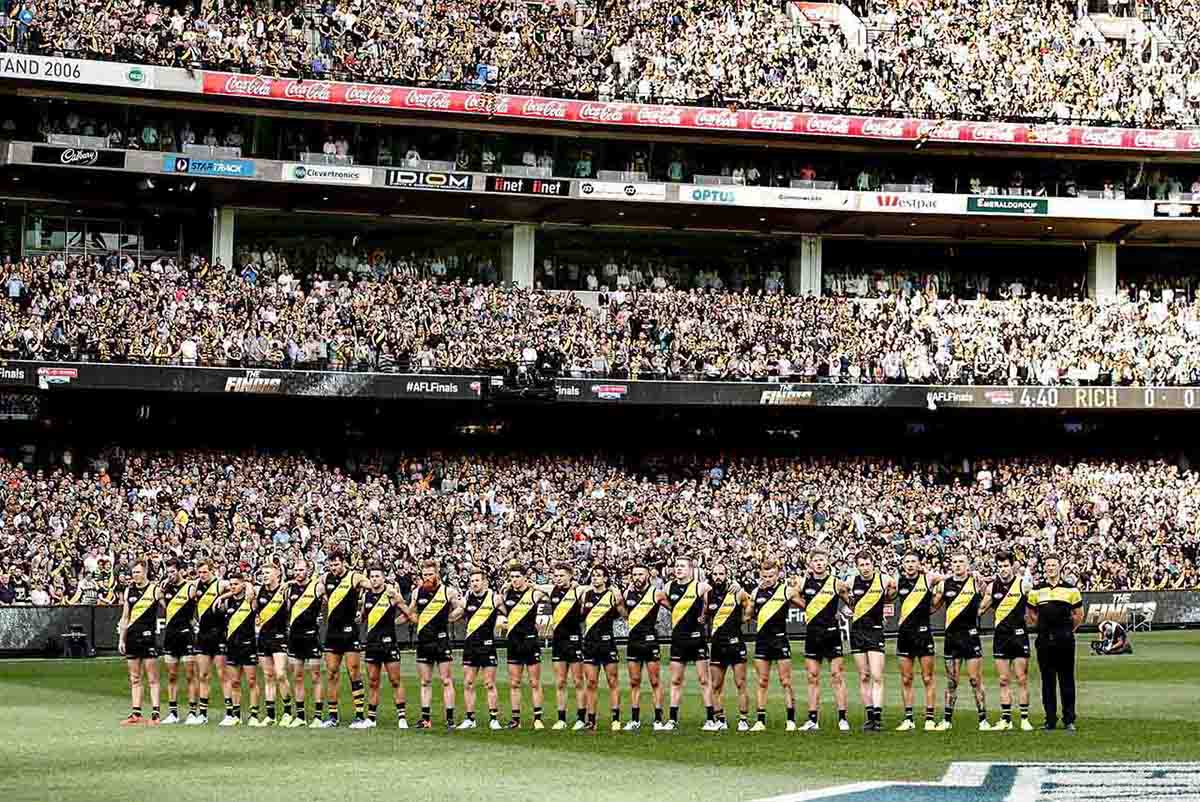 THE KEY TO THE TIGERS' SUCCESS
Damien Hardwick has sold those changes to the team really well, put people in positions they're capable of playing, and made sure they understand their roles.
They've got some stars, don't get me wrong, but they've got a lot of role players. Even some of their stars have become role players – and I say that respectfully.
Trent Cotchin has become a role player, and as such he's elevated his standing in the game. From the captain down they've been prepared to make a sacrifice, and look where it's got them.
Jack Riewoldt has been their most significant role player. He's had an incredibly underrated season; I think he's been absolutely amazing.
I don't think any other team that's made a Grand Final has asked a player to do what Jack has done this year – and that's be the one-out full-forward, the only big man in your forward half of the ground.
It's unbelievable what he's been able to do, and that's a decision he's made to sacrifice himself for the team. 'I'm going to get the ball to the ground every single time.'
I don't think he got enough credit for Saturday's game against the Giants. He talked himself down afterwards, but I thought he was fantastic. They don't win that game by six goals if he doesn't get to all those contests and bring the ball to ground. He's done it week-in, week-out.
I'm 54, I've been involved in AFL footy since 1982, and I've never been to a game like it. It was just extraordinary.
He was a player who had people questioning whether he was selfish, largely because of the body language he showed at times that stemmed from frustration, but I can't speak highly enough of the year he's had.
I had him in my All-Australian team. It's easy to say Lance Franklin did this and that, but Buddy kicked 18 goals in two games against two of the bottom three sides in the competition, and 51 in the other 20 games in the home-and-away season. Jack Riewoldt has been one-out the whole year, contributed so much that doesn't appear next to his name on the stats' sheet, and still kicked 52 goals.
The other thing that stands out about the Tigers is their club-wide approach. Last year the Western Bulldogs won the VFL premiership and a week later won their first AFL flag in 62 years. Richmond's VFL team had a kick after the siren to win the VFL premiership on Sunday and missed. That's as close as you get.
You can't win the premiership with just the 22 who are playing, you need 30-35 players. Watching the VFL Grand Final last Sunday it was striking how many of the Richmond players had considerable senior experience.
Credit to all those guys – Sam Lloyd, Ivan Maric, Ben Griffiths, Connor Menadue, Corey Ellis, Anthony Miles, Ben Lennon, Reece Conca, Shaun Hampson, Taylor Hunt – they haven't thrown the towel in. They've said, 'We're in this together, we're in this as a footy club.' And you have to win it as a footy club.
You've got this club-wide approach in relation to role-playing, and everyone's bought into it. And you've got this black-and-yellow wave that's been created throughout the course of the season on the back of significant game style change, and a club and leadership group that's said, 'We'll accept these roles.'
And, crucially, a group of guys in the seconds who've said, 'We'll accept them as well.' And out of it you get two teams playing in Grand Finals.
THE UNSUNG HEROES
Richmond's backline doesn't get enough credit. They're in the top three defensive teams in the competition having kept the opposition to an average of 75 points a game, which highlights that they're really well organised.
There were times on the weekend when the Giants got out, got through the pressure of the Richmond small forwards. And when they looked up, Rance was there, or Astbury was there, or Vlastuin, or Houli.
They didn't have anyone to kick it to. The Tigers play really well together and understand each other's game incredibly well. Rance gets most of the plaudits, but there's some really good role players, talented players in that back six.
List management is so important to what they've become. The myth around going to the bottom of the ladder has been dispelled. I've read articles about Richmond: 'Grigg is no good', 'Ridiculous bringing in Houli'. But they've been vindicated.
Grigg has been an exceptional player, Bachar Houli's been fabulous. They've done a great job bringing players in – Nankervis, Prestia, Caddy – who've made them better. If you want to go down to the bottom of the ladder and build solely through the draft you're going to stay down there for a long, long time.
I don't think any other team that's made a Grand Final has asked a player to do what Jack Riewoldt has done this year – and that's be the one-out full-forward, the only big man in your forward half of the ground.
The other key driver in their rise was formally ordained with a Brownlow Medal on Monday night. Dustin Martin has had the most extraordinary season, and sits comfortably alongside Patrick Dangerfield as the competition's very best.
But as good as his 2017 has been, Dusty would be the first to admit he couldn't have done it without those around him. He's not great defensively, so what's happened is that deficiency in his game doesn't get exposed because everyone's doing their role.
What the Tigers have done this year showcases how well Damien has withstood the pressure that inevitably falls on a coach's shoulders. You only have to look at the last 10 or so years.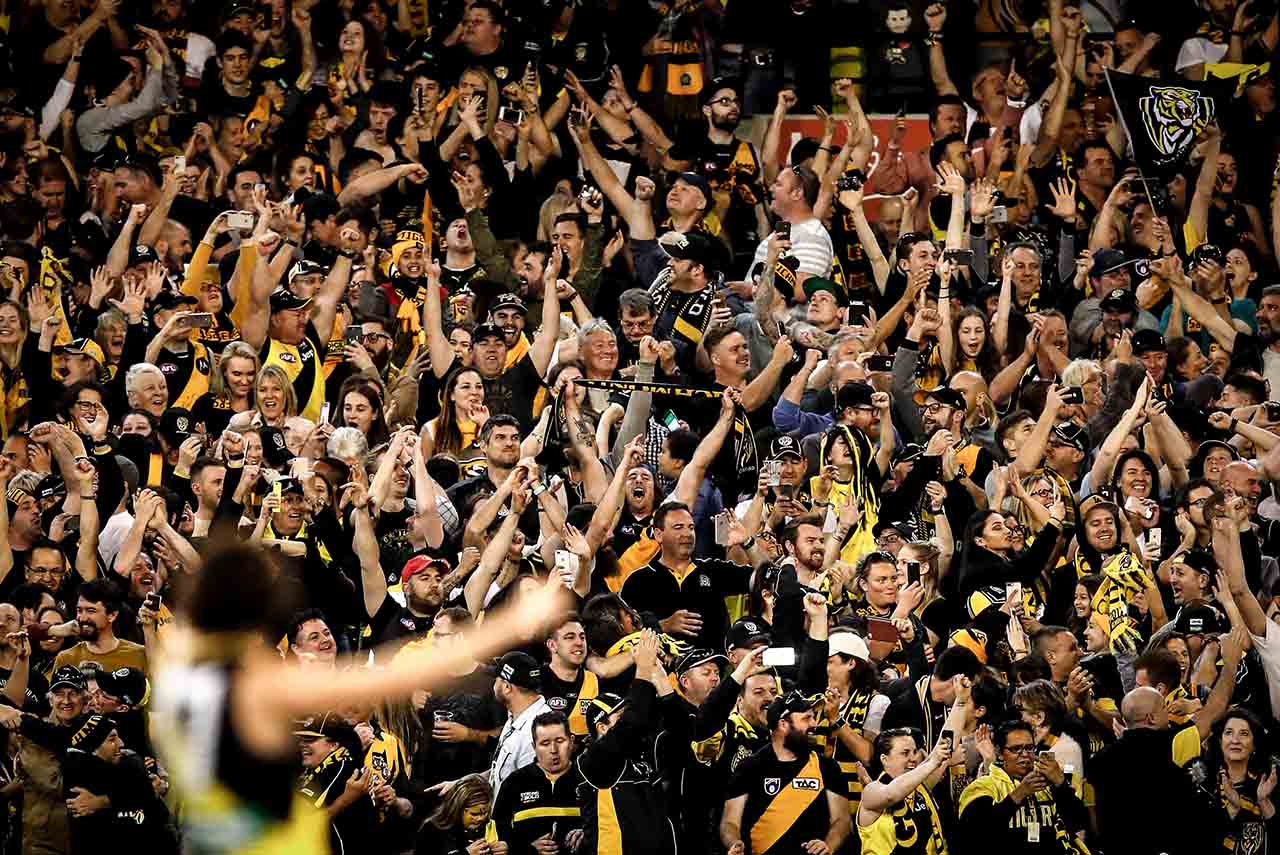 THE HISTORY
When I coached Sydney we got slaughtered by Andrew Demetriou over our style of play. We won a premiership. Alastair Clarkson was under enormous pressure at Hawthorn, Bomber Thompson the same at Geelong; they had a review and won it the next year. Analytical decisions in an emotional environment are so crucial.
Everywhere they go this week, the Richmond players will be reminded of history. A Grand Final is still a game, and it's no more or less valuable because you haven't won it for 37 years.
When the siren sounds on Saturday and you're in front, laud the history you've created. You'll have deserved it. But until then, do what you've done in the past 24 weeks and you'll give yourself a chance.
Last Saturday's preliminary final against GWS showcased Richmond's greatest asset. The talent differential between the two teams was extraordinary, 10-15 percent in the Giants' favour.
But the Giants don't have a blueprint like the Tigers do. That game was won on the back of game style, and role players – a commitment by a group of players to stick to that at any cost.
The Giants haven't made a decision that they want to be a great footy club. The Tigers have. I think the Crows have, too, which sets us up for a great Grand Final.
More about: Damien Hardwick | Dustin Martin | Grand Final | MCG | Paul Roos | Richmond Tigers | VFL