How I'd try to stop Dusty
Being a young coach can be very hard and Damien Hardwick has faced a tremendous amount of pressure in his journey.
He started with nine straight losses back in 2010, but with pressure you can either fold or stand up, and he has stood up.
He changed his coaching staff and the way he interacted with players. It became a lot more about relationships, whereas early on it was all about tactics.
Clearly, the Richmond players love him. He's really well balanced, speaks well in front of the media and he's honest.
The Tigers have been the best team consistently over the last three years. They were worthy winners two years ago and pretty much had one bad game last year – it just happened to be the preliminary final.
I don't think they're over the line this year. They're favourites but things can happen quickly.
You think if they don't win this, then maybe they'll be judged as not having cashed in on that period of dominance.
Obviously, the start of this year was tough, but the fact they won games they maybe weren't expected to reflects well on his ability to lead under great adversity and the great relationship he has with players.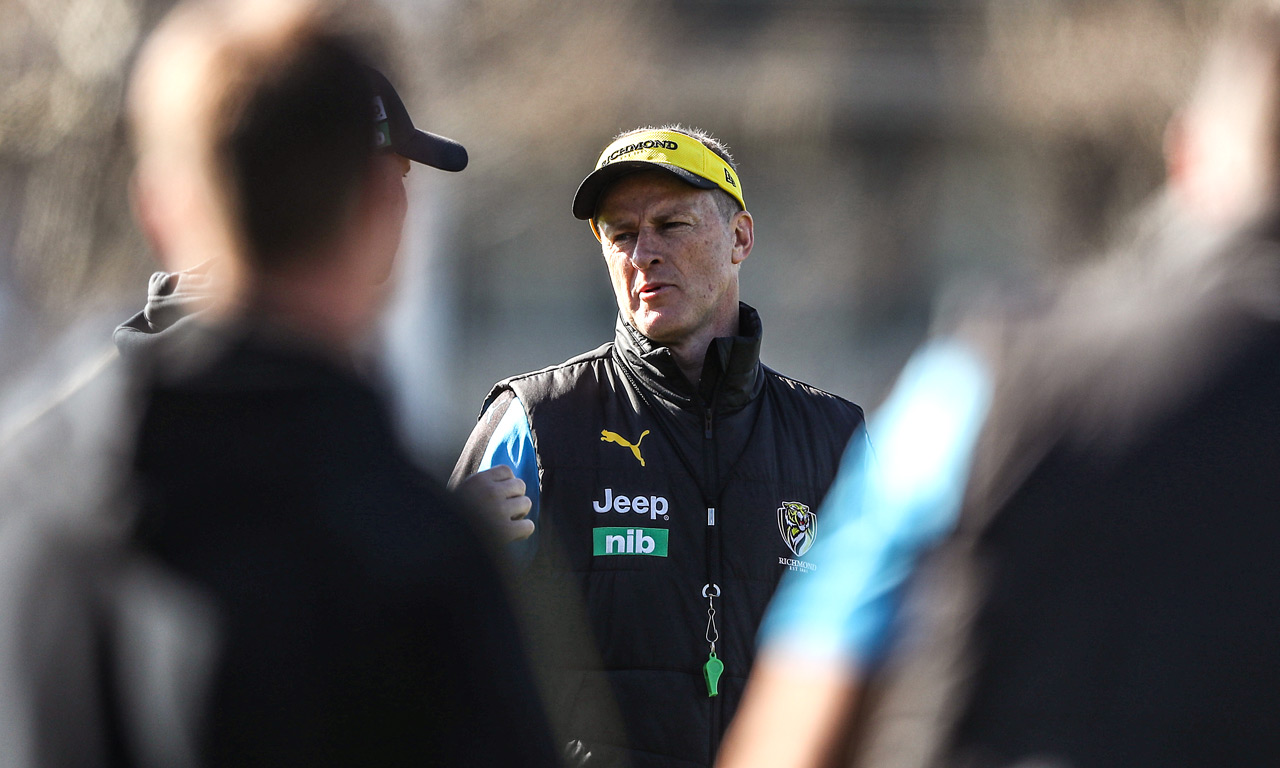 I look at Damien now and see a really well-rounded coach who understands what's important and what isn't and acts accordingly.
He's a good fella and gets the balance right between the importance of coaching and life and doesn't get overly serious about everything.
You've got to set high standards but you've got to show your players you care, that you are with them.
As well as being tight with his players, he has a great ability to set a game style that's effective and sells the style really well to his team.
My view is the players are really receptible to what he says and does and he's clearly one of the better coaches in the competition.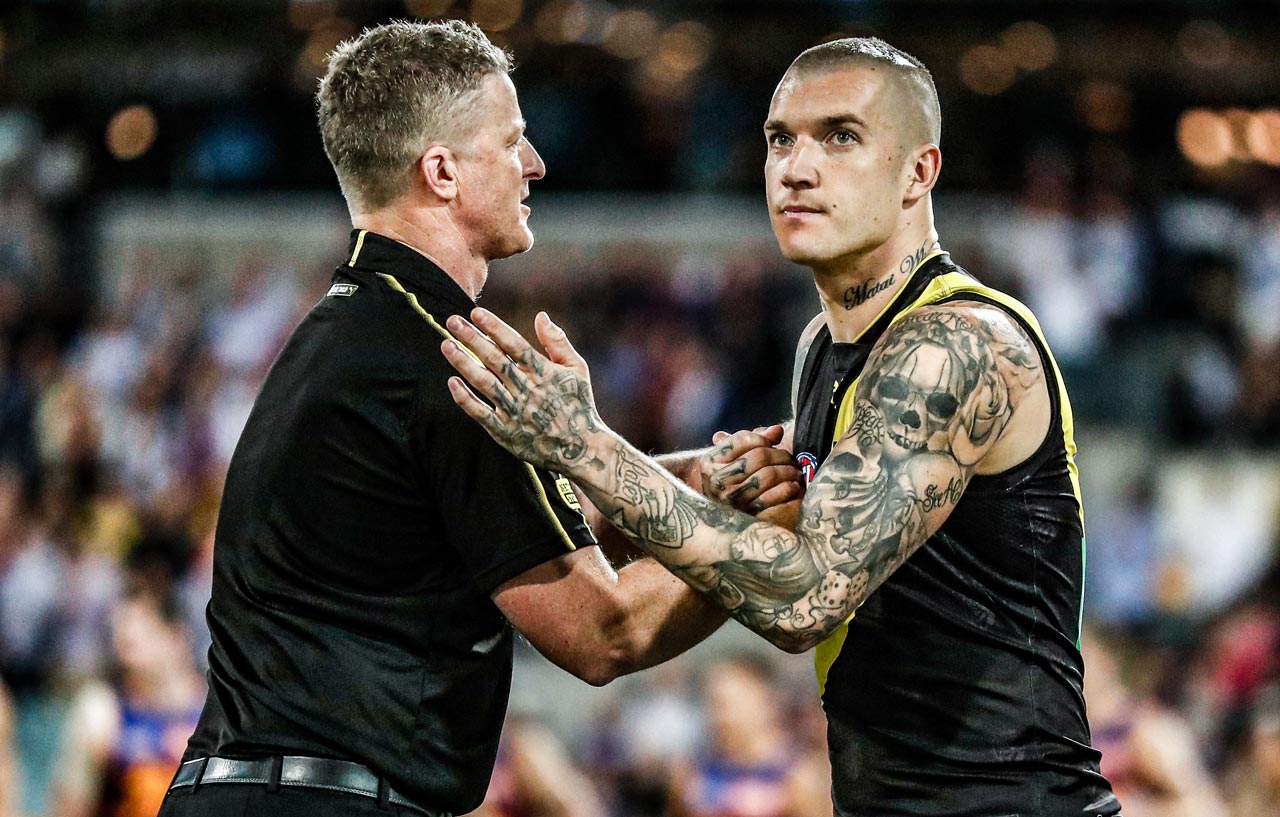 TALE OF TWO STARS
Damien got a lot of credit for his tactics during the Tigers' win over Brisbane last weekend.
The weekend games gave a great illustration of two star players, Dustin Martin and Marcus Bontempelli, and how they were handled differently by their opposition.
The Giants chose to hard-tag Bontempelli with Matt de Boer and the Bulldogs star was held to 13 disposals.
The success of a tagger depends on a whole team to do a job, but even so that was a huge win for Leon Cameron and de Boer.
Luke Beveridge tried to counter by changing Bontempelli's role around – he moved him forward, pushed him into the ruck and gave him an opportunity. When you're under a hard tag it's very difficult to escape, especially when the team's not playing well.
The other example was at the Gabba, where Chris Fagan chose not to put a hard tag on Dustin Martin.
While Dustin certainly didn't dominate through the middle of the ground, I think, tactically, Damien Hardwick made a great call, the catalyst being that Richmond weren't going well.
He recognised that Darcy Gardiner, who would be Dustin's normal opponent if Dustin was forward, was occupied with Jack Riewoldt, because Riewoldt beat Marcus Adams in the previous game.
With all due respect to Marcus Adam, he didn't really have a match-up because he was too good for Adams on the ground and Gardiner, who's more agile, was occupied with Jack Riewoldt.
The tale of the tape for those two champions: Bontempelli endured a hard tag, his team played poorly and the coach tried to help him out but it didn't work; Dustin Martin didn't get a hard tag, was able to go forward and showed his form in finals is exceptional.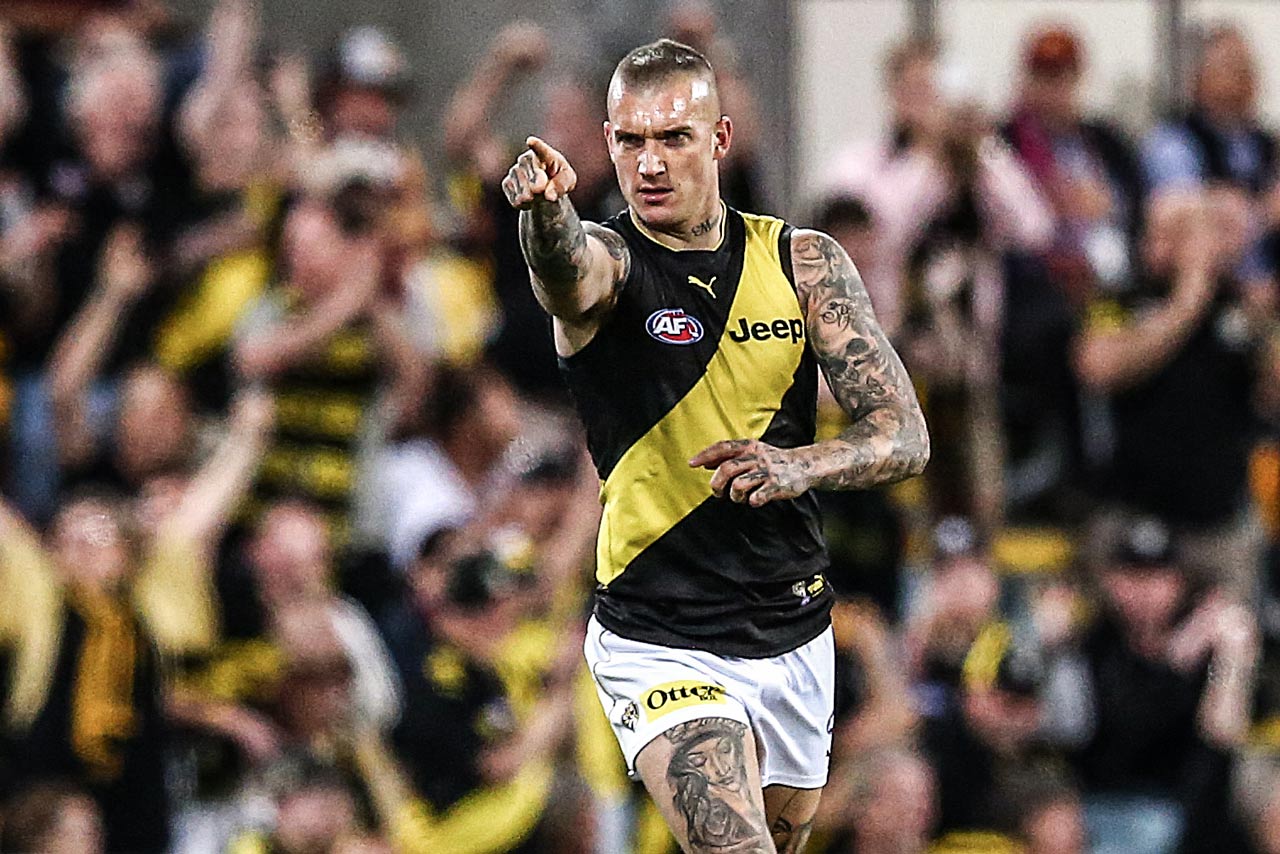 THE ONLY THING THAT CAN STOP DUSTIN
There is no reason Dustin can't dominate the finals. It's about the health of a player and he looks very fit.
It's also about the form of the team and they are performing really well.
He looks good and the team looks good so the only question I would have is, is a team that plays against him in a preliminary final going to put a really hard tag on him?
For me, that's the only thing that could stop Dustin now in some shape or form. But given his capacity to go forward, it always makes him tougher to tag.
Certainly, if I was coaching against him I would put someone on him and run with him everywhere, then maybe hand him over when he goes forward.
At this stage, teams haven't put as much focus on him as you might expect for a player of his calibre.
On the weekend, we really only saw one of the top midfielders getting tagged in four games.
THE TURNING POINT
I can't see the Tigers not getting through to a grand final. I think Collingwood will get there, too, although there's a lot of footy to be played before then, of course.
The Tigers did a great job early in the season of weathering the storm. At one stage, they had Martin, Cotchin, Reiwoldt and Rance out and I think a lot of people wrote them off.
A couple of the wins they picked up – like Port over there – were critical for them in securing a finish in the top four.
At the end of the season, with the stars coming back, they got that momentum. I wasn't as pessimistic when Rance went out as most people were, but I was more pessimistic when they lost the other three as well.
I think those wins early in the season under pressure with a really young team were the turning point for them.
THE RIGHT CALL
I think Essendon made a sound decision in giving a new contract to John Worsfold.
He'll be aware he will be under pressure next year. His body of work over four years needed to be looked at, as did how bad a position the club was in when he got there. And they've had a lot of injuries.
Clearly, I think it's a good decision but next year he knows if he doesn't deliver, especially if they don't have injuries, then it's another story. Five years with a pretty talented team is a good period of time.
Scrutiny will come with it, but he's used to that, having had it all year.
More about: Brisbane Lions | Coaching | Collingwood | Damien Hardwick | Dustin Martin | Essendon | GWS Giants | Paul Roos | Richmond Tigers | Western Bulldogs