I didn't know it at the time but the corner in which I'd just scored a preliminary-final winning try for the Roosters, the last try ever scored at the Sydney Football Stadium, was right where my family was sitting.
My mum and dad, Svetlana and Rubin, were there in a group of about 25, watching us play the Rabbitohs for a spot in the grand final. It was the first time they'd seen me play in the NRL.
It took me a little while to find them after the game. I was so happy to share that moment with my family. My partner, Matilda, who has been such a huge support for me during injuries. My grandpa, Paul, who has barely missed a game since I was six. I ran straight over to my dad and he was in tears already.
I looked up and saw my brother, Alex, who's not really an emotional guy – but he was crying. That moment was caught on TV and it was such a special one for me. It really hit home. He was just telling me how proud he was of me.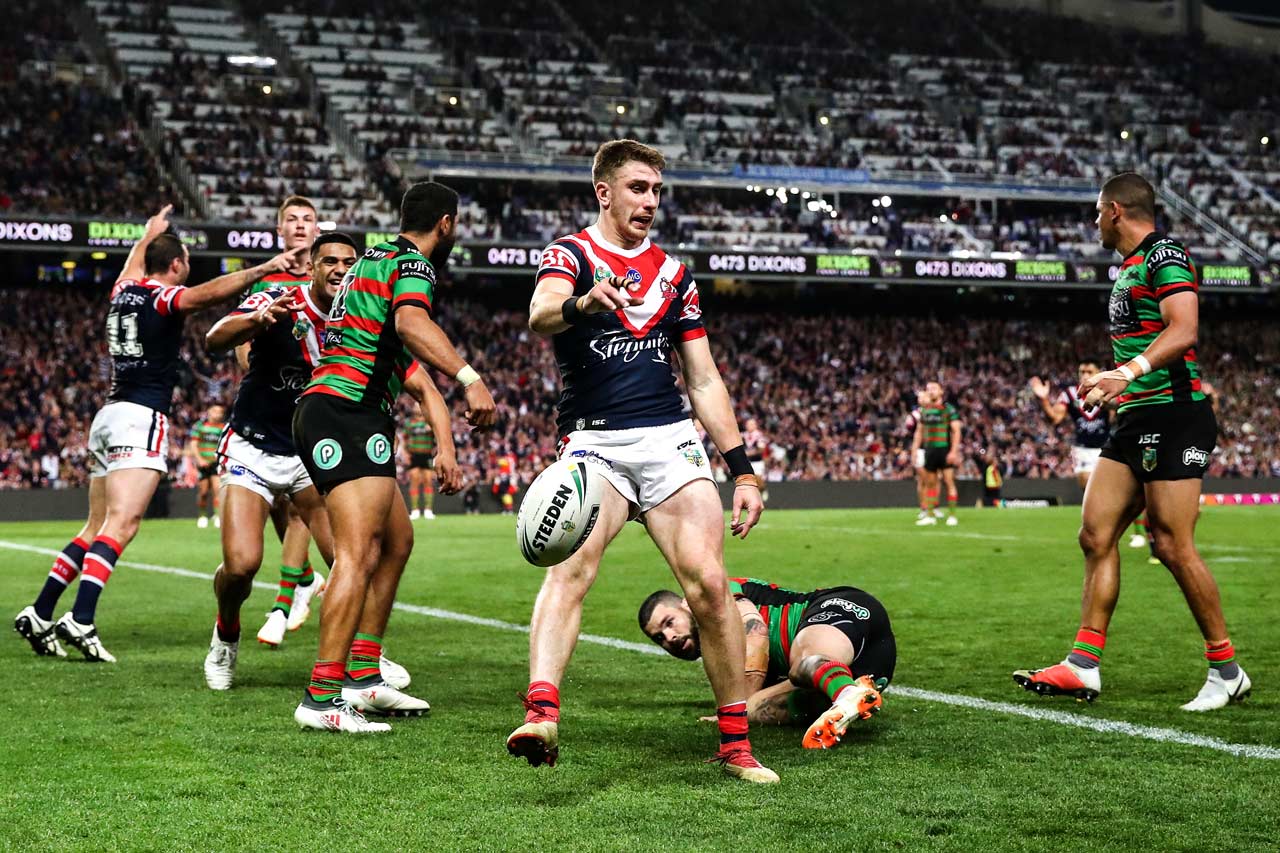 Mum and dad work so hard and never go on holidays, not for more than a week or so. Earlier this year, my brother and I had finally convinced them to go on a big Europe trip.
But as it turned out, they missed my debut: Round 18 against the Titans in July. I was one of three debutants to score a try in that win, along with Sean O'Sullivan and Poasa Faamausili. A little slice of history – it had never been done before. Mum and dad were a bit upset to miss it.
I thought that game would be it for me this year but then, Latrell Mitchell got suspended.
I was excited when I was given the nod to play that prelim. I was in a bit of shock but after that, there were no nerves. It was just pure excitement to get an opportunity again.
I knew that it was probably my last chance to wear a Roosters jersey – jersey No.20, as it turned out – given I was leaving the club for Wests Tigers. It turned out perfectly. I'm just grateful that Trent Robinson trusted me enough to play such a big game, in only the second match of my career.
THE CRONK SECRET
There were 82,688 people in ANZ Stadium watching the grand final. Only our team, coaches and staff knew that Cooper Cronk was out there playing with a broken shoulder blade.
Sitting there watching him play against Melbourne, knowing that his shoulder was shattered, was one of the most impressive things I've ever seen in rugby league. Definitely the toughest.
Keeping Cooper's condition a secret was all about trust. On the Sunday after the preliminary final, we were told that he was injured. After he'd had scans, we were then told that he had a broken scapula and was only a slim chance of playing.
The fact that no one else found out about the broken shoulder leading into an NRL grand final shows the strength of the group, how tight the bond between everyone is.
While there's been a bit said about how we kept his injury a secret, the bottom line is that we didn't think he was going to play. Whether Cooper could play or not was all that we were worried about.
I did not think that he was a chance to play during the week. At all. I was watching him pass the ball the day before the game, which was when he told us he intended to play. I could see the pain in every ball that was thrown. I've been through shoulder injuries, so I had some idea what he was feeling. At that point, I still thought, 'There's no chance he's playing'.
Then, he comes out and does what he does. Crazy.
Sitting there watching Cooper play, knowing that his shoulder was shattered, was one of the most impressive things I've ever seen in rugby league. Definitely the toughest.
Robbo gave Cooper a massive rap back in the sheds. Boyd Cordner said some words for him, too. He got a standing ovation from the boys. It was so courageous.
Like Robbo, Cooper has been massive for implementing extremely high standards for everyone to follow at the Roosters.
How he conducts himself, the professionalism, is amazing. You see 15 years of rugby league experience all bundled up into how he now carries himself. Everything he does is to perfection. He holds himself to the highest benchmark.
Even after spending just one season with him, it's something I'll always look back on and try to emulate. If you're doing half of what Cooper Cronk is doing, you're doing all right.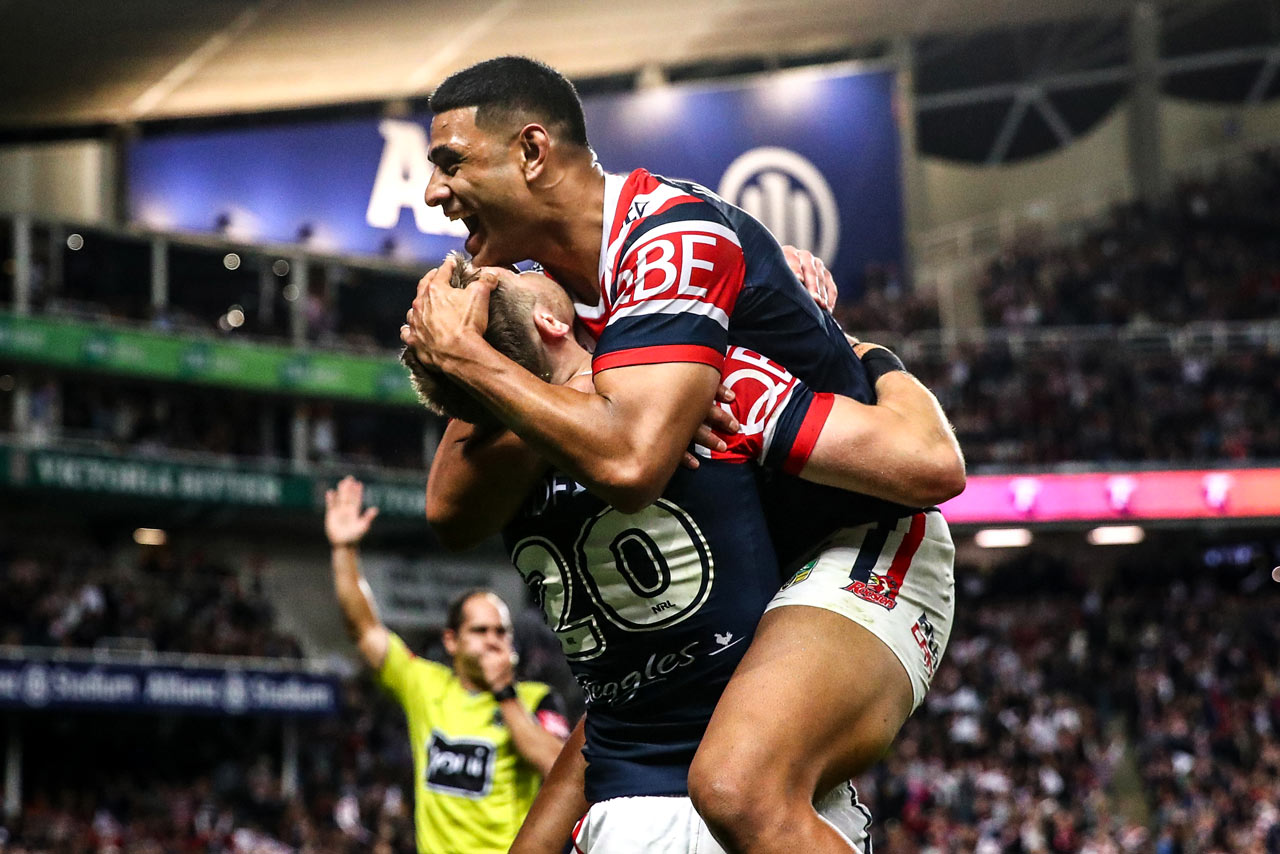 Cooper always speaks to the team right before a game. He's a leader. Before the grand final, he just reiterated what the coaching staff had said, key little details of the game that we needed to follow.
One thing he didn't speak about was his shoulder injury. He would never speak about himself in one of those speeches. As soon as he knew he was playing, it was all business. Straight-talking about what we needed to do to win the game.
Cooper's probably one of the most selfless players I've seen. Hearing him speak before a game, knowing what he's done, it just gives the boys a belief that they can do the job. Trust me: when Cooper talks, you listen.
He played a very different game to usual in that grand final but he was immense.
Whether Cooper played or not, Luke Keary had to go out there and take on more of a role.
He's a big-game player, Luke Keary. It's his second grand final win and he just keeps proving everyone wrong.
We fully expected that type of performance from Luke in those circumstances. It shouldn't have surprised anyone – it certainly didn't within our club. That's the type of player and person that he is. He had a lot of motivation heading in, to get the job done.
He knew he could do it. We knew that he would.
More about: Boyd Cordner | Cooper Cronk | Grand Final | Injuries | Luke Keary | Melbourne Storm | South Sydney Rabbitohs | Sydney Roosters | Trent Robinson | Wests Tigers