The micro-second that made JT
If there was one thing I might've bet my life on in footy, it was Johnathan Thurston nailing that conversion to win the 2015 grand final.
I reckon he'd missed two shots all year from out wide on the right-hand side. Those kicks are made for JT, the way he shapes the ball. I was confident. We had a perfect view of it from over his right shoulder up high in the coach's box. When the ball came off his boot I thought, 'We're home here'.
But he struck it too well. It stayed straighter than it normally would've because he was right over the ball when he kicked it. He got right through it, so it didn't have the same sort of shape.
It was too perfect. The ball hit the post and JT was beside himself with disappointment.
The rest of the boys did a great job to get JT refocused. He was our leader, one of the best players in the world. We most likely weren't going to pull it off without him making the right decisions.
Gavin Cooper is an experienced player himself and one of his closest mates. Coops went to JT and said, 'Mate, get your head back on, we've got golden point here'.
And of course, he delivered.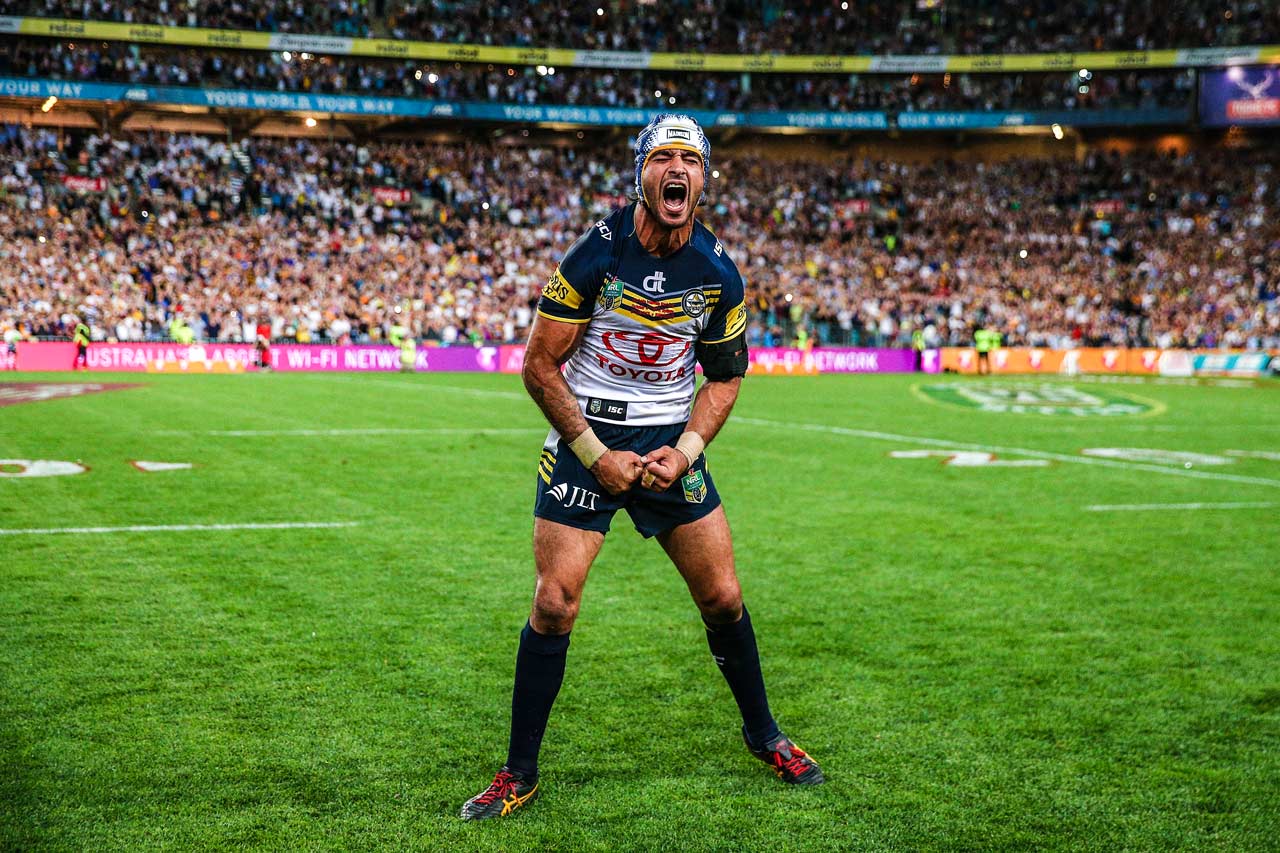 After Ben Hunt dropped the ball from the kick-off, I felt confident Johnno would get a shot at field goal – if we didn't score a try first. We wanted to take it straight off the scrum, but he got rushed. After two tackles, we looked again, but again they got up quickly and JT dished it off to Lachlan Coote. He had no room either.
On the fourth tackle, Jimmy Tamou took a carry and got a really quick play-the-ball.
When I saw that, I thought, 'Now's our chance'.
But – and this is what a lot of people don't realise – JT didn't drop the ball cleanly. It didn't hit the ground well. It was falling over to the right as he went to hit it and, with the opposition already charging at you, the last thing you need is to have to factor something else in.
But JT knew and he made the necessary adjustment in the micro-second he had to think about it. He twisted his foot around the ball a bit to make sure the contact was good and got it to go between the posts.
This is what only the truly great players can do. From him, it didn't surprise me one bit.
I'd watched him do amazing things with the ball just mucking around at training. Rolling it along the ground and kicking it as it's moving – putting it straight between the posts. Lining up shots from ridiculous angles – shots you think are impossible to make – and curling it through.
So, yeah, I thought he was going to make that shot no matter what.
What can I say? He's a freak.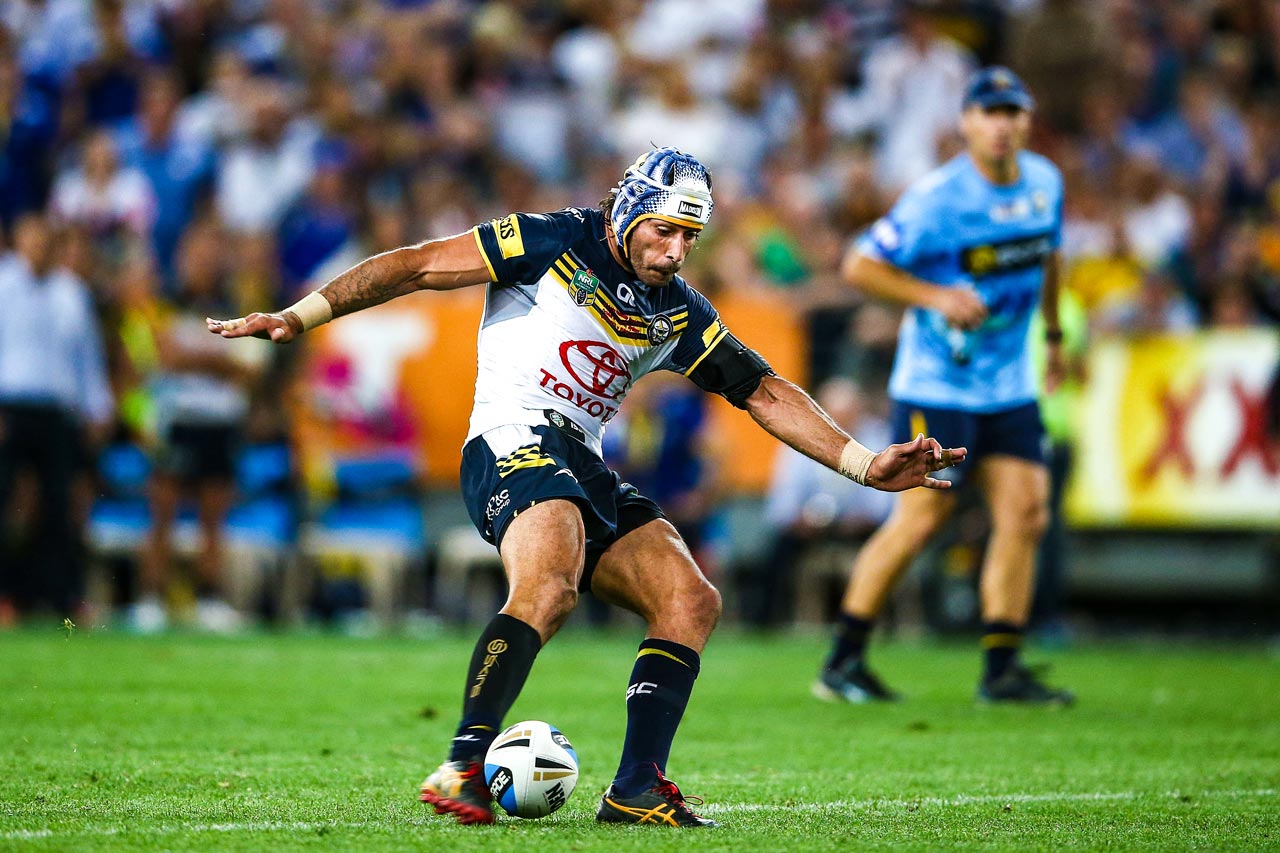 THE LINE IN THE SAND
I really didn't know JT before I was appointed to coach the Cowboys ahead of the 2014 season.
We arranged to meet in a hotel room in Darling Harbour while he was in Sydney for the Dally Ms near the end of the 2013 season. Because we didn't have much history, we were feeling each other out a bit at first. Neither of us knew how much we could say straightaway, but we started to get comfortable soon enough and felt we could start being honest and open with our views.
The first thing I wanted to know was what he thought about the club and how the team had performed up until that point. Strengths and weaknesses. Where we needed to improve.
Then I talked about what I thought the team was capable of. He was very open to what I was suggesting. Considering his status in the game, that made me feel pretty good. We were on the same page.
About halfway through the 2014 season, we were slightly behind on the win-loss ratio and I decided to make a move.
I switched JT from five-eighth to halfback.
I debated whether to do it or not because it wasn't really going to change our style of play, but I thought by putting the No.7 on his back, JT would feel a bit more responsibility. There's a difference in the mindset between a halfback and a five-eighth, I think, for some people. Ask any league fan and I reckon they'll tell you seven feels like the most important number in the game.
That's what I wanted JT to feel. It was a mental thing more than anything. It didn't matter to me what number he wore, but I think for him – as well as everyone watching – if you're the halfback, you had to step up to the mark.
Wearing that No.7 again, it was clear he felt that responsibility. He took over the team.
If there was one thing I might've bet my life on in footy, it was Johnathan Thurston nailing that conversion to win the 2015 grand final.
We won way more games than we lost from that point on and finished the regular season in fifth place. We beat the Broncos in the first week of the finals and came up against the Roosters in the second week.
We fell behind 30-0 in that game before getting it back to 30-all. Incredibly, we had a chance to win at the end when JT scored a try off an inside pass that had brushed past Robert Lui's arm. It was debatable whether it was knocked forward or back. The ref said 'no try' and they went upstairs for a look at it. The decision stood. We went down 31-30.
The Cowboys had endured a history of bad calls in finals. In each of the previous two seasons, there had been huge controversy surrounding their elimination. We could've pointed to that again, but we needed to get past blaming refs and using that as an excuse.
After the game I said to the team, 'Look, we can't be down 30-0 in a big game and expect to win, it's just not good enough. So take the ref's call out of it – we can't blame that'.
I needed our main men to buy in on that thinking.
JT's initial reaction to what had happened was, 'Oh no, not again', similar to probably everyone else, but he quickly came around and bought into the line of thinking I was trying to promote. Of course, the rest of the team followed him.
I reckon that was a huge change of mindset for us as a club, a real line in the sand moment. JT helped drive it. That attitude had to change – and it did.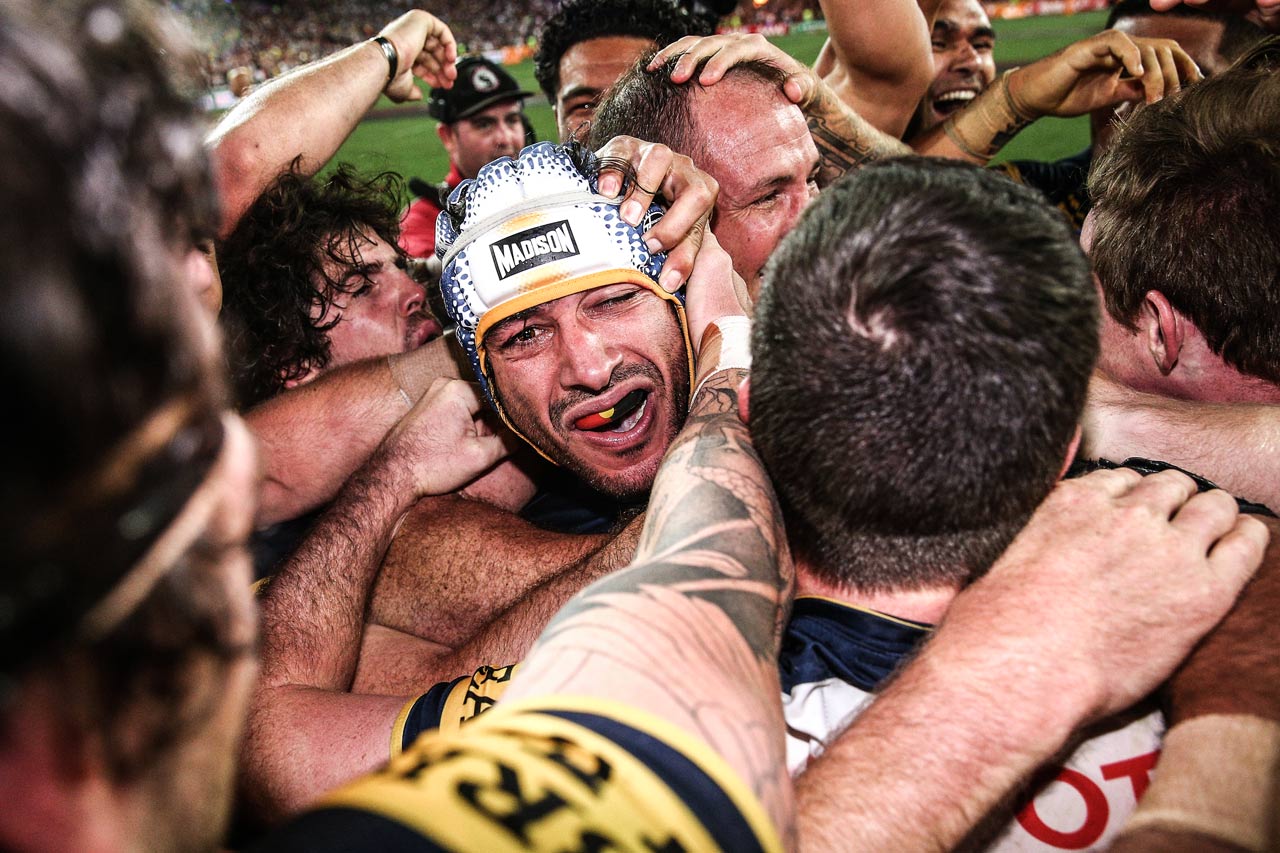 THE PREMIERSHIP & BEYOND
A season later, we were the premiers.
It was crazy after fulltime in the grand final. Everyone was hugging each other and running around madly on the field. I got a quick moment with JT and congratulated him.
By the time the presentations were over and we got back to the rooms, it was chockers. Every man and his dog were in there, which was good because a lot of people had worked hard for a long time to achieve this. It was about sharing it with everyone.
JT had played in grand finals before. He'd won one coming off the bench as a kid at the Bulldogs in 2004 and lost one the following year as a starter for the Cowboys. But this was the grand final where he was able to bring together everything he'd learned and have a major influence on the result.
I was really happy for him.
It was crazy after fulltime in the grand final. Everyone was hugging each other and running around madly on the field. I got a quick moment with JT and congratulated him.
We were in good shape roster-wise to try to go back-to-back in 2016, but the Sharks knocked us out at the preliminary final stage. It's hard enough to win one comp, let alone two in a row. No team has done it since the Broncos in the early 1990s. Everyone's gunning for you.
Then last year, despite so many injuries to key players – including JT halfway through – we came off a stumbling end to the regular season, won three straight finals games and qualified for the grand final.
JT helped wherever he could at training over the second half of the season. He worked with Michael Morgan in our halves and was really good from a game-planning point of view. He was also a big help to Ethan Lowe with his goal-kicking.
He was keen to see from close range what we go through as coaches to get ready for games. He'd sometimes come up with an idea that only Johnathan Thurston could. It was pretty good input. He and Matt Scott were great through that period.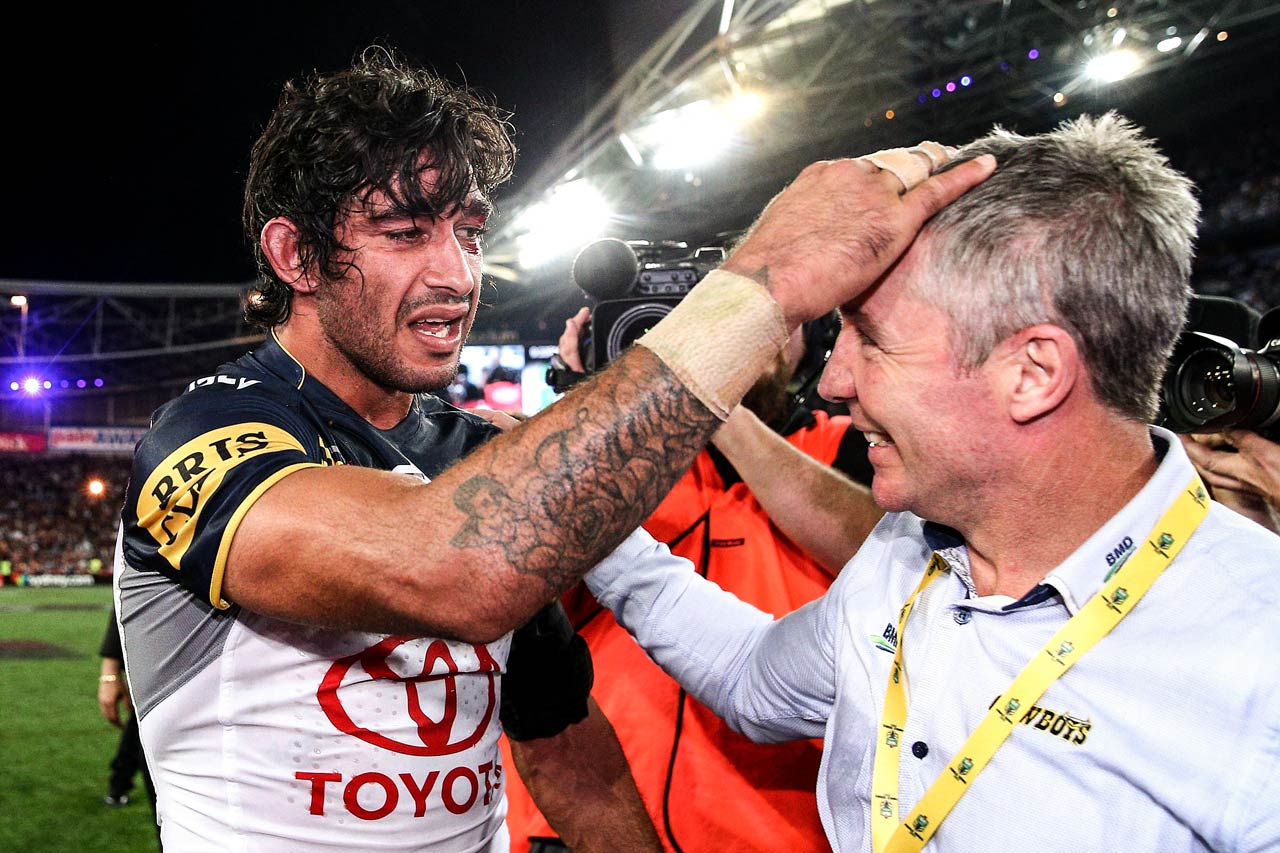 This season obviously hasn't been a great one for the Cowboys. Everyone seems to have their theory as to why.
JT has copped some criticism and I can't see any justification for that. When guys get to his age, they're not the same players they were five years ago, that's obvious; but when you're starting from as high a peak as JT was, you still bring plenty to the game.
To say he has played on a year too long – no, I can't agree. You've got to look deeper than that. We've had two one-point losses to the Rabbitohs, another to the Storm, a six-point loss to the Roosters – they're the best teams in the comp. Win the close ones instead of losing them and we're still in the hunt.
Injuries haven't helped and I reckon if Scott Bolton scores instead of running into the goal-post right near the end against Brisbane in round two, we kick on. Losing that game really seemed to hurt our confidence. I don't for a second blame Bolts though. He is a team man through and through and always gives his best. He just ran out of room.
But the way this season has gone isn't going to have the slightest effect on Johnno's standing in our game. I'm sure that once he gets over the disappointment, he'll reflect on all the great things he's done, which is the only way it should be. And he'll be grateful for everything that came his way.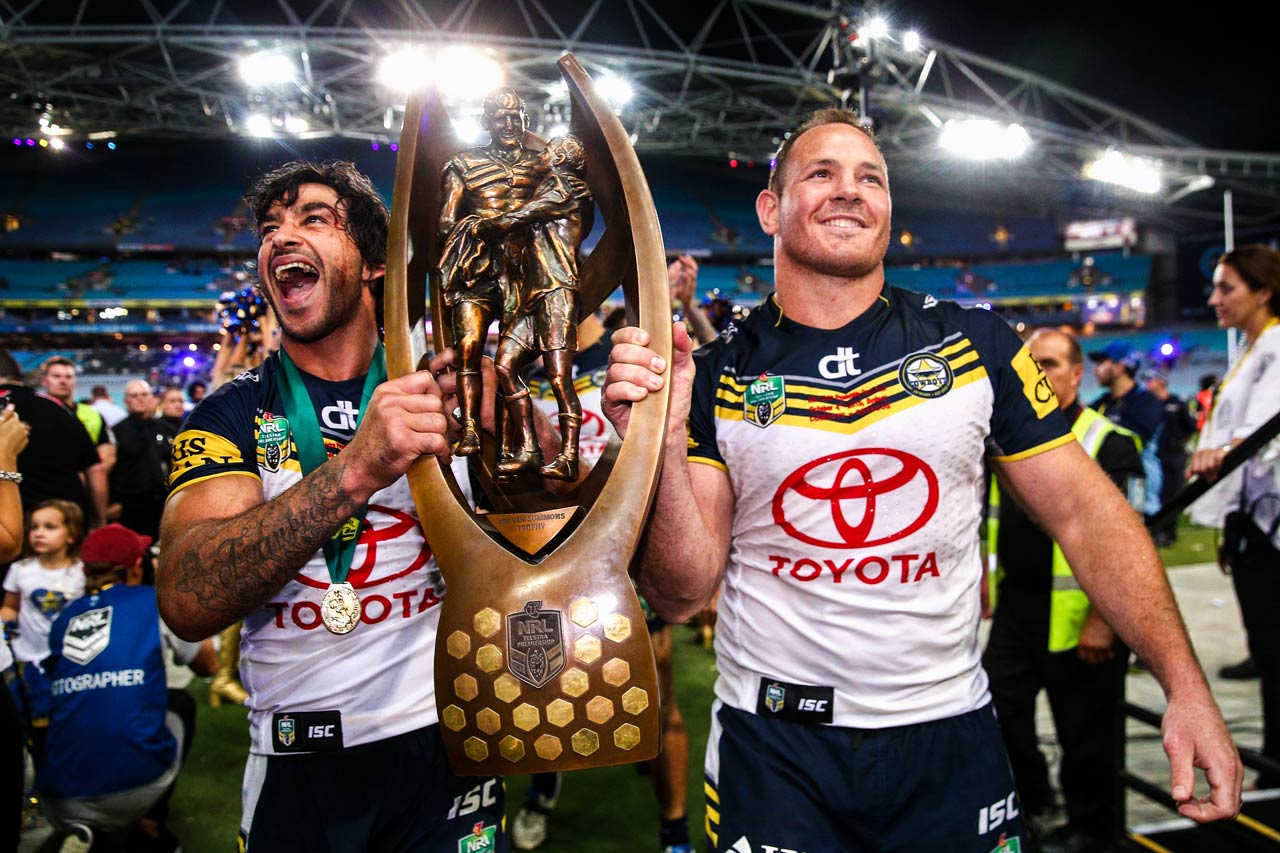 THE NEXT CHAPTER
We'd hate to get the wooden spoon under any circumstances, but we especially don't want it to be the way JT goes out. We won't lack any motivation to win our last two games.
When his career is finally all over, I'm sure Johnno will be emotional.
One day you're a professional athlete and your job is training with 30 of your good mates, and the next day you don't have to be at training. You don't have to wear this uniform or eat this food or follow all this structure you're used to. It's hard to adjust to that. You love it and you miss it.
The JT as a player that I know is ultra competitive, team first, professional and enjoys everything about it. The JT as a person is very caring, got time for everyone, a lot of fun to be around and fiercely loyal.
They're all great qualities he'll take into his post-playing life and whatever he wants to do, whether it's in footy or some other field, they'll stand him in good stead.
Whatever challenge he takes on, he'll be good at it.
Probably great.
More about: Billy Slater | Cameron Smith | Coaching | Grand Final | Injuries | International rugby league | Johnathan Thurston | Kangaroos | Michael Morgan | North Queensland Cowboys | Queensland Maroons