Better than ever before
I started boxing in 2007, purely for the fitness. That led to a bit of sparring and eventually some opportunities were offered up to me and I made my debut in 2014.
I've only really boxed in NRL off-seasons since then. Each time, I get right into the training and then all of a sudden, the fight's over and I'm not able to do any more of it for 10 months. Then it's back to square one again.
That cycle has made it hard for me to advance my skills because boxing is like any sport, you've got to be training consistently to see improvement.
So that's where I started this camp, after my last fight back in January against John Hopoate. But right now, I'm feeling fitter for boxing than ever before.
I've dropped three kilos from the weight I played footy at, which was just muscle bulk I didn't need for boxing. That has me feeling lighter and quicker on my feet.
I don't try to emulate any boxer in particular, because I'm a unique frame for heavyweight, as someone with a height of 5'11''. I know Mike Tyson was a similar frame, but he had the incredible ability to knock people out with one punch. I don't have that.
Growing up, Mike was certainly someone that got me interested in boxing, but I just try to be myself in the ring. I've made too many tackles over the years, and my elbows and shoulders are no good. When I fight, I have to wear my opponents down.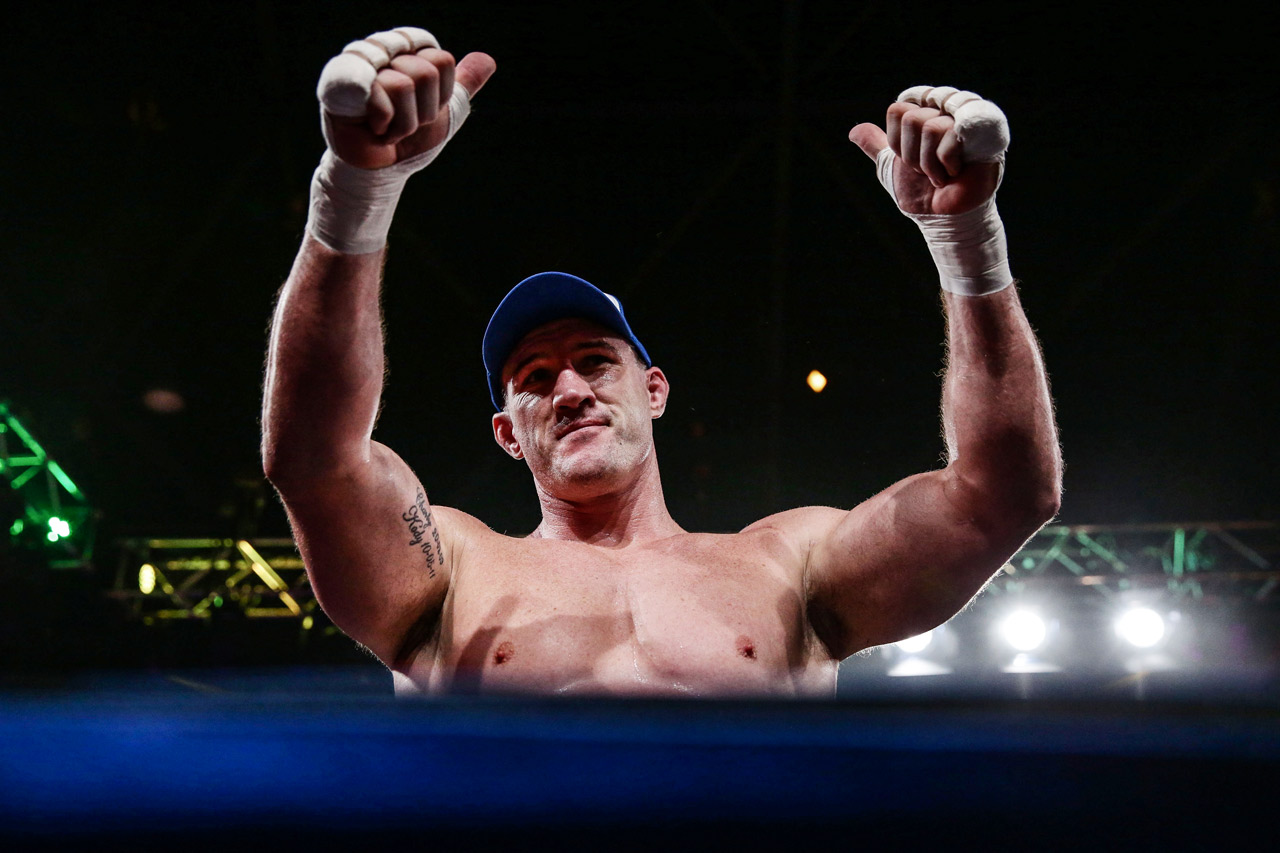 I've just got back from the UK, where I was on a rugby league tour, playing a few games and doing some talks. My fight with Barry Hall was announced just before I left, so I needed to find some training while I was away.
Luckily, my contacts over there sorted me out with a few really good sparring partners – Hughie Fury was one of them. He's the cousin of Tyson Fury, and a former heavyweight title contender in his own right.
Working with guys like Hughie, who have so much experience, was incredible. Sonny Taylor was another boxer I was training with, an up-and-coming fighter out of Hull.
I was able to get a real appreciation for Hughie's workrate and his ability to keep his jab out there, something that tall boxers like him use to their advantage.
Over the years, I've been able to spar with top guys in Australia. Fighters like Ben Edwards, Solomon Haumono and Tai Tuivasa. I've been lucky, I've always found quality sparring partners.
But sparring is sparring. We're there to help each other out but it's not a real measure of a man's boxing ability.
People in horse racing hate me
I'm not looking to have too many more fights. I'm getting to that point where I just want to chill out a bit.
Since retiring from footy, I've released my book Heart and Soul, and I'm really happy to finally have the story out there. The whole experience has made me appreciate just how lucky I am. As a kid from Western Sydney that made it to the NRL, there's plenty I can look back on with pride.
Not many people get to have a 19-year career in first grade. And there was plenty that happened in those years, that I'm able to talk about now.
I also own a small share in a horse called Te Akau Shark. It ran third in the Cox Plate a few weeks back.
For my first thoroughbred, I've been extremely lucky. People in the racing industry hate me for it; it's not supposed to be that easy.
They reckon it's 500,000 to one, just getting a horse to run in a top race like that. Sharing that experience with a bunch of good mates gives us an excuse to get out to these great events and have some fun.
Being able to do more of that sort of stuff is what I'm looking forward to about retirement. For the first time, I'll be able to go to a dinner on a Wednesday night and enjoy a wine or two.

But more importantly, I'll be able to spend more quality time with my family. My daughter is 10 and my little boy is eight. Up until now, if they wanted to kick a football on a Friday night and I had a game the next day, I always felt like it was something I couldn't do.
I was so anal about my preparation and making sure I got to the game in the best possible shape. I felt I had to conserve my energy for the next day. Soon, I won't have to worry about things like that.
I've just got to get through this fight with Barry and then for my family, I'm all theirs. First on the agenda, I'm taking them away for a well-deserved holiday together.
More about: Anthony Mundine | Barry Hall | Cronulla Sharks | NSW Blues | Paul Gallen | State of Origin