Paul Duffield - Contributor
Freo's heartbeat reaches 300
David Mundy wouldn't be enjoying the focus on him this week, as Fremantle celebrates his 300th game for the club. It's not his style.
He's a down-to-earth country guy who loves his family, his friends, and his footy. He's at home sitting around on a Sunday afternoon with a couple of quiet beers and close mates.
He's polite and courteous with the media, but Dave would much prefer two hours of hard running around a footy ground with two taggers for company than talking about his own achievements. 
I was reminded this week that when he marched out for his 250th game for the Dockers he was greeted by a huge banner that simply read: "Well done David Mundy on 250 solid games". I reckon the club probably asked him what he wanted it to read and that was his idea. 
Dave isn't one who talks for talking's sake. He chooses his moments and his words carefully. In a footy club full of big personalities and sometimes big egos, that's rare. But when the time comes for him to say something you listen.
Dave's been a champion of the Fremantle Football Club and will sit comfortably alongside Matthew Pavlich as the second Docker to reach 300 games. It's a huge milestone that a couple of years after his career is finished he might have more time to reflect on and really be proud of. 
But there's still a job to do for his team on Sunday and that's what he will be most concerned about. That's been Dave's motto since before the unassuming teenager packed up and moved across the country to make a new life for himself miles away from his country Victorian home of Seymour.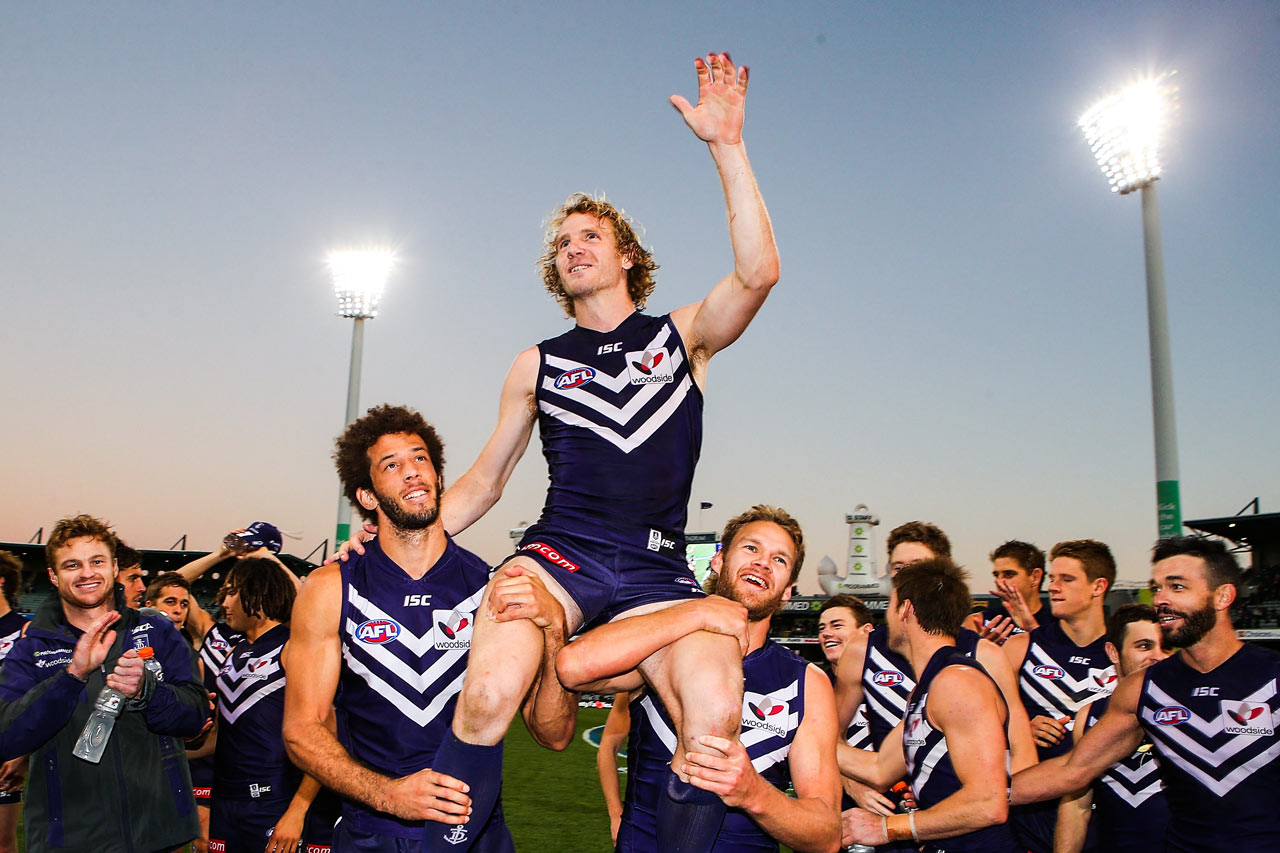 THE SPRINKLER & SHOPPING TROLLEY
In the Under-18 National Carnival in 2003, my brother and dad both spotted him as a good footballer before I had even heard of him. 
Dave was representing Vic Country in a game against Vic Metro and a forward called Luke Herrington came into their match in pretty good form. Luke had kicked six goals the game before and played and looked like Gryan Miers for Geelong at the moment – dreadlocks, lots of tricks, pretty smart around goal. 
Dave was a fair bit taller than him and pretty strongly built, too, but I don't think he had played fullback in his life. The coaches had asked him to sacrifice his game for the sake of the team. He kept Luke goalless and caught the eye of my family and clearly the Fremantle recruiters.
For Dave to do exactly what was asked of him by his coaches when we were all playing to try and get drafted says a lot about the character he was, even then at state level. Nothing much has changed in his time in the AFL, either.
We both got drafted to the Dockers around the same time. He was already at the club when I got taken in the Rookie Draft a couple of months after the National Draft and I think we were sort of naturally drawn to each other. We are very similar characters who grew up in the country and value our sense of community and where we come from.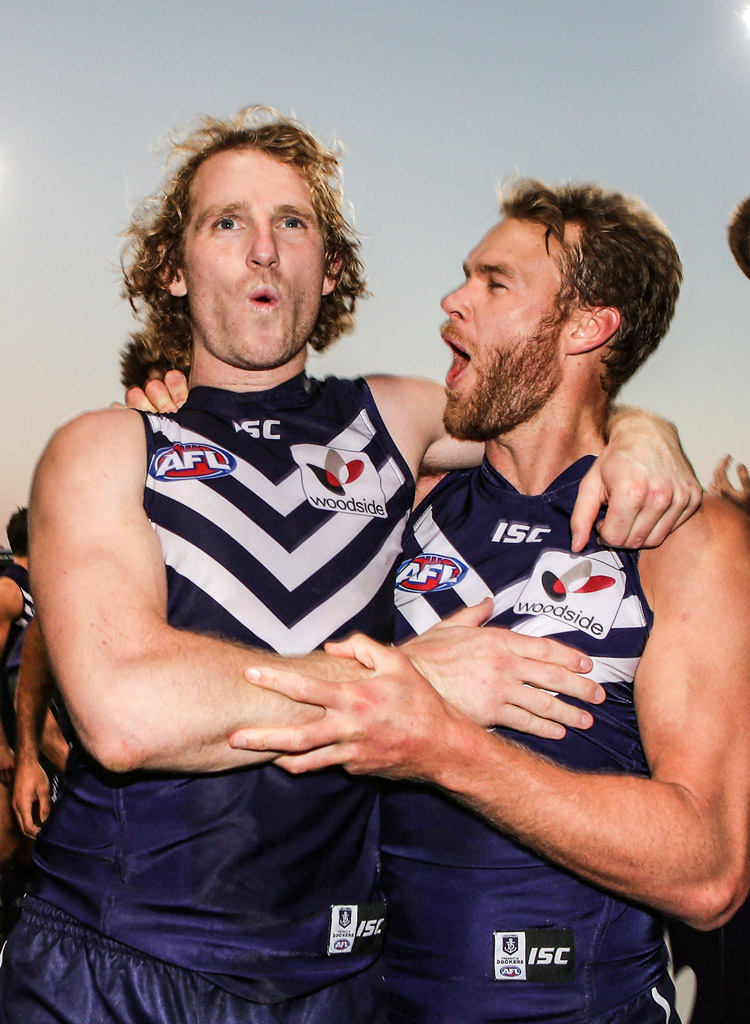 His first year at Fremantle was spent in the WAFL playing for Subiaco. I was at South Fremantle for the year. One afternoon we ended up playing on each other. We shook hands at the start of the game and said to each other, "good luck, see you in a couple of hours". We both just went out and tried to get a kick and didn't worry too much about the defensive side of things. 
That's not to say Dave isn't a competitive bugger. Every pre-season we used to play handball games in the scorching Perth heat for what felt like hours on end. It was a regular part of our training program to hone the contested side of our game. There was only one way to guarantee the team you were on could win – pick Dave Mundy. His strength, his size, his skill and will to win those games was legendary.
He's a bit more of an old-fashioned footballer when it comes to preparing. He does all the basics well like most footballers at that level. 
But it's when he hits the training park that he works really, really hard. He's just full steam all the time he's out there and doesn't leave anything on the track. It's no surprise that his body has held up so well for so long given the intensity he has every session.

By the end of his first WAFL season he had a premiership and not long after he was in the Fremantle senior team. That's where he's been and belonged ever since.
Over our time together I got to know him more and more each year and found myself respecting him more and more each year. Dave cares about each of his teammates and enjoys getting to know the new players that come through each year. He's a very caring and well-grounded guy.
Even though footy is a serious business and became more so during our time together, he does love to unwind with a beer and a laugh. In the early days he also didn't mind hitting the dance floor but this might be Dave's only flaw – his moves were limited to the sprinkler and the shopping trolley and weren't much good either.
More about: Collingwood | Fremantle Dockers | Grand Final | Hawthorn Hawks | MCG | Richmond Tigers