Everyone has an Ashes story.
If there's one thing I've learned over the last couple of weeks, it's that every person you meet – at the ground, at the airport, or even walking down the street for dinner – has an Ashes experience that's meaningful to them.
Mum and Dad were in the stands at the Gabba and sat next to a man who is completely blind. He comes to the Gabba every year because he likes to listen to the sounds of a Test match. How brilliant is that?!
At that same Test, we invited Kevin Mitchell Jr and the Gabba groundstaff into the Australian team dressing room for a beer after the last day. This was Kevin's last Test as curator. We met the whole crew, had some good chats and thanked them for all their help.
On Thursday this week, I was at the airport and a bloke came up to me and showed me a photo on his phone. He said, 'Do you remember meeting my son? You took a photo with him and the rest of the groundstaff at the Gabba?'
'He texted me that photo straight after and told me it was the best day of his life,' he continued. 'That's the impact you guys have.'
Those kinds of stories really hit home.
It tells me that what we're doing here isn't normal. It's actually really special. You can't take it for granted. Sometimes, you have to take a step back and realise how cool this all is.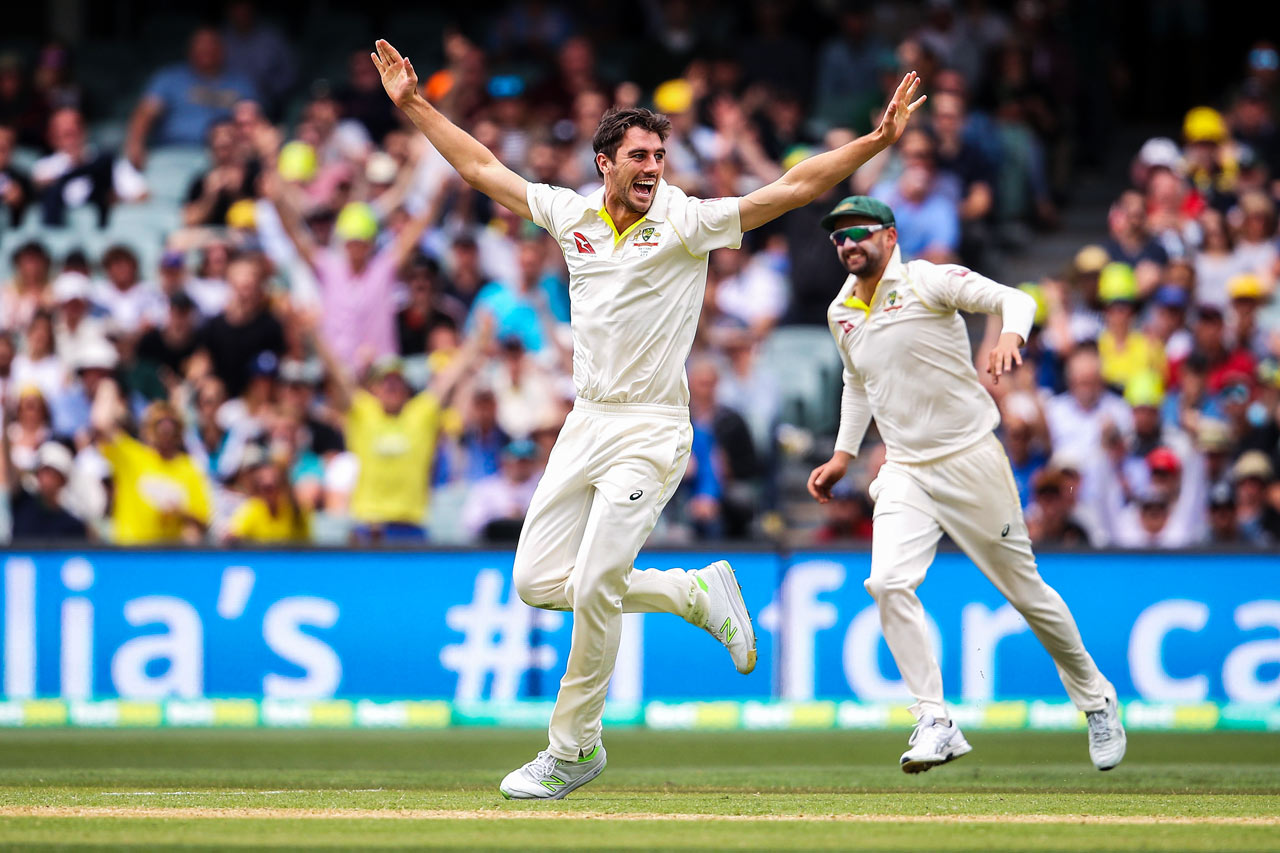 NIGHT TESTS & NEW TACTICS
Those few hours after the win in Adelaide were up there with the most special of my career.
The Gabba Test was pretty slow paced. I felt like we were ahead of the game for most of the five days. Most things went to plan.
Adelaide was different. After a great start everyone was under pressure in the second innings but we came out the other side. To blast England out on the fifth morning – given how the match was poised overnight – was incredible.
The Adelaide day-night Test is an incredible spectacle. As players, we absolutely love it. The whole city turns out for the festival and I rate the Adelaide Oval up there with the best cricket stadiums in the world.
It tells me that what we're doing here isn't normal. It's actually really special. You can't take it for granted. Sometimes, you have to take a step back and realise how cool this all is.
The day-night factor definitely brings another element to the game. Everyone is still on a big learning curve about how to approach the night sessions. The pink ball goes softer earlier than the red ball. It's probably closer to a white ball in the way it behaves.
If you can get to that night session with a relatively new, hard ball, it does seem to swing around corners and nip around. In some ways, it's almost about setting up the game ahead of that night session so you can dictate how to play it.
I'm sure there will be more and more day-night Tests and different strategies will arise. There are things to consider that just don't crop up in the traditional day Tests.
Barry 'Nugget' Rees was with us the whole Test match cheering us on. It's hard to describe just how wonderful a man he is and what a positive impact he has on anyone that talks to him. I wish he could travel around with us every day of the week.
Boof Lehmann and the staff got together with one of the sponsors and created 'Nugget Ale' – a beer with Nugget's face on it. We gave it to him. He was pretty moved by that. We all were.
This is one of the tightest teams I've ever been part of. Everyone has bought in. It feels like we're on a journey together and nothing's going to stop us.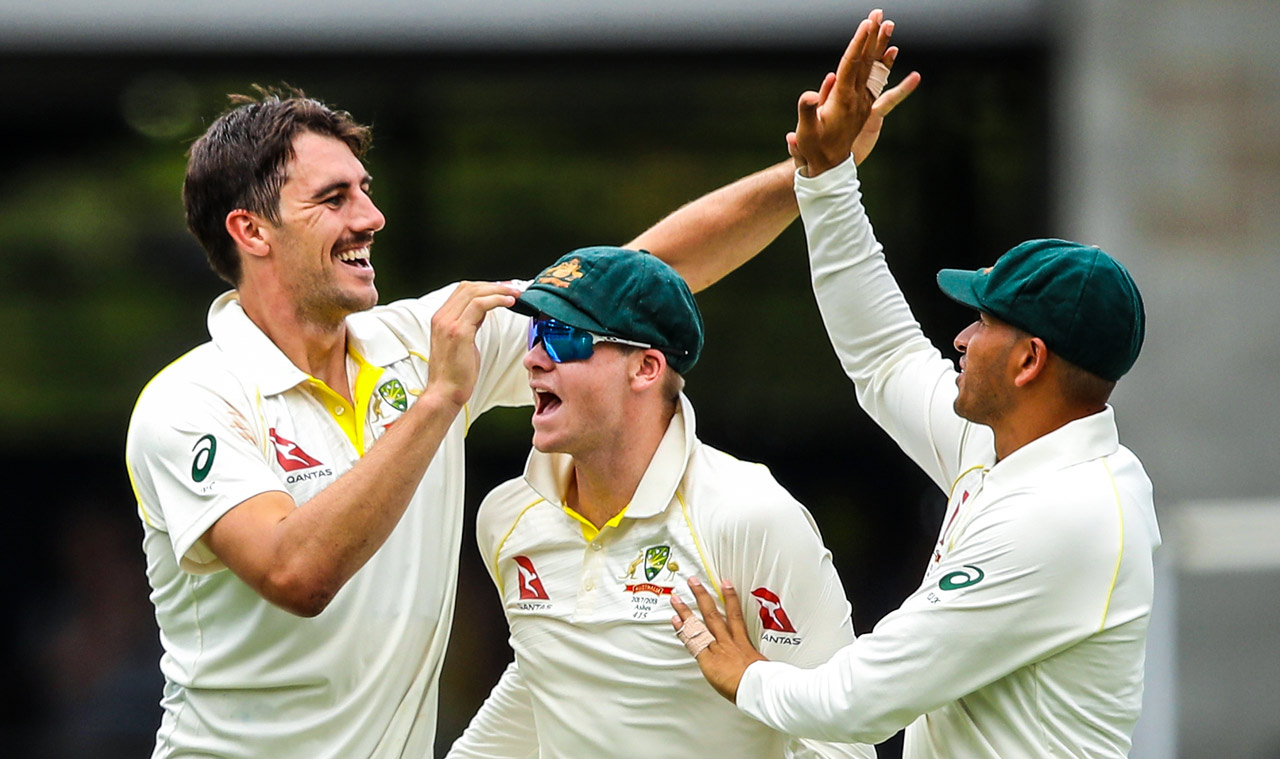 TWO ASHES SERIES AT ONCE
It feels like there are two Ashes series playing out at the moment.
There's the Ashes away from the ground. That's the Ashes where there is so much hype and pressure, anticipation and banter. It feels like the whole of Australia is playing with us. This is my first Test series in Australia and it's the first time I've experienced finishing a day's play and seeing thousands of people walking home in their green-and-gold and Aussie flags. You don't get that when you're playing overseas.
Then there's the Ashes on the ground. Once you walk onto that field, it just feels normal –  in some ways the same as playing a Test match against South Africa or Bangladesh or India. You're just focussed on getting the next bloke out and the next bloke after that. It's like all the drama away from the field fades away when you cross that boundary rope. You have a job to do and that's that.
The time it does feel a little bit different on the field is when I'm batting. In Test cricket there is rarely pressure to score runs quickly. It took me 30-odd balls to get off the mark in the last Test but I felt no stress at all because I looked at the bigger picture. I thought about it being a five-match series and the longer I batted, the more they would have to bowl. They might not have tired this game but they might in the later Tests.
I use that as motivation instead of runs if runs are hard to come by. I've never really thought that way before with the bat until this series.  I thought about making their bowlers come back for an extra spell and hopefully they might tire a bit quicker in the second innings.
The only times in the field where it feels different is that odd moment when I look up into the stands. There are tens of thousands of people chanting and clapping along. Everyone is kitted up for the day.  They're so dedicated to the team. It's very humbling.
And hearing the Barmy Army sing 'Jerusalem' every morning is special. It's really rousing. It shows the passion and patriotism they have.
The Barmy Army are brilliant for cricket. I haven't heard a chant dedicated to me yet but I'm sure they're cooking one up! The DRS chant the other night was pretty funny after we lost our reviews in Adelaide. It's all good fun.
SIX YEARS IN THE MAKING
The Brisbane Test in 2011 was a week after my debut in Johannesburg. I'd hurt my heel but I still flew up to Brisbane for that Test to be with the team.
This summer was the first time since then that I had been at the Gabba for a Test match.
It hit me when I got picked in the XI. I thought, 'My first Test in Australia, how good is this?' But when I got out there on the field, it was just, 'I've got to do a job like every other Test I've played.'
I might be a bit naïve, but taking my first wicket on home soil didn't feel different to any other wicket. I was stoked to get that first breakthrough on behalf of the team, obviously, but it wasn't until after the day's play when someone said, 'That was your first wicket at home,' that I stopped and thought, 'Geez, this has been six years in the making.'
I've only played a handful of Tests and the pace of the game, the way it oscillates, still fascinates me.
You can take a day-and-a-half to get 300 and then bang-bang-bang – in a matter of half an hour the whole game turns on its head.
On the third night in Adelaide, losing a few wickets, the ball doing things under lights, it felt like the game was flying by. When play resumed the next afternoon, it slowed down again.
I was stoked to get that first breakthrough on behalf of the team, obviously, but it wasn't until after the day's play when someone said, 'That was your first wicket at home,' that I stopped and thought, 'Geez, this has been six years in the making.'
It's those little nuances in Test cricket that are different to every other sport in the world. As a point of learning, you've got to stick at it. Each session is super important.
I can see how all the hype and drama surrounding an Ashes series could be quite a draining experience if you're behind. But when it's going your way, it's actually really energising – like the whole country is behind you. It's great that every Aussie and English fan has an opinion and rides the highs and lows. It shows how much it means.
You wouldn't want to be anywhere else in the world than in our changerooms right now.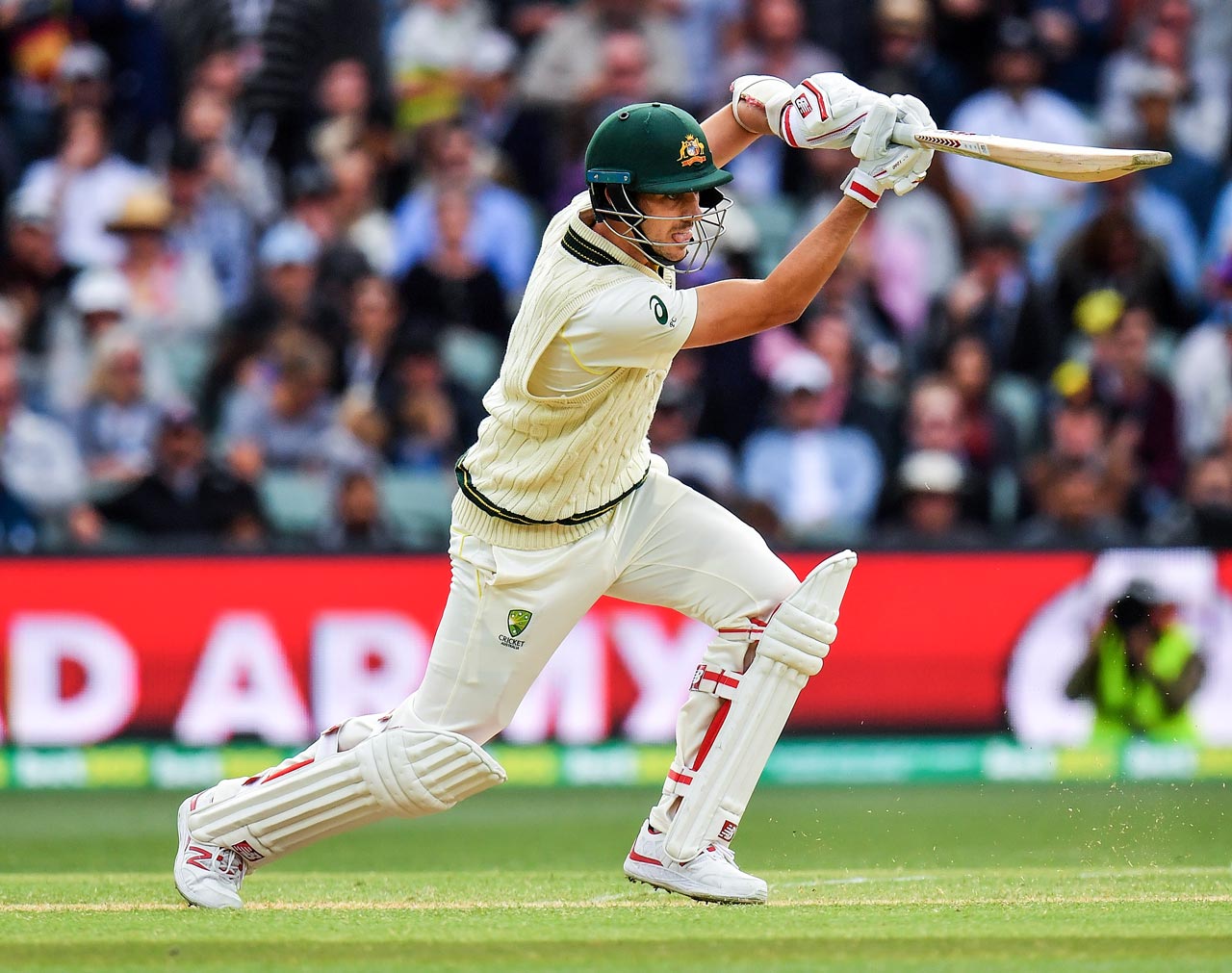 BRING ON THE WACA
Mum and Dad come back with another Ashes story from up in the stands after pretty much every day's play.
They can see first-hand the impact cricket is having on so many lives. Mum keeps telling me how good it is to see the crowd being so supportive. I was one of those fans not so long ago. I think she gets a bit overwhelmed by that thought sometimes.
They've been to Brisbane and Adelaide and I got a text from them at the end of day five in Adelaide saying, 'I guess we'd better book some tickets to Perth now.' They're like me. They've been holding out hope for so long, but at the same time preparing themselves to be let down if anything happens.
Now it's actually happening, they're absolutely loving it. Like most Australian families, we all grew up watching the cricket. Watching the Ashes on TV are some of my favourite childhood memories.
Plenty of those memories were centred around the WACA Ground. I haven't actually played too much cricket there, to be honest. I've played five or six T20 games and a couple of one-dayers.
There are mixed reviews about how the wicket will play. In my experience, it's been really fast and bouncy. But speaking to Starcy and Josh Hazlewood, it seems like it's been flatter in Tests the last couple of years and hasn't had the bounce and pace it had in its heyday.
I hope it's fast and bouncy. As a fast bowler, that's the traditional characteristic of the ground.
More about: Ashes | Pat Cummins | Test cricket