The two games that drive me
I know the 2016 grand final will be remembered as one of the greatest netball games ever. But one of my clearest memories of it was sitting in the change room afterwards, thinking, 'I hate this place! I hate this stadium! I hate these change rooms!'
It might sound a bit harsh. The Queensland Firebirds were a great side and to be part of a phenomenal game that would be talked about long afterwards was pretty special.
I think the 2015 and 2016 grand finals took netball's popularity to new levels. But, for us, losing by one goal and then two goals in double extra time the next year, to the same team, was pretty hard to take.
The 2016 grand final was also the end of an era for the NSW Swifts and netball in Australia. Preparations began almost immediately for the new Suncorp Super Netball competition and five of our starting seven for the game ended up leaving to play for other clubs.
That upheaval, on the back of those grand final disappointments, was really challenging. But, as the Swifts prepare for the start of the season 2019, I can look back on those experiences and see them in a constructive light.
What's allowed me to do that is that I've finally had some time out. Last year was the first time since 2013 that I haven't been involved in the Diamonds squad in some capacity.
It was my first proper opportunity to reflect on a whirlwind few years since first playing international netball at age 20, when I was part of a dressing room featuring the likes of Maddie Robinson, Laura Geitz, Julie Corletto, Erin Bell and others.
To have some space has been a blessing. It's been refreshing to be normal for a while, do some work outside of netball and give my body a break. I've been able to reassess what I really want to achieve from here on, to really think about what's important to me in my netball career.
The answer I've come to is that the Swifts is where my complete focus needs to be right now. I want to win a title in the Red Dress. We've come so close – agonisingly close – but we haven't made the finals now for two years and I really want to get back there.
There are going to be times it'll cross my mind, that I'll be wishing I was back in the national squad, of course. But the past few months opened my eyes to the fact that, while it's something I want to do, what I want more than anything is to get the best results possible for the Swifts and see us contest for the title.
I feel like I've got unfinished business with Team Red.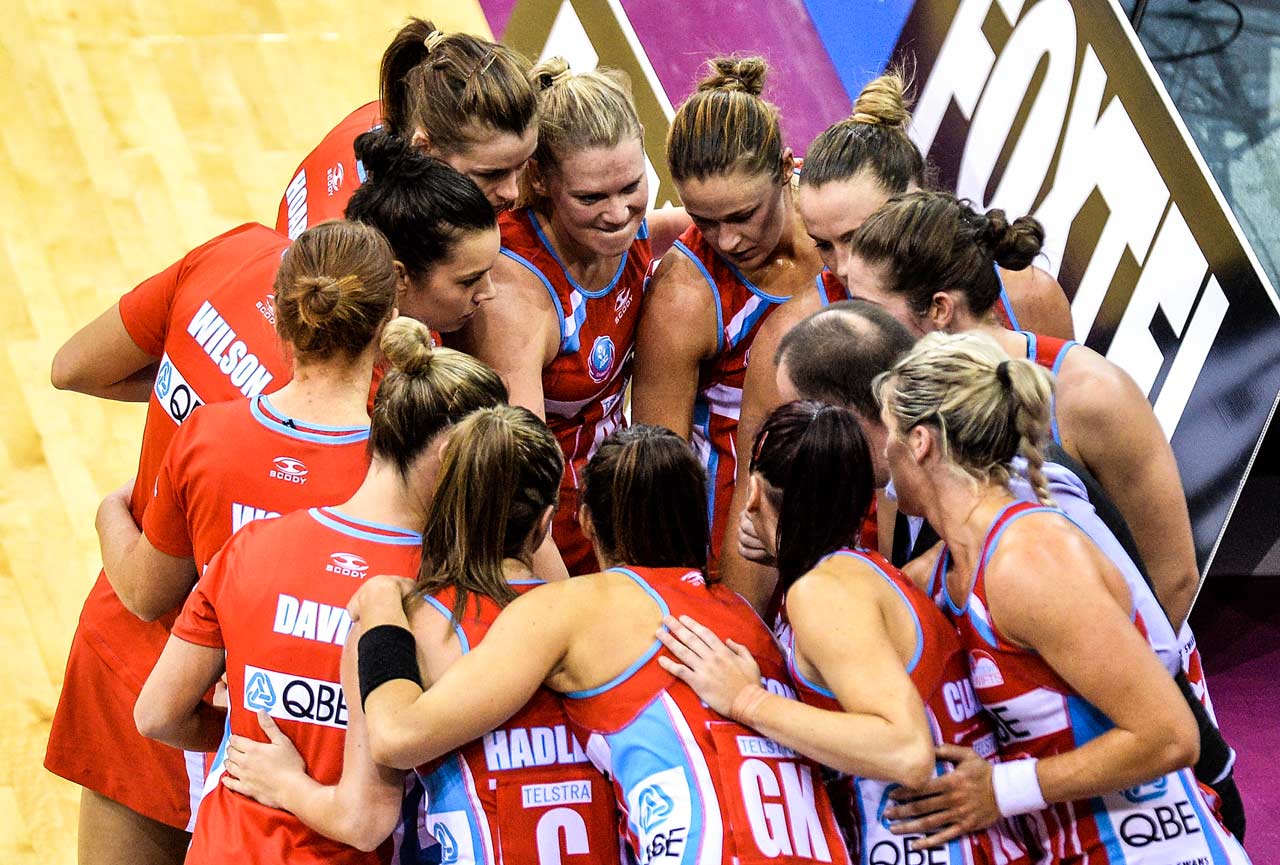 Stay in the moment
The grand final losses to the Firebirds are the experiences driving me to feel this way. That first loss was really heartbreaking. I'd come back that year from tearing my ACL, had built and built and was going well. I was loving being back at that level after a year of rehab.
There was so much pressure and suspense leading up to the game. The Firebirds had beaten us comfortably during the season. But we came out with a plan in the grand final and it was working.
We led for the majority of the game but let it slip right at the end. It was right there at our fingertips. Being up in Queensland, the local fans were incredibly loud and it was a really intense experience.
Straight after the game, I was told to go and check my email. I just thought, 'Why would I want to check my email? I've just lost a grand final by one goal'. Before I could check, I got pulled aside by ASADA reps saying I had to do a drug test. It was about the last thing I wanted to do at that moment!
There were four of us, two from each team, who had to do a test. Sitting in that room was uncomfortable. You could hear everyone in the Firebirds' dressing room cheering and screaming. It seemed like we were waiting forever. I just wanted to wee in a cup and get out of the stadium.
The answer I've come to is that the Swifts is where my complete focus needs to be right now. I want to win a title in the Red Dress.
Once that ordeal was over, I checked my email and it was a message saying, 'You've been elevated to the Australian squad. You'll get a call tomorrow saying whether you've been picked in the squad for the World Cup'.
I was completely devastated by the result of the grand final, only to then be told I'd been picked in the Diamonds squad. I just thought, 'How do I take this?'
A bit later, we had dinner together with staff and everyone else at the place where we were staying and then most of us players went to a pub nearby and tried to have as good a time as possible.
We wanted to celebrate what had been a great effort throughout the season and an amazing final game – but then a few Firebirds players turned up with their medals around their necks, which was another reminder of how close we'd come to winning.  
The next day I was still in bed in the hotel room when Diamonds coach Lisa Alexander called. She asked how I was feeling and I said, 'Yesterday was pretty hard!' She said, 'Well, I just want to let you know you are going to the World Cup in Sydney'.
It was the weirdest 12 hours! I'd been so down after a terrible loss and then received this incredible news that I'd been picked for the World Cup.
My teammate Taylah Davies was in the room with me, but I wasn't supposed to tell anyone that I'd been selected. There's a 24-hour window in which they ring the players, ratify the team and then release it publicly. But I couldn't help telling Taylah. Then I rang Mum and Dad and they were in tears, just super-proud.
Heading to the airport to leave Brisbane was really awkward because some of our teammates wanted to know if I'd been included in the 12 for the World Cup.
It was this kind of big secret I was supposed to keep. I was trying just to keep a straight face and not give anything away. But a couple of teammates finally asked and I had to quietly say, 'Yeah, I got in'. The excitement was overpowering.
It was a hectic time, a real rollercoaster of emotions. But I think the biggest lesson I took out of that whole experience was the importance of staying in the moment. In netball, things change so quickly. You can be on a real high and then things can go the other way, or vice versa.
It taught me to stay on process, stay focused on what's happening at that exact moment and not worry about anything else. The rest takes care of itself.
More about: Diamonds | Grand Final | Laura Geitz | Lisa Alexander | NSW Swifts | Queensland Firebirds | Sharni Layton | Super Netball