Resilience is my middle name
I was shaking. The phone call was due in 10 minutes.
It was October, induction week in our NSW Swifts' pre-season, and I was sitting upstairs with the girls at the Genea Netball Centre. I said, 'It's so cold in here,' and everyone was like, 'What's wrong with you?'
The last three calls from Lisa Alexander, the Diamonds coach, had been to tell me I'd been unsuccessful. She had said, 'Unfortunately, you haven't been selected,' or, 'You've been selected as a training partner for the next series.'
I decided to go outside so no one had to hear, so I could have my back to everyone. Then my phone vibrated. It was Lisa. This time she had some good news: I'd made the 14 to go to the Quad Series in England and South Africa in January.
After the last few phone calls I was prepared, if needed, to use my skills and mindset and go back to the drawing board and work my arse off again. To do all I have to, to get back there. I'd had my heart set on Diamonds selection, but I also understood that if I didn't get in life would go on and my focus would go straight to 2018, which will be a big year with the Swifts. 
So to hear this was just incredible. I was shaking for a different reason and I didn't know what to say. After I hung up, it was hard to contain my excitement. With the team not being announced for a few days, one of the only people I could tell was new Swifts head coach Briony Akle. She was nearly as ecstatic about the news as I was. When I was finally able to share my selection with my Swifts teammates, they celebrated with me too. Their support is amazing.
The January tour is my last chance before the Gold Coast team is chosen. I've got nothing to lose. I'm really refreshed to come back into the Diamonds environment, play in the green and gold, to see what's been happening and the plays they've created. 
I'm in a good place. I've had a few months off, and I've been able to get my knee right. Obviously, the Comm Games is on everyone's mind, and they can only take 12, so it would be disappointing not to be there. But to be in this 14 is a massive shock and honour because even two months ago I didn't see it coming.
When Lisa decided to make the two changes to the 2017 Constellation Cup team, I thought, 'That's me done.' It was tough to swallow, especially because it felt like there were too many midcourters ahead of me in the race for the Comm Games. But instead of dwelling on it, I did what I know best and went to work in the background, pushing myself on the court and in the gym and hoping that I'd get an opportunity because I knew if the call came, I'd have done everything possible to give myself a chance.
Now this.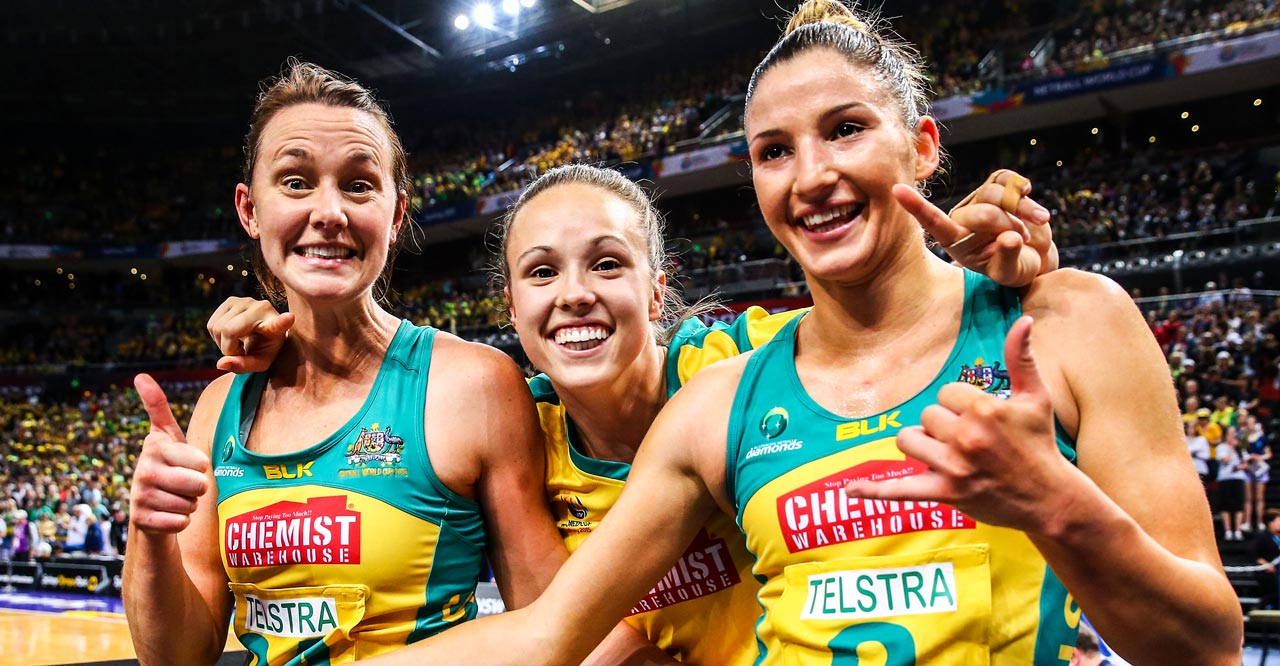 'I WAS IN TEARS'
It's been a whirlwind 12 months. There were big, big changes to our sport at the end of 2016, with the start of Suncorp Super Netball meaning a second team, the Giants, coming into NSW and a lot of new, fresh, young players coming into the Swifts.
I chose to stay wearing the red dress and with a club I truly believe in. I felt very privileged to be vice-captain to Abbey McCulloch. I've looked up to the Swifts since I was a young girl, so to be part of the leadership in 2017 was very special.
The girls who came into the team were incredible. A lot of them are my age, early to mid-20s, and had really similar goals having had massive setbacks, not been selected, or not had time on court. There's a commonality of purpose, and I love that. I love how driven they are, and the incredible atmosphere we have created. 
On the court I had no doubt we could match it with the best, which is exactly what we did. Most games we lost were within five goals. To finish sixth was a great result to most, given our lack of experience, but obviously I'm a very competitive person, and with the Swifts having been in back-to-back grand finals the last two years, 2017 was disappointing. Then to lose Rob Wright, our coach, I was shattered.
I've known Rob since I was 16. He was around when I made my first state team, he was my very first NSWIS coach and I have nothing but respect for the coach he is and the athlete he helped me become.
I received a phone call from our CEO late on a Sunday night, just after I said goodbye to my Grandfather for the very last time in the hospital, telling me Rob had resigned. I immediately called him and I was in tears.
Obviously I signed on with Rob with his vision in mind for the Swifts. Seeing him leave with no warning breaks your heart. To think that four months ago he was our coach, it was disappointing, it was pretty hard to swallow.
It was a really hard few months. We didn't know who our coach was going to be and we hadn't heard from Rob. Not only that, in the months following his resignation I had my doubts about what was next for the Swifts and my personal development as a netballer. But Briony has renewed the confidence I need to take chances and to back myself. Now I cannot wait to see what next year holds not only for the Swifts but also myself, in and out of the red dress.
I chose to stay wearing the red dress and with a club I truly believe in. I felt very privileged to be vice-captain to Abbey McCulloch. I've looked up to the Swifts since I was a young girl, so to be part of the leadership in 2017 was very special.
Personally, 2017 was not the year I'd planned. I'd had a really strong pre-season, I'd come back from the Quad Series tour in January and felt on top of the world. It was my first time actually in the starting seven, when I wasn't coming off the bench and I wasn't waiting for my turn. 
Then injury struck, set me back and stripped a lot of my confidence. I battled through the year, so to be picked for Fast5 and play netball again injury-free was really refreshing. I'm looking forward to closing 2017 and making 2018 a big one.
THE BOLTER
I'm used to being the bolter. In 2015, the year after I ruptured my anterior cruciate ligament, I went from not even being in the squad one day to being picked in the team for the World Cup in Sydney the next.
It must have looked so easy, me just sliding in there at the last minute. It wasn't. Just running onto the court when that final whistle went at the World Cup made the whole ACL injury and 12 months of rehab, of no netball, of dieting, of six days a week in the gym, of learning to run again … all worthwhile.
Since then, it's been a completely different journey. I've been in the team, I've been out of it, I've lost coaches, I've lost teammates, I've changed environments, I've gone from the youngest and most inexperienced member of the team to now being a leader at the Swifts and having to step up. I've battled injuries. But if I somehow slid in right at the last minute, and got to Comm Games as a massive bolter again, I'd still just enjoy the moment.
In 2014, I wrote down that 2018 Gold Coast was the one to be at for me, and I've never given up on that dream. It would mean the world if I was to go to the Gold Coast after all those little bumps and hurdles I've got over.
The January tour is my last chance before the Gold Coast team is chosen. I've got nothing to lose.
Watching the Diamonds play is hard, but I'm a lot better at it now. I went to the Sydney Test against the Silver Ferns and all I wanted to do was stand arm-in-arm with those girls and sing the national anthem, not be in the crowd. But it makes me so much hungrier to be out there. It's an incredible feeling to know that I've been there and I can get back.
I support the girls, so many really great mates are there, and to see them in the green and gold is really special, but you still just want to be a part of it. There's no better feeling than representing your country. It's the pinnacle of netball. I've been working hard in the background doing my job, and if my opportune moment arises, I'm ready to take it with both hands.
I haven't played for Australia on home soil since that World Cup, only away Tests, so the Comm Games would be phenomenal – having multiple sports and just being a part of that whole atmosphere, marching at the opening ceremony, seeing other athletes excel, not just in netball.
I may be older, but I'm still that excited, nervous girl who gets goosebumps every time she pulls on the green and gold. Partly because there's often such big gaps in between. Unfortunately, I haven't had my fairtytale of being picked in majority of test series, so every opportunity I get means a lot.
THE ULTIMATE GOAL
This year, the doubt came in. I felt like a bit of a failure. I didn't make Quad Series. I didn't make Constellation Cup. I wasn't really in contention for Comm Games. I haven't played for the Diamonds since January.
I'm 25, which is young, but kind of the median age, and this year I had a lot of people saying to me, 'You've got skills that no-one else has, you've got an engine, you've got the speed, you've got the skill set, you've got the leadership qualities, you could be anything.'
Then being injured and sitting on the sidelines for the Swifts for five rounds I felt I'd let myself down, I felt I'd let the team down being one of the leaders, and obviously Abbey got injured as well, so both the leaders were out. It was really, really tough.
But after having the off-season to rehab I had this moment of, 'I'm doing what I love for a living.'
I feel like resilience is my middle name, sometimes. It's not just in sport, it's in the injuries, it's in life, it's what you do at uni, it's everything. To me, resilience is just enjoying the challenge. I absolutely love it. Being knocked back and someone saying to me, 'You're not good enough.' Because you know what? I'm going to show you that I am. Over and over again.
I think sometimes they feel like, 'Paige will bounce back, she'll be fine.' Which sometimes I am, but other times I'm like, 'Holy shit, how do I do this all over again?' And it takes a moment. But I'm so determined to do it. 
Of course, I would love to always just get a Paige, you're in call, and not even have to worry about it, but I know I've got to fight for my spot every single time.
One day I hope my place in the 12 is consolidated. I dream of the day when Lisa can't not pick me.
The day when I'm playing that well she has to put me on. So, that's the challenge for me now, to stay injury-free and play my best netty. Bring on the challenge… exciting times ahead.
More about: Diamonds | Fast5 Netball World Series | NSW Swifts | Resilience | Super Netball