Shane Watson & the Alpha myth
It started with Bob Woolmer and Hansie Cronje.
I was the strength and conditioning coach with the Proteas between 1994 and 1998 and worked side-by-side with two of the greatest visionaries – albeit in very different ways – cricket has seen.
Bob was the most forward-thinking coach of his era. He came up with innovations like the slower-ball bouncer and the slide in the outfield rather than the old pick-up-and-throw (I was on the stopwatch and Jonty Rhodes was running the experiment).
He also introduced video analysis to the game. Bob brought a program used by David Leadbetter, the golf coach, on a tour to Pakistan in 1995 to see if it could be adapted to cricket. It wasn't much compared to today's standards – a VHS camera that sent vision to a split-screen on a computer – but it did give players the first opportunity to really break things down while a game was in progress.
If Bob had one shortcoming, it was his ability to manage and deal with people. That was Hansie's gift. Hansie knew how to get the best out of his players, by understanding the right thing to say at the appropriate time.
I was very fortunate to have been able to straddle these two worlds – the science of cricket from Bob and Hansie's ability to manage people and environments.
And yet, I felt something was missing. I didn't know what it was. It was just a sense. But it was enough for me to resign my post and go searching.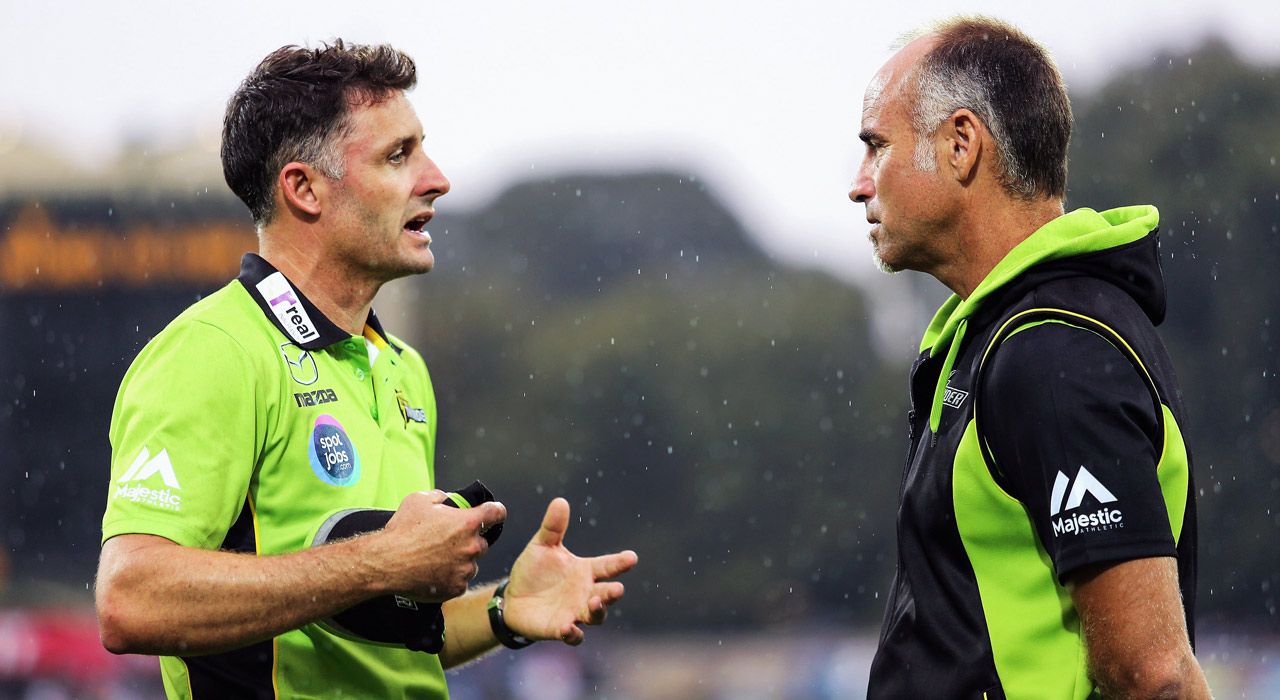 STEVE SMITH & THE COACHING PROBLEM
Let's take a look at the MCC coaching manual in the 20th century and compare it to contemporary players today.
How does Lasith Malinga's technique compare to the manual?
Or Steve Smith's? Or Graeme Smith's?
There are so many players who have technical nuances that deviate a long way from what the content experts of yesteryear said you had to do, and therefore coached people to do.
How many fast bowlers and spin bowlers must we have lost in past eras because a fast bowling or spin bowling coach said you have to get your arm next to your ear?
How many batsmen have fallen by the wayside, or had their bowling action changed so they lost their skill and ability? It's countless.
And it was all because of the traditional command-and-control approach to coaching.
Up until the early 2000s, most coaches in cricket rose to their positions because they knew more than anyone else about what needed to be done. They were the content experts. Their method of leadership was telling people what to do. Instruction.
Then along came the internet, and that led to a fundamental change globally about best practices in terms of managing and leading people.
The content expertise now sits with the collective. It no longer sits solely with the leader.
I could see where cricket coaching was going to go.
I was very fortunate to have been able to straddle these two worlds – the science of cricket from Bob and Hansie's ability to manage people and environments.
Research at the time showed that most team sports, including cricket, were ten years behind other industries in terms of innovation – largely because ex-players become coaches and they recycle old ways back into the system.
Leadership within cricket needed to change, but it didn't necessarily want it.
I completed my second master's degree in business leadership and coaching in 2003 and, as part of my thesis, I asked the 25 most capped cricketers in South Africa, 'What are you getting from your coaches and what are you wanting from your coaches?'
I compared their answers to the strategies employed by the best business leaders across all industries in the world.
It turned out that what the players wanted and what the best leaders in the world were doing were one and the same – even though none of those players had read anything about those business leaders.
But that was very different to what they were experiencing in cricket. There, you still had a situation where the coach, the captain and/or a senior playing group were the law. I'm the expert.  I'll do the thinking and planning. I'll tell you what to do. I'll lead the debrief.
It was all very schoolmasterly.
There was very little thought given to creating a positive environment or tapping into the knowledge base across the broader squad.
There was an all-powerful figurehead and that was it. Submit and obey.
You can probably imagine that my message wasn't particularly popular among the incumbent coaches across South Africa. Doors were shut on me across the county.
Part 1 | WHY I LOOK AT THINGS THE WAY I DO

I felt that I'd dive a bit deeper into some important elements of leadership and coaching, and share with you some of my personal insights, ideas and experiences thus far. This video was filmed after a long day of video recordings, where I shared without script and directly from the heart. Below is a part of this off the cuff, uncut video, where I share some of my personal story on how I got to where I am today.

Posted by Paddy Upton on Thursday, 12 October 2017
THE KALLIS BREAKTHROUGH
But something interesting happened.
Players heard about the work I was doing and sounded me out for one-on-one discussions.
The first to do so was Jacques Kallis. He had gone 14 months without scoring a century. During that period, his father had died – he grew up without a mum – and his girlfriend had broken up with him. He's a very family-oriented guy and he had lost most of what he had in his life, his foundations.
I attended the same school as Jacques, Wynberg Boys High in Cape Town, although I was quite a bit older than him. He was a tiny little kid back then and I remember his dad, Henry, spending hours and hours sending him throwdowns in the nets on the other side of the ground to where we were playing.
So there we were, many years later, sitting at the Mug and Bean in Cavendish Square in Cape Town, talking for eight hours across four separate meetings about issues in his game at the international level.
It took that entire time for Jacques to understand the concept of watching the ball and what that meant for him.
It was about understanding the things that prevented him from fully watching the ball – the other things on his mind, things that happened in a game that caused his mind to drift, things that prevented him from being fully present.
When a coach says to a batsman, 'Just watch the ball,' it's worth remembering that it took one of the greatest players who has ever lived eight full hours to figure out what that actually meant for him!
Immediately after those conversations, Jacques scored five consecutive centuries in Test matches. I am not claiming them for one second. But he did say publicly at the time that the work we had done together had really helped.
I had never planned to be a mental conditioning coach, but it ended up happening quite organically as players came to me when they felt other doors weren't open to them.
As the years unfolded, I was dumbstruck by the fact about 80 per cent of conversations I had with elite athletes weren't about taking their games forward. They were about trying to get them into an OK, neutral mental space. It was about fixing problems from the environments they were playing in.
I don't like the way my coach speaks to me when I make a mistake. I'm asked to play a certain role, but if I was allowed to do it slightly differently I know I could bring a whole lot more to the team. We're overpractising and I'm exhausted.
They were all situations where the environment was bumping up against the individual. Time after time I would encourage players to have the conversation with their captain or their coach, and in almost every situation the response was, 'I can't.' They would get into trouble, labelled a rabble-rouser.
SACHIN, KUMBle & MS DHONI
When Gary Kirsten was appointed head coach of India, he asked me to come with him and work with the Indian players in the same way I had with guys like Kallis, Smith, Ashwell Prince and Herschelle Gibbs back in South Africa.
The message we received loud and clear from the players was that Greg Chappell, the previous coach, was effectively fired because the players were unhappy with the way he did things.
They loved his knowledge of the game, but he came in with a my-way-or-the-highway, command-and-control, instruction-based approach. That works in Australia in some environments, but in India it wouldn't work. The egos are too big. They are massive superstars in their country. Being dictated to was never going to be an effective approach.
India is very unstructured and Australia is very structured. One needs only need to look at how the traffic functions in both countries. It's a great metaphor.
If there is no one driving on the other side of the road in India, you go through the gap and drive there. You go wherever there is a space – traffic lights, lines on the roads, they're all superfluous. It's about getting from A to B.
In Australia, it's all about abiding by the road rules.
When a coach says to a batsman, 'Just watch the ball,' it's worth remembering that it took one of the greatest players who has ever lived eight full hours to figure out what that actually meant for him!
Gary and I didn't want to give the players anything to resist. We knew we would need to listen to understand the players, the culture and the country and create a positive environment.
Gary met with all the players individually and asked them, 'What do you want from me as coach?'
He had all sorts of preconceived ideas as to where the conversations might go, particularly with the players with megastar profiles.
But when he spoke to Sachin and asked him that question, Sachin simply said to him, 'I want you to be my friend.' It must have been quite difficult for someone in Sachin's position to have friends because he is so revered and mobbed everywhere he goes. He just wanted someone he could speak to.
When Anil Kumble was the captain of the Test team, we discussed everything as a group.
For example, we asked the group, 'Is it important for you guys in India to be on time for meetings, training sessions and such?' Everyone agreed it was. So we asked, 'So if people aren't on time, what do you generally do?' There was a bit of debate, because different teams did different things. The discussion continued and Anil eventually made the decision that anyone who was late by more than one minute would get fined 10,000 rupees.
We had the same conversation a couple of weeks later with the one-day team of which M S Dhoni was captain. MS eventually said, 'If anyone is more than a minute late, we won't just penalise the individual but fine everybody in the squad 10,000 rupees.'
I found it fascinating. I was never, ever late for a one-day meeting because it would mean I'd cost everyone 10,000 rupees. It demonstrated M S Dhoni's thinking and approach to getting everyone on the same page.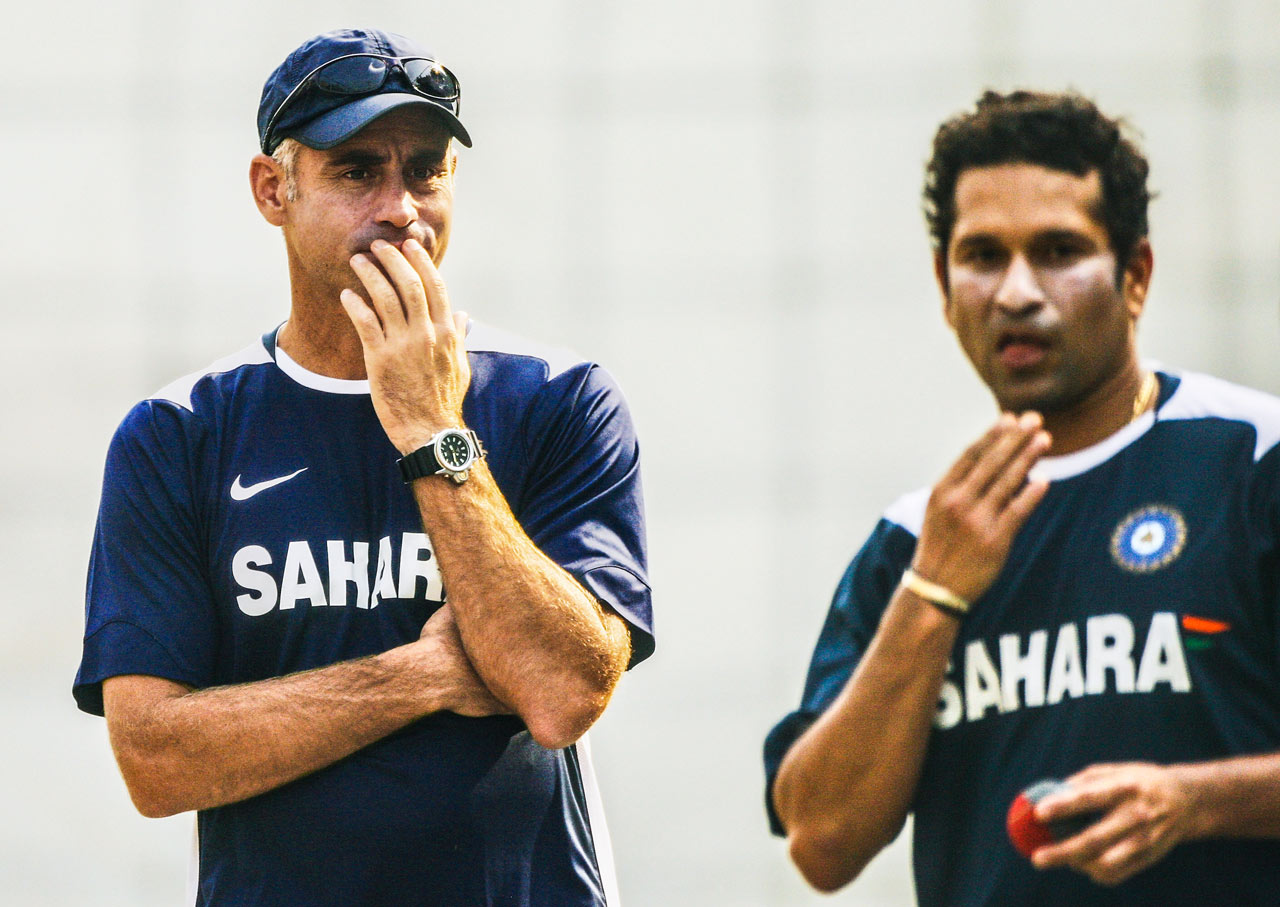 LESSONS FROM INDIA
I learned a lot from my time in India.
We've been brought up in a world of cause-and-effect in the west. It's quite scientific. In order for something to exist, you need to be able to measure it. And to change anything, you need a measure that proves the new way is better than the old way. It's a very concrete, linear way of operating.
In India, there is far more acceptance of the intangible, the unseen, the cyclical nature of life. Someone from the western world could pooh-pooh that esoteric, touchy-feely way of thinking. You see it in the IPL from time to time. But it can be a big error to dismiss someone's superstitions.
Ramesh Mane is a masseur who was with the Indian team when Gary and I were there (and he's still with the Bangalore team in the IPL).
He would come into the Indian team dressing room early and burn incense and camphor.
Before Sachin would go out to bat, he would write prayers around him. And when Sachin would be out in the middle, he would hold one of his bats. There were these routines and rituals.
Sachin simply said to him, 'I want you to be my friend.' It must have been quite difficult for someone in Sachin's position to have friends because he is so revered and mobbed everywhere he goes. He just wanted someone he could speak to.
Ramesh would make all the drinks for the players and would say, 'It's not just mixing hydralyte with lime for taste, but it's about making it with love.' He poured love into every drink bottle. It doesn't matter whether you believe that or not. He believed it and the team did, too.
It's like somebody who puts their left shoe on before their right shoe, or a player who doesn't like anyone touching their bats before they go out.
If you mess with those beliefs and superstitions, you can seriously mess with that player. They believe in that routine. It doesn't mean that that routine directly leads to them scoring runs, but if you interfere with the mind by upending it, you can have an impact on their game.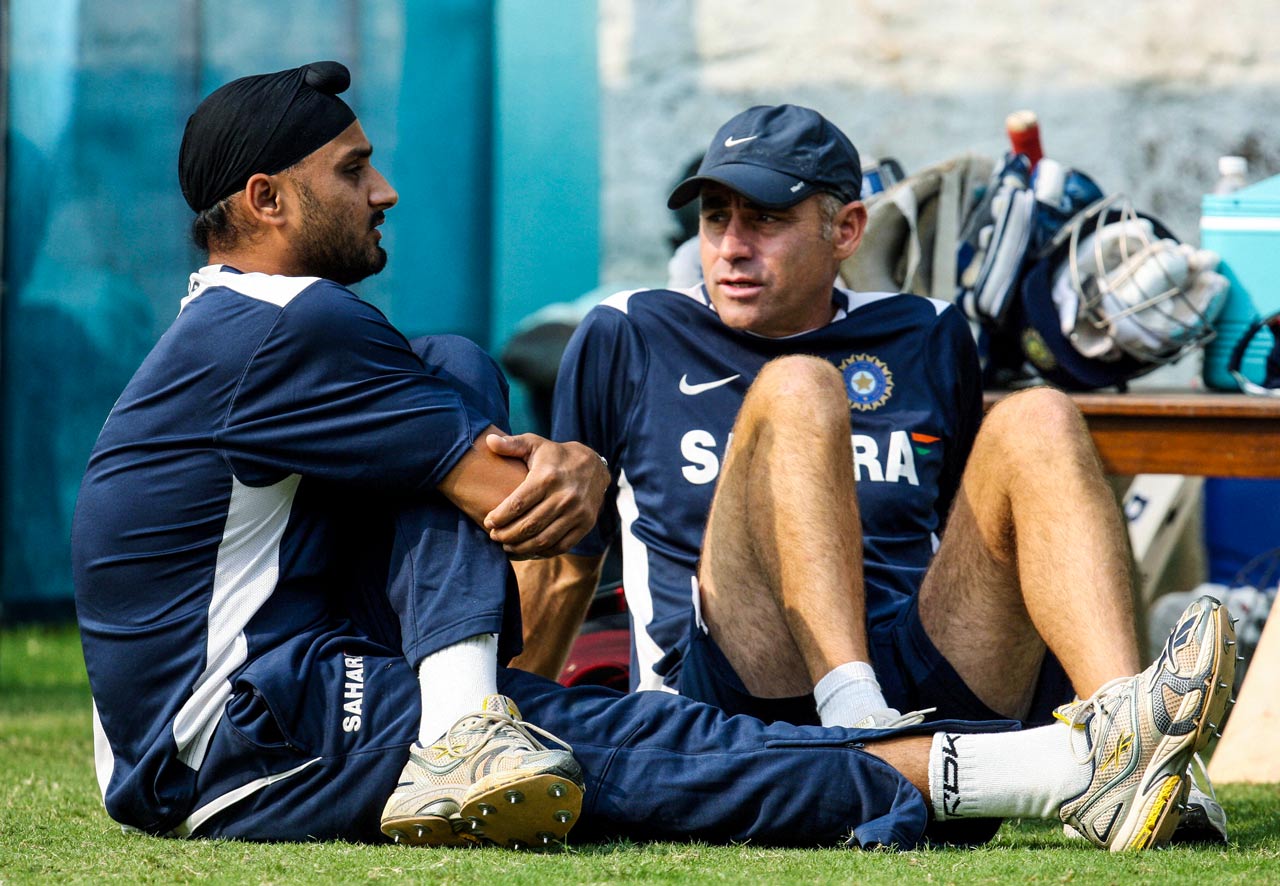 A TEAM IN TEARS
All of these experiences I have distilled and developed into a coaching philosophy I use across the world, including with the Sydney Thunder, which is my current assignment.
It starts with identifying players as human beings first – separate from their abilities as a cricketer or their current form and results. And with that goes that every person is different – there are different things that build them up, and different things that break them down.
Quite often, when we first get together as a group, I will sit all the players down together and ask them all to tell the room the most impactful moment of their lives, and what it means to them now.
On one occasion, in the Pakistan Super League, one of the players told the story of his mother who was dying of cancer. She couldn't afford the treatment, so he went and worked a night job in a restaurant to try and earn enough money for the chemotherapy she needed.
He was $500 short of what he needed for the treatment. And then she died. He was two weeks away from being able to afford the chemotherapy but it was too late.
There wasn't a dry eye in the room. It put everything into perspective.
Once players connect, and realise their teammates are fellow human beings, the relationship can develop at a deeper level than the, 'How you going, mate?', put-the-happy-face-on, superficial chat you see in so many teams today. That's particularly the case in these T20 leagues, where squads are together for eight weeks and then gone.
The more understanding there is between players, the more they are able to be themselves under pressure and the more they will be able to positively deal with difficult situations.
Players do all the speaking in pre- and post-game analysis in the teams I coach. They decide timings. Everything we do is constructed around what they players feel will work best for them, right down to the strategy.
Whether we win or lose, I am the same. I will have same conversations regardless of the result. Let's revisit our processes. What did we execute well? Where were we a bit out? How can we finetune and learn for our next game?
It puts the value on the process. If we win and have poor processes, we can have firm conversations with each other. But if we lose on a day where we really nailed our processes – we were a nine out of ten – then we're happy with those.
The important thing is to get employers to buy into this process-based philosophy.
All of these experiences I have distilled and developed into a coaching philosophy I use across the world, including with the Sydney Thunder, which is my current assignment.
We also know that the more you focus on results, the more pressure builds. Pressure is a direct result of the importance we place on a result. The more we carry on when we win, and the more owners and coaches get upset and rant and rave when we lose, we are actually telling the players that the results are very important to bosses and leaders.
And that places more pressure on players. There are way fewer players out there who thrive under pressure than capitulate under pressure.
I believe in creating good environments for good people. In terms of selection, the number one priority is who are the most skilled players available? But equally as important is what kind of bloke are they.
As far as humanly possible, we pick good blokes. Even if it's a 60-40 – the 60% guy is the better player but the 40% player is the better bloke – we will pick the 40% guy every day and twice on Sunday.
One needs to have employers who buy into that philosophy.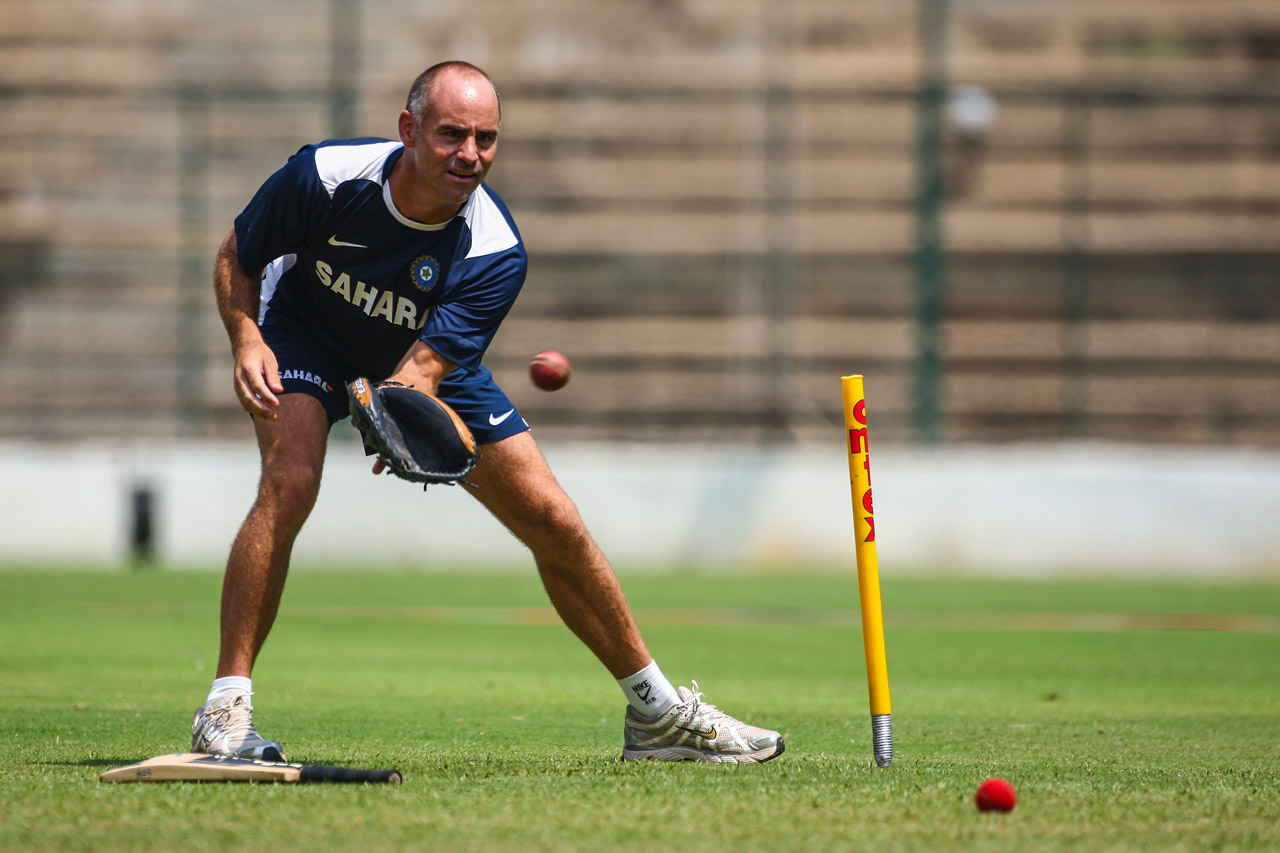 THE REAL WATTO
When I joined the Rajasthan Royals, Shane Watson was the one player in the group I couldn't quite put my finger on. I could figure out most players' personalities and play into that. But not Watto.
It took me only one day on the same team to get him. Unlike the image often projected of him – the image I had mistakenly taken to be true – Shane is a very sensitive, very caring, very thoughtful, very gentle man.
That flew in the face of how he carried on in the field, particularly when he was younger. He needed a fight to get the best out of himself as a competitor. So he would pick fights. But that was not a reflection of the kind of person he was. He has recognised that himself as the years have gone on.
This is now my sixth T20 season working with Shane. He is one of the best team men I have ever worked with. When he asks, 'How are you?' to the players, he actually waits for the answers. He's interested in that player's welfare. He's attentive like few are.
He brings beautiful, nurturing, empathetic, caring qualities to the team when he is able to be himself. But if he's in those alpha environments where those traits are judged as being weak, then he can't bring those things to the party and the team is not getting the real value from him.
That's why I really enjoy working with him and have gravitated towards teams that he is in.
In South Africa, and it seems in some teams inside the Australian set-up today, it would appear there is a stereotype that people have needed to fit into. 
There are teams that portray an image of the tough guy, the alpha male, the put-on-your-warrior-outfit bloke. When your leaders are stereotypical blokes they endorse stereotypical 'blokeness' as being fine and acceptable, and anything else as being weak or soft or vulnerable.
Someone who is sensitive or caring or a bit emotional is labelled as soft.
I seldom, if ever, have met a cricketer or a professional athlete who does not have vulnerabilities, fears, insecurities, doubts, mental fragility. That includes coaches and leaders. But some alpha leaders are so blind to them, or have suppressed them to such a point, that they label these things they themselves feel, as being bad in other people.
What is needed in male sport is to get a bit more honest with ourselves, a bit more authentic.
We cannot deny the existence of these human qualities, and we would do well to acknowledge that the old school concept of mental toughness is naïve, incorrect and archaic.
Paddy Upton has been appointed a Professor of Practice at Deakin University's Business School. He will be designing free online team coaching courses.
More about: Big Bash League | Coaching | Leadership | South Africa | Sydney Thunder | T20