The x-factor netball needs
They used to hate me in New Zealand. It goes back to when I called the Silver Ferns a bunch of scrubbers.
But I think that's changed over time, and they might just like me a little bit now that I'm back coaching South Africa in this month's Quad Series.
The 'scrubber' controversy came in my first year as Australian coach, 2004. I was too relaxed with the reporter, who I knew well from the AIS. We'd finished the interview, he'd put the tape recorder away and said, 'Good luck, how do you think you'll go?'
I said jokingly, 'They're just scrubbers', and that was the headline. I thought it was really below the belt.
The next day we were having the national league season launch in Sydney. When I got to Darling Harbour and walked up the steps, it was like a movie scene with all these people running towards me. I thought, 'Oh my God, they're coming for me!'
It was all the New Zealand reporters, of course, and I didn't feel so much like a movie star as someone who'd better be careful in case they started swinging. I said, 'Look, I didn't say it in an interview, I said it as a bit of a joke at the end'.
Of course they took it in terms of what it represents today, as a derogatory term for women. Even my daughter Brooke rang me and said, 'Why did you say that?'. It was what we used to say when we were playing a team that wasn't very good, and I hadn't used it for a million years.
After it all blew up, my players at the AIS went to the library and looked it up and they said, 'Oh, Plum, you're right'. I'll quote it now:
Scrubber: a horse or a cow, let loose to run in the scrub, a team comprised of unskilled people to form a team or competition.
But the Kiwis still hated me. I'm not sure they got the humour.
Then, before the 2007 world champs in Auckland, I was interviewed for one of their TV current affairs shows. The interviewer was really good and, after a long chat, she said, 'I guess coming into New Zealand you've had a hard time with the media'.
I said most were pretty good, but one in particular after a game had asked if I thought New Zealand was cheating by taking out one of our players, and I'd said to him, 'You know what? The only cheating that would be done around here is if I was married to you!'. 
The interviewer loved it, and that's when everything flipped. They started to get it. If I'm anywhere in the world the New Zealanders head for me, stop me at airports, want photos with me, the whole thing. You have to admire the way they love their sport.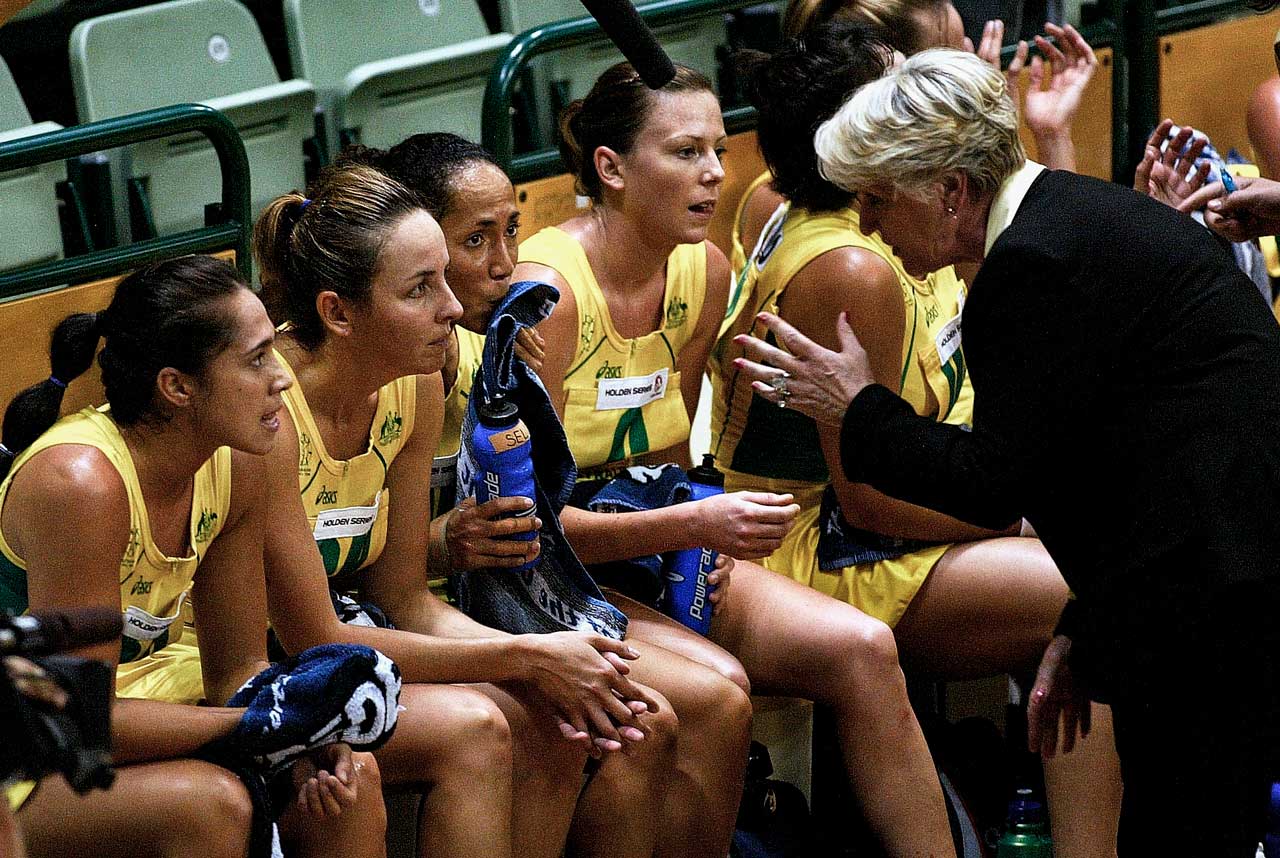 THE ACCIDENTAL COACH
I never set out to become a coach when I was 14 and invited into the Melbourne club. Anne Henderson was the figurehead, but club sides didn't have coaches back in the 1960s, 70s and 80s. The captain had to collect the money, because we all had to pay to play, write the names on the scoresheet, and make sure everyone got a game.
At each quarter break you'd all be just sitting there, so even at 14 I felt like I should say something. The team would select the captain and I'd always seem to get the job – I don't know if that was because nobody else bloody wanted it!
And it was the best thing ever, because I started learning everybody else's positions. I could see where the ball was going and I'd shove players towards it. I just grew into being a playing coach. I always studied the game, and I'd learn by watching the senior Melbourne team play before my match. There were no coaching courses. Nothing like that.
Two years after I was part of the winning 1975 world championships team, I was running the whole Melbourne club. Anne Henderson said she needed someone to take over as secretary and all my teammates had bolted, so I said, 'I'll do it, Anne'. I didn't put my hand up for it, but I just fell into it.
My husband Chas died of cancer in 1984. He was diagnosed on the 5th of January and he was gone by the 29th of March. It was that quick. I didn't want to go near netball or talk to anyone from netball for about 18 months. I felt this massive pressure on me because I had Brooke and we were both a mess.
I hadn't worked for 13 years when Chas died but then I thought, 'What are you going to do? Sit around?'. I was sponsored by adidas, who asked me to come and work for them, and I was a sales rep for the company for 13 years. I then spent 13 years in Canberra – half as Australian 21-and-under coach and the other half as national coach. I loved both organisations, loved the AIS, and loved being paid to coach fulltime.
'Scrubber: a team comprised of unskilled people to form a team or competition'. But the Kiwis still hated me. I'm not sure they ever got the humour.
I had great success with the 21s from 1995-2003, and really enjoyed developing the players. We never lost a series and won the 1996 and 2000 World Youth Cups. In 2004, I was appointed Diamonds coach and we just lost the World Cup to New Zealand in Jamaica. Then four players retired, which was fine, but the squad had so many injuries, and before we even went on our first tour to New Zealand, they went on strike.
I'd booked in three training camps at the AIS but the players had a different agenda for Netball Australia – it was a time of change, and the players weren't coming unless they got paid. So I only had one camp before that first tour. We lost our opening three games to the Silver Ferns as they were still on a high, so it was a tough start, but we went on to win the 2007 and 2011 World Cups.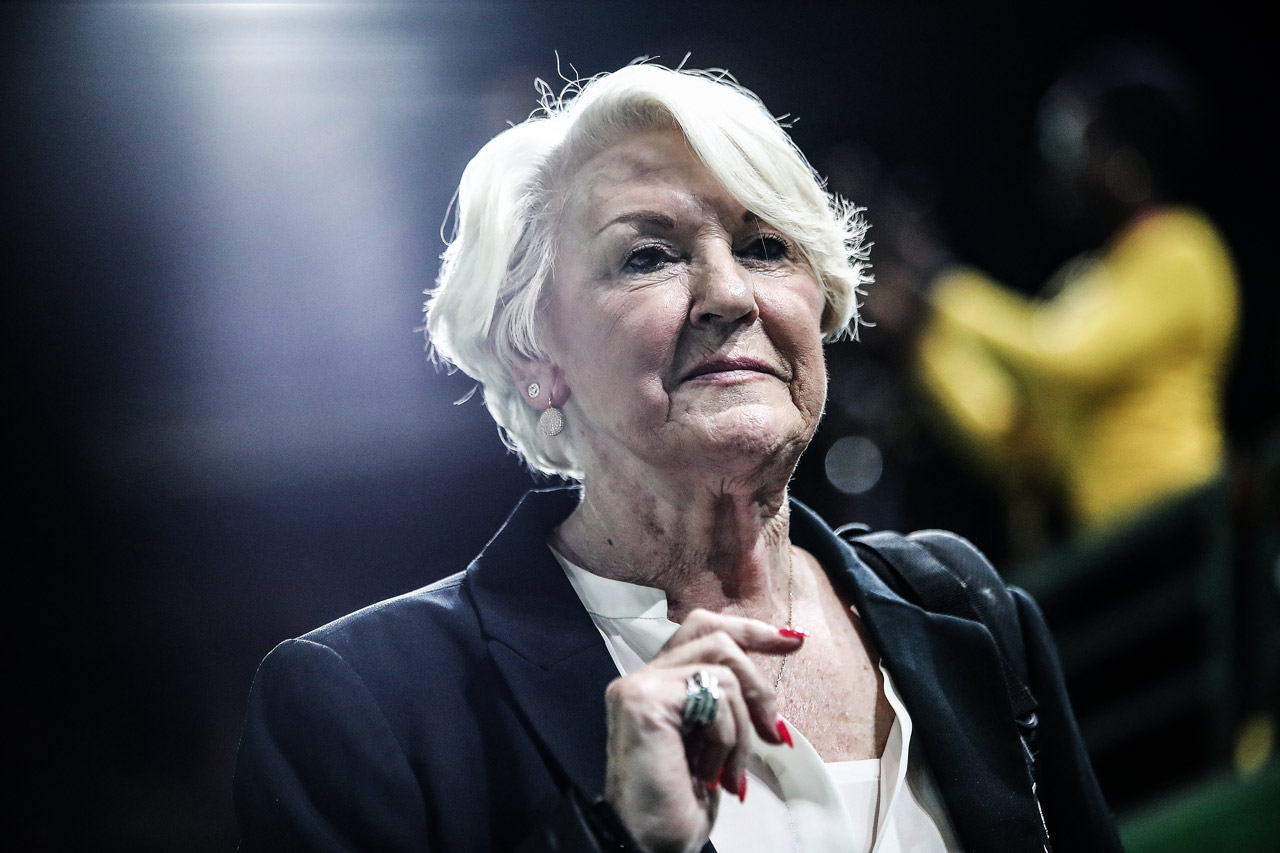 At the end of my stint in Perth with the West Coast Fever, I finally came home to Melbourne. After originally signing on at the AIS for two years, I'd been gone for 17! Then one afternoon, I was sitting on the couch having a wine and watching the netball with Brooke when the South Africans called to say, 'Norma, you have to come and coach us'.
I thought about it and I said I'd only do it if I could bring my own assistant coach. That was Nic Cusack, who'd been with me at the Diamonds. If I was going to take the Proteas to a World Cup, I wasn't going to have time to develop a coach as well as the players. Six weeks later we were at the 2015 world champs in Sydney.
There was a selection quota in place but I said my whole philosophy of coaching is performance-based. South Africa wanted five black players and I said, 'No, I can take three, the others aren't up to international standard. If they are, I'm happy to have 12 black players, I think they're great athletes, but I've got to bring them up or otherwise they'll be out of their depth. They'll get killed'.
They agreed to it. The Proteas had been down at eighth and I said, 'If you let me take the team I want, I can practically guarantee we'll get to fifth'. And we did.
The first thing was to lower the score margins, because they used to lose to Australia, England and New Zealand by between 35 and 55 goals. Last time we played them it was Australia by only four, and last year we beat England. That was a big moment for us, and great for the girls.
We've had two players, Bongi Msomi and Karla Pretorius, in Suncorp Super Netball, which is so important. Where Australia wins out is having that intensity of play week in week out. Every game is like a grand final, and that's hard for the Proteas, because their competition is way below that.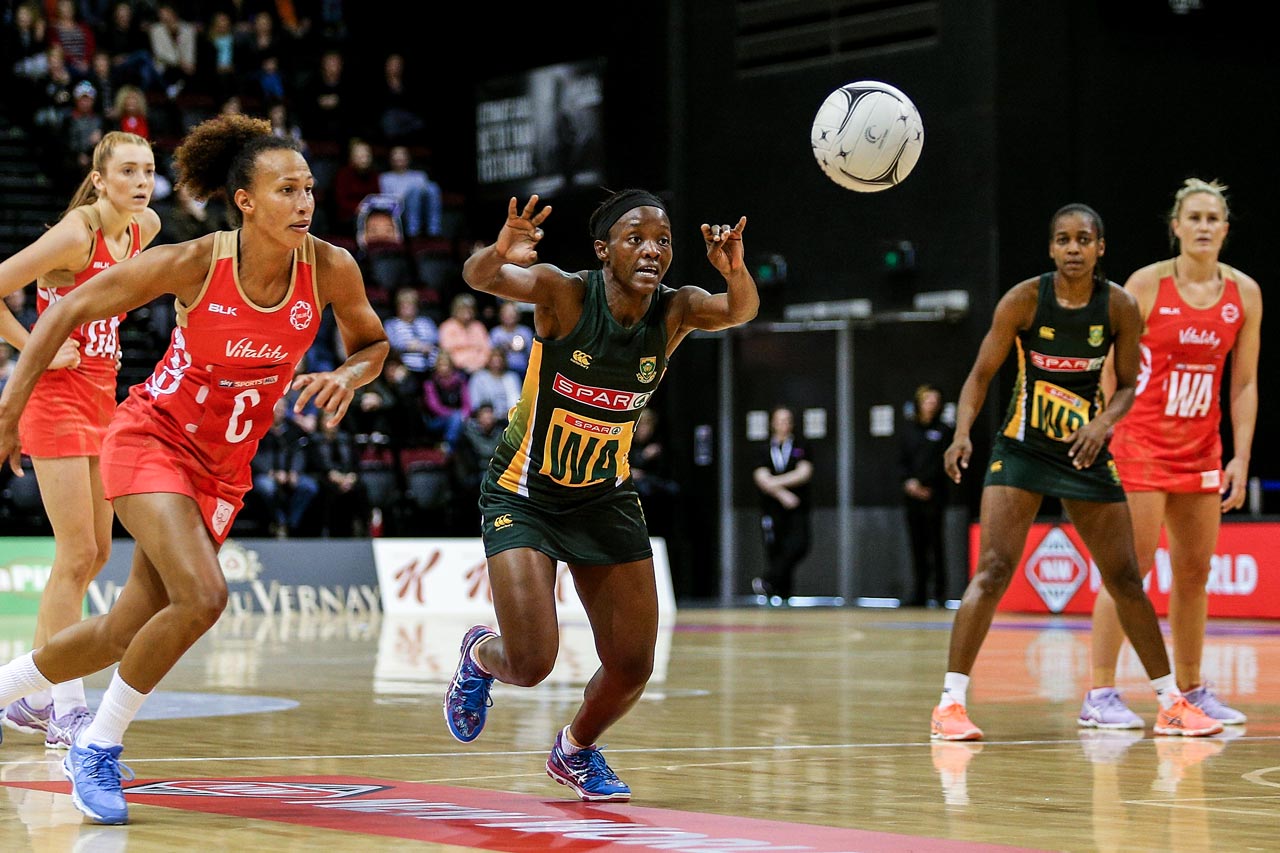 I've told them their national league needs to be a proper competition, over 14 games, then finals, because South Africa have the potential to be world class and in some small way I hope Nic and I can set them on that path.
When the rand is only eight cents to our dollar, you've got to put in perspective what they can afford and what they can't. Our strength and conditioning coach wasn't replaced after the last one resigned. We have a physio, but not a fulltime doctor. They have to train in schools and universities, and there's no health insurance coverage for players like there is in Australia.
The local players still all have to work, and sometimes they can't get time off. It's hard. They get paid a little bit, but nothing like the Australian players.
Their fitness isn't bad, even though they don't have proper gym programs or do bench presses and squats, and there's not enough tactical and technical coaching. So we're also trying to give the coaches knowledge, because they're starved for information. It's about how you can get into the minds of players and teach them why this is going to work. They need to believe in you.
There's some great natural talent in Africa, and, like the Jamaicans, they're so good athletically. But they just don't have the structure and the discipline, or the financial backing from the government like Australia, New Zealand or England do, although they do work hard to try and support their teams to be better.
We're teaching them to be diehards with stronger skills who can run through a brick wall, and to work the ball harder, quicker, sharper, to back one another, shorten up the game, and use their athletic ability to change direction.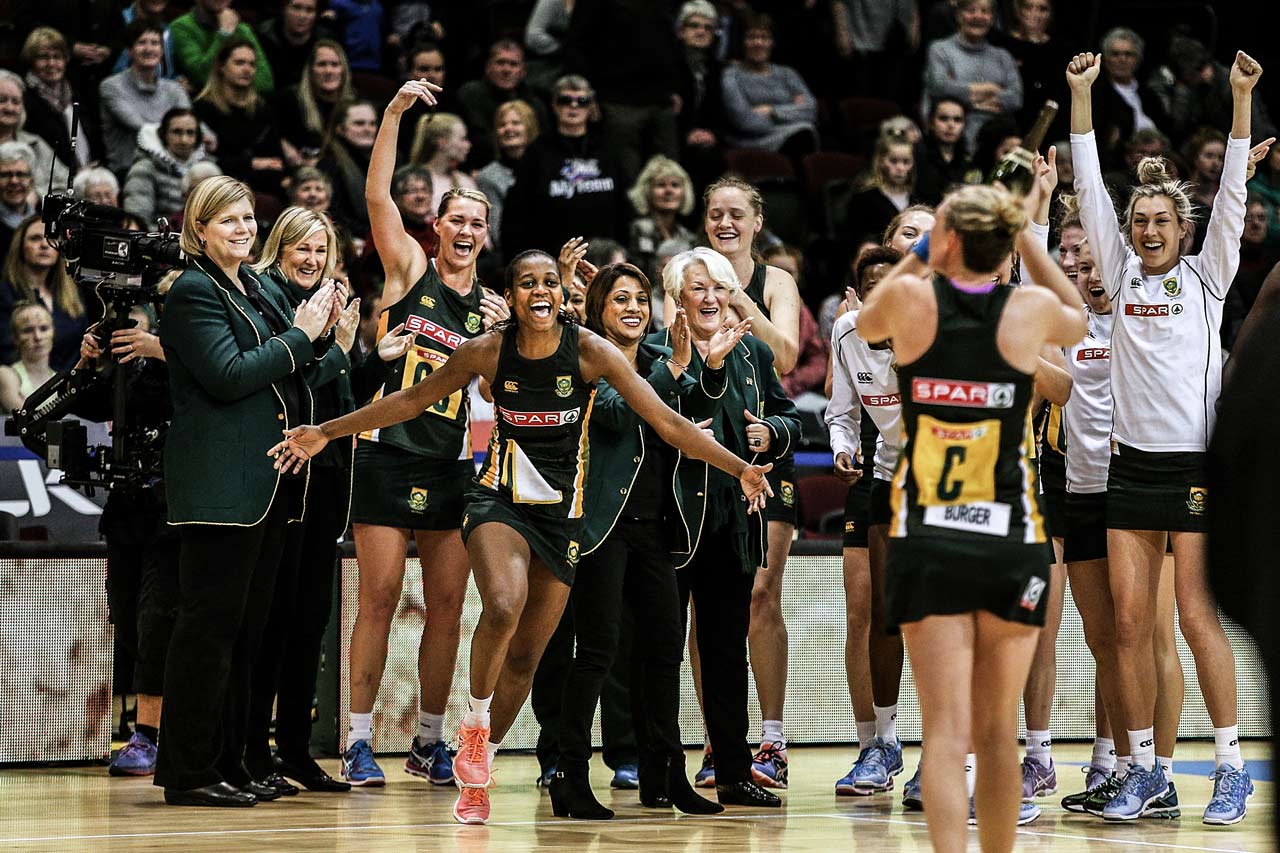 THE TAYLOR SWIFT MOMENT
I know what it's like to lose a Commonwealth Games final, and I really felt for the Australian players this year. But if you really analyse it, it's probably one of the best things that could have ever happened to netball.
It's broken what's probably the biggest duopoly in the history of any sport. Someone else had to stand up. England did. I've been in netball all my life, and it doesn't ever seem to quite take that next step to becoming known right around the world.
It's come a long way, and it's great that we're there on TV, but it's just missing that X-factor. 
Our first game in the Quad Series is against Australia in Auckland on September 15. The Diamonds have made so many changes since the Commonwealth Games.
Most of those players weren't wanted. I believe that's the coach's choice. I'm not sure if I wouldn't have dumped all that experience, but maybe Lisa Alexander's got something else lined up. I don't know.
Naturally, we'd like the Proteas to have a top-four finish at next year's World Cup in Liverpool. It will be my fifth as a player or coach.
South Africa have the potential to be world class and in some small way I hope Nic and I can set them on that path.
But I've had my last dance with Taylor.
My first was in Sydney in 2015. When I was called down to where the girls were getting their photos done, I thought it must have been to get a headshot taken. But when I got there I was told all the teams were doing a video to Shake it Off by Taylor Swift, and I thought, 'That's all right, they can do that'.
Then the guy said, 'Yeah, but they want you to be in it'. I said, 'I'm not gonna do that,' and I turned around and looked at their faces, and they were that disappointed. If I'd said that to the Australians they'd have said, 'Yeah, bugger off!'
There was nothing choreographed, so he said, 'Ok girls, you start off, and when I give you the signal, you split and then Norma you come up the middle'. 
They played it on the big screen at halftime of our game against Australia. It was so funny. I got up and took a bow. The next day I was told it had gone viral, and Brooke rang me up and said, 'That is the best thing you have ever done'.
I thought, 'Oh that's good, after the scrubbers and everything else'.
Then Liz Ellis came up and said, 'Plum, that was fantastic'. I probably never would have done that with Australia, but the Proteas needed to know me as human, that they could have a joke with me and that I wasn't just this Australian ex-coach who was ruling the roost.
I'm not sure what I'll do next. I look at what Nic and I have done with South Africa and it's been pretty bloody good. I've never not stayed in front of what's happening in the game, so could I go back and coach a Super Netball club, you ask? Yeah. Do I want to? Don't know about that.
I do still love the coaching. It's great to have a win, for sure, but the scoreboard is incidental. I can remember one Quad Series game in Canberra, Australia only got us by six, and there were a couple of passages of play that Nic and I looked at one another and thought, 'Australia couldn't do it any better, that was fantastic'.
The ball went voom, voom, voom. The timing, the leads, everything worked, and I get more pleasure out of that because I know I'm getting through. It's very satisfying. Even after all these years, that's still what coaching is about.
More about: Coaching | Diamonds | England Roses | Leadership | Norma Plummer | Silver Ferns | South Africa | Sponsored | Super Netball | teamgirls | Women's Sport