Jason Nightingale - Contributor
The secret Wayne Bennett recipe
This is my 12th season of first grade with the Dragons. I'm three games away from playing 250. I was part of the team that broke the club's 31-year premiership drought when we defeated the Roosters in the grand final in 2010.
I'm the only member of that team still playing for the Dragons. I'm glad I never went anywhere else.
It has become a lot less likely in professional sport for players to stay at the same club their whole careers and it hasn't always made economic sense for me to stay.
But it has always made sense in the heart. Playing for this club is a privilege above everything else.
I followed the Cronulla Sharks as a kid, but once I turned 15 everything changed. That was when I started playing junior representative footy for St George and my indoctrination as a Dragon began.
It was all over pretty quickly. I was a willing participant. Once I pulled on that famous white jumper with the red V in the Harold Matthews Cup, things just felt different. I saw the crest over my heart and thought, 'Wow'.
I was still just a kid, but I already knew what I wanted to do with my life. The great history of the Dragons, those 11 premierships in a row, the long list of superstar players, the esteem in which the jumper was held.
I wanted to be a part of this club and no other.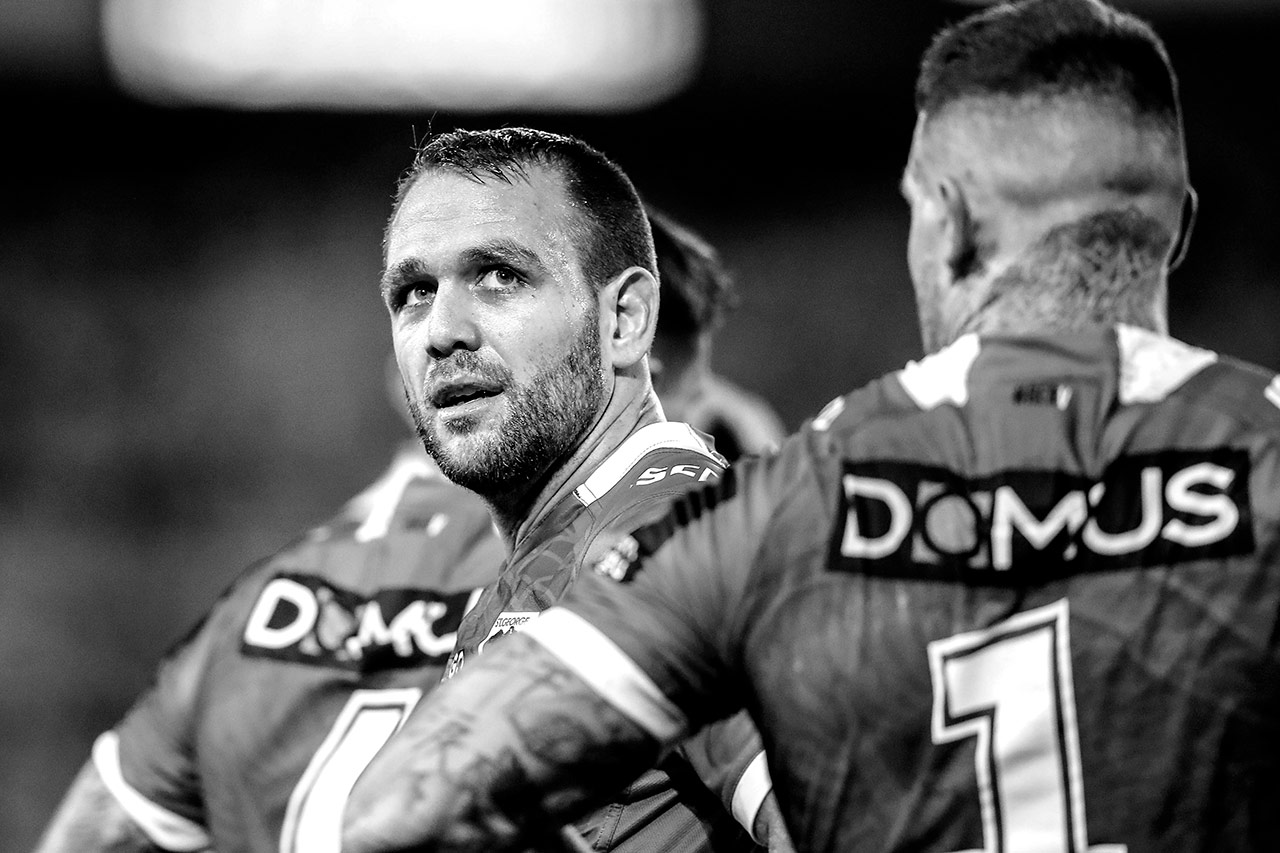 WHEN BENNETT CAME TO TOWN
It was only the third year of my first-grade career when Wayne Bennett came to coach us in 2009.
He immediately instilled a lot of confidence in us because of his record at the Broncos and his man-management skills. He taught me a lot of things I could use in life as well as footy. Attitude, how to manage yourself, the habits you needed to practice to be successful.
As players, we were all well aware of the long drought – the Dragons hadn't won a comp since 1979 – and there was a lot of external pressure on us to end it, particularly since Wayne had arrived, but blocking that out was one of the things he was good at doing. He would say something in the media to draw the attention on himself and off the players if he felt it was required.
We'd finished seventh under Nathan Brown in 2008, so we had something to work with, and then Wayne made some key changes to the roster and raised the standards of the whole place by making it more professional.
After winning the minor premiership in 2009 we went straight out the door in the finals, but it still gave us confidence going into 2010 because we knew what we were capable of. And Wayne had been to the finals so many times he wasn't going to let the same thing happen again.
We stayed at Bondi leading into the grand final against the Roosters. We'd done the same thing the week before, when we beat Wests Tigers in the preliminary finals.
We were like tourists who were just playing footy on the weekends. It was awesome. A lot of people at Bondi couldn't care if you played for the Roosters, let alone the Dragons, so no-one bothered us and that allowed us to switch off until it came time to train and play.
We ran over the Roosters in the second half.
That was eight years ago now. Winning premierships isn't easy. I'd love to win another one with the Dragons, but mostly I want to help make it possible for the young players coming through here to find out what it's like. How good it feels. They can add to the history if they really want.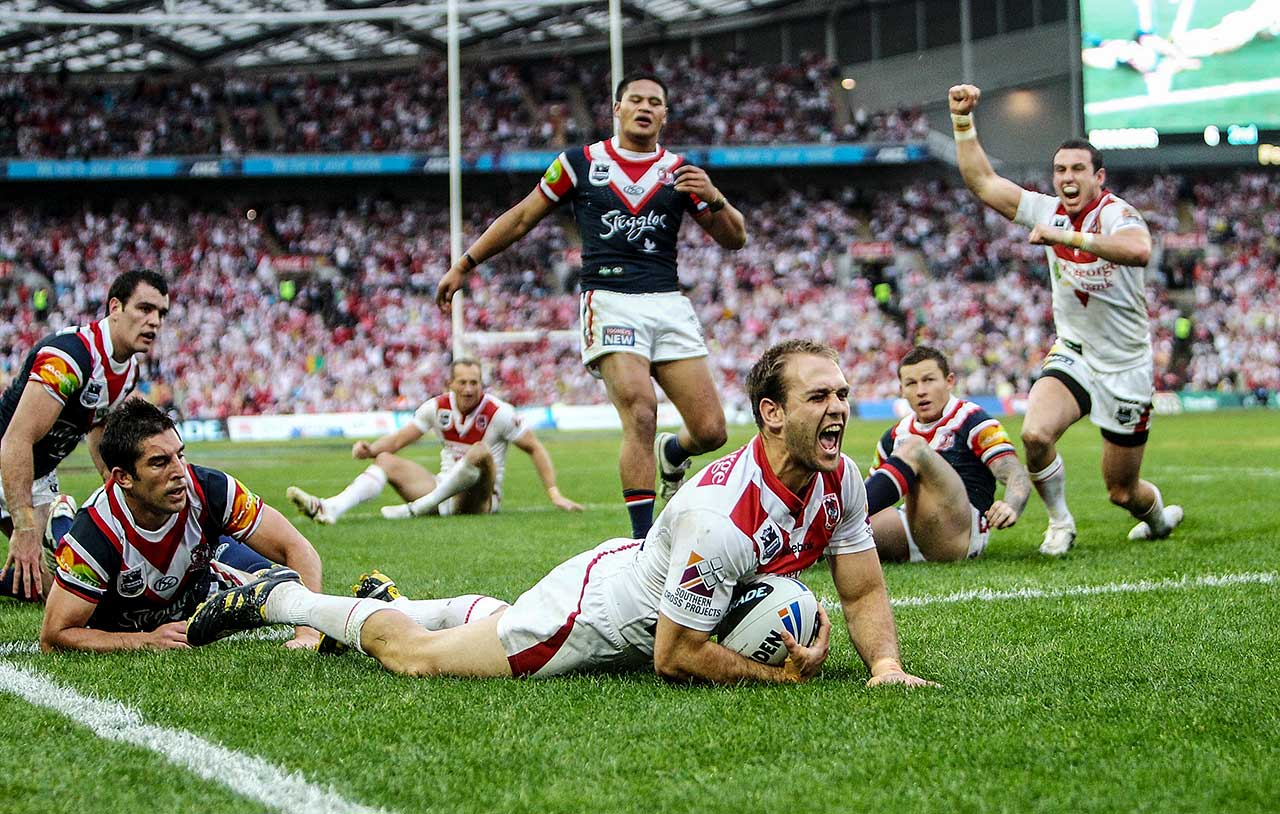 HERE COME THE BRONCOS
We're coming up against Wayne and the Broncos in round one. Having played for him gives you that extra bit of insight.
A Bennett-coached team is one that never stops. Their standards don't drop and they'll keep chasing hard even if they're winning by 20 points or more with less than 10 minutes to go.
Scrambling in defence and all those extra little efforts are traits of his sides. They always aim to go a bit harder and you can tell from their record that, more often than not, they pull it off.
He gives players the licence to use their individual flair, but that's built around the basics. Players like Anthony Milford will be encouraged to do what they're capable of doing, but within certain restraints and without letting overall standards slip.
So it's about taking the right risks, if you like. It won't always come off, but at least it's calculated. It isn't so much a structure. It's more a recipe. And the playmakers are empowered to play around with it a bit.
Wayne might make subtle changes to his approach according to who the Broncos are playing, but if an individual comes out and stumps us with something, it won't be Wayne who devised that exact play.
It'll be Wayne who has encouraged that player to try something.
I saw the crest over my heart and thought, 'Wow'.
How to beat them? Firstly, we can't just play for 78 or 79 minutes because they'll get us in the other one or two. The NRL is such a close comp these days that plenty of games are like that – and particularly with Bennett-coached teams.
But as far as game planning is concerned, we're more just focusing on ourselves. That's what our coach, Paul McGregor, has been really good at. Understand the other team's strengths and weaknesses, but concentrate on what you plan to do to execute a win. You need to believe in that.
Ben Hunt played under Wayne at the Broncos and Gareth Widdop and James Graham have played for England under him. Ben Hornby and Dean Young, from our 2010 team, are on our coaching staff. We all know what's coming.
It's not that Wayne will have a load of tricks up his sleeve. There might be some little things we don't expect, but it'll mostly be good stuff done well.
And it'll be relentless. If you're not ready for that, there's no point worrying about anything else.
LEGENDS OF THE RED V
I've always been inquisitive by nature. I like a good reason to do things, so when I started playing junior reps I decided to look deeper into the history of the club and I was fascinated by what I found.
I already knew a bit. I played for Renown United, a famous junior club in the St George district that had produced Reg Gasnier and Billy Smith. But when you really start digging, it's amazing.
This past summer has provided further evidence of just how big a place in the rugby league landscape the Dragons hold. It's sad how it happened, but even the game's Immortals are only mortals in the end.
Graeme Langlands passed away. His career was celebrated all over again and we were reminded of what an incredible player he was. I was at Changa's funeral. Many of the St George Illawarra players were. Benny Hunt and James Graham are only new to the club, but they came out of respect as well.
I remember attending Reg Gasnier's funeral four years ago. Being close to Mark Gasnier, his nephew, created a different element there for me, but whenever these things happen it's a reminder of how significant these guys' achievements were and why the current players are fortunate to be Dragons.
Around the time of Changa's death news came out that Johnny Raper's health was failing him, that he was in a nursing home. Another wave of publicity followed because Chook is a huge name in the game as well and so revered by fans.
We don't like to see our heroes this way. That's what these great St George players are to me. Heroes.
I met all the greats while I was coming through as a young player at the Dragons. Graeme Langlands, Johnny Raper, Reg Gasnier, Billy Smith. They're celebrated, as they should always be, and speaking to them many times, as I've done, had a big impact on me.
But I also revel in the dedication and love for this club that I've seen from people at all levels. Not just the great players, but the junior coaches and trainers, the volunteers.
I saw them give up their time at Renown United and when I was playing junior reps. I'll always appreciate that. It gave me a sense of community and taught me the importance of making yourself available and giving your own time for the cause.
I remember seeing guys like Mark Riddell and Mark Gasnier come down to training, and countless awards nights as a kid when first-grade stars would turn up to present the trophies.
I'd meet them and think, 'He's a superstar, but he's also a good, down-to-earth bloke'. It made me realise these guys were only human after all and that I could aspire to reach similar heights.
These days, I'm one of those players going to the awards nights and handing out the trophies. I've been to many SG Ball and Harold Matthews Cup presentations. I gave Joey Leilua his player of the year award when he was coming through the juniors here.
I hope I've had a similar impact on the kids I've met along the way.
More about: Ben Hunt | St George Illawarra Dragons | Sydney Roosters | Wayne Bennett