This might sound a bit weird
This next sentence might sound a bit weird coming from me.
I've missed tennis.
I haven't hidden away from the fact that I haven't wanted tennis enough in the past but, when that's taken away from you for a while, it makes you think differently.
It's been about four and a half months since I've been injury-free. I've done a lot of gym work in that time, and a lot of travel supporting Ajla at her events. I've enjoyed being there for her – just as she's been an amazing support for me – but, if I'm being honest, attending those tournaments and seeing everyone else out there competing and doing well has lit a fire in me.
It has made me realise that I'm pretty lucky to be doing what I'm doing for a living when I'm healthy. I'm not promising everything will change. I'm sure there will be times when tennis frustrates me again. I suspect I haven't smashed my last racquet.
But, having experienced the other side now, I feel like I've woken up a bit.
You obviously encounter issues when you're physically healthy – fatigue, loneliness, the mental grind of life on the tour and all that kind of stuff – but the power to compete is still with you. You can choose to show up or not on any given day. It's your call.
Losing that power for a while – where your body simply won't let you play – is a very different reality. Whether you're feeling driven to compete or not, playing isn't an option. Your only choice is the gym or Call of Duty.
I've done a lot of gym work (and a little Call of Duty-ing).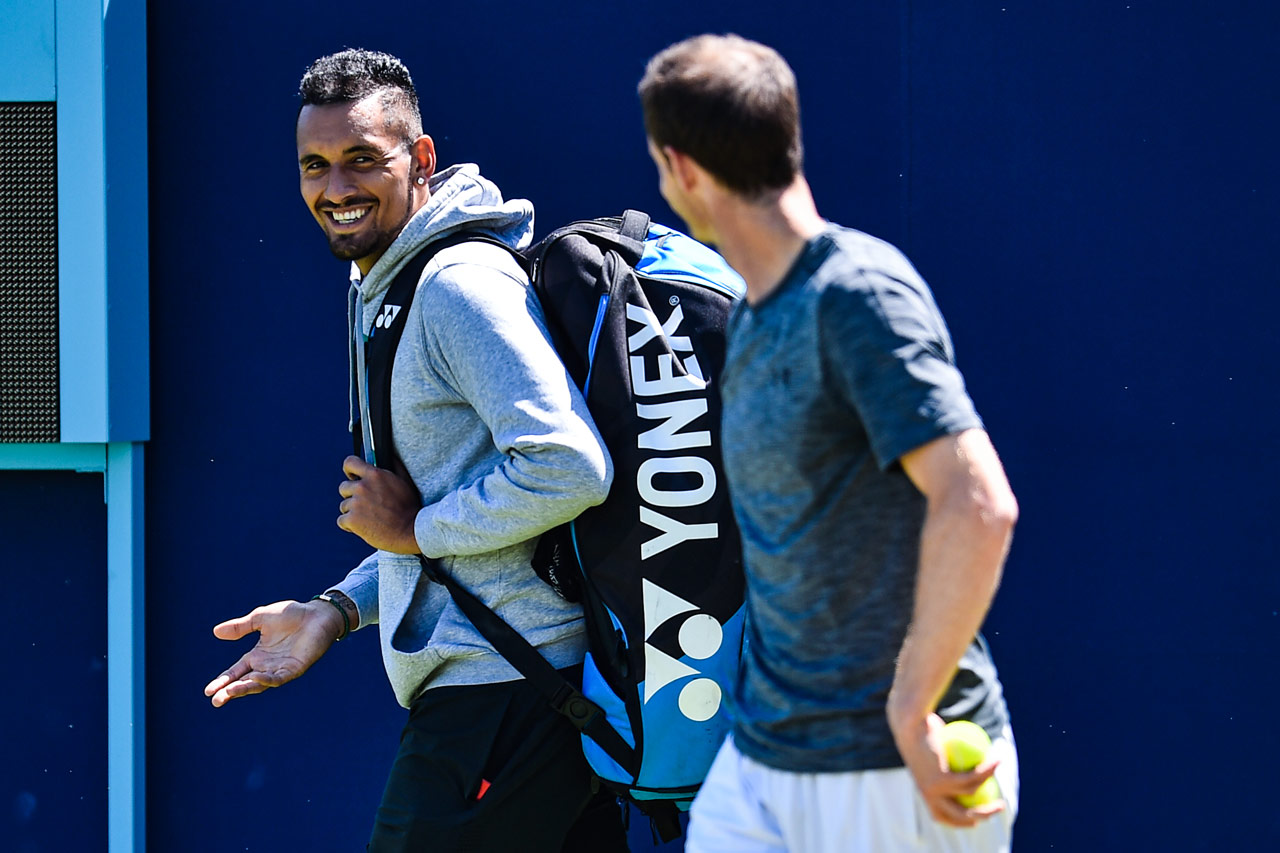 FIGHTING BACK
It all came to a head after my first match against Jan-Lennard Struff in our Davis Cup tie against Germany. I woke up in the middle of the night after that match with a piercing pain through my elbow. I couldn't straighten it.  
It's an issue I'd suffered throughout my junior career. It wasn't managed as well as it could have been back then. I was often told to get a cortisone shot and get back out there on court. There wasn't any structured plan around prevention.
I could feel the elbow as I was warming up against Alexander Zverev for my second match of the tie. But at that point – with the whole country watching and cheering the team on – I couldn't withdraw. Not from a match like that.
I take a lot of pride in representing my country in Davis Cup. I play for my team.
I tried to belt some serves down a few games in and I got this numbing pain down my elbow into my fingers and into my neck. That's when I realised this was much worse than it had been in the past. I was able to take the second set to a tie-breaker but that was it. I knew I was going to be out for a while. I was crushed and felt I had let everyone down.
The nerve injury was caused by overloading. There was too much stress going through the elbow. There is also some old scar tissue floating around, too. It's the type of injury that if you don't get right, it can linger for a long, long time.
I've had to be patient, which probably isn't one of my strongest character traits! Before teaming up with Jack Sock to play doubles in Lyon, I'd only played Miami and Houston since the Davis Cup and they were really to keep my sponsors happy and also test out where I was at.
I've pretty much been in rehab mode since mid-February under the guidance of my physio Will Maher.
After Miami, I sat down with John Morris and mum. John told me, 'Nick, you can't go on like this. Your whole year will be ruined. We need to get you a physical trainer to make sure that what you're doing in the gym is correct.'
John recommended Ashcon Rezazadeh. He had worked with Victoria Azarenka, Dan Evans and Anthony Joshua. John had heard good things. I didn't know much about him.
I'll admit: I'm always wary bringing new people into our little team. It works well as it is. I worry about upsetting what we've got.
So, anyway, John rang Ashcon and asked him to join us in the Bahamas to get my training and rehab started. He accepted.
Then I messaged John and told him I changed my mind.
John wasn't happy. He called mum and flipped out. Mum came marching straight in and said to me, 'Mate, this is ridiculous! What is going on?'.
It went back and forward for a minute or two but mum eventually wore me down.
I was like, 'OK, OK, OK, stop nagging me! Bring him over'.
I'm glad she talked me around. It's been great working with Ash. He's only a couple of years older than me but he's really mature.
I said to mum, 'Why am I not like that?'.
'People mature at different rates,' she said. 'You'll get there!'
It has made me realise that I'm pretty lucky to be doing what I'm doing.
Ash has made me enjoy going to the gym. That's a bit of a miracle. I'm usually pretty hopeless with the gym, especially when I'm on my own.
We've worked on my glutes, my legs and my shoulders so I'm not just getting all my power from my arm and elbow. I'm warming up before going on the court and going to the gym afterwards. That's a big change, too. I haven't really done that since I had a coach in juniors.
I've been getting the load right and building up to being able to serve again. I've been monitoring how much I'm training, hitting and serving.
A BREAKTHROUGH
I've felt the benefit of all that work over the last couple of weeks.
Jack and I won the doubles in Lyon. Lifting the trophy was great, but the biggest thing for me was getting through five matches back-to-back without experiencing pain.
It was a real breakthrough to be able to serve bombs again without any pain. I was able to serve hard, accurately and without any limitation from my elbow ‒ something I haven't been able to do since the Australian Open. I had much more stability in my back and rear shoulder because of the gym work.
That has given me confidence entering the grass court season. I feel better about my game and my elbow. There's been enough time before Wimbledon to get my match fitness up. Put that together with the gym work I've put in and I'm hoping to make an impact.
I'm feeling good coming into Wimbledon. I had a good run in Stuttgart, which finished in a tough three-setter – including two tie-breaks – against Roger Federer in the semi-final. And since then I've had a few good wins against Andy Murray, Kyle Edmond and Feliciano Lopez to get to the semis at Queen's and teamed up with Lleyton Hewitt in the doubles, which was heaps of fun.
I'm expecting to do well at Wimbledon. I'll be putting pressure on myself, like I always do but with a slightly different mindset having missed out so much this year.
But I also know I'm just coming back and it might take some time to get back to my peak. I'm not thinking too far ahead at this stage. I'm just looking forward to getting back out on court, enjoying my tennis and seeing how far I can go this grass court season. Let's be honest: anything will be better than last year's!
The No. 1 goal is to finish the year without any more elbow pain. That'd be good. I want to enter next year healthy.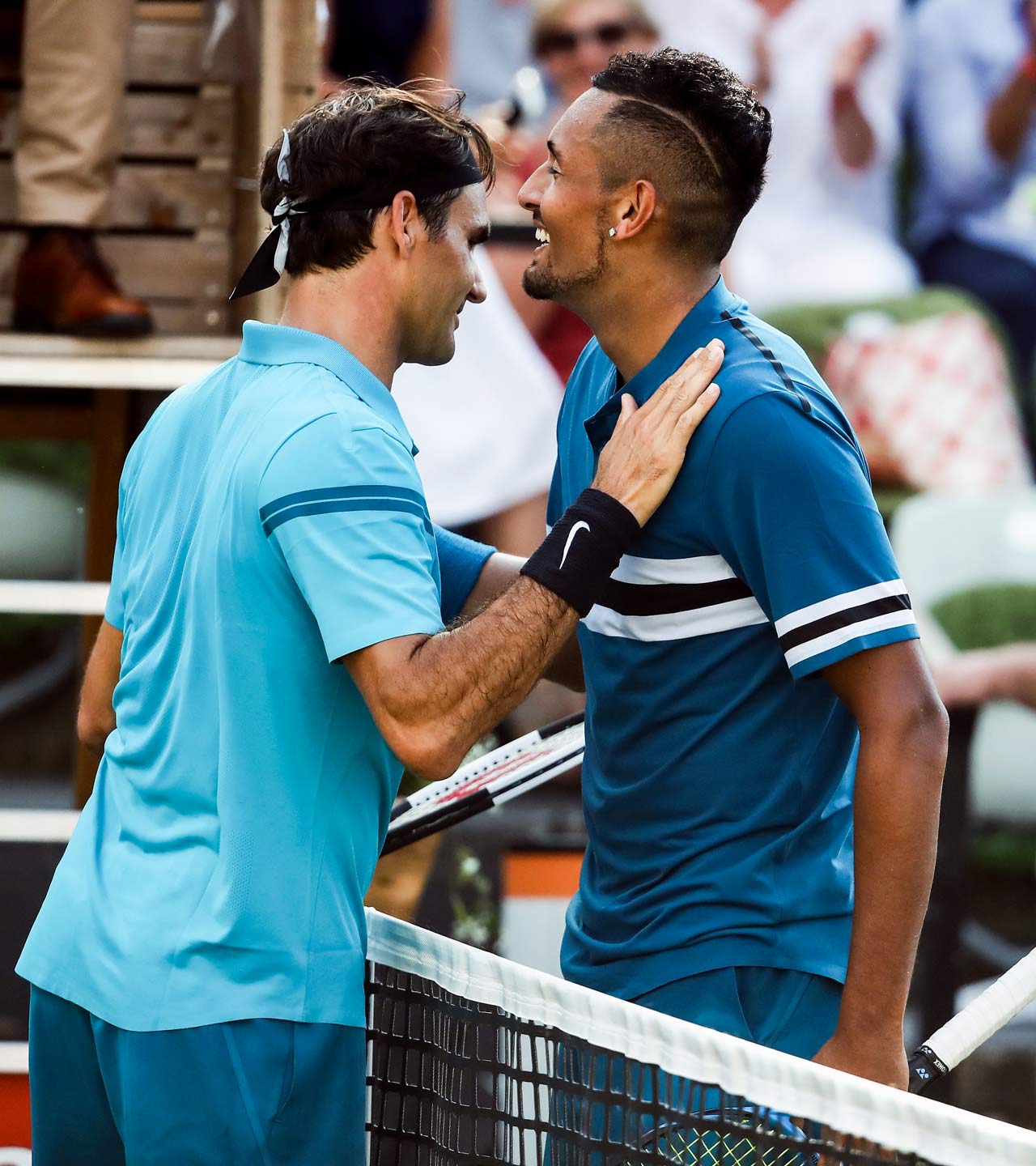 RETURNING TO WIMBLEDON
Wimbledon has been a special tournament for me going right back to the juniors. We've been reminiscing about my grand slam junior doubles win two years in a row. And the win over Rafa Nadal in the fourth round in 2014 will always be a fond memory. It's where my career really took off.
I'm looking forward to being back again.
We've got our old place back, the one from 2016. I didn't like the house we stayed in last year. It was close to Wimbledon village but it was a bit too secluded for me. It had a massive garden, which made mum happy, but the internet connection wasn't any good, which made me unhappy!
I like the old place. It has a home feel. The whole team stays together and mum cooks. The fridge is always full. I've been telling Ashcon about it. I'm stoked we're moving back in.
Dad is coming over. He doesn't travel all that much – he runs his house painting business in Canberra, which keeps him pretty busy – but mum makes sure he doesn't miss Wimbledon. I love having him around.
NK Foundation merchandise available now! Click here for more information.
More about: Davis Cup | Nick Kyrgios | Rafael Nadal | Roger Federer | Wimbledon