The true history of Team Kyrgios
Some are related to me. Some I've met along the journey.
All are family.
I wanted to take a little time to introduce you to the seven people who make up my team on the road and explain why they are so important to me.
They do everything for me and I would do anything for them.
There are other people in my life who I love and value but these are the people who have dedicated their own careers to helping mine.
There are a few things I like to do myself, like arranging hitting partners and regulating my training.
I like training with the younger Australian boys, like Alex de Minaur and others, because it reminds me of when I used to train with Lleyton when I was a younger.
I lifted my game because I didn't want Lleyton to think I couldn't keep up. When I'm hitting with these young, strong guys, they're trying harder against me, which makes it good for me and good for them. We all get stretched a bit.
But there are so many other factors that go into touring life that I couldn't handle on my own.
Our team might not do things the same way as those of other players on tour, but it works. It took a few years but we all learned our roles and figured out what was needed during and outside of tournaments.
I can't thank them enough.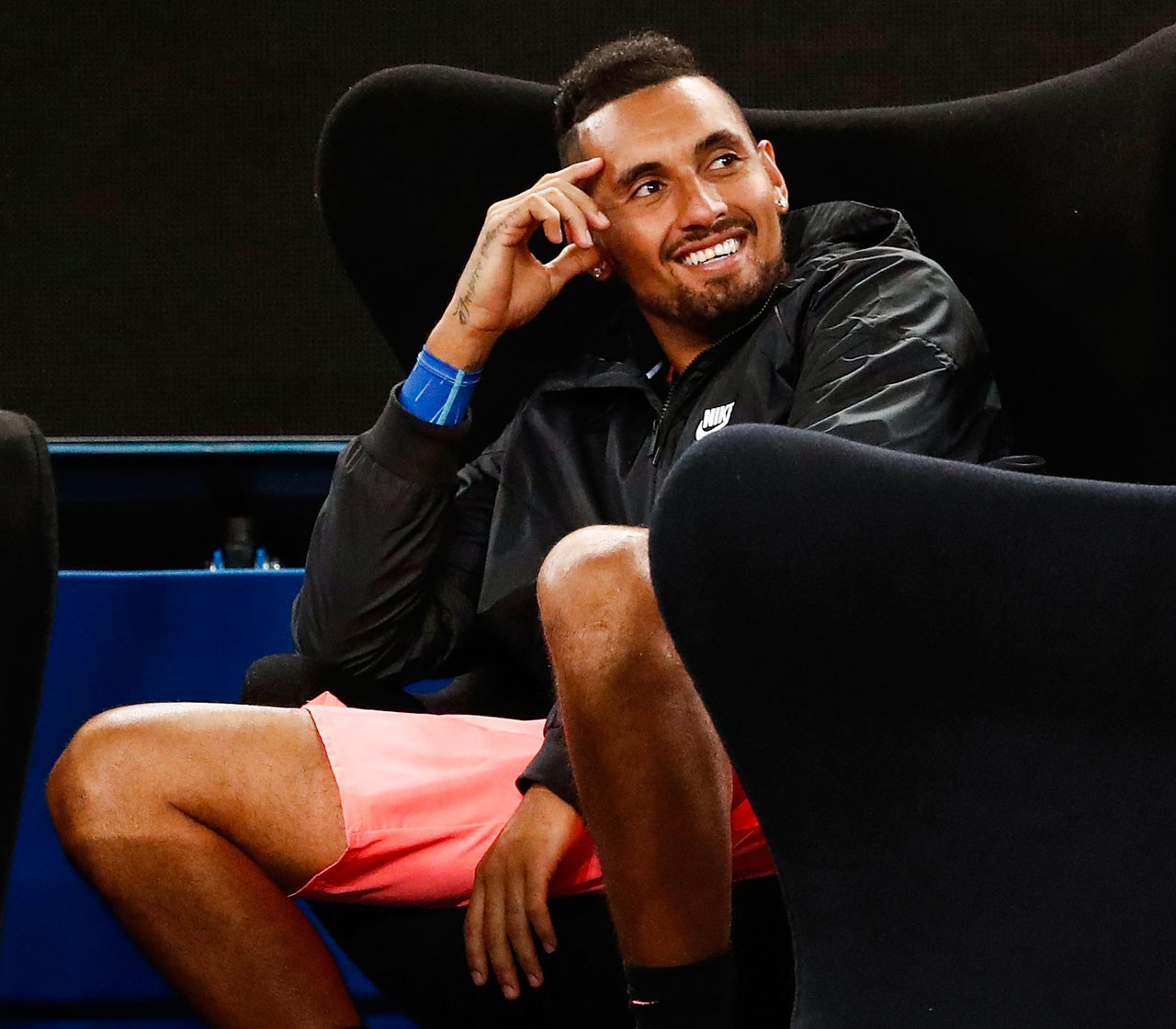 Matt Reid
Matt is so many things to me: part doubles partner, part coach, part training companion.
He's five years older than me and jokes that he launched my career – because I beat him in the final for my first-ever Challenger Tour title back in 2013 in Sydney.
He also got me busted when I was in the juniors when he snuck a few beers into camp and we got caught red-handed. They withdrew my invitation to the Newcombe Medal because of it!
But these days he keeps me on the right path.
Matt isn't a big one for going out at night anymore. He's very dedicated to his tennis. Last year was his first full year travelling with me and I leaned on him a lot.
He's five years older than me and jokes that he launched my career – because I beat him in the final for my first-ever Challenger Tour title back in 2013 in Sydney.
We play doubles together in a lot of tournaments, like in Brisbane last week. Matt is ranked in the top 100 in doubles and, if we can't get into the same tournament, he'll team up with guys like Jordan Thompson or John-Patrick Smith.
He's a great training partner and can hit the ball hard and anywhere I want.
Above all, he's a good friend. He tells me the truth. If he doesn't like something I've done, he'll give it to me straight. 'Mate, that's dumb,' or something like that.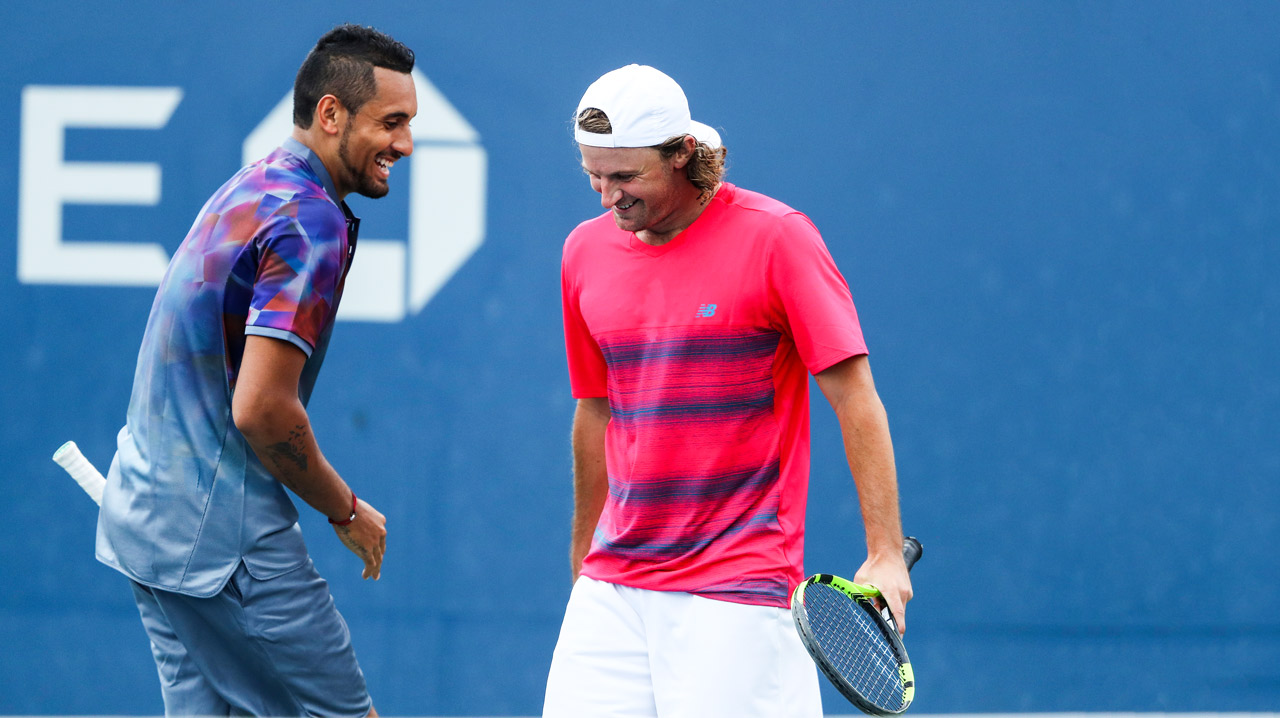 My Mum, Norlaila
I'm really bad on email. Mum cleans out my inbox. There's no point having anything secret in there because mum will know straight away.
She saw an email from Queensland Police there during the Brisbane International last week. She was straight on the phone. 'Nick! Have you done some wrong in Queensland?'
Yep. I did. I got a traffic fine. There was no point trying to deny it.
Nothing gets past mum.
She's the reason everyone in the team knows what they're doing and where they're going. She's like our CEO.
Our schedule is pretty complex, which is understandable when you think of all the moving parts. It has about six or seven columns and is on an Excel spreadsheet. Mum and John Morris (who we'll get to in a minute) put it together and update it constantly so all of us know our schedule and logistics.
If I need to know something, I will always go to Mum first. If she doesn't know, she'll direct me to the right person.
She keeps the information flowing across the team.
She knows who is doing what and pays them accordingly. She negotiates rates and bonuses and incentives with all the team. John and Mum hate ripping people off. Mum has been ripped off plenty of times in her life and we don't like doing that to others.
Mum will ask John which tournaments he is going to. There might be a tournament that she can't attend and she'll make sure John or Christos is there with me because she knows I hate being away on my own.
Our team might not do things the same way as those of other players on tour, but it works. It took a few years but we all learned our roles and figured out what was needed during and outside of tournaments. I can't thank them enough.
She goes to the prizemoney office to make sure everything goes to the right account.
And she always knows where I am. WADA insist that they need to know where I am for one hour every day. Mum is always making sure that's up to date. She's chasing me down to work out where I'll be and when.
Mum is also my masseur. She will massage me while I'm on the phone or on the Xbox.
I don't like putting my clothes into the tournament laundry because they shrink and cling to me. So mum has taken that over, too. She washes my gear in her hotel basin and hangs it up all over her room. It looks like a laundry! She's been doing this for years.
Dad was there in Brisbane. Mum roped him into wringing out my clothes because he has bigger hands and then she put the hairdryer on them.
Mum doesn't feel comfortable giving me advice about tennis or training schedule. She stays out of that unless she has to. But she is a great counsellor and will also ask me what's wrong if I look unhappy.
I like to keep stuff to myself and sometimes she has to pry it out of me. I'm getting better as I get older.
My bro, Christos
My Foundation is so important to me and it simply wouldn't have gotten off the ground if not for Christos and the incredible work he has done.
There is so much work and coordination involved and so many people to work with. Identifying a site. Construction. Permits. It's a huge undertaking and Christos is doing a brilliant job balancing all that as well as his own fitness lifestyle coaching business, Ally's Angels.
He's always on his phone and mum is constantly on his back about it. She'll say, 'You need some downtime with the phone off.' But it doesn't seem to change much!
Christos is very protective of me as I am of him. But when I do something stupid, he can get really passionate and sometimes it gets heated. That's just families, right? Mum doesn't like it when it gets like that and we go a week or two without talking.
But it never lasts long. We always know we've got each other's back.
We were very competitive as kids. We still are. We're involved in a couple of NBA fantasy leagues along with Thanasi Kokkinakis, Jack Sock and some of the crew from Canberra. It gets pretty animated. There's a lot of collusion. I'm looking at you, Matt Vozella.
My team – 99ProblemsButFantasyAintOne – is leading one of the leagues and Christos is coming second, and Christos is winning the other league and I'm coming second.
Christos is also the expert on all things nutrition along with his fiancée Alicia. They've done tons of research in the area and coach hundreds of clients around the world in the areas of nutrition, body recomposition and fitness modelling. Alicia is the current WBFF fitness world champion.
I experimented with a vegan diet at the end of last year – including during my trip to Argentina, which meant John missed out on all the local steakhouses! – and Christos provided all the advice and information on how to transition and maintain it.
He helped mum out with all the vegan recipes, too.
I switched back to my regular diet just before Christmas and Christos was there again to advise me. We're very close. I think we've both had a big influence on each other.
John Morris
I had won the junior boys doubles at the French Open and John came up to me for a chat. He told mum and dad, 'I've been trying to talk to your son for two years.'
He'd been emailing me but I hadn't seen them. As I mentioned to you earlier, I barely check my inbox.
Mum was like, 'What?!' She had no idea.
So John said, 'Can we meet?'
He agreed to get together with mum and dad at Wimbledon, but we didn't know what the meeting would be about.
John said to meet at the players' café. Mum and dad didn't think they would be allowed to enter. There was a security guy at the front and I was just a junior. You don't know much about how the game works when you're in the juniors.
So they sat outside in the sun for 45 minutes.
Then John rang. 'Where are you guys?'
Mum said, 'We're here. In front of the café. We can't see you. We've been waiting for ages. We can't get in because it's for the players.' 
John said, 'Umm, no, you're allowed inside.'
John sat mum and dad down and spoke about his interest in managing me. He said he could see a lot of potential. He was the only agent who approached us.
I experimented with a vegan diet at the end of last year – including during my trip to Argentina, which meant John missed out on all the local steakhouses!
I was a bit slow back then, a bit heavier. But I was strong and I liked the big shots and I took risks.
I loved to hit the lines. In juniors, you don't have linesmen or Hawkeye or anything like that.
People would call my balls out when it was just touching the line. Mum would say, 'Don't keep aiming for the lines, be safer!'
But that was the way I wanted to play. John liked that. He could see what I was trying to do. I didn't have a manager. Not many people thought I was going to amount to much. My game was strong, but raw. He was the one person outside my family who believed from the start.
Our family is totally loyal to him. When someone believes in you when you're not quite there yet, it's a very different story than when people jump on the bandwagon when you're winning.
He's an advisor. He's a manager. He's a big brother. He advises Christos, too. He's part of the family.
We will talk about anything on or off the court.
He tells me off when I need it. He's not one of those people to say, 'It's OK,' when you've messed up.
My Dad, Giorgios
Dad is quieter than a lot of the others in the team. And he's not around the tournaments as much. He's still working and doesn't want to give it up.
Dad is a house painter in Canberra and he's busy all the time because he's meticulous with his work. The builders love him because the clients love him because he gets every little bit straight. There's no slip, slap, slop with dad.
Mum tells dad the times where he has to take off work. He loves Wimbledon, so mum will block out those dates in his calendar. It's the same for Brisbane and the Australian Open. He's great with massages when he's around (and that saves mum the trouble).
Dad's also the racquet man. He looks after everything. He makes sure my racquets are the latest ones, he checks that the tension is right and double checks with the guy doing the strings and he applies and reapplies my grips.
Sometimes he has to maintain the house we've bought in the Bahamas and mum will schedule all that for him. He wouldn't leave home if mum didn't place the physical airline ticket in his hand!
Carlos Fleming
John's agency was quite small so he formed an alliance with the WME/IMG Group.
He partnered with Carlos Fleming. He's a big gun at IMG and a lovely guy. He has become an agent and a close friend to all of us.
He's American, loves basketball and manages Cam Newton and other big athletes in the US. I love going to the States. Carlos can make all the introductions and get me courtside seats.
He got me backstage at Drake one time and I met DJ Khaled on another occasion. It was pretty sick.
Christos gets a bit jealous if he's not with me over there.
I'll go to a game courtesy of Carlos and Christos will be like, 'You hung out with WHO?!?!'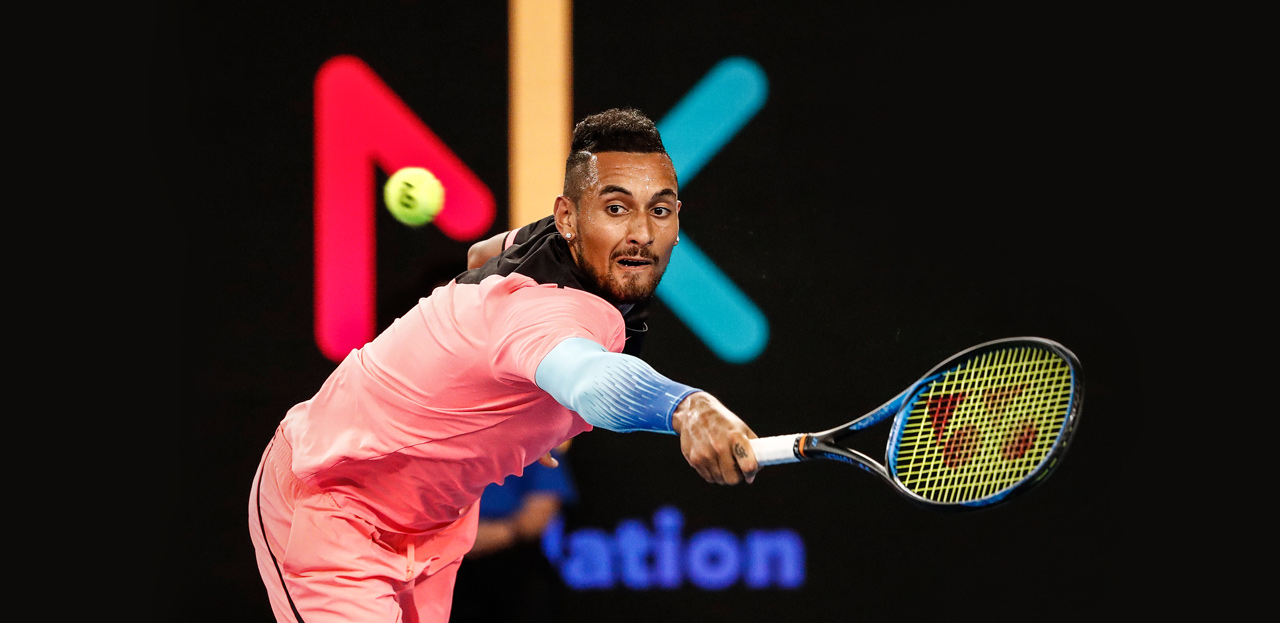 Will Maher
Will is my physio and he's brilliant. He won't travel as much this year because he has started a new practice and we're looking around now for a strength-and-conditioning guy or a physio to join us.
Will used to travel to all the grand slams and make sure my body was right. He'd get there a week before and spend the fortnight of the slam with us.
He's here now at the Australian Open and he'll do another four weeks during the changeover from clay to the grass. That's the hardest time of year on the body. It's such a big change for your body to take.
It's been hard on him sometimes, all the time on the road away from his wife and kids.
I will always be grateful for the work he's done to get me out on the court tournament after tournament.
For more information on the NK Foundation or to donate, please click here.
More about: Nick Kyrgios | Sponsored