My season is over. The hip injury got the better of me in the end.
It's time to listen to my body and heal.
Making this decision has given me an opportunity to reflect on 2017 – from the highs of back-to-back wins against Novak Djokovic in Acapulco and Indian Wells and Rafa Nadal in Cincinnati, to the lows of the Grand Slams.
But my best memories are from the team events.
The Laver Cup and the time spent with John McEnroe were awesome. The same goes for Lleyton Hewitt and all the great things he has done since taking over the Davis Cup team.
Tennis can be a lonely sport. You're in a new country every other week with only a few familiar faces around you. It's nothing like being at home. I struggle with it.
Davis Cup couldn't be a more different environment. Everyone has got everyone else's back. We all support each other. We win and lose together.
You feel like you're part of something.
Rusty figured out a way to keep that going even when we're spread out all over the world.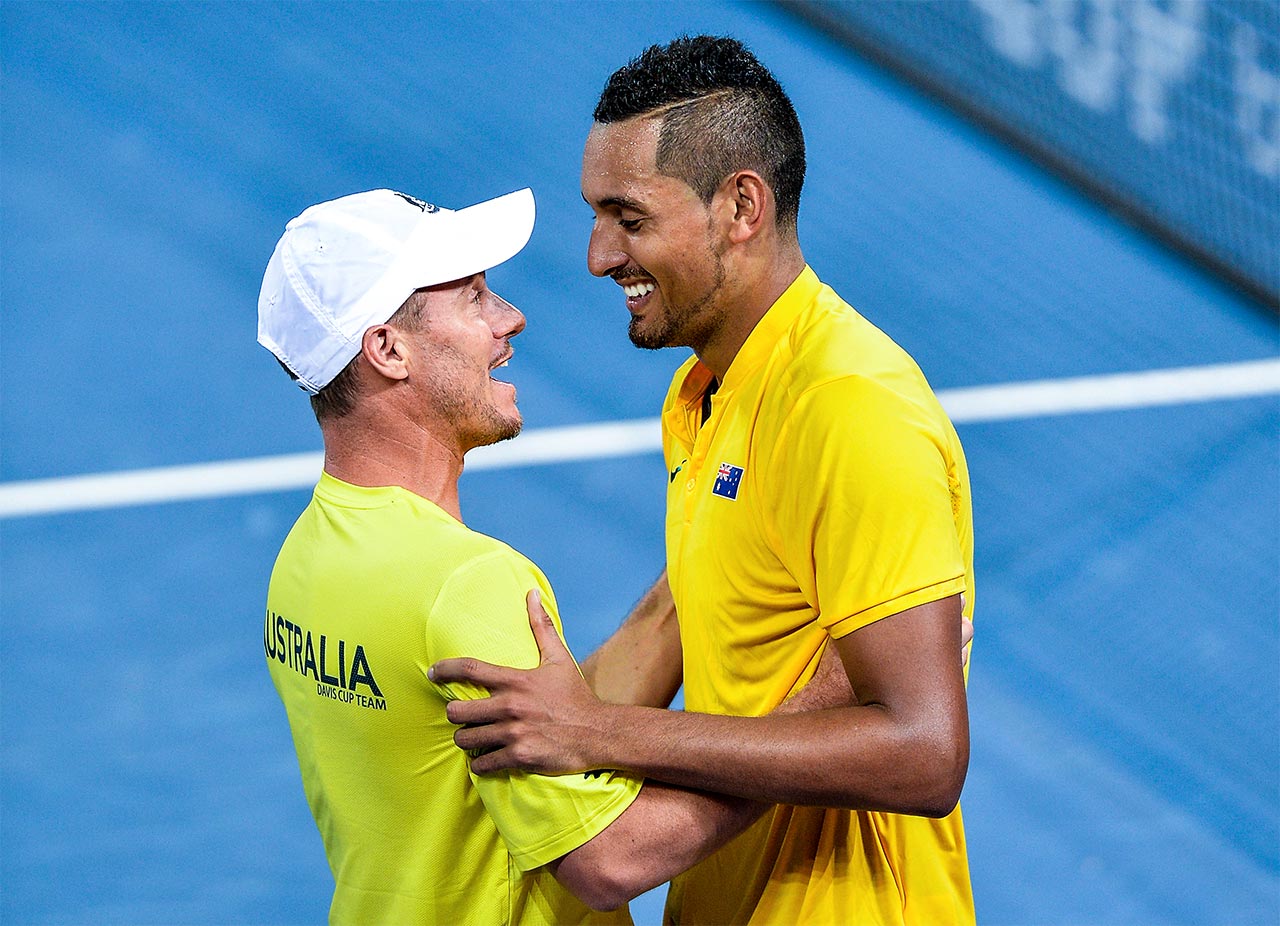 RUSTY'S INNOVATIONS
About a year-and-a-half ago he created a WhatsApp group. All the Davis Cup boys are on it.
After my semi-final win over Alexander Zverev in Beijing, my phone lit up. It happens all the time. It's all the Davis Cup players and coaches congratulating you, urging you on. It's like having a worldwide support group with you all the time.
It's not just for blokes like me either. When one of the younger guys wins a Challenger Event in, say, Asia we're all on there offering congratulations, encouragement and support. It's huge for the young guys. It's huge for all of us, to be honest.
It's mostly tennis-related, but not always. When my grandfather died in April, I messaged the group to tell them how sad I was and that I was struggling a bit. The amount of support from the boys was crazy.  It was like they were all there with me picking me up, even though we were scattered around the world. It meant so much at a time when I really needed it.
That's when it occurred to me that what Rusty had done was more than just tennis and the Davis Cup. We were all brothers. He had built that feeling in camp and then created the platform on WhatsApp for us to continue that when we weren't physically together.
I'll never forget the tie against the USA in April. I was playing Sam Querrey and there was plenty of pressure because Jordan Thompson was sick ahead of his final match against John Isner. I needed to win my rubber.
I was really nervous. I don't usually let that show, but I think everyone around me could tell how I was feeling.
Rusty brought everyone into a tight circle around me. He told us how proud he was of the team and the way we'd come together.
Whether I won or lost, they would always have my back. And if ever there was a period in the match where I was hurting or needed a lift, all I had to do was look at my teammates on the sidelines.
Davis Cup couldn't be a more different environment. Everyone has got everyone else's back. We all support each other. We win and lose together.
It changed the whole mood.
I ended up winning that match in straight sets. I remember sitting in the locker room afterwards drinking a beer, eating a pie, singing Aussie songs and thinking, 'It doesn't get any better than this.'
Rusty did something just as special two nights before the tie against Belgium. He brought everyone into his room before dinner for what we all thought would be his usual pre-tie speech. It wasn't.
He showed us Neale Daniher's speech. For those who don't know, Neale played more than 300 games for Essendon and Melbourne and is now fighting Motor Neurone Disease. He's a really inspiring bloke.
It was incredibly emotional. I remember looking around the room. All of us had tears in our eyes.
TEAM CULTURE: BEFORE & AFTER
I think the culture in the team is better than at any time in my Davis Cup career.
A year or two ago, the culture was good. But it's gone to another level. When everyone's practicing, we're all out there watching and picking up balls for each other. We're invested in each other. It's a culture of selflessness.
When I first started, it was more about every individual trying to get themselves up for the occasion. It wasn't bad or anything. It was just different. Now we're concerned about everyone else and making sure they're feeling good.
Before Lleyton became captain, it would be rare that you received support from the guys at the top of tree. They would just expect you to perform and know exactly what to do.
They would also be the first to turn their back on you when you made a mistake rather than taking the time to teach you, motivate you, communicate with you and continue forward on the journey with you, as part of a team.
I guess this is the same with anything in life, you need to have experienced both the bad and the good to understand the difference.
I love a team environment. Playing basketball growing up, I like sharing success as a team and that feeling of winning and losing together. You all have one goal. It's much more enjoyable for me seeing others do well rather than it being just me.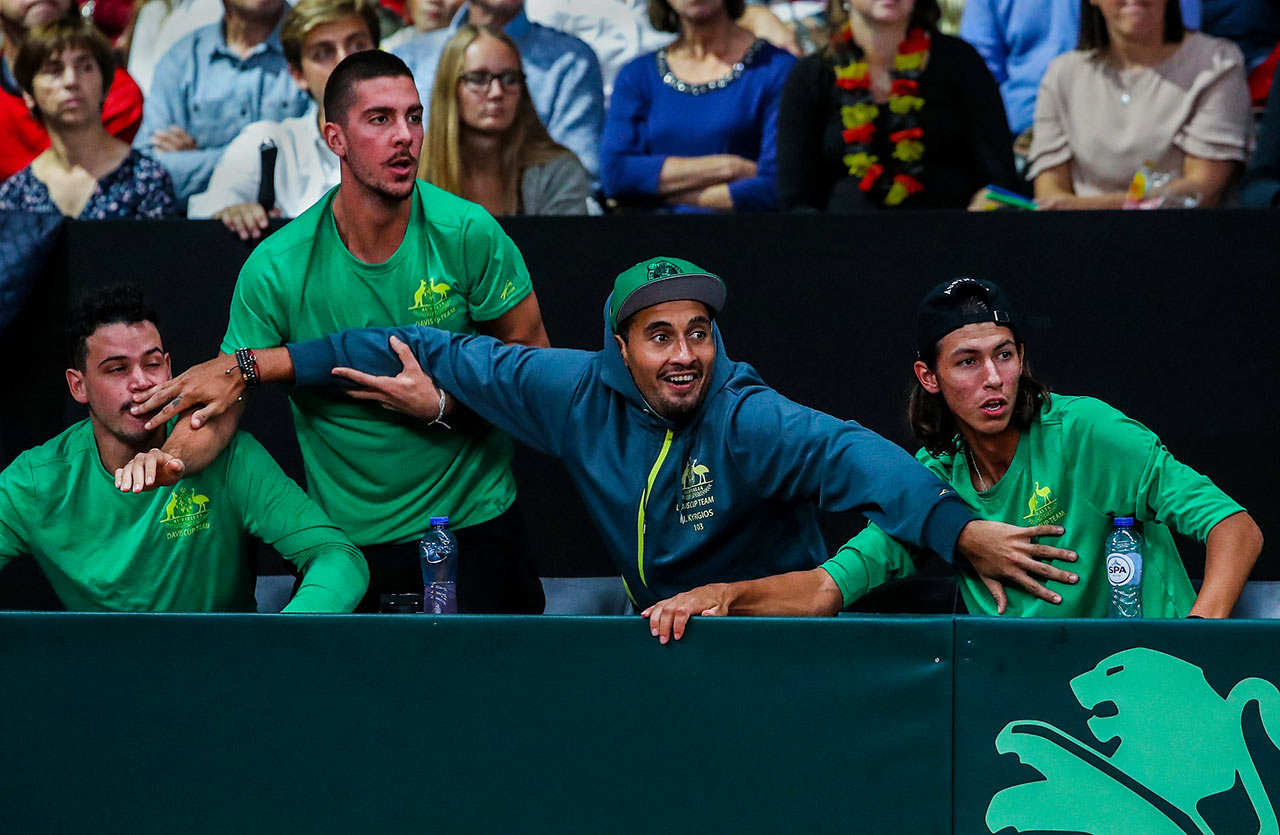 DAVIS CUP > GRAND SLAMS
Davis Cup was my top priority this year and, when I look ahead to 2018, I will be putting the team events ahead of the Grand Slams in terms of what I most want to win.
The Grand Slams are the biggest tournaments and you want to do well but, for me, I don't know. I just prefer the team stuff.
I feel rejuvenated and refreshed after being with the Davis Cup boys. It was the same with the Laver Cup. Coming into Beijing, I was feeling confident in my game and knew my teammates from the Davis and Laver Cup teams had my back. It definitely helps with your solo career.
When my grandfather died in April, I messaged the group to tell them how sad I was and that I was struggling a bit. The amount of support from the boys was crazy.  It was like they were all there with me picking me up, even though we were scattered around the world.
Losing to Belgium sucked. We felt we were in a great place to do something special this year. Not being able to get it done killed all of us. Rusty made it clear that we're going to regroup, get back to it to it and go two steps better next year.
He talked about it hurting because it meant something. That resonated strongly with me. I felt the same way.
It was a similar feeling when I lost to Roger Federer at the Laver Cup. It was hard to hold back the tears. I felt I had let the whole team down. The Davis Cup and Laver Cup have given me some of the most euphoric high and heartbreaking lows of my career.
Win and you're celebrating with the whole team at a pub singing, dancing and drinking. Lose and you're all sitting around a solemn table with no appetite – heads down, depressed for the moment and without much to say. 
WHAT JOHNNY MAC SAID
The Laver Cup has been a great innovation for tennis and awesome for me, personally.
You don't get many opportunities to team up with guys from other countries and go head-to-head with the likes of Roger and Rafa competing for Europe.
And the chance to hang out with John McEnroe was really interesting.
I didn't ask him about the headlines and the social media stuff in the past. I figured this was a week where I could spend proper time with him and get to know him as a person.
He's a good dude. He understands where I come from as a tennis player and he sees similarities with himself when he was a young guy on tour. He helped me out when I was playing Roger and created a great environment. We had some great talks.
At one point I asked him, 'Why did you play tennis? You don't really have a personality suited to tennis.'
He said, 'My parents pushed me at first, but really, I play for the same reason you do.'
'What's that?' I asked.
'We're not very good at anything else,' he said.
When I was on court sometimes I would play shots that weren't exactly conventional.
He would say, 'You're crazy.'
But what he really meant was, 'That's the exact thing I would've done.'
He could relate to things I did on the court.
I feel comfortable around him. He understands that type of personality I am and what I'm about on the tennis court. There's a connection. Moving forward, it's going to be about becoming good mates and someone I can talk to. But not a coach.
I don't know if I'd work with him as a coach in the future. That's nothing against him. It's just me. I don't know if I could work with anyone at the moment. He's been in touch with me a little bit since then and so has his brother, Patrick, because he was the vice-captain. They both said, 'Whenever you need something they're a text message away.'
NEXT SEASON
I'm now going to head home, relax a little bit and then get stuck into building up the NK Foundation facility for kids in Melbourne.
I know 2017 hasn't been as successful as I would've liked. It's been a rollercoaster on and off the court.
I'll do everything I can to improve for 2018.
More about: Davis Cup | Essendon | Lleyton Hewitt | Nick Kyrgios