Panic attack in my hotel room
The day before my first training session at the Dandenong Stingrays, I got pissed at our Frankston Bombers presentation night and decided I didn't want to train the next day.
Local footy at the Bombers was pretty good fun, but I had a couple of wise heads telling me I'd regret not having a crack at the higher level.
One was my dad, the other was a bloke at the club named Brian O'Carroll, who was a gun footy player and told me how much he regretted not taking his chance at playing AFL.
Brian pulled me aside at the presentation night and said, 'You're a fool if you don't go'.
I didn't think I was good enough to play for the Stingrays, but I listened to Brian's advice and gave it a crack so I wouldn't have those regrets later in life.
As it turned out, I got selected, started playing some good footy, made the senior side and it all happened pretty quickly towards the end of the year.
I was working as an electrician when the AFL draft came around and was in a roof in one of the properties going up around Melbourne's Cranbourne-Berwick area when I got a call telling me I was invited to the draft.
I told the boss I had to go to Sydney and ended up getting selected by the Giants. It was all a pretty big shock.
I later found out that my boss had been getting calls from clubs all year asking about me, what am I like, asking for character references. He knew what was going down, but I had no idea.
More seriously than that, another thing I later found out was that the reason I didn't want to go down to the Stingrays in the first place was because I had a problem with anxiety.
People would see me as an easygoing, chilled kid. But, inside my head it was a different story. I was always overthinking things and worrying about the future.
Even back in my first year of under-18s, at the Bombers, the senior coach had wanted me to play senior footy but I said no. Most kids would have jumped at it, but I didn't want to play. I was just too nervous.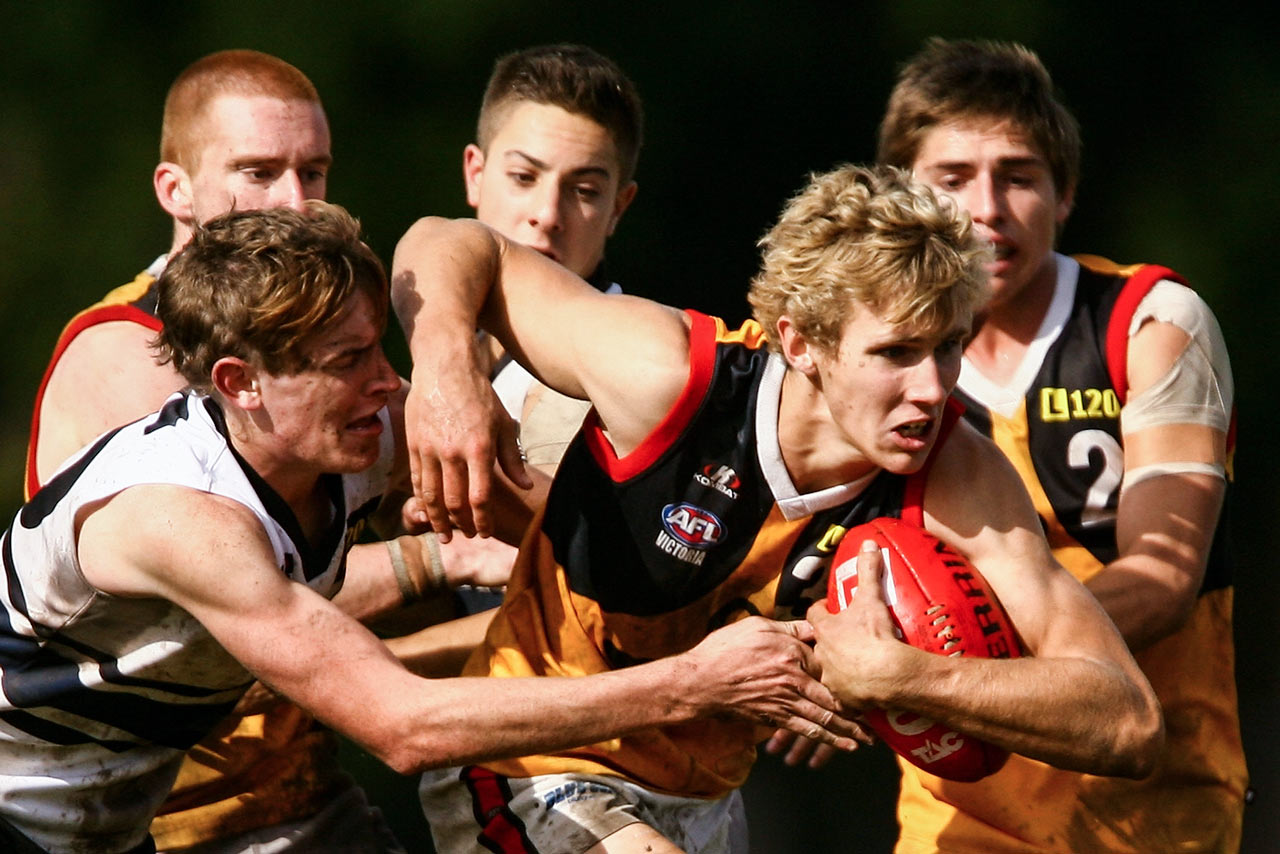 The key moment in understanding what was going on for me came in 2013, early in my time at the Giants. We were soon to head to the ground to play the Demons, but I was in a pretty bad state, having a panic attack in my hotel room.
For about 10 minutes, I remember, I was trying to catch my breath, slow down my heart and just calm down. But no matter what I tried, I was still struggling to breathe.
When it finally stopped, I thought that was the end of it. But on our way to the ground, I kept playing the game in my head, wondering about all the possibilities and feeling really nervous.
I was using up energy and by the time the game started I was buggered. I played but it was a pretty shocking day for me. I was completely drained.
That episode was extreme, but it's a theme that was repeated a lot in my early years of footy and life, in general.
Once that game against the Demons was over, I thought, 'I can't keep doing this'. I had this great opportunity with the Giants, but I wasn't enjoying my football.
I didn't want to play because I was getting too nervous and was struggling to invest in something that didn't make me happy.
I spoke to the doctor and told him I couldn't understand what had happened to me at the hotel. He said straight out that it was a panic attack.
Just knowing that I had an issue was a big first step. From there, we were able to do something about it.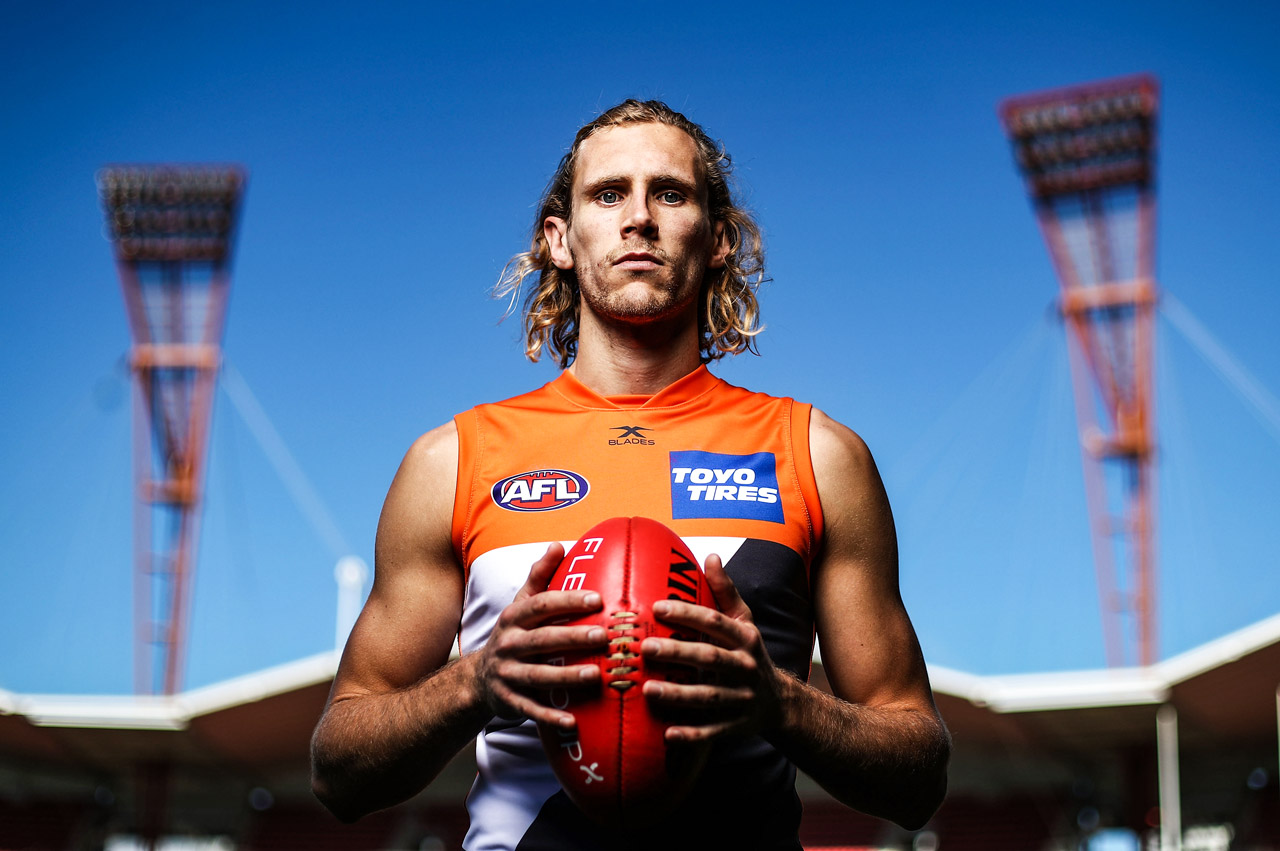 I started seeing a psychologist, which was really helpful. Over the past two or three years, I've been doing meditation and that's been another really useful tool in taking on my anxiety.
The result is that I now live in the moment, not the future. With that has come a lot more energy, focus and enjoyment.
I'm playing some consistent footy now as part of a team I love so much. But it's amazing to think how close I came to missing out on this opportunity.
I nearly gave it all away because of something going on in my mind. I now know just how big a part anxiety has played in my life.
Everything was hard for me when I was younger and started my playing career. But once I found out what was going on for me and could do something about it, I've felt much more confident and at ease.
The skimboard champ
I played footy until I was 13, but lost interest in it and decided I wanted to just have some fun on the weekends around Frankston. So I quit for three or four years.
Being a 14- or 15-year-old, we couldn't drive down to Torquay or Gunnamatta Beach, we just had the bay to work with. There's no waves there. But when I went down and saw a few boys there doing ramps and rails on skimboards, I decided I wanted to do that.
Mum bought me a skimboard one Christmas and I started getting right into it.
I was terrible to start with, but me and my mate CJ Andrews loved mucking around. Mum would drop us off about 10am every Saturday and we'd skimboard until about 6 or 7 that night.
We'd be absolutely wrecked. It was great fun and eventually we got a bit better.

Every year at the Waterfront Festival at Frankston they have a skimboard comp. I entered and came 10th, I think, in the under-18s my first year.
Two years later I won the open comp, collected 150 bucks in prize money and thought that was awesome.
The more we got into skimboarding, the more we started making props and rails. We'd make the rails out of plywood. We'd get some PVC pipe and screw it into the wood. Then we'd use crates stuck onto each other to make different rails. We'd use three lengths of ply so you could adjust the ramp.
That might sound a bit confusing! But I guess you could say we knew what we were doing. It was a pretty advanced set-up we had going on.
Eventually, I had to give the skimboarding away. I was playing for the Stingrays and the day I won that open comp I'd actually played a practice game in the morning. The Stingrays wouldn't have appreciated that – but that's just how naive I was back then.
Skimboarding can be pretty dangerous. I'd broken four toes, had 10 stitches in my shin, a broken finger. So that was the end of my career on the foreshore at Frankston and it was all footy after that.
As much as I thought winning that comp was pretty cool, I think footy was probably a better choice.
More about: Grand Final | GWS Giants | Injuries | Melbourne Demons | Mental health