Gifts in an Indian orphanage
The most eye-opening experience of my career so far wasn't on the football field. It was in an orphanage in India, while I was on a pre-season tour with Melbourne City in July.
We were in a city called Kochi, to play against Girona from La Liga and the local club Kerala Blasters. Aside from the football, it was great to explore the city in our time off, learning about another culture, their cuisine and way of life.
Some things were tough to see though because India is a developing country. There is a lot of unemployment, the streets are dirty, and a lot of the people live in shocking conditions.
And as I said, the experience that will stay with me was our visit to that orphanage.
We each bought three or four gifts to give to the children, just to brighten up their day a little bit. We picked up all sorts of things: clothes, skateboards, toys and balls.
I thought I had an idea of what to expect but from the moment we arrived, it was pretty shocking to see how these kids were living.
Some of them were as young as four, with the oldest about 12 years old. They lived in poverty really, with not much food and very little hot water. A lot of the kids didn't have shoes or clean clothes despite the community's efforts to look after them and the building didn't even have windows. It broke my heart to see.
But from the moment we walked in the door, the kids were so happy to see us. They rushed up to greet us, grabbing us by the arms and pulling us down to have a chat. They could speak fairly good English as well – considering they haven't really had a chance to go to school – and they were asking all sorts of questions about our careers and how they could become professional footballers as well.
It was great spending time with them. They loved football and we were able to have a kick with them, which was a lot of fun.
The guy that runs the orphanage was actually an orphan when he was a child, so his work was very close to his heart. He told us a little about how the children came to be there. Hearing some of those individual stories made me quite emotional to be honest.
Some were left at the orphanage by their parents, who couldn't afford them. Others didn't have anyone else to care for them, since their parents had died. The orphanage was all they had.
I went back and looked at some of the photos recently and it struck me how something so simple brought them so much joy. They all had big smiles on their faces. But then you think about how much they've been through and how tough their lives will continue to be and it all hits home.
It made me realise how incredibly lucky we are here in Australia. And it meant a lot to all the boys, being able to give the children that experience and get that perspective on things over there.
Seeing different countries is one of the biggest things that motivates me with my football career.
I also got to visit Abu Dhabi in the off-season. Dario Vidosic and I went over with Etihad Airways and had a great time exploring the city. It's another world! We got to do some four-wheel driving on the sand dunes and took a ride on the world's fastest rollercoaster at Ferrari World.
I've always wanted to experience different cultures, ever since I was a young boy. I want to do more of it before I'm done!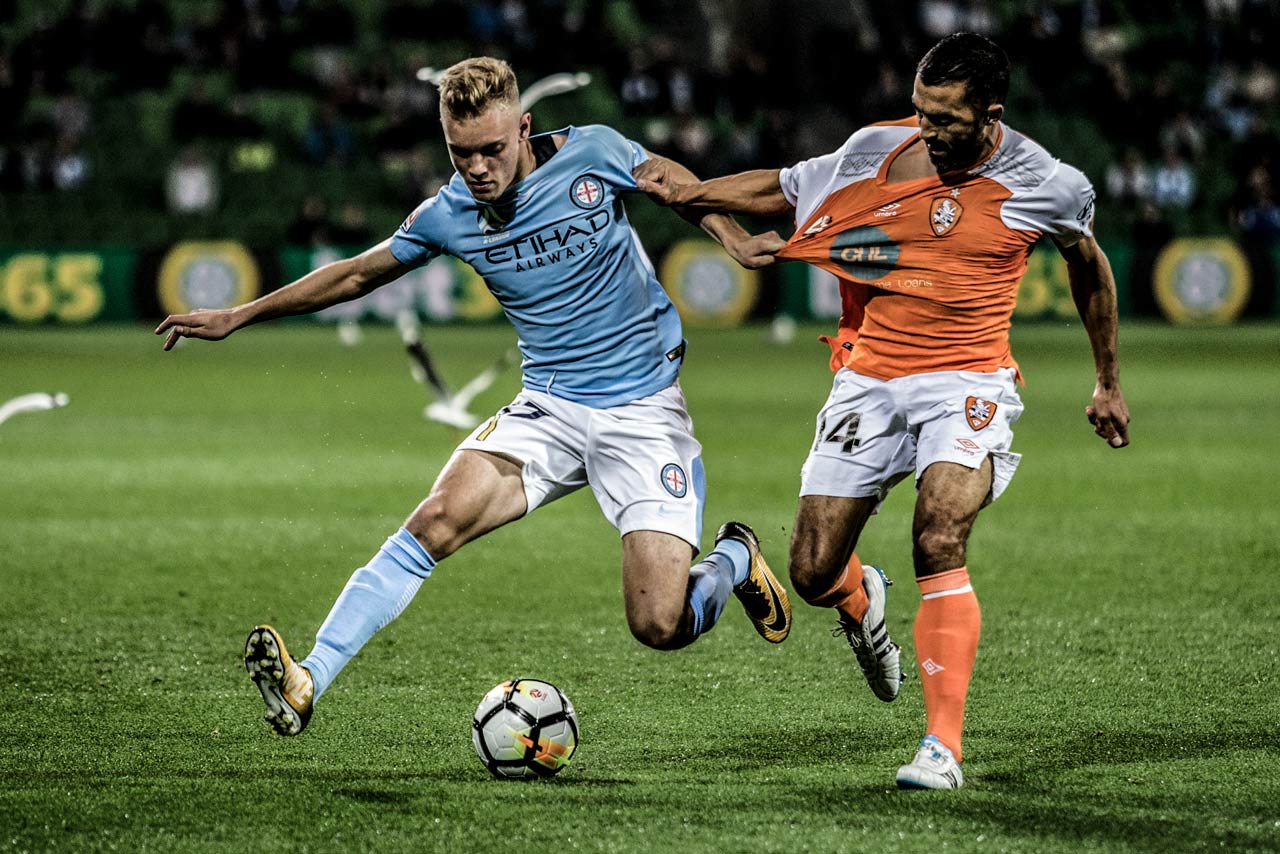 HOW MY NAN BUILT A CLUB
I'm pretty different to most of the guys in the A-League; there's not a lot of professional footballers that come from Tasmania.
I grew up in Launceston with my Mum and it was pretty much just the two of us because my parents broke up before I was born. Mum had to provide and worked long hours in retail.
She was a strong-minded person and never let emotions get to her but being a single parent can be hard at times. She's done very well to give me the life that I have.
With Mum working so much, it was my Nan who looked after me in the afternoons. She's been my biggest inspiration when it comes to football.
My family have been involved with a club in Launceston called Riverside Olympic for many years and Nan is the heart and soul of that club. They've even made her a life member.
It all started with my uncles when they were young boys. They were the first members of the family to pull on the Riverside jersey and then Mum started playing as well. All of a sudden, Nan was spending pretty much her whole weekends around the club, so she decided to get involved with the committee.
She ended up being the club's treasurer for many years, staying on even after her own kids had all grown up.
I remember that at the start of every season she'd have hundreds of kids trying to sign up, but she'd make time for all of them. And for the kids from families that were doing it tough, Nan would always find a way to make it possible for them to play.
Walking around the fields with her back then, you got pulled up for a chat every 10 metres because everyone knew her and wanted to say hi. That's how respected she was.
Nan is the heart and soul of that club.
I'd spend my whole week at the football with Nan, playing for my teams and then watching my Mum and uncles play. During the week, I'd go to all the training sessions as well.
One of my oldest memories is watching my uncle get a red card. It was a shocking challenge really and he probably deserved it, although I'm not sure he'd admit that. He was an old-school defender, who loved putting in challenges and mouthing off.
It's funny, but I didn't really know much about the A-League back then. I used to sit on the sidelines of those first-grade matches and think I was watching one of the best leagues in Australia.
It was my dream to play first grade for Riverside. I looked up to all the older boys and they were always around at our house, having a laugh with my uncles. I wanted to be a part of that. Things have worked out a little differently though…
One day, at the end of my career, I'd love to come back and pull on the jersey. The club just won its first title in my lifetime, maybe I can help them win another!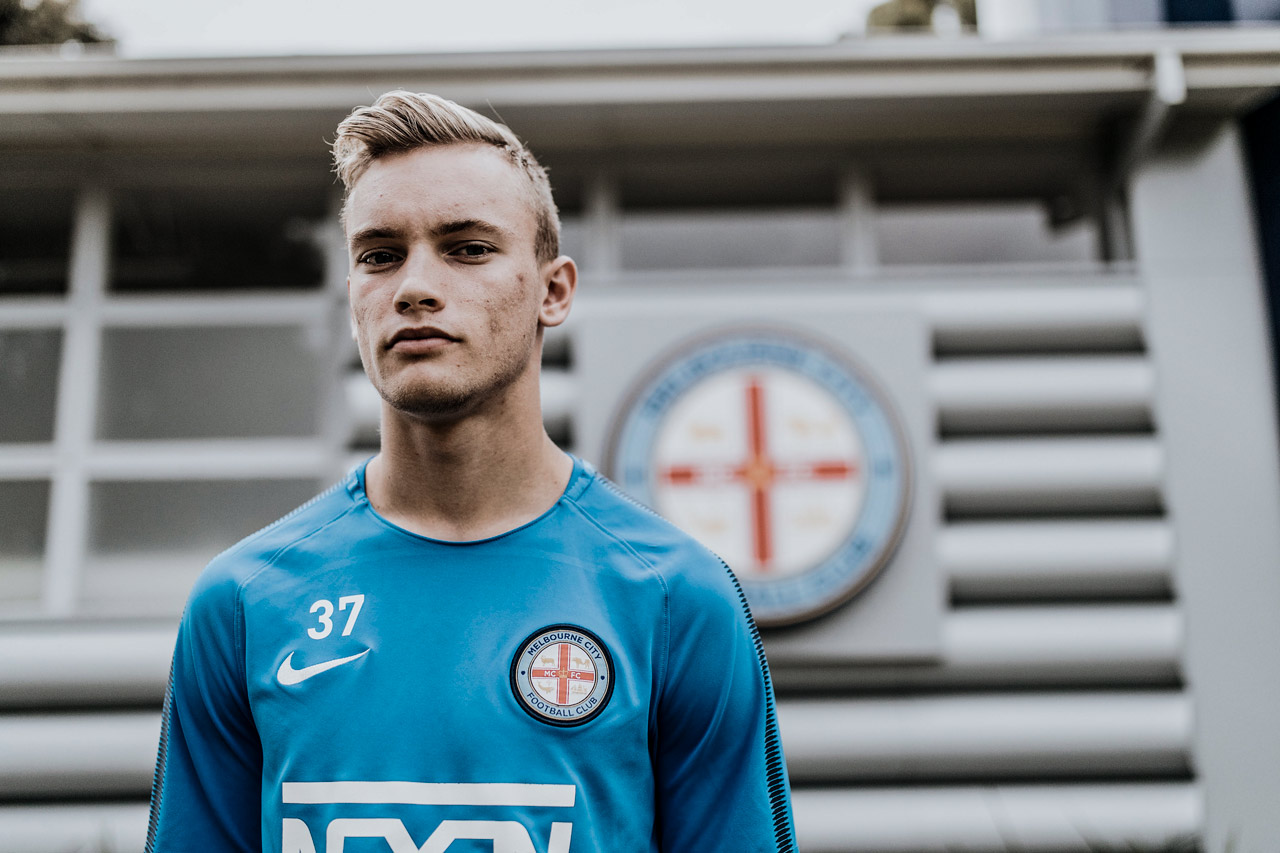 THE HAT-TRICK THAT MADE ME
The problem with growing up in Tassie, is that there wasn't much of a pathway for junior footballers to reach the top level.
Playing for the state rep team, I used to drive between Launceston and Hobart twice a week for training. It was about a six-hour round-trip with Nan behind the wheel and it just wasn't sustainable.
It got to the point where there was only really one option for me. If I was to even have a slight chance of making it in this sport, I had to move down to Hobart and join the National Development Centre – a program run by Football Federation Tasmania.
I was accepted into the NDC when I was 14 and thanks to the generosity of two families, who also had sons in my team, I was able to make the move. They took me in and gave me a home.
I didn't really know much about the A-League back then. I used to sit on the sidelines of those Riverside Olympic first-grade matches and think I was watching one of the best leagues in Australia.
I was nervous at first, because I didn't know what to expect. I had to move schools and make new friends, all the while living with a different family and looking after myself.
But I got used to it pretty quickly. I've always been fairly independent anyway. Even when I was young, and Mum was out working, I had to look after myself and cook my own food a lot of the time. Growing up quick like that has helped me a lot I think.
And I'm glad we took that chance because the two years I spent at the NDC changed my life.
I owe everything to the coach down there, Kenny Weston. He's the man that opened the door for me and gave me the chance I needed.
Then, it was Kenny that gave me the opportunity to play a practice match against Melbourne City's under-20s team when I was still just 16. I scored a hat-trick in that game and it got me a trial with City. From that, they signed me up.
I always wanted to live away from home and play football, so it was a dream come true for me. I packed up and made the move over to Melbourne.
I spent the first two years living with other families and playing in the under-20s. But after turning 18, it all happened pretty fast. I moved out, got my own place and made my A-League debut.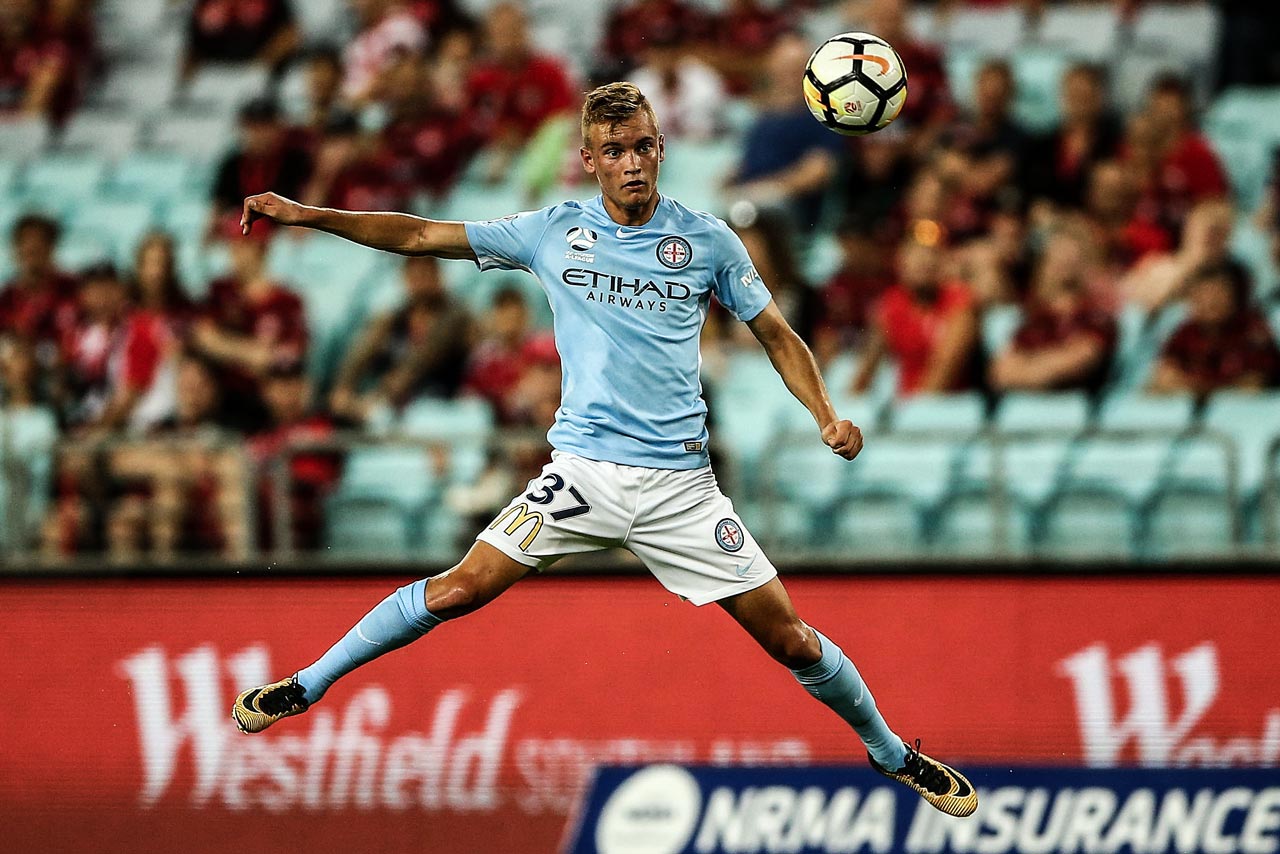 As a young guy coming into the senior team, it was great. I really only had to worry about myself because my teammates are such a talented bunch.
I wasn't expecting to play as much as I did in my first year, but I think my performances kept me in the team, as well as my ability to deal with pressure.
I'm a pretty relaxed guy so even my first Melbourne Derby, in front of 40,000 fans, didn't faze me. I think it was actually one of my best performances. I got man-of-the-match from the City Group and it gave me a lot of confidence heading into the back end of the season.
It was really disappointing to go out like we did, after Riley McGree scored that crazy scorpion-kick goal for Newcastle, against us in the semi-final. We were so close to the big one!
Still, it's a platform we can build on this time around. We want to win it all this season. Winning trophies has always been my goal and a title on your CV is good for your career, which is a huge motivation. If we stick together and we're focused, I think we can do something special.
On a personal note, I want to really lock down a starting spot this season and play as many games as possible. I want to help the team out more as well. I think I had two assists last season; I want to double that this year and score one or two goals as well.
If I could change one thing though, it would be for the manager, Warren Joyce, to stop calling me Nathan. I've always hated being called Nathan!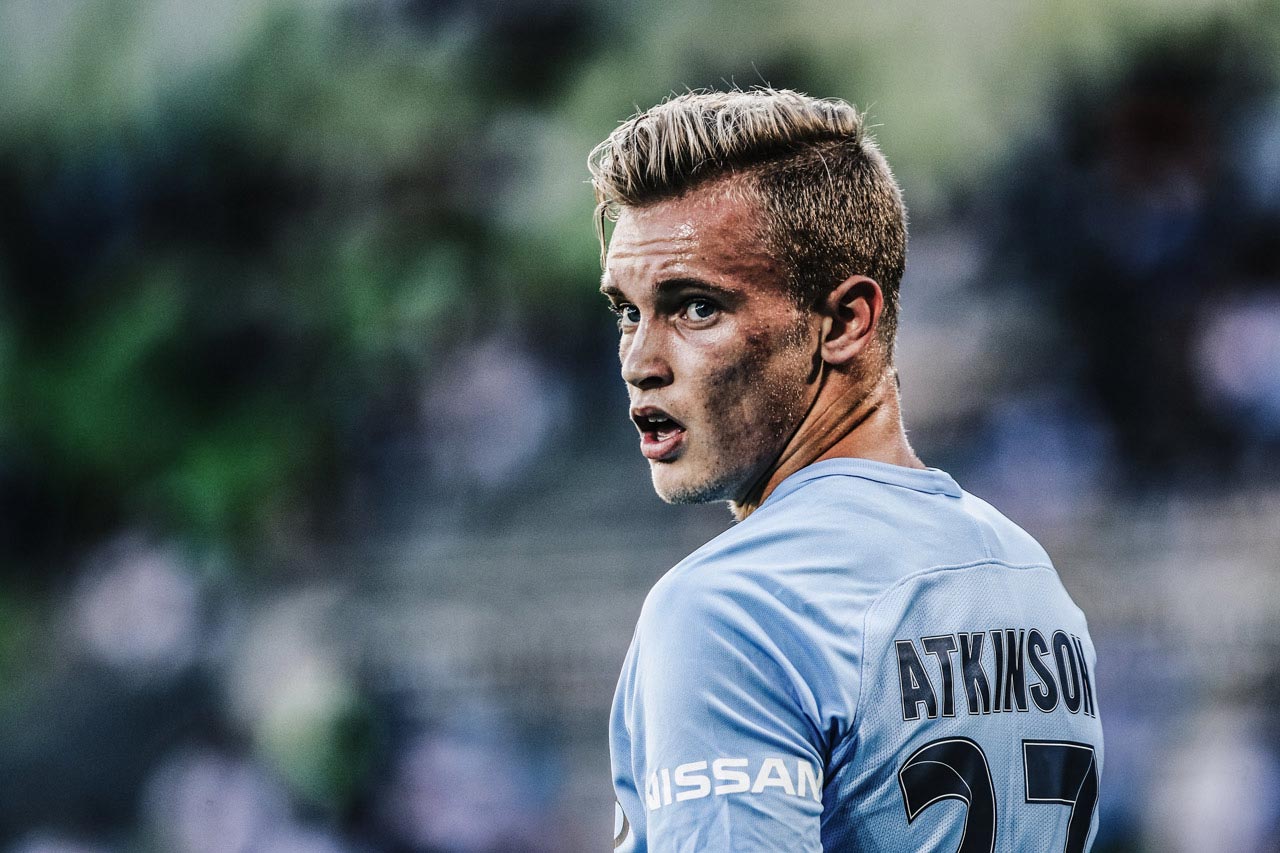 TASMANIA ISN'T READY… YET
I still miss plenty about Tasmania: my Mum, my 10-year-old brother and my Nan, of course. After all the sacrifices they made for me, I feel like I'm finally starting to repay their belief and make them proud.
My Dad actually came back into my life when I was 12. I was young and didn't really know what to think at the time but, as I've got older, I've got used to it. We get along really well now and when he can get off work, he'll bring my half brothers and sisters up to Melbourne to visit.
For all these reasons, Tasmania will always be home for me.
Football isn't the biggest sport down there, but it's growing. An A-League club would be great for Tasmania but, for now, it's not ideal. Tassie just isn't ready yet.
But there are things that need to be improved.
We used to have coaches come down to run the Skillaroos program but that doesn't really seem to be a thing anymore. I don't know what's planned for the future, but perhaps they could bring back more programs like that. I feel like they really made a difference.
It's important because there is a lot of talent in Tasmania. We've just got to develop the young footballers down there and give them opportunities because as it stands, the A-League is the one that's missing out.
Josh Hope and myself are really the only Tasmanians in the A-League at the moment, I think, and there could be so many more of us.
More about: A-League | Melbourne City | Melbourne Derby | Newcastle Jets | Sponsored