How Fever lifted a heavy heart
We had two wins last year. Two. It was hard going. West Coast Fever's always been a side that's struggled for success, and sometimes losing can become a bit of a habit.
So to be in the position we are now, on top of the Suncorp Super Netball ladder one round before finals, it's pretty nice. There was one point earlier this season when we were like, 'Oh my God, how did we survive last year, only winning two games?' 
Off the court, as well, I went through a lot of stuff in 2017 that took its toll and took a lot of energy away from netball. My marriage ended and I was dropped from the Diamonds squad for the first time in 10 years, which compounded everything.
Trav and I had been together since I was 17 and married for just over six years. Along with my parents, he was the one who'd had the biggest influence on me, because we'd been through everything together.
The playing group didn't know about our separation for about a month; I didn't tell them until after round one, because I didn't want it to be a distraction for me or for them, either.
Some people might find it hard to believe but Trav and I are still insanely good mates. I've met his new girlfriend and when he moved back to Adelaide, he lived with my sister for the first few months. Having everything so amicable between us made it easier in some ways but it was still a huge adjustment, because we'd been together for such a long time.
When you're in netball, you can't just take some personal leave and get away for a while; the expectation is that you leave your shit at the door, as people say, you rock up and you get on with business.
Sometimes having a distraction is a good thing, but sometimes it's the worst thing if you're not actually dealing with the situation or the things you need to. I keep that part of my life private. Even six or seven months later, a lot of people had no idea that we'd separated, and then there's people who didn't even know that I was married!
It did affect my netball, I think. Not just coping with the emotional side, but then trying to figure out a lot of things. I know my netball career's coming towards an end, certainly in the next 12-18 months, I would expect. So it made me go, 'What's next? Now that I don't have this, I've got to start thinking, what's going to happen for me?'
Normally I'm not someone who plans too much ahead, but to have that security blanket gone sort of flipped a lot of things on their head. I had to reassess and try to figure out who I was. I know 33, as I was, is not old, but it certainly felt older to be single again. I was, 'Jeez, it's just me, what am I going to do now?' It hit me right between the eyes.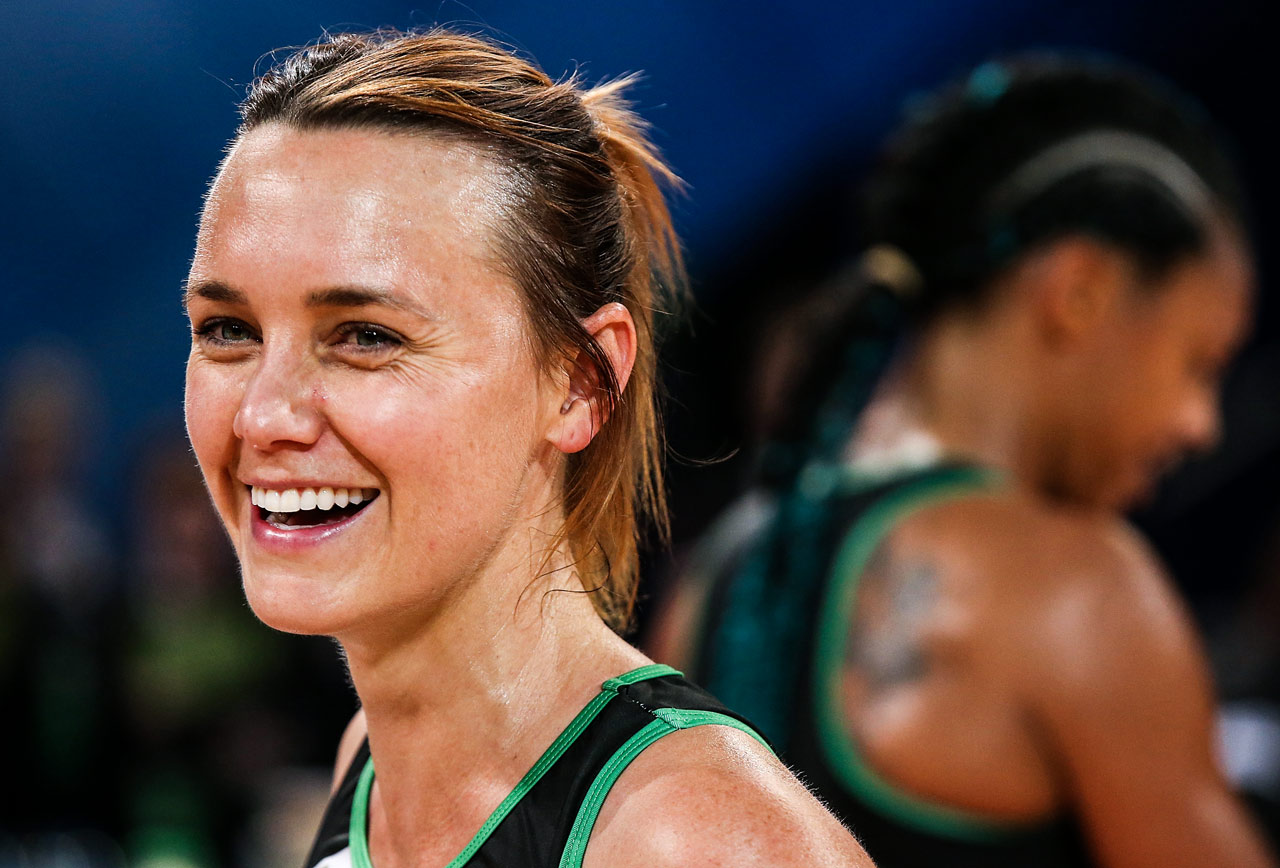 DROPPED DIAMOND
So did being dropped from the Aussie team last June. That was just completely unexpected. I've played in three World Cup wins and won Commonwealth Games gold and silver. I've played 86 Tests, the seventh-most-ever for the Diamonds.

The fact that the Fever lost five of their starting seven players last season, or what I was going through personally, I don't use that as an excuse for the way I was performing. But it probably did have an impact.

I got the call from Lisa Alexander to say I'd been dropped from the Aussie squad. She also mentioned I wouldn't be eligible for the Comm Games, so would I consider retiring?

Right at that moment, the thought of retiring never crossed my mind. There was a lot to take in – and it certainly didn't include a send-off at the Diamonds awards dinner seven days later. I've always been very happy to fly under the radar, so that was the last thing I wanted.

The first person I rang was Trav. I was a mess. I just had no idea. Then there was the fact I had to keep it a secret for so long. I was still getting asked questions around Diamonds' squad camps and those sorts of things, and it was difficult, because I was acting. It was certainly an eye-opening experience, one that I hope other players don't have to go through.

The expectation is that you leave your shit at the door, as people say, you rock up and you get on with business.

I wasn't given a reason. There was pretty much no information. Being my first time, I don't know for sure, but I believe that after being told you're dropped you're meant to wait a day or two before you call to get feedback, because obviously there's a lot of emotion.

As the head coach, Lisa has got a job to do in making those phone calls. And I get it. They're not easy calls, or decisions. But I also think there needs to be an accountability around making the reasons known why someone's not selected.

Lisa wanted to catch up when she was over here last December, but I turned her down. So much time had passed by then and so much had happened that I didn't really understand the point in doing it. I don't think I should have had to wait so long to have another conversation with her, and I was finally happy and enjoying my netball, so I was just keen to get on with what I was doing with Fever.

 

I would have thought that my performance at Fever would have held me in good stead to possibly get a Diamonds recall, and I just wanted to really focus on that. Obviously I want to get back into the Diamonds, but I didn't want that to take over my focus from what I wanted to achieve here at the club.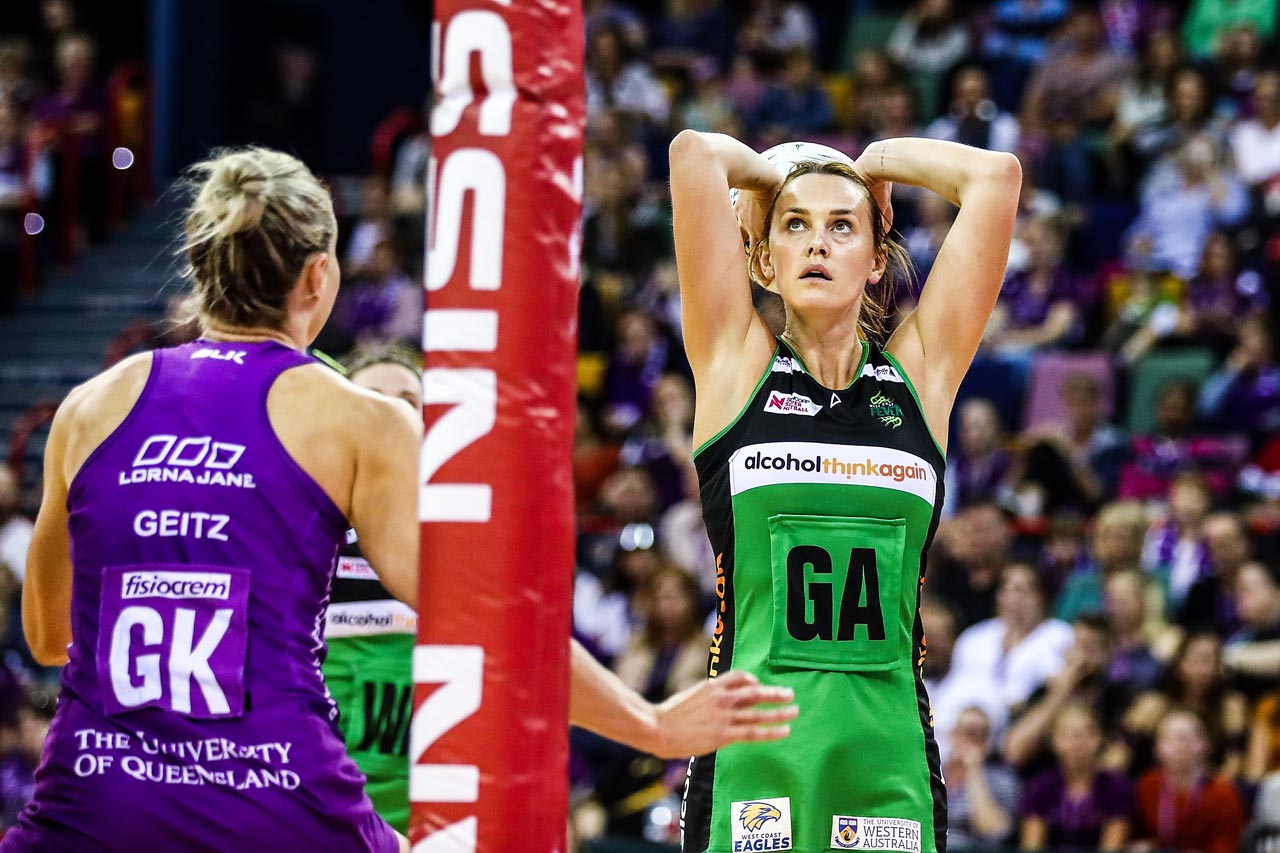 AGE IS IRRELEVANT
Did I watch the Comm Games? God, no! I had a bit of an idea what was going on, because obviously it's all over social media, but I didn't watch it. I sent Lisa and 'CBass' a message beforehand wishing them all the best; there's certain players in the team that I'm a lot closer to, and you hope for them that they do well.
The Fever girls were planning to watch the gold medal game after training and I was, 'I really couldn't care less!' It was up on the big screen and I sat there from late in the first quarter until half-time. I was there physically but in no other way.
I saw the changes at half-time, which sort of surprised me, and then I took off. When I was driving I heard the Diamonds were up by three or four goals in the last quarter and I said to myself, 'Nat, grow a pair, turn the TV on when you get home and watch them win a gold medal. You've just got to suck it up and watch them do this'.
So I got home and I turned on the last 30, 40 seconds of the game and I could not believe what I was watching. I was prepared to turn on that TV and see them celebrating a gold medal. Seeing them lose by one goal was a weird feeling.
It's something every athlete probably thinks but none will admit to thinking: it's a kind of relief.
I was shattered for the girls and I know what it's like to be in that position. I was there in Delhi in 2010, when we lost to New Zealand in double extra-time and it's bloody hard, after all the work that goes into it.
But there was also the side of me that was happy that they had lost in some ways, because with the World Cup next year, I thought, 'Maybe that gives me a chance of getting back into the Aussie squad'.
Seeing them lose by one goal was a weird feeling. It's something every athlete probably thinks but none will admit to thinking: it's a kind of relief.
I wasn't among the 17 names announced last month, but my understanding is that there's still spots open, and I'm probably playing some of the best netball that I ever have, especially when the game's on the line. So I know I can perform in those pressure situations when it really counts. I don't know what more I can do.
If anyone was to say 'age', it's an absolute joke and irrelevant. Can you sue for ageism? I look at the team and they've lost so much experience. Heading into majors like a World Cup, that's certainly something that you need around the team.
Usually you don't see this much player turnover until the end of a World Cup cycle; not with one year to go. I don't know if there's a little bit of panic, or uncertainty around what the team really stands for. In some ways, the coach and the selectors might still be searching for answers on the back of the Comm Games loss. What they've struggled to find over the last 12 or so months is consistency, and something that's quite settled and ingrained.
So they may not be too sure who's going to step up and deliver. This Suncorp Super Netball season shows the amount of talent that we have and what's coming through and how exciting it is for netball in this country, but I also know it's a whole different ball game when you get to Diamonds level.
There's players who perform really well domestically but can't when it gets to that international stage. Certainly, it's a changing of the guard. Whether it's right and what the reasons are for it, I guess time will only tell.
I've got to the point where I don't expect anything. Honestly, if Lisa was to call and say I was in the squad I'd be shocked. It's still somewhere I would love to be, and still somewhere I think I can still perform and perform bloody well and have a hand in winning another World Cup. At the end of the day, if I wasn't to get recalled, it would definitely hurt but it's a decision that I would respect and move on from.
My focus, as it has been all season, is with West Coast Fever. I made that pretty clear two years ago when Super Netball came in and players moved everywhere, that I stayed at this club because I wanted to be part of something. I want to win a premiership here.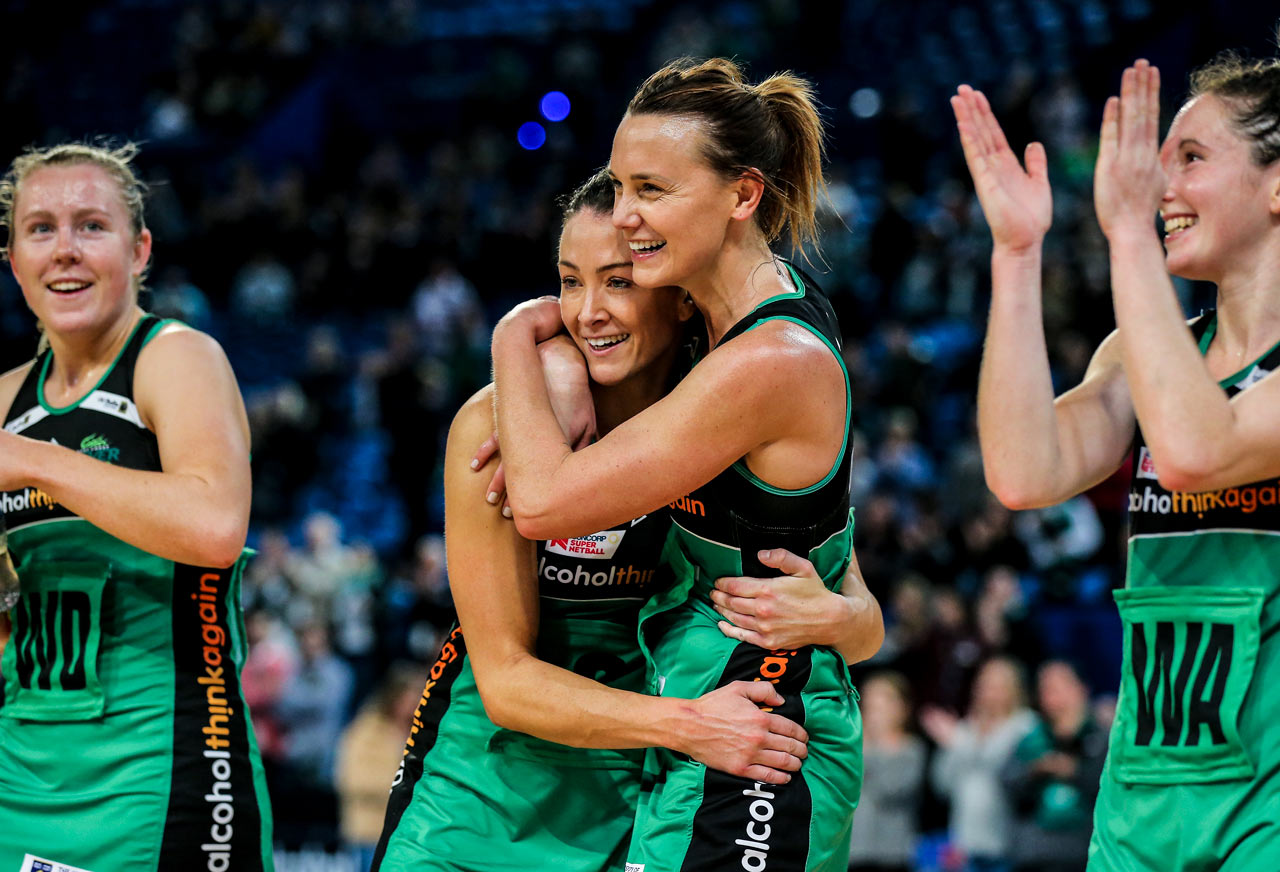 IT'S STILL MY HIGH
The whole of WA is really behind us. I'm having conversations with people who'd probably never even heard of Fever or knew much about netball and now they're talking about how excited they are about it.
You've got people who are coming to their first game of netball and absolutely loving it, and having five games this season at Perth Arena – which for me is one of the best stadiums to play in – and the crowds and the atmosphere that's being generated are just phenomenal.
Everyone's jumping on board. People love success and everything that comes with that: the media, the hype, the interest, building players' profiles. We've got fans who've been around us since the old Perth Oriole days, and the fact that we're actually giving them something to get excited about is pretty awesome.
When you're signing autographs after a win, you're just thinking, 'Oh God, this is such a better feeling than trying to put on a brave face and smile and thank your fans for rocking up yet again to another loss!'
Some people will say the only difference is Jhaniele Fowler. She is an incredible target and she does make a massive difference, but it's a lot more than that. We've got to be able to get ball, and the team defence across the entire court has been a real focus for us this season and where everyone's stepped up.
The Australian team is still somewhere I would love to be, and still somewhere I think I can still perform and perform bloody well and have a hand in winning another World Cup.
You also look at our younger players, Ingrid Colyer in particular. The connections the whole way across the court have played a huge role in keeping players fit and healthy and doing the work out in front, to make Jhaniele look good and get people talking.
There's certainly elements of my game that the coaches have really challenged me on and being more of a threat on that second phase has been a big one, while still also being a threat inside the circle. Jhaniele gets a lot of attention and the more I'm able to get in there and be an option for the feeders, the harder it is for the defenders as well.
It gives me the shits when my shooting volume keeps being questioned – it really annoys me! I'm not a stats person, and particularly not shooting stats, because you can look at them from different perspectives depending on who you are or what you want to see. It only tells you so much of the story.
There's goal attacks that shoot more but then don't do a lot of other work in helping to create play and opportunity. Especially as a shooter, your stats are so blindingly obvious, and there's times when you can shoot 20/21 but the one goal you miss is the goal that's to win the game and the one that everyone remembers.
It's frustrating for me, because this is my 15th season and I know what I need to do as a player to be able to deliver. I'm not NOT going to pass it off to Jhaniele if she's in a better position but, on the flip side, I'm more than comfortable if I need to step up my shooting load and put the ball through the ring.
Different situations during games requires different things; I know everyone on the outside likes to say stuff, but I think in this Fever environment I'm doing my job and I feel like I'm doing it pretty well.
If I look back over my career, probably 2011 was my standout in terms of the netball that I was delivering consistently across a whole year, but this season is certainly up there. I'm able to play my role and play to my strengths, which are my smarts and my timing, being able to read the play and set things up and get in there and be creative and elusive, whether it's putting up the shots or not. At the age of 34, I'm feeling good and re-energised.
I'm signed for one more year. Everyone keeps saying, 'Every player's out of contract' but I'm like, 'Well, I'm not. I signed a three-year deal from the start'. I would think after next year, netball-wise I would probably be done. Who knows?
Playing has always given me what I call my 'legal high' – even last year when we weren't winning and it obviously got very frustrating. The start of a game is always, still, the thing I look forward to.
I love a hard pre-season. I absolutely love getting flogged and challenged, physically, in that environment. The on-court training I still find quite draining; the day-to-day netball stuff and the constant meetings, I still really struggle with that.
But game day, that's the absolute ultimate for me. That's why I continue to play, that's what challenges me. I love crossing that white line, going up against somebody and trying to do your job. Despite so many people watching you, it's where I feel comfortable. I'm just able to go about my business like I don't have a care in the world, really, and just enjoy it.
It's still my high.
More about: Diamonds | Lisa Alexander | Sponsored | Super Netball | teamgirls | West Coast Fever | Women's Sport